I've been buying Trinny London products for about a year now and have had many requests for a rundown on the products I love, so I thought I'd share with you my Trinny London everyday makeup routine.
For an updated post about Trinny London, head HERE.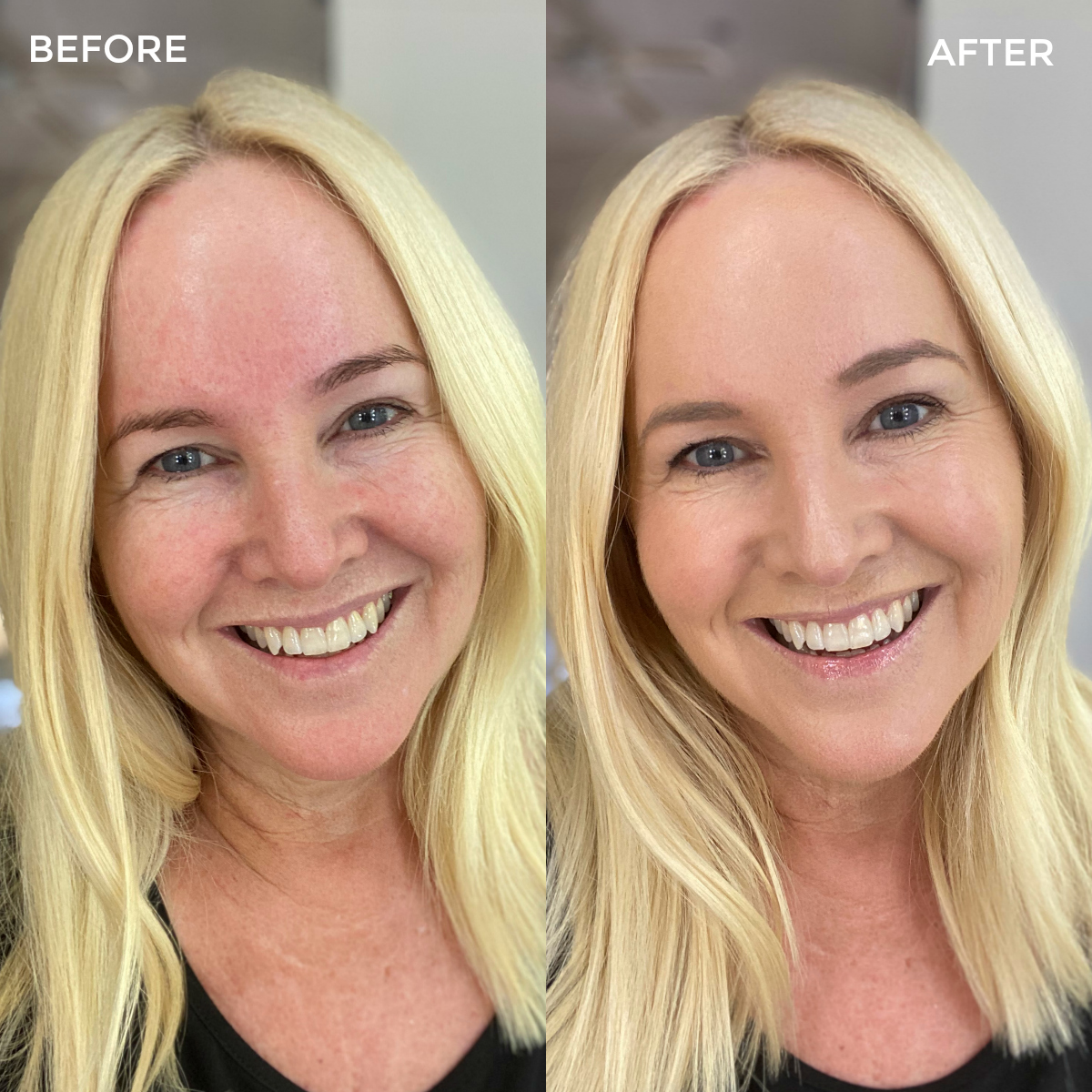 I'm SO on board the Trinny London makeup train. Like fully on board with a First Class ticket. If you've been hiding under a makeup rock, Trinny London is the brainchild of Trinny Woodall (yes, THE Trinny from Trinny and Susannah style makeover fame). I'd been following Trinny on Instagram for some time before she launched Trinny London and that's how I first found out about the makeup brand. The products are housed in small 4g tubs that all click together to create "stacks".
I became a lurker, did the Match2Me survey, but didn't buy anything until I was lured in by the bestselling product, Miracle Blur. Let's just say it's been a slippery slope ever since, because I've become obsessed at creating my everyday makeup stack. I've shared a few of those purchases in my Journal blog posts along the way but I finally got around to creating a video to show what I'm using and how.
Trinny is all about using cream products on our faces – particularly as we age. I must admit, I still reach for a dusting/highlighting powder some days on top of what I've featured. I'm not fully there with solely using cream products … yet. She's also very much about a less-is-more approach to how we do our faces. And something that I've always been on about – we're lead to believe that it's wrinkles that make us look less youthful but it's actually uneven complexions. For me, that's redness and the reason why I'm still sticking to a CC cream or foundation with more coverage. I feel fresher – and my complexion is even out – when wearing these.
There is now a Trinny London Australian site (buy in Aussie $ with free shipping when spending more than $150. Postage is super quick. Most of my orders arrive in three days) and Australian Trinny Tribe Facebook Groups you can join to discuss your stacks, so let's just say I've been availing myself of this development. You might have seen Trinny pop up in Australia on her promotional tour for the new Australian site? Sadly, she didn't come round to do my makeup but I hope she's happy with my stack choices.
The tub and stack concept behind Trinny London is genius for space saving and simplicity but I also love that, as a 52-year-old woman, I can go to a makeup website and not just be marketed to by 20-year-olds with perfectly flawless skin. A bit like we do with Styling You The Label, Trinny knows that we want to connect and feel connected with the brands we're buying from. We want to see people who look like us wearing the products being sold to us!
As for the products, they are quality. They feel amazingly luxe on your skin and they last the day. I do top up eye and cheek colour in the evening if going out. And those tubs of eye and lip product go a very long way. The products I go through most and have re-ordered is the BFF Cream and BFF Eye. Everything else, I can see me getting months out of.
Disclaimer: in the video below (click HERE if you can't see it), I'm also using some non-Trinny products. I've listed those products as well as my Trinny London stacks below.
Trinny London products used
Complexion stack:
BFF Cream SPF 30 skin perfector (light-medium)
BFF Eye serum/concealer (reda)
Miracle Blur – for blurring fine lines
Face Finish – a mattifying balm to use instead of powder
Cheek stack:
Lip2Cheek (veebee)
Sunlight – used as a highlighter
Jensta – used as a bronzer
Eye stack:
Justice – used on from lash line to brow
Desire – used across lid for contouring
Extra
T-Kit (great for applying eye makeup if you're not keen to use your fingers!)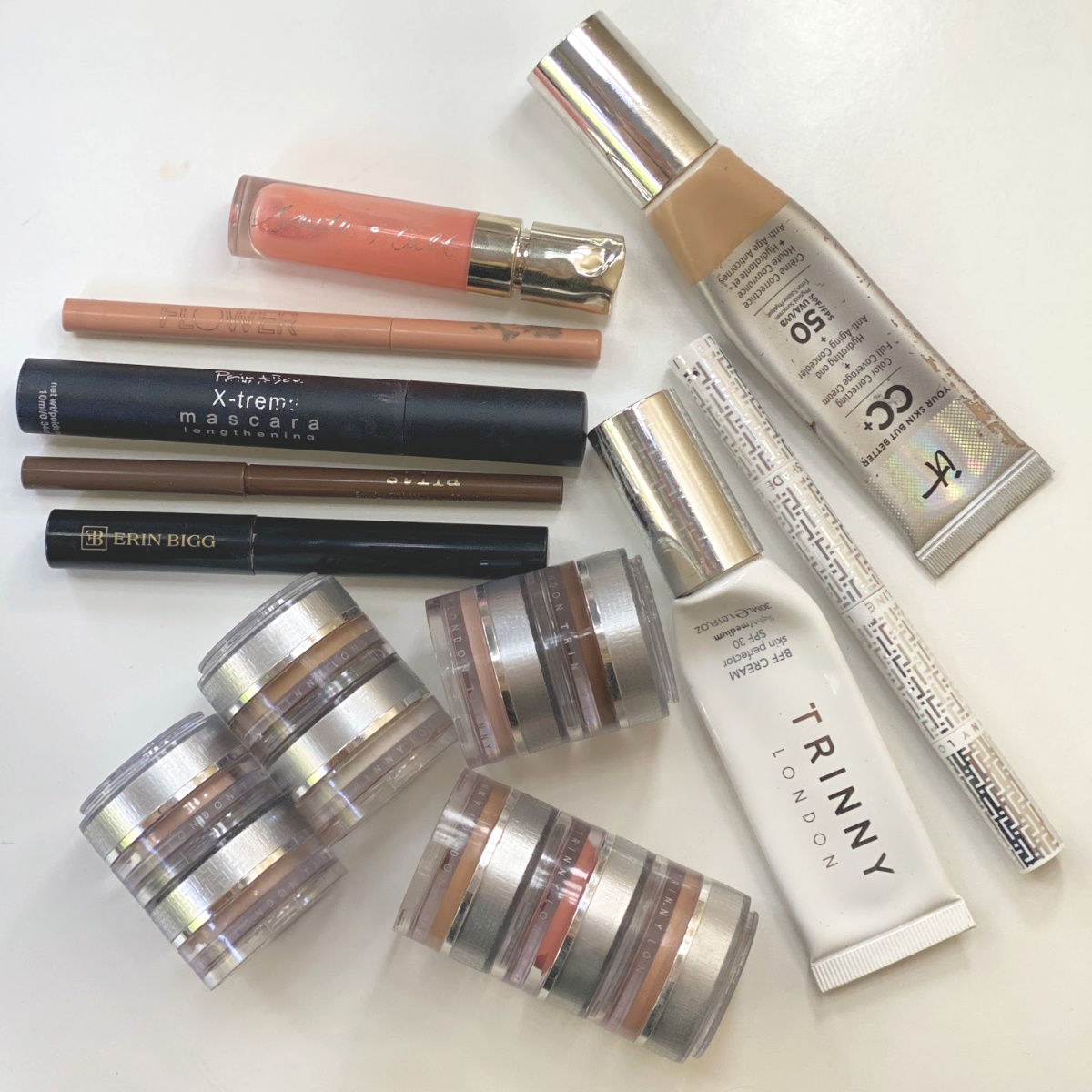 Other products
CC Cream: I'm still a huge fan of IT Cosmetics Your Skin But Better CC Cream (Medium). Awesome coverage and SPF 50+
Mascara: I love this Paintbox mascara so much, we stock it in our online store. It's a tubular mascara so no panda eyes!
Eyeliner: Stila Smudge Stick Waterproof eyeliner (espresso) … again, doesn't budge or drop down off my eyes.
Eyebrow gel: Erin Bigg Cosmetics brow ink gel (blonde)
Lip liner: Flower Beauty Petal Pout Lip Colour Nude ($5 for the best nude lip liner!)
Lip gloss: Smith & Cult Fade The Sun (bought at Atelier Christian Alexander)
So, tell me, are you fully on board the Trinny London Train? Thinking of creating a stack for yourself? My next stack is for a beach holiday after Christmas. I want to feel beachy but be minimal.
---
More Trinny London makeup videos
My fresh, glowy makeup routine (feat. Trinny London)
My winter warmer Trinny London everyday makeup look
I'm still wearing makeup even though I'm staying at home
My simple summer, everyday no-makeup, makeup look