I'm not paid to write any of these blog posts or film these videos – this is actually what I put on my face most days. Recently, however, I was sent two TL products*, which I promptly slipped into this winter warmer Trinny London everyday makeup look.
The below routine is a slight change on ones I've shared with you previously … you can catch up on my previous makeup posts featuring Trinny London here:
I'm still wearing makeup even though I'm staying at home
My simple summer, everyday no-makeup, makeup look
My Trinny London everyday makeup routine (this was the first post I wrote after buying Trinny London products for quite some time)
My winter warmer look is a look that helps me feel all sun-kissed and glowy – defying how cold it feels out. This might seem kind of strange when many places in the southern hemisphere are in the depths of winter but, for me, it signals the optimism that comes knowing that spring is just six weeks away.
As for my love of TL?
One of the most asked makeup/beauty questions I get is: "am I still buying Trinny London makeup products?" Short answer: yes. Long answer: there are TL products I'll never stop buying and I'm just as likely to be seduced by new releases too.
I'm completely on board the TL cult train. I've gone from someone who's mostly worn powder over her foundation and powder eye shadows to someone who loves the feels and look of cream makeup products. It took me a while to be convinced they wouldn't simply slip off my skin but once I'd given it a good go and broken my previous makeup habits, I was all in.
I was initially seduced by the convenience of the jars or T-Pots that click together to create a highly portable makeup kit (or "stack") but have stuck around because the products really suit my 53-year-old skin.
Since my last post, I've even booked a virtual appointment … something that evolved out of COVID times when the TL stores in the UK couldn't open.
The Zoom appointment was great (my wi-fi not so) but it did lead me down the path to finally trying the TL "foundation" Just a Touch. I was more confident in choosing my colour with the makeup artist's help. Trinny's concept with foundation is definitely less is more and only putting it where it's needed. It took me a bit of time to be confident of that but she's right. Yes, I'll still reach for a long-lasting foundation for an event or photoshoot, but for the everyday I brush in Just a Touch over BFF and BFF Eye. I look fresh, evenly toned and ready for the day.
Follow along on the video …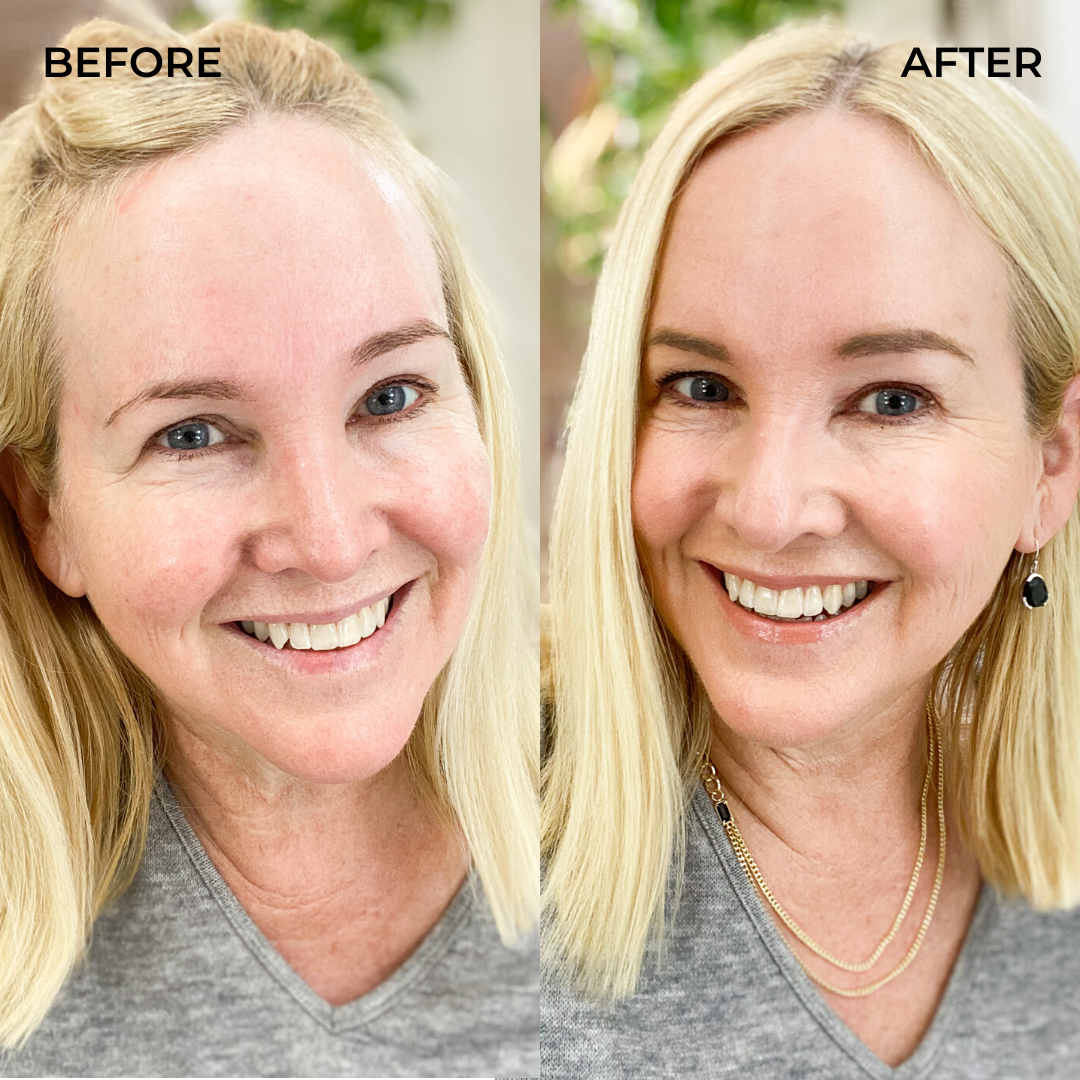 Winter warmer Trinny London everyday makeup look– products used (in order of appearance)
Trinny London BFF Cream SPF 30 skin perfector (medium)
Trinny London BFF Eye serum/concealer (reda)
Trinny London Just a Touch (Amelia)
Trinny London Lip2Cheek (veebee)
Trinny London The Right Light (sunlight)
*Trinny London Golden Glow (gaia)
Trinny London Eye2Eye (virtue)
*Trinny London Eye2Eye (fortitude)
Hourglass Arch Brow sculpting pencil (blonde)
Stila Smudge Stick Waterproof eyeliner (espresso)
Flower Beauty Petal Pout lip pencil (nude)
Trinny London lip glow (Lyla)