I'm all about simplifying your wardrobe and making sure that anything hanging or folded in there makes you feel fabulous.
Anything less, then it's time to ditch those offending pieces. (Here are my wardrobe editing tips)
Once your wardrobe is culled of less-than-fabulous items, it's time to get smart and create a capsule wardrobe that mixes and matches key pieces with each other.
A girls' weekend away capsule: If you're a mum, getting away from the family for a weekend away takes much organisation and even more planning. So, choosing a weekend with your girlfriends to plan and pack for a girls' weekend away is not something that can ever be a spur-of-the-moment type thing.
A 15-piece travel capsule for a holiday in the snow: If the majority of your trip is spent on the slopes, then creating a capsule will be easier than most holidays, as you'll be wearing mostly the same thing every day.
Styling You x birdsnest 9-piece summer holiday capsule wardrobe: The birdsnest Wardrobe Wingbirds set me a challenge to create a 9-piece summer holiday capsule wardrobe, a mix of pieces that can be packed for just about any holiday escape this season.
How to create a winter workwear 15-piece capsule wardrobe: This post covers 10 tips for dressing for the office in winter and ideas on how to create a winter workwear capsule.
How to create a week-day uniform capsule to suit your lifestyle: How to create a capsule wardrobe to take the stress out of everyday dressing.
6 pieces, 11 outfits – a spring travel capsule wardrobe: Motto designers designers Lauren and Faye set me the challenge to create a travel capsule wardrobe from six of my favourite pieces in the current collection.
15 piece spring-summer trends wardrobe: Spring-summer is such a long fashion season in Australia and it's also the season you're more likely to be outfit planning for parties, events and holidays.
Bali – a 15 piece holiday capsule wardrobe for a Holiday to Bali: The aim with your travel capsule is to feel cool and comfortable, to consider sun-safe options.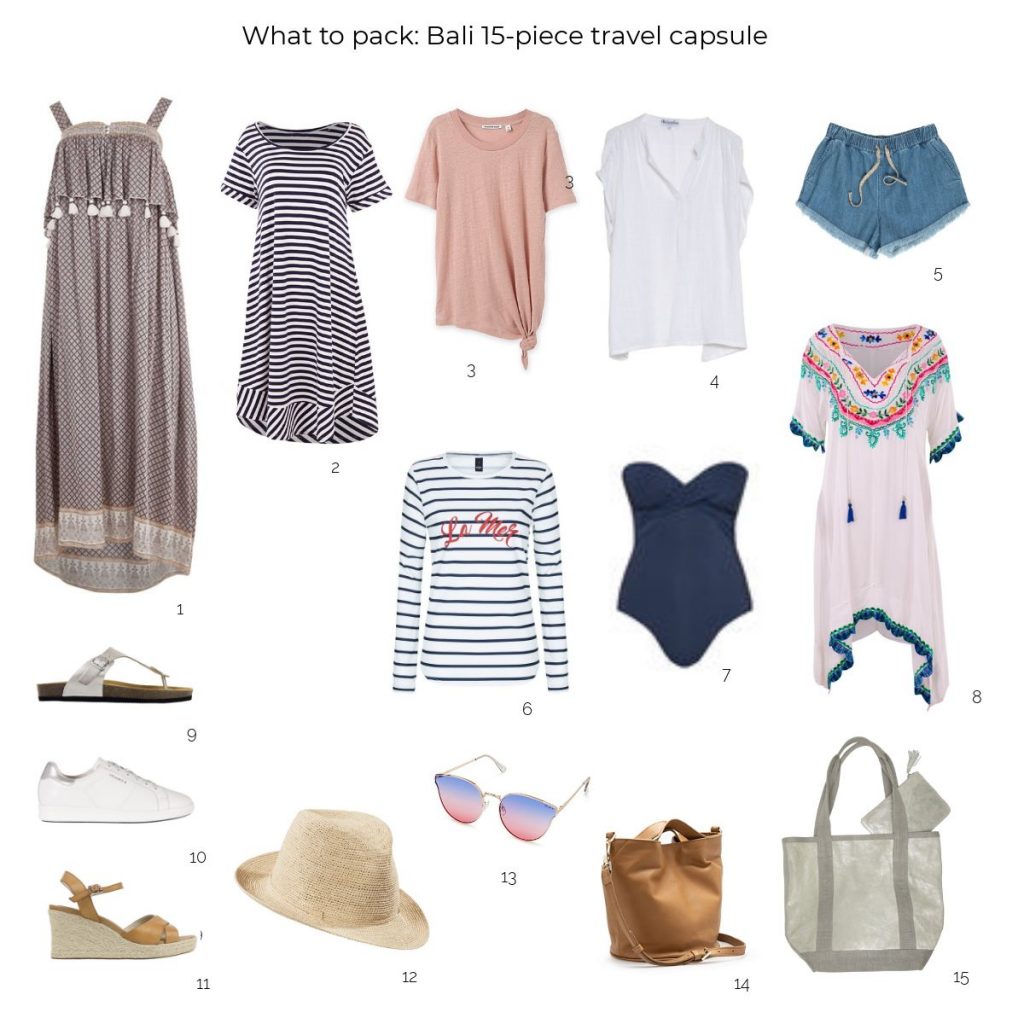 A teenager's winter capsule on a budget: Being a teen in Australia, winter clothes that are practical for our weather and are on-trend can be hard to find, especially at a reasonable price that our weekend jobs can afford.
What to pack for a holiday in Europe: In this post, I'll share my tips on what to pack for a holiday in Europe spring-summer 2018, as well as two capsule wardrobes for you to use as starting points for creating your own capsule wardrobe.
How to create a 15-piece summer workwear capsule wardrobe: If there ever was a more challenging time to dress for work, it's January and February in Australia. In the post you'll find 10 tips for dressing for the office in summer and ideas on how to create a summer workwear capsule.
How to create a work-from-home summer capsule wardrobe: This post gives you ideas for a capsule if you work from home or are a stay-at-home mum looking for a summer refresh.
How to create a summer workwear 15-piece capsule wardrobe: Dressing for the office is summer is a challenge. These tips might help.
How To Create A Winter Workwear Capsule Wardrobe: This post shows you my simple formula for creating a Winter Workwear Capsule Wardrobe and includes 15 mix and match pieces, with over 20 different outfit combination suggestions.
15-piece Nina Proudman Capsule Wardrobe: If you would like your wardrobe to feature a mix of Nina Proudman-inspired pieces, including labels that Nina has worn in past Offspring series, this post will show you how to achieve it.
Affordable Winter Maternity Capsule Wardrobe: The gorgeous Jasmine from Pretty Chuffed shares her tips on how to create a classic yet affordable 15 piece Winter Maternity Capsule Wardrobe.
15-piece Autumn Winter Basics Capsule Wardrobe: Let's discuss the basics you'll need to create a fabulous Autumn Winter capsule wardrobe.
15-piece Autumn-Winter 2016 Capsule Wardrobe: To help you navigate the Autumn-Winter season, I've created 28 different looks from this 15-piece wardrobe capsule collection. Learn how you too can create four weeks worth of outfits from one capsule wardrobe.
How To Create An Autumn Workwear Capsule Wardrobe: Looking for pieces to freshen up your existing workwear wardrobe by not sure where to start? This post features practical advice when it comes to new season purchases.
An Affordable Capsule Wardrobe For New Mums: Jasmine from Pretty Chuffed shows the new mums amongst us how to create a beautiful capsule wardrobe. Learn how to create many casual looks with these 15 affordable items.
15-piece Underwear Essentials Capsule Wardrobe: I'm giving you a peek into my wardrobe life in this post, by revealing which underwear essentials make up my own capsule wardrobe and offering tips on how you can create yours.
How to Create a Summer Casual Capsule Wardrobe: Use this guide as inspiration to create a Summer casual capsule that's matched to your lifestyle, personality and budget.
How to Create a Summer Workwear Capsule Wardrobe: Whether you're starting from scratch and needing a whole new work wardrobe or you're just wanting to freshen up your existing wardrobe, my tips on how to create a Summer workwear capsule wardrobe will have you feeling confident and comfortable.
How to Take a Capsule Wardrobe From Casual to Evening: Join Styling You reader, Jo, as she shares her tips for taking your wardrobe from casual to evening in just a few easy steps.
Spring Wardrobe Essentials: The Capsule Collection: The idea behind this 13-piece capsule collection is to give you a snapshot of how just a few key spring wardrobe pieces can work together to create a number of different looks.
How To Get Julia Morris' Wardrobe: I've put together a capsule wardrobe that would kickstart you into a Julia Morris look that will endure long after the last celebrity has left the jungle.
Wardrobe Boot Camp: How To Dress Smart Casual For Work In Winter: I'm helping solve a Styling You reader wardrobe crisis by showing how to dress smart casual for work in winter by creating a Winter Work Smart Casual capsule wardrobe.
How To Layer Clothes In Winter Without Looking Bulky: Layering in the cooler months can be tricky but my Winter Layering Capsule Wardrobe will show you how it's done using a mix of pieces, from undergarments, to knits, pants, jackets and coats.
What to Wear on a Date Night: If you're not sure what to wear on a date night, or a night out with the girls, I've put together a 15-piece capsule wardrobe that will solve all your date night wardrobe dilemmas!
Summer 2015 Styling You Shop: The Summer 2015 Styling You Shop is open for business! Like previous Styling You Shops, we've carefully chosen pieces to form a capsule wardrobe of building block and show-pony pieces that will serve you through Christmas parties, to holidays and beyond.
Spring 2015 Styling You Shop: I've worked with some of my favourite fashion designers and online stores to bring you a selection of clothes that can work for a multitude of occasions as well as for work and play. What we've done is carefully select pieces to form a 17-piece capsule wardrobe of building blocks for spring and beyond.
Autumn Winter 2015 Styling You Shop: Introducing the Styling You Shop. Featuring 13 key Autumn Winter pieces styled in 15 different outfit combinations, the intention has been to offer quality pieces that represent value for money – and pieces that will be in your wardrobe for many seasons to come.
What to Wear to the Office – Summer: In this post I tackle dressing for the office when the humidity is high and the post holiday blues can leave you feeling a bit low.