New Nina and old Nina style collided last night.
It made me very happy to see her donning a kimono and jeans, even if she didn't leave the house in said kimono situation. And it made me very happy to see her trot out a soft jacket, jeans and boots.
Don't get me wrong, new Nina looked fabulous in another pair of belted pants, floral blouse and trench.
But old Nina? Old Nina still has my fashion heart.
In celebration of a glimpse of the old Nina, it's that outfit that I've decided to recreate for you this week. And get excited, the jacket is AVAILABLE in store now. Run, don't walk.
As you know, this is a very rare occurrence when it comes to Nina's wardrobe – the pieces she wears can often be from past seasons or vintage.
You all went mad for the Flannel jacket last week for that same reason. Let me know if you did buy it and how you're loving it?
1. Tigerlily jacket $169.95 @ David Jones (exact match) – or direct from Tigerlily HERE
2. Top End boots $339.95 @ Styletread
3. Country Road bag $299 @ David Jones
4. Katies Smart Jean $35 (on sale) – Read all about these jeans that include a concealed smart phone pocket HERE
5. Papinelle tank $23.95 (on sale) @ Birdsnest
6. Bec Stern earrings $38 @ Birdsnest
7. Nicole Fendel necklace $89 (exact match)
Other looks

Vintage kimono silk top and mushroom Crossley silk pants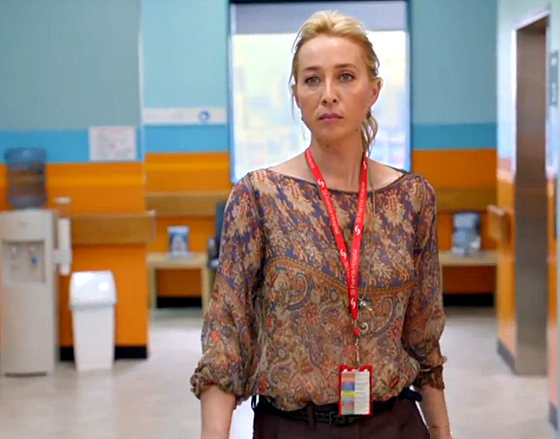 Silk printed Mes Demoiselles blouse | burgundy Nine in the Morning pleat 7/8 pant| antique seahorse pendant | Krista McRae silver bangle. 
More and Billie details HERE.
The de-brief (spoiler alert)
"I'm not a 2am girl; I'm a nice restaurant girl," declared Neens at the end of an episode that sadly did not include the object of her 2am desires – Franklin, Asher's IRL husband.
Franklin was extremely cosy, post one-night stand, so cosy he felt it necessary to text Nina a photo of his assets. Meanwhile, Angus still looms as a future asset sharer.
The scriptwriters have only escalated – not lessened – the awkwardness and tension between them, which is a surefire TV romance scenario. Are we supposed to warm to his pants-man ways?
The man of the hour and the episode was not Angus. No. It was Mick.
Oh Mick, we've missed you but, really, is that all we're going to get of your perfectly imperfect ways (see what I did there?). Will you return to London and the tour for the duration of the series?
Can I give you the hot tip if you do decide to return before the series is out? Book a hotel room. It will be worth it.
Meanwhile self-appointed, self-help guru Billie continues to offer up inspirational quotes and affirmations that really need to go viral on the internet. I'm going to be like a Teflon pan today, I AM.
Geraldine tried to make a run for it and flee to Amsterdam but only got as far as Will's mum's Marjorie's place. Same-same, really.
As for Will, he's done the dirty on accidental-Uber driver Jimmy but I think he's the type of person who really can't understand why his actions would hurt. Will, heads up, the Proudmans are about people, not just dollars. Get on board with your genetic programming.
Warrior woman Zara backed up her ideas-man husband, though. Can you see a food van in their near future? Something good has to come out of that caravan and it can't be Jimmy sans pants.
That's it from me. Time for you to share your thoughts about Nina's style this episode and the plot developments.
PS. We'll also be chatting all things Neens and Offspring in the SY #everydaystyle community. Have you joined yet?
* This post contains affiliate links. If you buy something via one of these links I may receive a small commission. Full disclosure policy here. Photo credit: all scene photos are from Network Ten.