I'm more of a beauty product enthusiast than expert but I've learned a thing or two over the past 20 years of writing about skincare and makeup. For my latest Lunchtime Live on Instagram, I answer your questions as well as talk you through the 7 beauty products I'm loving right now.
Scroll on down for links to products mentioned.
Q & A
I was asked about acids and retinol. Here's a link to my skincare routine blog post and Lunchtime Live where I talk through the reasons behind my softly, softly approach to active ingredients on my skin. I also explain cleansing and my must-do double cleanse evening routine.
I was asked about my fave makeup brand and the overall winner for me is Trinny London. I've talked about and featured this brand before (you can catch up HERE). You'll also find links to the products I use and keep buying. I've banned myself from buying more lip colours as they don't stay on my lips and re-applying is not as easy as a lip gloss with an applicator. I'll continue to buy Miracle Blur, BFF Cream, BFF Eye and BFF De-Stress as well as fave cheek and eye colours. The less-is-more approach to makeup and the cream formulations are prefect for my 53YO skin.
In terms of foundation, I mix it up but generally always layer the Trinny London BFF products underneath. When it comes to lasting on my skin throughout the day, I did a test over three days with my favourite products.
7 beauty products I'm LOVING right now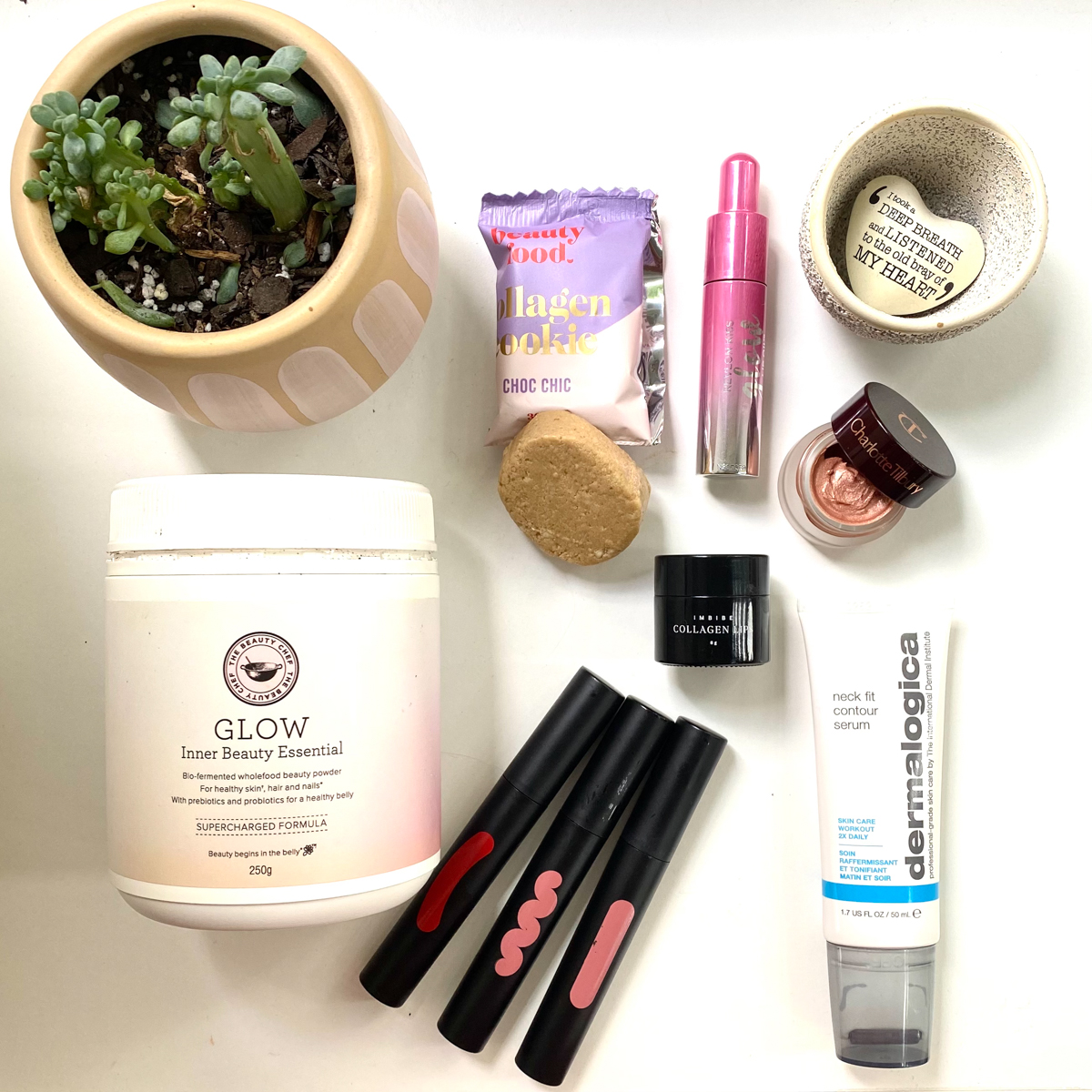 SKINCARE
Dermalogica neck fit contour serum (gifted): I've been using this solidly, morning and night, for five weeks now. There is a tightening on application but a definite difference over time. My facialist even noticed it. I love the roll applicator and pop this on after cleansing and toning as my neck serum; using my regular morning or evening serum on my face.
The Beauty Chef Glow Inner Beauty Essential: I had resisted the whole beauty food trend for some time but when I was looking for a bit more of a lift last year (not just in my skin), I bought this and have continued to have a serve most days. Like the collagen cookies below, I think it's contributed to my overall health, wellbeing and skin glow.
Beauty Food collagen cookie: part of the problem with me taking on any new supplement or beauty product is maintaining the consistency. If I have to put collagen in a smoothie, I'm less likely to achieve taking it every day. But put it in a cookie, then it's the perfect mate for post-dinner with a peppermint tea. The woman behind this brand and products is someone I used to work with as a journalist back in the day – I trust her, which got me across the line with my first purchase, but I've since subscribed because I believe this product is working for me.
Imbibe Collagen Lips: Imbibe has its own beauty food range (and I have bought one of them and will report back after I've been using it for a while) but it was @what_brooke_wore sharing the Collagen Lips product that had me adding to cart immediately. In just over a week, my lips are healed from too much sun at the beach over the holidays. I'm using a few times a day but it's recommended as a nightly treatment.
MAKEUP
Kester Black lip colours: I love these so much, I now have three colours (First Date, Never Nude and Pow Wow). They are a long-lasting, non-drying matte lipstick, which I love because I can apply at the start of the day or the start of a night out and know that I don't need a touch up. What I do do through the day or night is pop a gloss or lip oil on top.
Revlon Kiss Glow Lip oil (gifted): These came as part of a glow pack from Revlon and I must say I'm loving them. Just a touch of tint but a glowing oil. Good value too!
Charlotte Tilbury Eyes to Mesmerise in rose gold: If I had to nominate my favourite eye colour (for my eyes and skin tone) it would be this. I'm nearly at the end of a tub I bought online about a year ago … maybe longer. And the one in the photo is the freshie I've got ready once I've brushed out every last bit! It's creamy but with staying power and a beautiful everyday eye colour. It sells out from time to time but seems to keep coming back.
Thanks so much for watching, listening and reading. Let me know if you've got another topic you'd like me to tackle!
Lunchtime Live outfit: Ada and Lou dress (I'm in XS in the longer length. Belted up makes it look shorter. Sizing is very generous sizing) | FRANKiE4 Footwear heels | vintage belt