I've had a search back through the archives here at Styling You to find out when I first started talking to you about Australian label, Binny.
Turns out it was back in 2013, when a striped Binny maxi skirt first made its debut on Nina Proudman in Offspring. Did you buy that skirt? Do you still have it?
Later that year, one of my all-time Binny pieces came away with me to Bali for a girlfriend's 40th. That piece is STILL in my wardrobe, surviving edit after edit. My husband doesn't like how its bells ring every time you move when wearing it but that only makes me love it more.
Each season, Binny has introduced to us more fabulous designs and prints. The label has gained cults status, as fans eagerly await each season's release.
The Binny spring-summer 2017 collection launched in boutiques and online just over a week ago. Fans have already gone nuts, snapping up their faves.
One of my favourite local boutiques, Petrol Boutique, has been a stockist of Binny since day one. I talked to mother-and-daughter team behind Petrol, Paula and Sonia, ahead of this season's release and put my name down for a piece or two.
The first drop arrived last weekend and this dress hadn't been on my radar until I saw it in the flesh. I bought it with the view to wearing it to a wedding at the end of this month.
(The second was this weekend gone and I may have bought another piece, which Instagram followers tracked on my Insta Story.)
The dress below is now sold out at Petrol but you can see what Binny stock the boutique still has HERE. This same shape is available in a pineapple print, a print that sadly didn't work with my skin tone. If you're keen to track down this particular frock, contact Binny direct for a stockist near you.
The model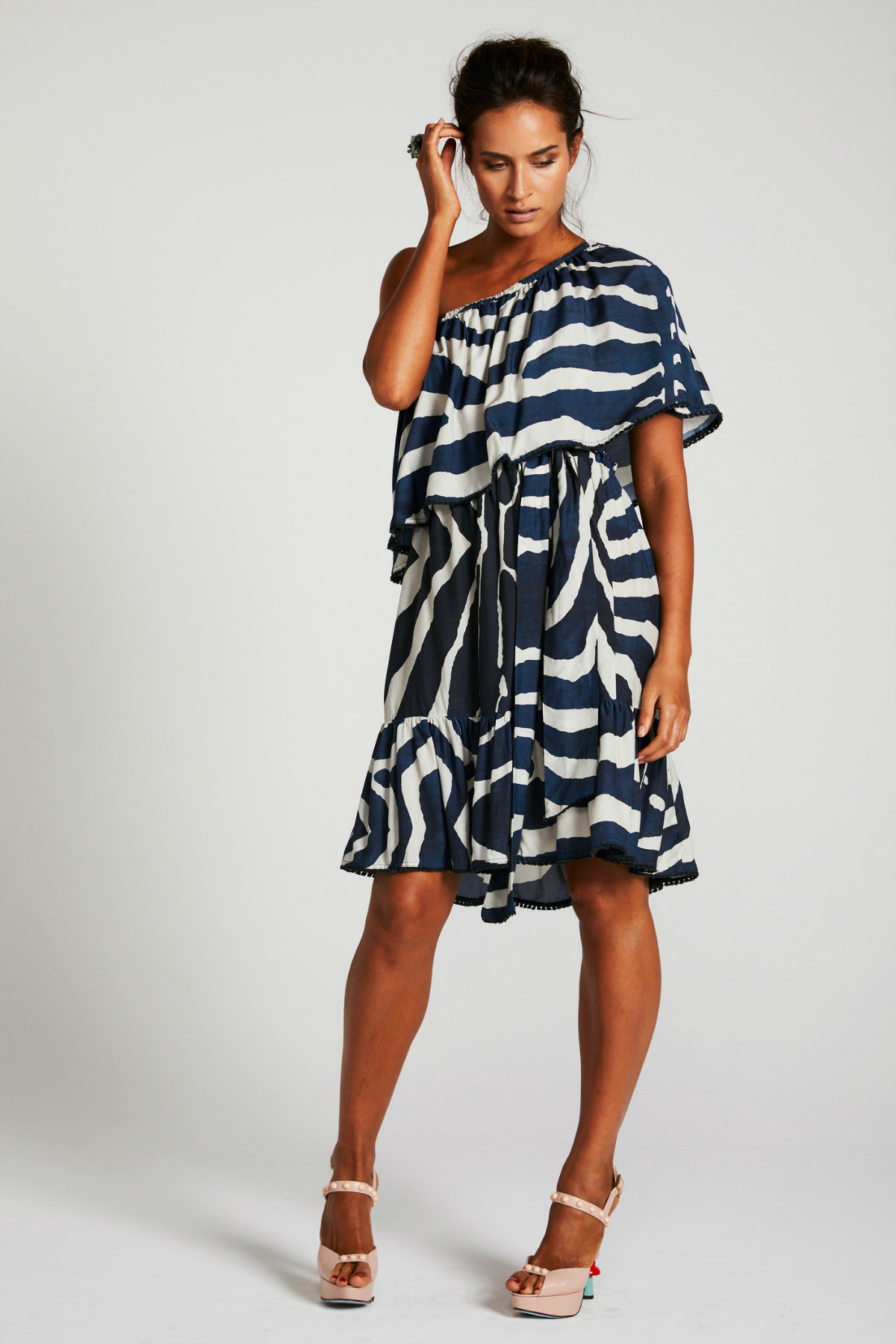 Binny Amazon shoulder dress (if you're size isn't available, contact Binny for a stockist who may still have this design)
and me
Binny dress (I'm in size 12) | Christie Nicolaides earrings | FRANKiE4 Footwear ALANA heels
There were a number of reasons why this dress came home with me.
#1: I love navy anything. But you knew that, didn't you?
#2: It's off-the-shoulder. Well, off-one-shoulder. I must admit I was concerned about letting one arm (in all its tuckshop glory) loose but it was quite liberating. I may just get both arms out this summer.
#3: It's made from a gorgeous cotton-silk mix that feels and looks luxe but could be dressed down or up, depending on the occasion. I've worn here with heels (my fave party heels) but it could be worn with flat sandals for a more casual event.
#4: The ruffle drop and elasticated waist and tie create shape without feeling restrictive. You can also adjust where the waist sits.
#5: This is a dress that you could wear to a Christmas party or event and not be concerned about how much food you consume. It's a shapewear-free zone. Hip, hip, hooray for that.
A note about the sizing. I'm a size 14 and am in the 12 in this design. I'm 166cm. I've also sized down to a 12 in this dress – but in this dress, I was my regular size 14.
A note about pricing. Everyone's budget is different. This is a designer piece, featuring a unique print and detail – it's an occasion piece that will long be in your wardrobe.