I love flying. Always have. Love the excitement of airports. Love the glamour of it all.
Unfortunately glamour is not a word that I associate with how I roll out of a plane at the end of a long-haul flight.
Not. At. All.
My dodgy thyroid, which makes this old bod' prone to inflammation at the best of times, sure has a swell party (with the emphasis on swell-ING) while up in the air for a prolonged period of time.
Add to that, flying back in time, half way across the world to attend BlogHer in New York … let's just say, I'm prepared. By prepared, I mean I've packed of an excessive amount of helping-hand products for my cabin bag.
Just ask my now-friend Sarah, from A Beach Cottage, just how "prepared" I can be. I first met Sarah in person last December. We had chatted on Twitter but it was in the queue to check in on our flights to Kuala Lumpur for the Nuffnang Blog Awards that we actually properly met.
Everyone was telling me that I could only take a 100ml TOTAL of liquid product on board. I panicked and asked Sarah if I could stash my "excess" liquid, read beauty products, in her suitcase that was about to be checked in (mine had already gone through). All references to boogie boards and leafy substances aside, you can imagine the look she gave me? A cross between CRAAYZAAY and IS SHE FOR REAL?
But being the trouper that she is, she did take my beauty stash … only for us to find out when heading through customs that I would have actually been ok. It was only a single item that could be no greater than 100ml. Oh and they need to fit into a sandwich bag (You can get all official and check it out here).
Sarah kindly "re-paid" me for my beauty stashing by blogging about the beauty show and tell I did on the floor of Melbourne airport where we sat out the night waiting for our "connecting" domestic flights home 😉
So, how do I manage my love need for having product with me at all time with meeting inflight requirements and hoping against hope to minimise the pain that is jetlag?
1. Pack products like wipes and pressed powders which don't eat into your allowed space.
2. Hunt down travel sized versions of your favourite products and carry these tiny tubes instead.
3. For larger products (and I've included some below), I'll put some of the product into a clear travel container and put the jar into my checked luggage. Look for cheap sets at your supermarket or Priceline.
Let me talk you through what's made the cut, so far.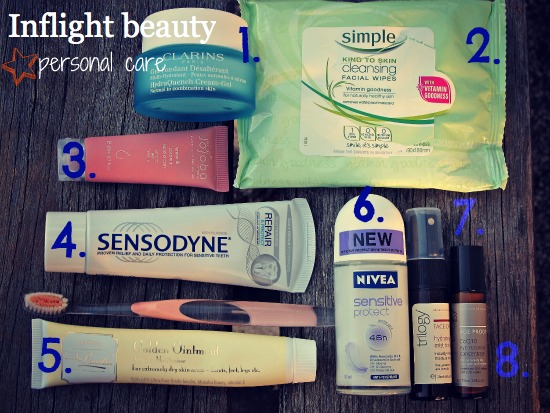 These are my non-negotiables for personal care. They are coming with me, no matter what.
The Clarins HydraQuench Cream-Gel (1) will be a godsend on my face (but I'll transfer some into a travel tub to cut back on space). Wipes (2). I never leave home or stay at home for that matter without them. The Jojoba Company lemon & coconut hand cream (3) came in a travel set, so a perfect size. My sponsors, Sensodyne* (4), are ensuring not only that I get to BlogHer but also that my teeth look and feel their best too.
I've previously talked up the new Golden Ointment from Lanolips (5) – my lips will not be parted from it and I can use it as an all-over moisturiser too. I'll be buying an aerosol the minute I get off the plane but it will be the sister version of this product (6), a new fave from NIVEA that works to keep the sweat monsters at bay without any irritation.
The Trilogy Travellers pack includes five little gems and this is one of them – a hydrating mist toner (7) – great for spritzing whenever it takes your fancy. Also from Trilogy and something my eyes will want to marry during a long-haul flight – Age Proof CoQ10 eye recovery concentrate (8).
These are the things that I convince myself that will make the jetlag recovery process at either end all the better. Also non-negotiable.
Start with a good neck pillow (8) and cankle-minimising compression socks (2). And I've been using the Australian Bush Flower Travel Essence (4) on long-haul flights for 10 years now. I really think having those drops regularly during the flight and after does make a difference.
Olive Leaf Extract (1) is my friend. This is my extract of choice but when it comes to ziplock bag time, if I'm tight, I'll swap for some tablets and put this in my checked bag and start swigging when I arrive. I'm going to give these Nature's Own natural sleep aid tablets (3) a go. Can't hurt, can they?
Now, let's talk spritzers. My good friends at Twenty8 taught me the power of an essential oil spritzer three years ago and I've been spritzing ever since. I talked to Kim Morrison from the organic brand recently and she swears by these two blends for inflight health. Use Immune Boost (6) in the spritzer bottle (5), mix four drops with pure water and spray around you in your seat – often. I liken it to creating a Cone of Immunity. Yes, I expect looks but better the looks than a lurgy. The Energy and Vitality blend (7) will come in very handy when landing in both LA and New York. And I'll probably be inhaling it to get me through the entire conference.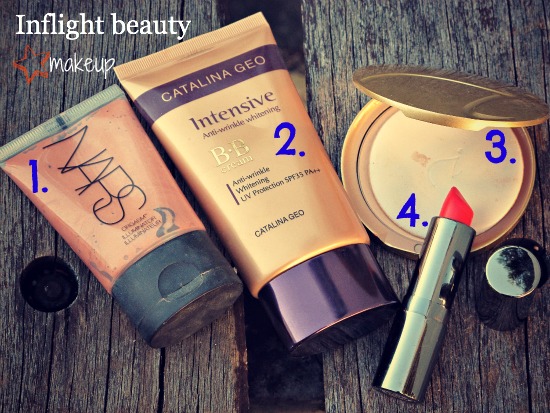 Ok, hear me out on this one. Yes, I take my makeup off and moisturise up when I get on the plane. BUT. Just before I land and I'm not feeling so hot, to pep me up a bit, I'll add on a bit of a "face". Nothing fancy, a few pick-me-ups. Not everyone is like this but it works for me.
I'll start with this new Catalina Geo Intensive BB cream from Makeup Australia (2) I've been trialling. It goes on more "mask-like" than the Garnier one that's been a firm fixture in my makeup kit but within seconds it disappears into my skin to create the BB base that I'm a little bit addicted to. The bonus with this one for me is that it's SPF35+ as opposed to SPF 15+, which is just what I need when sending my skin into a hot summer from a Queensland winter. It's also more matte so I will be testing how it stays on in humidity.
And, as I do with my Garnier BB Cream, I "set" it with a little mineral makeup powder. And I much prefer my Jane Iredale Pressed Powder (3) for travelling and minimising mess. The final touches: a bit of Nars Orgasm Illuminator (1) for upper cheek colour and a bright pop of lippy with a formulation that is still kind on dry lips. Say hello to Eles Cosmetics Micro Bubble Lipstick in Micro Melon (4) – a gorgeous orange/pink.
… NOW, if all that doesn't help me, I've also built in some fast-tracking recovery strategy for when I'm on the ground in New York.
It's the kind of recovery strategy I do best 😉
I've booked a jetlag massage here and a blow dry here.
And then I'm off to lunch. At Balthazar. As you do.
BECAUSE YOU'RE IN NEW YORK! And that's all the recovery time I'm giving myself.
Have you got any jetlag minimisation tips for me? Any products you swear by for inflight health and beauty?
* Disclosure: the above products are a mixture of products I've bought, products that were gifted to me a long time ago and others that are new additions. Any gifted products were sent to me for editorial consideration.
————————————————————————————————————-
In case you missed the announcement yesterday … 
I'm attending BlogHer '12 thanks to my favourite toothpaste, Sensodyne.