My name is Nikki and I'm a self-tanning addict. There, I've got that of my fake tanned chest.
I thought back to when I started regularly fake tanning and it was probably about 10 years ago. Initially it was for occasions; but in the past six or so years it's been more a "just because".
… Just because I feel a little more fabulous when self-tanning. Just because I feel a little more glowy. Just because I definitely DON'T bake my skin in the sun (skin cancer is no joke). Just because I can.
In saying that, what makes me feel good may not work for you. Yes, I should just love my skin as is but, like all body image stuff, it's a daily struggle. Naturally, I have mottled white skin – it's not porcelain – just fair skin that seen 54 years of incidental sun exposure under the Australian sun.
Self-tanning, for me, is a way to help me feel more confident.
Thankfully self-tanning products come a very long way. Most of us will be old enough to remember either our or our mum's attempts at embracing early fake tan products, the kind that gave off an orange glow and gave self-tanning products a bad name that still lingers.
My personal preference is a salon spray fake tan – out of laziness and the need for a uniform finish for the number of photoshoots I do as part of my work here on the blog.
Most weeks in spring/summer/autumn I'll get a spray tan. I'll ease off in the cooler months when I'm mostly covered but with this regularity, I've found through trial and error what works for me to make that fake tan go the distance – and what works when it comes to prepping your skin for a new application.
In the video below I chat about my tanning routine and run through some of my dos and don'ts.
25 self-tanning dos and don'ts
My 25 self-tanning dos and don'ts below are tips I've learned through trialling and from asking the experts.
The science behind how a fake tan works is this: all self-tanning products contain the active ingredient dihydroxyacetone (DHA). DHA is a simple carbohydrate that can be sourced either chemically or naturally. It reacts with the amino acid in the top layer of our skin (dead skin cells) and oxygen in the air, generating pigments called melanoidins.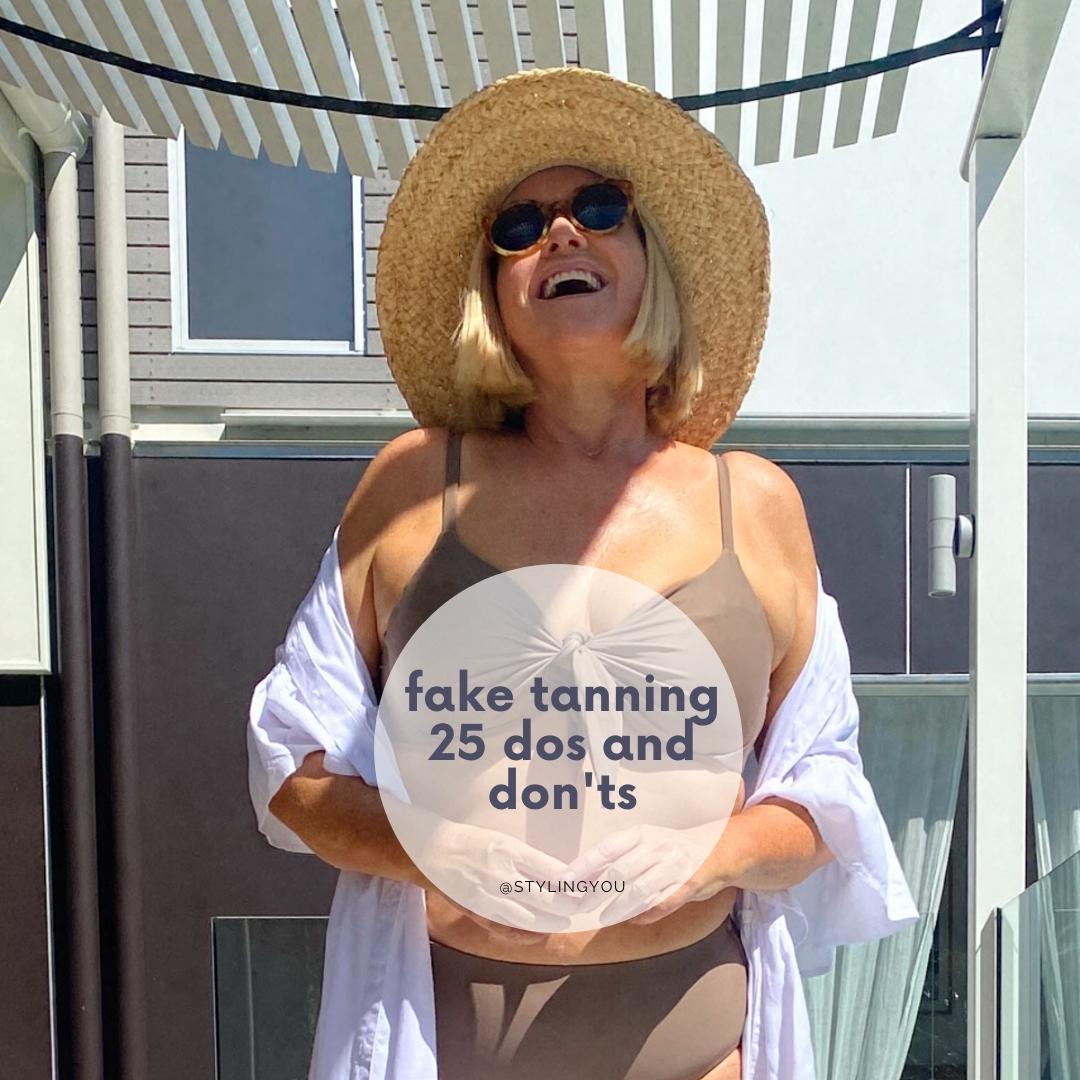 1. DO tread gently with the colour you choose for your fake tan. You want it to still look like your skin. Start by erring on the side of less is more on the shade and scale up if the colour doesn't develop to the colour you're looking for.
2. DO ask someone with similar skin to yours about a salon spray tan recommendation near you. I get great, consistent results getting from Loving Tan spray tan at G&Co Beauty Boutique. I mostly get the dark shade – I used to always get medium but the regular fake tanning has meant that my skin needed a little bit more oomph to generate the melanoidins. Georgie is so thorough with her tanning – evening using a kabuki brush to blend out the spray tan on the next, feet and hands.
3. DON'T book in for a salon tan for a special occasion without trialling it first. Find and trial your ideal salon colour long before you need it to make you feel fabulous at an event.
4. DON'T fake tan the day of an event or occasion. The optimum time to have a salon tan or self tan before an event is one to two days beforehand. The colour will develop over 48 hours from the time of spray tan.
6. DON'T remove hair on legs the day of your fake tan. Remove the day before, otherwise the solution will sit in the hair follicle and create a not-so-special dotty appearance to your legs. Let's just say I found out the hard way on this one.
7. DO exfoliate on the day of your fake tan. I use a tanning scrub mitt. This gets rid of any residual fake tan but also gets rid of dead skin cells so that the skin is smooth and primed for the next fake tan. A game-changer for me has been the discovery and use of Elle Effect The Wash on tan removal days. It's a thick gel-like cleanser that I rub on all over and leave a few minutes before starting the scrub off. Under the shower, the previous fake tan residue simply melts off and rinses away. This is so much kinder on your skin than harsh scrubbing.
8. DON'T use any moisturisers on the day of your spray tan. Simply pat dry your skin and leave moisturiser-free before the fake tan. If using Elle Effect The Wash or any moisturising exfoliators, allow at least two hours between washing and tanning as it has moisturising properties.
9. However … DO lightly moisturise your heels, elbows and knees. These are the skin areas that are typically drier and you don't want the tan to grip there.
10. DON'T use deodorant before a spray tan. If you do use deodorant, there is a strong risk that the spray tan will turn your underarms a lovely shade of green.
11. DO take dark, loose clothing to change into after your tan. Oh and leave the bra and undies off after. They will just rub off what's been sprayed on. A dark-coloured, loose dress in a breathable cotton or bamboo fabric works best. Check out the range at Little Tanning Dress.
12. DO avoid wearing footwear that fully encloses your feet or has large straps after your tan otherwise you'll end up with those marks or the tan not taking to your feet.
13. DO experiment with the optimum time for leaving on your choice of salon spray tan. Back in the day, spray tans had to be left on overnight. Not nice for your sheets and not nice for those in the vicinity of your general aroma. Think barbecued chook … but not in a good-give-me-some-chips-on-the-side kind of way. These days most are of the two-hour-wash-and-wear variety. I find if I leave mine on four-five hours, it produces the best result for me. Again, I've had to up the time it's left on because of the way my skin has become used to the product.
14. DO stay cool and dry while "basting". In that post-tan, "marinating" or "basting" window, you need to avoid rain and sweating. In summer this tends to mean putting the aircon on and staying put. If you do get a spot of rain on a developing tan, pat it dry immediately.
15. DO use only water to rinse off residue after the basting or marinating period. Don't use any cleansers until the next morning. Don't shower under super hot water (at any stage of the tanning cycle). This will only reduce the time your tan will last.
16. DON'T moisturise after the initial rinse off of fake tan residue. This is a biggie. The product is still developing. Adding moisturiser at this point will dilute the tan's development. 17. DO moisturise like a boss every time after that to look after your tan investment. This applies from every shower after the initial rinse-off shower. If there is ever a time I'm religious with moisturising the skin on my body, it's when I've had a salon spray tan or taken the time to do it myself. I want that baby to last. Keeping the skin hydrated morning and night and avoiding anything resembling exfoliation is key.
18. DO use a body oil in the first two days, post fake tan, but then switch to a cream moisturiser afterwards. Initially the body is great for that hydration but then the oil will start to break down the tan. I apply while the skin is still wet. My body oil faves are from Bettyquette and Ikatan. My body cream moisturiser of choice is Go-To Skin Party.
18. DON'T stop using sunscreen. A fake tan does not protect you from the sun's harmful rays. Wear SPF50+ at all times when out and about.
19. DO swim in the ocean or pool as often as you can (because that's life!) but do so knowing that this will reduce the time your fake tan "sticks". Moisturising as soon as possible afterwards will help reduce the tan-dissolving effects of salt and chlorinated water.
20. DO use a gradual tanning product at about the day three-five mark to stretch out your fake tan further. This is a trick I do if I want to make my tan last longer than a week – especially on the legs and arms. If I do a salon tan one week, it's still there in seven days time. Left to its own devices it would be all but gone by day 10 but this way I'll get almost two weeks. I use Loving Tan Deluxe Gradual Tan or add Vacay Body Illuminating Face and Body self-tanning drops to my regular moisturiser.
21. DO just use a gradual tanner full stop. This is the easiest and most foolproof way to get a fake tan without streaks. Depending on the product, you still may have to fully exfoliate every couple of weeks to create an even tanning skin but apart from that you should see a lovely colour within a day.
22. DO try fake tanning at home. The same principles and process applies, you just might need to enlist the help of someone to do your back. Using a tanning mitt is a must for an even coverage. My favourite fake-tan at home brands are: Loving Tan, Elle Effect and La Beach.
22. DO use a wash-off, instant formula. If time really is of the essence or you just need to quickly get a uniform colour on one part of your body, these work like body makeup and don't budge until you shower off. My fave is Elle Effect The Tint.
23. DO tread carefully when using home or salon fake tan products on your face. I used to be ok with a light spray on the face in the salon but my skin (hello peri menopause) started reacting to it. So, I just tan to under my chin. There are specific face fake-tan products available if you're looking for a formula specific for that area. I don't really see the point as I cleanse twice a day and it would be gone from my face as quickly as I applied it.
24. DO adjust your face makeup to suit your fake skin colour. The two-toned face/body skin look is not a good one. It's a bit tricky but what I've found works best for me is having two foundation colours – one for my normal skin colour and one matched to my spray tan. I also work my bronzer to bring the skin on my face and body together.
25. DO throw out any fake tan products from last summer. I found out the hard way on this one and ended up a lovely shade of green.