Looking for new foundations for your peri or menopausal skin? Don't worry, I've put my face on the line. The result: a road test of eight foundations you might like to try on your face.
I've been on a bit of a mission to try and find a new foundation. I don't know why I went on the mission as I was pretty happy with the foundations I used but I thought, maybe there was something that my skin will love better.
My menopausal skin has changed a lot over the past few years but thanks to a good skincare regime, it's beautifully balanced, if still a little on the dry side.
Hydration is definitely still my overall skin aim and hand in hand with that has come ditching the powders and reaching for dewy cream and liquid foundations. The driest areas on my face – forehead, nose and chin – still need extra attention with hydration before applying any liquid foundation. If you've ever experienced makeup looking patchy on your skin, that's because the skin underneath has soaked up the moisture from your foundation.
Hydrate, hydrate, hydrate!
It's no secret that I'm a Trinny London fan. Most days I reach for the BFF products. They are perfect for the everyday. But for for events and photoshoots, particularly in a humid Queensland summer, I need something with a little more staying power.
For years (even through a period when it was discontinued), my long-lasting foundation of choice was Stila All-Day Foundation and Concealer. I wondered if there was something out there to equal or better it. The two key things I want in a foundation are: it stays on my face and gives me a glow. Simple.
So, over the last month, I applied eight different foundations to my face on different days – each of the foundations falls into the every day or the events/photoshoot category for me. Each of the foundations would be considered in the high-end range of the foundation market. If you're looking for a cheaper alternative to any of them, Google the name of the foundation and "dupe". I can't vouch for any dupes in this post.
I bought these foundations online, using either Mecca or Adore Beauty's colour match tool to get the right shade. Determining that shade was dependent on knowing the shade of an existing foundation you own. One of them came in a little lighter than what I wear but it still works for weeks I don't have a spray tan. If you're like me and do fake tan (I don't tan my face), then having two different shades of foundation is helpful.
Underneath every one of the foundations in this trial is Trinny London BFF Cream SPF 30 in Medium.
I applied each foundation at the same time every day and stood in front of the same mirror to capture each foundation on my skin. No filters have been applied – just a beautiful natural light source. (Always look for and to the light my friends!).
Have a watch of my video where I answer some of your foundation questions. Remember, you don't have to change your foundation or even wear one. This is about your skin and your personal preference. What I will say is that less really is more as our skin changes.
8 foundations for peri or menopausal skin
(Options for the everyday)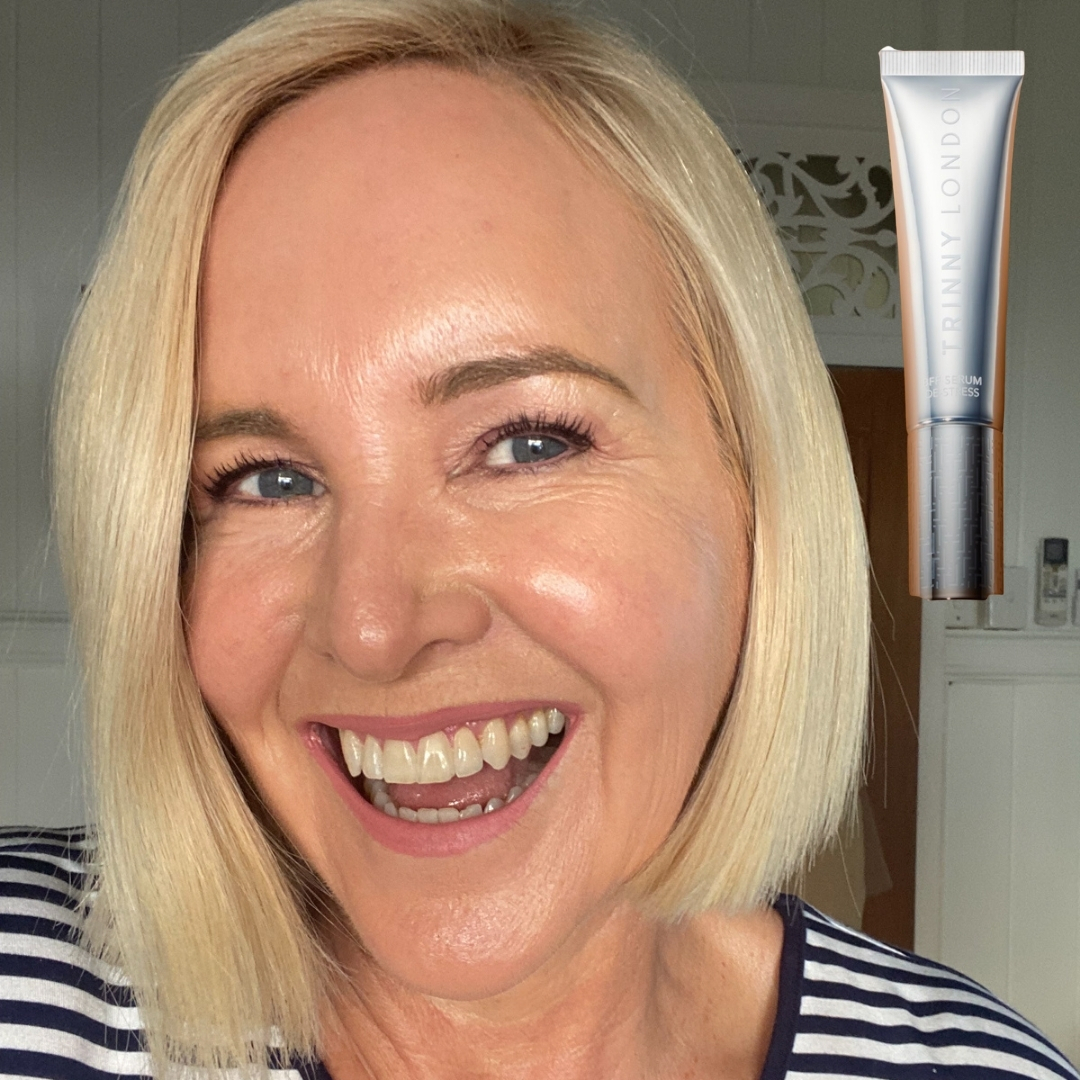 This has been my go-to everyday foundation since it launched. It's not a super stayer but it does the job and my skin absolutely loves the formula ("hyaluronic acid provides long-lasting hydration that plumps and smooths"). That glow! You're meant to see a little of your skin through this tinted serum. It's all part of Trinny's less-is-more philosophy and I've adopted it.
This is the new kid on the tinted serum block at Trinny London. It's formulated "with niacinamide and noni bioactives to give buildable coverage, balance shine and control blemishes for a soft-focus matte finish". I feel this one will come into its own for me in the sweaty, humid days of our long summer but if you have an oily skin then this is definitely going to work for you better than De-Stress. I'm going to try mixing it with De-Stress and will order a darker shade on my next order.
IT Cosmetics Your Skin But Better CC+ Cream Illumination (or the original)
I've been using the original CC+ Cream from IT Cosmetics since it landed in Australia but hadn't tried the Illumination variant. I like it on my skin but feel the original is a better option for photos. Phone cameras are funny things – how they pick up light and react to different illuminators in makeup products doesn't always show how the formula looks in real life. The SPF 50+ is a winner but I still don't rely on SPF in a makeup product. I put that on as the final step of my skincare routine.
IT Cosmetics Your Skin But Better Foundation + Skincare
I was really intrigued by this product. Like the Trinny London products, it's a hybrid skincare and makeup product. While it gives you a radiant look on application, it also works over time to help your skin look fresh and glowy without makeup. It's a liquid product and very different in consistency from the CC+ cream but the coverage is beautiful.
(Options for events/photoshoots)
Charlotte Tilbury Airbrush Flawless Foundation
This is the foundation that I had the most questions about. It comes with a lot of hype, not least because it's now available in stores in Australia – at Mecca. I'm going to say that the hype IS warranted. As a full-coverage foundation, it does what I want a long-lasting foundation to do. The glow level is spot on but it feels light and lovely on the skin.
Stila All Day Foundation and Concealer
Look. When I see this line up, I feel guilty that I ever doubted my long-time fave from Stila. It's just that I was scared that she would be taken away from me again. She does all that I need her to do plus she has a bonus concealer in her lid. If you have this foundation and you love it, you're good to go out this summer and feel fresh all day/night.
Lancome Teint Idole Ultra Wear Foundation
This iconic foundation did not let me down. It didn't budge, cake or oxidise and (if I ever wanted it to) it would stay on for 24 hours. It's soft and glides on the skin so beautifully – think velvet. It's shine-free and transfer-proof, so a good one under a mask if you're putting a mask off and on during the day.
Giorgio Armani Luminous Silk Foundation
This foundation is beautiful. It's medium coverage. I'm ok with that but you might want a little more coverage in a foundation. Coming in at the most expensive you'd want it to feel like silk on your skin and it does. This cult formula has not been altered since launching 15 years ago. It's a "lit from within" foundation that feels oh, so special going on.
---