It might not have been a year for travel but it has been a year for staying at home and giving the spaces we spend the most time in a little lift. For me, it all started with a boho bedroom makeover of the space we spend the most time in.
Last year we saw the power that white paint brought to our pool deck and living room and this year I was keen to bring the same kind of fresh/calm to our bedroom. Can I tell you, the only problem with doing such a bedroom makeover is that you really want to spend more time in it? Quality problem!
I took you on the "journey" via Instagram Stories (saved HERE) but I wanted to share everything in a blog post, with links etc, in case you're keen on doing something similar. Like previous renos and makeovers, I've combined a mix of things we already owned with new things. Where possible, I've shopped small, supporting independent creators and boutiques. I'm also not afraid to do my shopping online, sight unseen. I know that's not for everyone but in terms of efficiency I've had a 90% success rate!
Our boho bedroom makeover
Let's start with the before and after photos, shall we?
The two things that immediately changed the light and brightness of the room were removing the shutters and painting the walls white. We sold the shutters on Facebook Marketplace (how good is it?!) to someone who wanted them as a garden screen. And we painted the walls, ceiling and trims the same as our living room. Painting VJ walls is not what I'd call fun but we got lots of tips from The Builder's Wife.
Preparation – sanding, cleaning and filling – is key. We also found a rhythm where my husband would paint with the roller and then I'd come behind him with the brush to "fill" the VJs. This helped to get an even coat. Using British Paints Paint & Prime paint for the walls was also a time saver.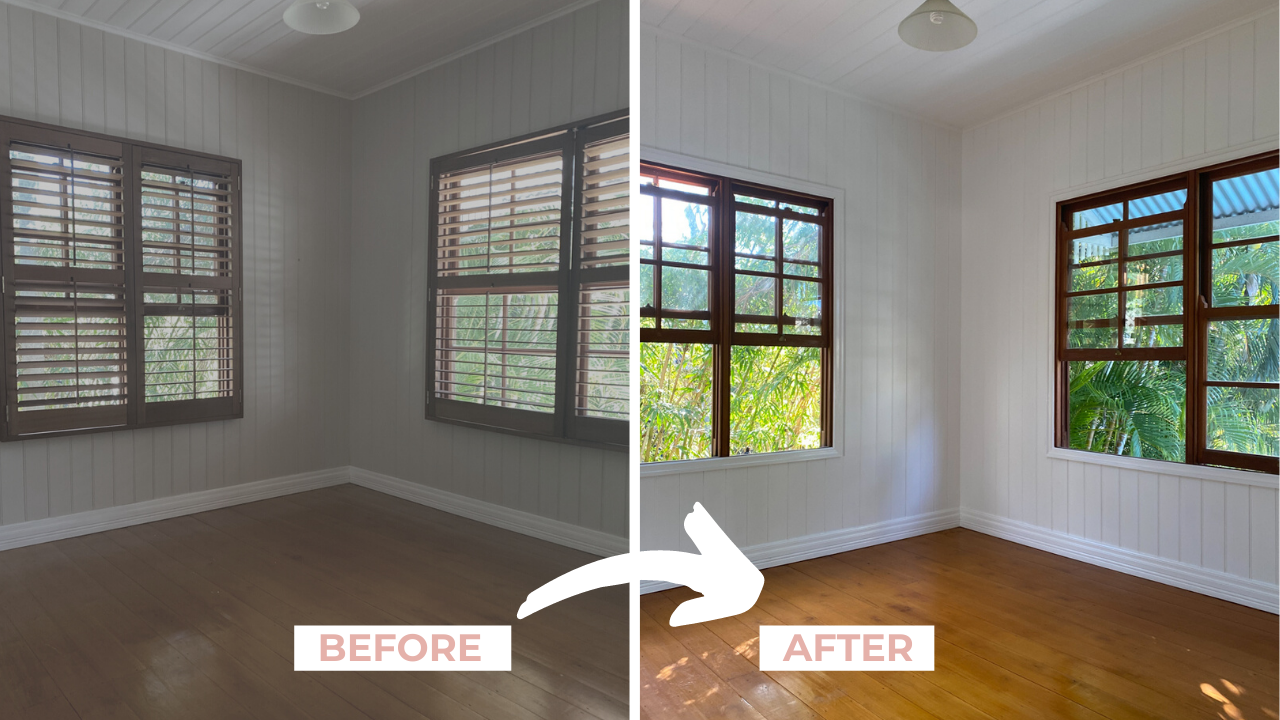 Get the look
wall, ceiling and trim paint: British Paints Star White half (available at Bunnings)
Apart from changing the wall colour, the other motivation for changing up the bedroom was upgrading our bed. Our previous bed was a hand-me-down from my parents when they moved overseas more than six years ago. I've always stacked up our beds like a hotel bed, so on top of the mattress we've added a topper, a protector over the topper and we sleep on hotel pillows. I find all these things by lifting up the bedding on hotel beds we've stayed in to find labels and hunt down the products I like.
Get the look
Rug: Peacocks and Paisleys up-cycled rug (gifted)
Super king doona: I Love Linen
Super king doona cover: The Sheet Society
Sheets and feature pillow cases: The Sheet Society (we bought both the papaya and rust colours in cotton)
Feature cushion: Langdon Ltd from Sunday Society
Throw rug: In the Sac (a gift from a friend)
Sleeping pillows: Majestic King pillows from Hotel Home
Pillowcases: Soho white pillow cases (to fit the Majestic King pillows)
Topper: 5-Star Hotel Cloud Collection™ Mattress Topper (from I Love Linen)
Topper protector: waterproof hot wash mattress protector (from Hotel Home)
The third major thing we did as part of the makeover was swapping out the heavy timber blinds for window treatments that allowed more light and more of the outside in … but could also darken the room for sleeping. I opted for a combination of custom-made blockout roller blinds and sheer track curtains. I love how the curtains create a dreamy ambience, filtering light and breezes in the room throughout the day.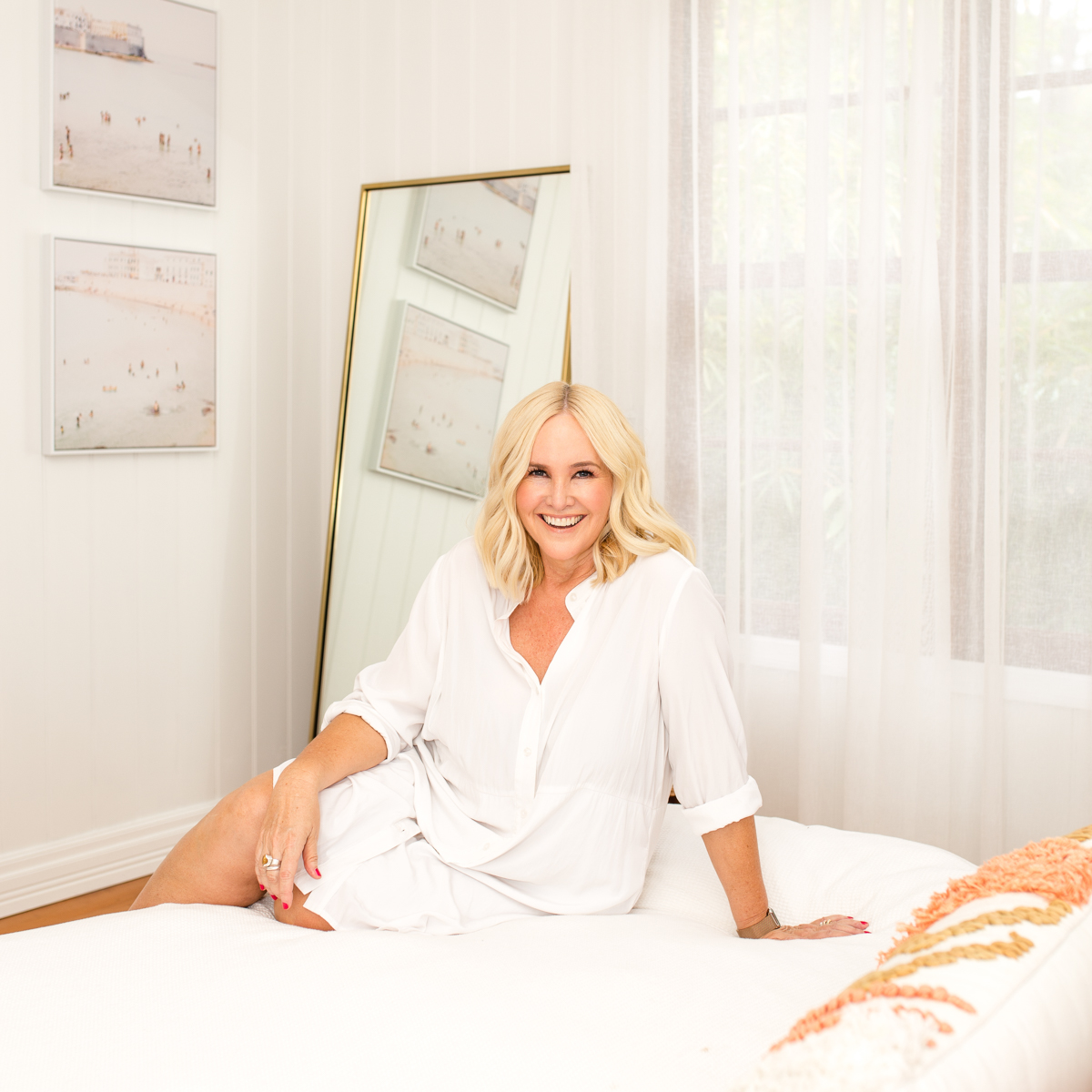 Get the look
Curtains and blinds: custom made from Zen Curtains and Blinds
Mirror: West Elm (bought a couple of years ago – this was previously in my office)
Moving the orientation of our bed was something I had to campaign for. I wanted better use of the space. The husband wasn't keen because it would mean when lying in bed you'd be looking directly into the empty void of the walk-in robe. Easy! Let's put in a feature barn door, I said. Getting the door and tracking was easy with some Googling and online shopping, but we put it out to Airtasker for a carpenter to hang it. The husband is handy but knows his limits. I couldn't be happier with the result.
Get the look
Barn door: Corinthian door from Bunnings (ours was bought white in colour but it's not currently showing on the Bunnings site)
Hardware: Golden side mount hardware from Ideal Barn Doors
Handle: Golden handle from Ideal Barn Doors
Paint: Dulux Ellen (from Bunnings)
Bench seat: custom made from recycled timber by Palette Shenanigans
Large pot and plant: The Plant Bunker
Small pot: Hello Lola
Once those key big changes were decided on, it was time for the fun stuff. I love this bit the most. The decor pieces I used to style the room were a combination of things I already had, which I moved from other parts of the house, or new things that just worked for this space.
Get the look
Print: Plantiful Life of Erin
Frame: Country Road
Lamp: Beacon Lighting
Bowl: Unknown – gift from a friend
Bedside Table: Freedom Furniture
Plant and pot: Flowers of the World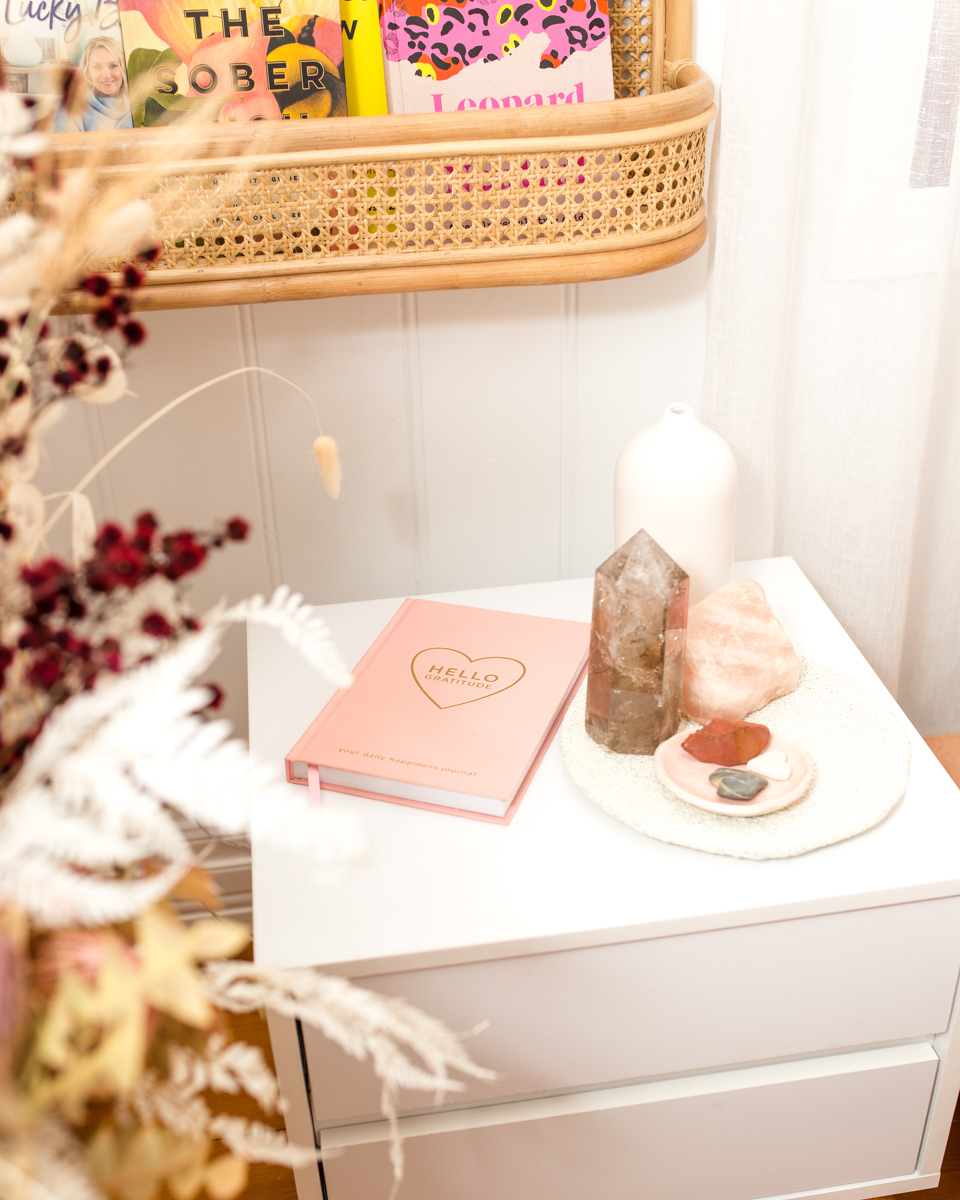 Get the look
Bedside Table: Temple and Webster
Diffuser: Goodnight Society
Gratitude journal: Ronnie & Co
Large ceramic plate: Marloe Marloe
Small ceramic plate: Carys Martin
Pillar crystal: Crystal and Stone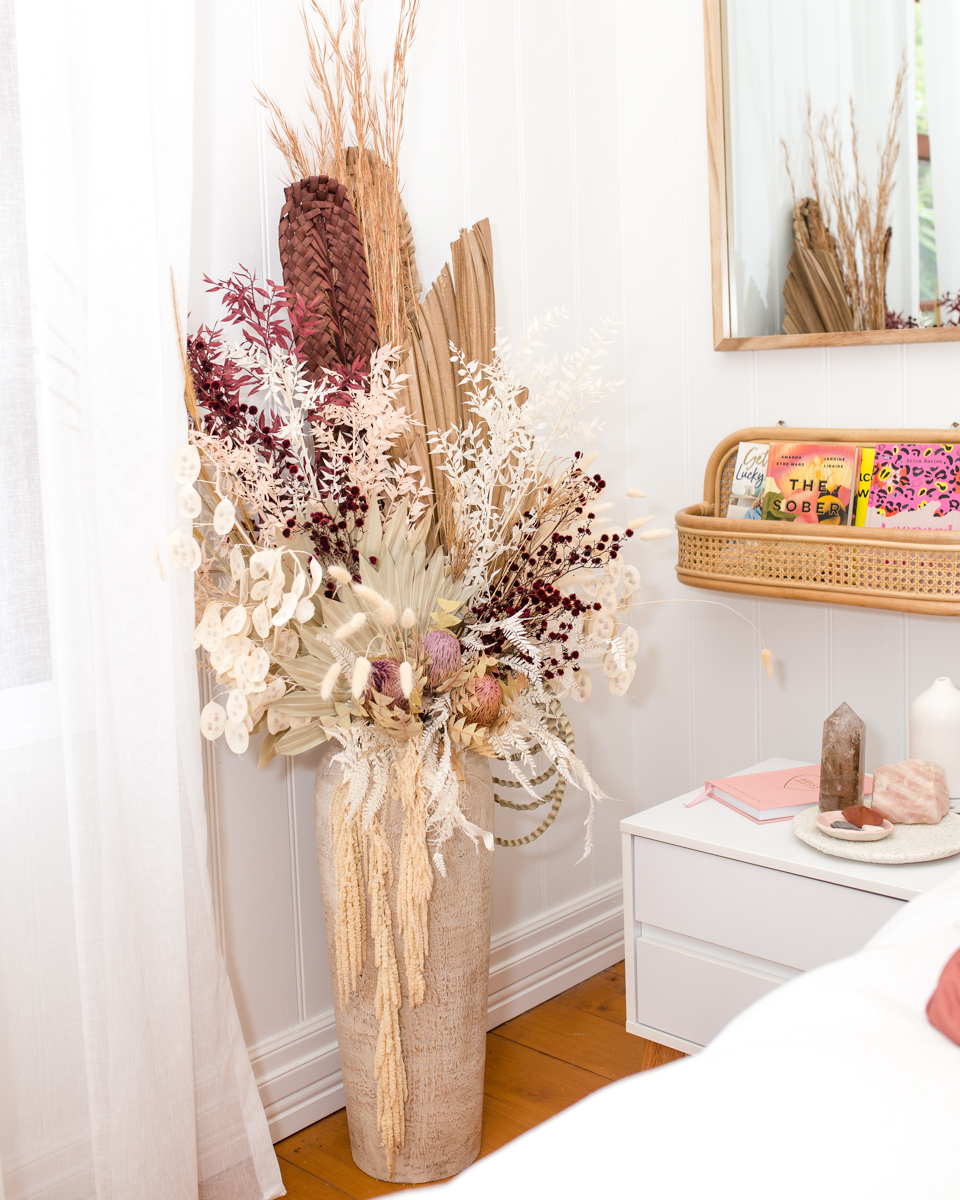 Get the look
Mirror: Temple and Webster
Bookshelf: Oak Studios
Floor vase: Pottery Barn
Dried flower arrangement: Francesca's Flowers
Get the look
Canvas print: Daisy In Dots
Timber initials: bought years ago at Dirty Jane's in Bowral
Dresser: bought five years ago from Freedom Furniture
Striped pot: Hello Lola
Concrete pot and plant: Green Space
Get the look
Dotty pot: Hello Lola
Pillar crystal: Crystal and Stone
Stool: Palette Shenanigans
Lamp: Beacon Lighting
Floor pot and decorative ceramic agave: Green Space
Get the look
Canvas framed prints: I used my own images from a trip to Puglia, Italy in 2015, put a Lightroom Preset filter on them and sent away for framing HERE.
There you have it. I've long been someone who loves rearranging and redecorating spaces. It goes back to when I use to drive my parents mad moving around furniture in my very small bedroom.
For this project, my decor inspiration was the Daisy In Dots print I bought earlier this year. This helped to anchor the vision and provide the accent colours for this boho bedroom makeover.
Next project (and one nearly finished): is my revamped Lady Room/Office/Walk-in Robe. Stay tuned.
Have you been doing any renovations or home makeover projects this year? Tell me all about them!