It seems that we're not the only ones who have been renovating a 1990s concrete pool or thinking about renovating one. I've had so many DMs on Instagram since we started our pool and deck renovation in March 2019 that I thought compiling the process and products in one place could be potentially helpful for you.
Why the pool and deck reno?
The pool was in a sad state. The concrete lining was lifting in patches, making it impossible to use anything but a manual pool cleaner and also not ideal under foot. Some of the slate waterline tiles had lifted. The boulders were an accident waiting to happen. And it looked tired and outdated – like the pool from last century that it was.
The deck was falling apart in a number of spots due to wear and tear – also many accidents waiting to happen.
Let's start with the before photos, shall we?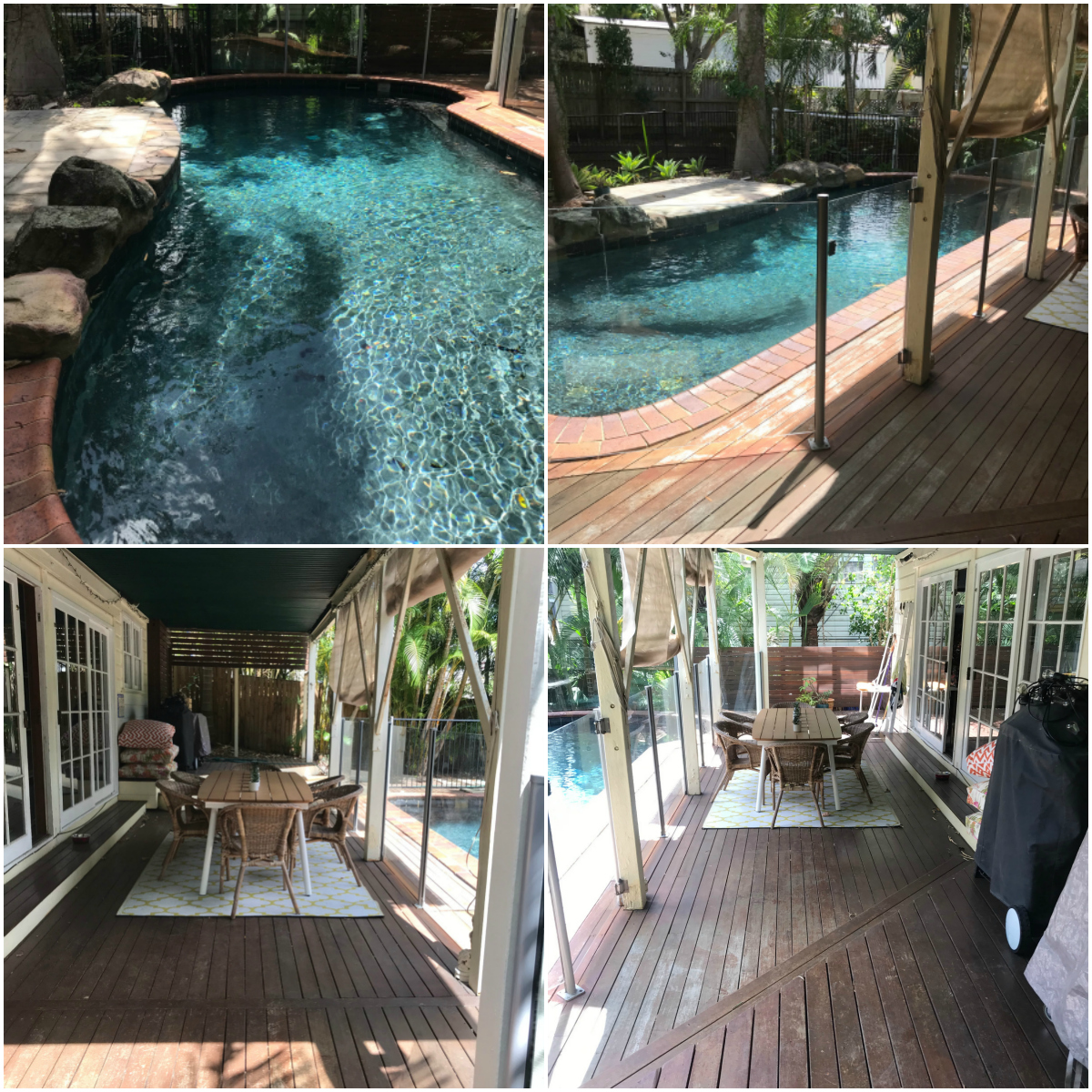 Where we started
We asked at our pool supplies shop for recommendations about pool companies which did pool renovations and got two comparable quotes from two of those companies. We weren't looking to change the shape of the pool, convincing ourselves that curves are on the way back – HAH – but mainly knowing that's a whole different ball game and a much bigger job.
Pool renovator: Concrete Pool Renovation
Pool tiles: The Pool Tile Company
For the deck, I was super keen to go with Hardiedeck, a man-made durable alternative to timber and used a lot by Three Birds Renovations. I wanted the fresh look of a white deck without the maintenance of timber. It took a little to convince the husband but he eventually came around to my "vision".
Hardiedeck has a preferred list of installers, and that lead us to Smith & Sons and the then Indooroopilly franchisee, Pedram Shifigh, who now has is own building company, Smart Reno.
Deck renovator: Smart Reno
We highly recommend both companies we worked with. The work and finish is exceptional. In terms of communication, Pedram was outstanding every step of the way.
Where we fell down with our rookie reno status was not thoroughly checking contracts to make sure they included what was in our head and getting any verbal agreements/conversations in writing.
I'd also suggest it's not a great idea to do a reno of this scale while both people needing to make the decisions are working crazy, busy hours? Lots of lessons learned but we couldn't be happier with the finished result.
The process
1. The pool fence was removed, the pool was emptied, stripped back, re-concreted and tiled before any work on the deck began.
Coping tile: Mushroom granite
Waterline tile: dark grey 23x48mm mosaic (CMC306)
2. The old deck was removed and it was discovered that the footings on three of the load bearing posts holding up the back of the house had corroded. Good and bad news. Good, finding this prevented the house potentially falling down; bad, unplanned expense.
3. A termite system was put in under the deck as previously there had not been access to do this.
4. The husband and father-in-law spray painted the heritage green Colorbond roof and painted the side of the house surrounding the deck white, with charcoal trims. Yes, I love white paint! I know it's apparently polarising but nothing beats it for freshness in my books.
Paint used: Dulux Snowy Mountains Quarter and Dulux Domino
5. Hardiedeck installed.
6. New glass pool fence installed. We opted to put this on the coping tiles to give us more width on the narrow deck.
7. Pebblecrete applied to pool surface. Pool filled.
Pebblecrete used: salt and pepper
8. A three-week process starts to stabilise the pH levels of the water, so that the magnesium minerals could then be added. We had previously installed a MagnalPool pump, creating basically a health spa in our backyard. HAH!
9. The husband and father-in-law then sealed the Hardiedeck – it's a bit of a process that needs key timings and a run of dry weather. I had been hoping to keep it the raw industrial colour with just the sealant on it but this idea hadn't got from me to the husband and on to the builders – it was too stained by the time were at this stage for that part of my vision to eventuate. So white paint it was.
Paint used on deck: Aquatread Satin Specification – Berger – tinted with Dulux Snowy Mountains Quarter
10. Once the painting was complete, the builder came back to insert the black plastic strips that conceal the fixing system.
11. The husband (a frustrated landscaper) planned and created the poolside garden and another at the end of the deck. The huge boulders that were on the edge of the pool were moved into the corner garden that sits under our very tall palm tree. A couple of big branches of the poolside frangipani tree were cut down by the pool builders and they're now trees in that garden.
Plants bought from: Bunnings; The Olive Branch (they had a huge bromeliad sale right at the time we were doing the garden); Flowers of the World (we took custody of a mature Monstera that is now very much at home in the outdoors).
We started the pool and deck reno in March and the final bit was completed in August 2019. The delays were for a variety of reasons – the engineering and new footings required extra time. Finding out after the fact that we couldn't re-install our previous pool fence (we did re-use the black fencing but the glass fencing couldn't be re-installed) delayed the project the most as nothing else could happen until the pool was filled. We had to get quotes for this, then wait for the new fence to be installed before then finding a new time for the pool company to come back and fill the pool. This put back each of the steps following that! Lesson learned.
But LOOK … the after photos! So worth it.

The fun bit!
While the husband may have been firmly focussed on the big parts of this pool/deck reno and the replanting of the gardens, my mind was firmly on what the end-game vision looked like.
I wanted it to be a space that we sat or lounged in on weekends, as a family or with friends. I wanted multiple places for sitting on or lying in. And I wanted it to feel like a modern Mediterranean escape in our own backyard. Who needs to scroll Instagram during a European summer?! HAH.
It may scare some but I bought 90% of what you see online – sight unseen! I spent many a Saturday night down a Google rabbit hole looking for exactly what I wanted for the space. When I found many of the pieces on sale, I snapped them up.
And I couldn't be happier with the result.
Scroll on for multiple photos. I've put links under each to anything that we bought that was available at time of publishing.
Pot and bougainvillaea – Bunnings
St Helena Island olive tree – Bunnings | pot – The Olive Branch Studio
Table and bench seats – West Elm Australia | The Shop Front Collection outdoor rug
Pottery Barn Australia outdoor tableware (kindly gifted) | placemats Kmart
Pottery Barn Australia outdoor tableware (kindly gifted)
Pottery Barn Australia outdoor tableware (kindly gifted) | napkins – Peacocks and Paisleys
Bungalow Living custom bench seat (inserts from Clark Rubber) | raffia cushions covers (White Bohemian) | other cushion covers Bungalow Living
Bungalow Living custom floor cushion covers (it's the third incarnation/covers for these floor cushions which we've had for about seven years!)
Byron Bay Hanging Chair | The Shop Front Collection outdoor rug | raffia cushions cover (White Bohemian) | other cushion cover Bungalow Living
Hemsley drinks trolley, water jug and drinking glasses – Sunday Society (kindly gifted)
The Olive Branch Studio basket | The Beach People towels
Latvia Furniture Outdoor Fabric double sun lounge | Knotty Towels blanket | Bungalow Living cushion covers
Pheww … if you've made it this far, congrats! That was some brain dump. If you're renovating a 1990s concrete pool, planning to upgrade your deck or just want to freshen up your outdoor space for spring, I hope this has given you something to add to your Pinterest board. Let me know what renovation plans you might have!
After photos: Kate Luke Photography