Spring has definitely sprung in my neck of the woods. I'm ready to attack messy cupboards and put away the winter woolies. And I'm very ready to enjoy relaxing on weekend afternoon beside our renovated pool. More of that please.
August 2019 has felt like a slight pause ahead of a very full run until the end of the year. Mind you, when I read through all I've included below, it might not seem like a pause! It's why I love writing these monthly posts. It reminds me that while the days may go so quickly, if you fill them mindfully, you may just have a tonne of fun.
Pour yourself a beverage of choice and read on for a full and thorough debrief.
SYTL HQ
It's all systems go for the season ahead. This week we restocked some of our bestselling summer faves. Some styles sold out in two hours but, don't worry, more is on its way. Don't want to miss out? Make sure you're signed up to our shop newsletter.
Styling You The Label Rachael technical cami black | Maria technical split pants black | Karen scuba blazer black | Rachael technical cami white | Shoes: FRANKiE4 Footwear | Bags: Bon Maxie
We've got a couple of exciting accessory/jewellery collaborations happening too. I can't wait to share more with you. In the meantime, here's a sneak peek of one of them.
And, in case you missed it, I was in a newspaper. It was fine and lovely except for the bit where they thought it was funny to label me a gran. I'd be cool with that if I were. It's just that I'm not and as many of you pointed out, the same would never be written about a man.
Events
Eek. I HAVE been out a lot this past month. So much fun for sure but possibly a little too much fun. HAH.
Lavinia's Ladies Lunch: an inaugural lunch organised to raise funds for the Queensland Brain Institute in honour of Dr Lavinia Codd, her work at at the institute and her stroke survival story.
Red Boot Hoot 2019: a huge annual fundraiser for Ronald McDonald House charities. It was a fun night and we were guests of a girlfriend who owns McDonalds stores in Brisbane. There were tears, laughter, dancing, a tea cups ride and some serious silent auction bidding. Very grateful for the opportunity to attend.
Fleetwood Mac concert: the husband totally surprised me by going online the morning of the first Brisbane concert to see if there were tickets available. There were. They were good. They didn't cost a fortune. He made it happen and I happily got my boho queen on.
Digital Marketers Down Under: I was invited to speak at this annual conference about influencer marketing and ended up taking so many notes from all the talented speakers (from Australia and overseas). As a small business owner, I learned so much and I got to hang out with some amazing fashion business women, including Leina Broughton and Ruby Olive's Skye Anderton (pictured below). I urge you to attend next year if you're wanting to up your business' marketing game.
Mercedes-Benz Brisbane Fashion Festival: it was all about the FASHUN, darrling, for the final week of August 2019. MBFF had a new, very fancy home at Howard Smith Wharves, which made for great before and after catch-ups with friends. Loved the White Label Noba, Bonita Collective and Sacha Drake collections. And I applauded Aqua Blu swimwear for being one of the few labels to offer diversity in their choice of catwalk models. It's 2019. When will we finally see a mix of ages and sizes showing us the clothes we want to buy?
With @stace_mcgregs getting our Sacha Drake sparkle on
Brisbane Arcade Spring Collection Runway Show: rounding out the week of fashion I was a guest of Maiocchi for the spectacular parade featuring designers with stores in this historic arcade in Brisbane City. The parade was set up in the Queen Street Mall and, once complete, we entered the arcade for the cocktail party and a little shopping. Loved there being an ice cream truck offering a cup on the way out!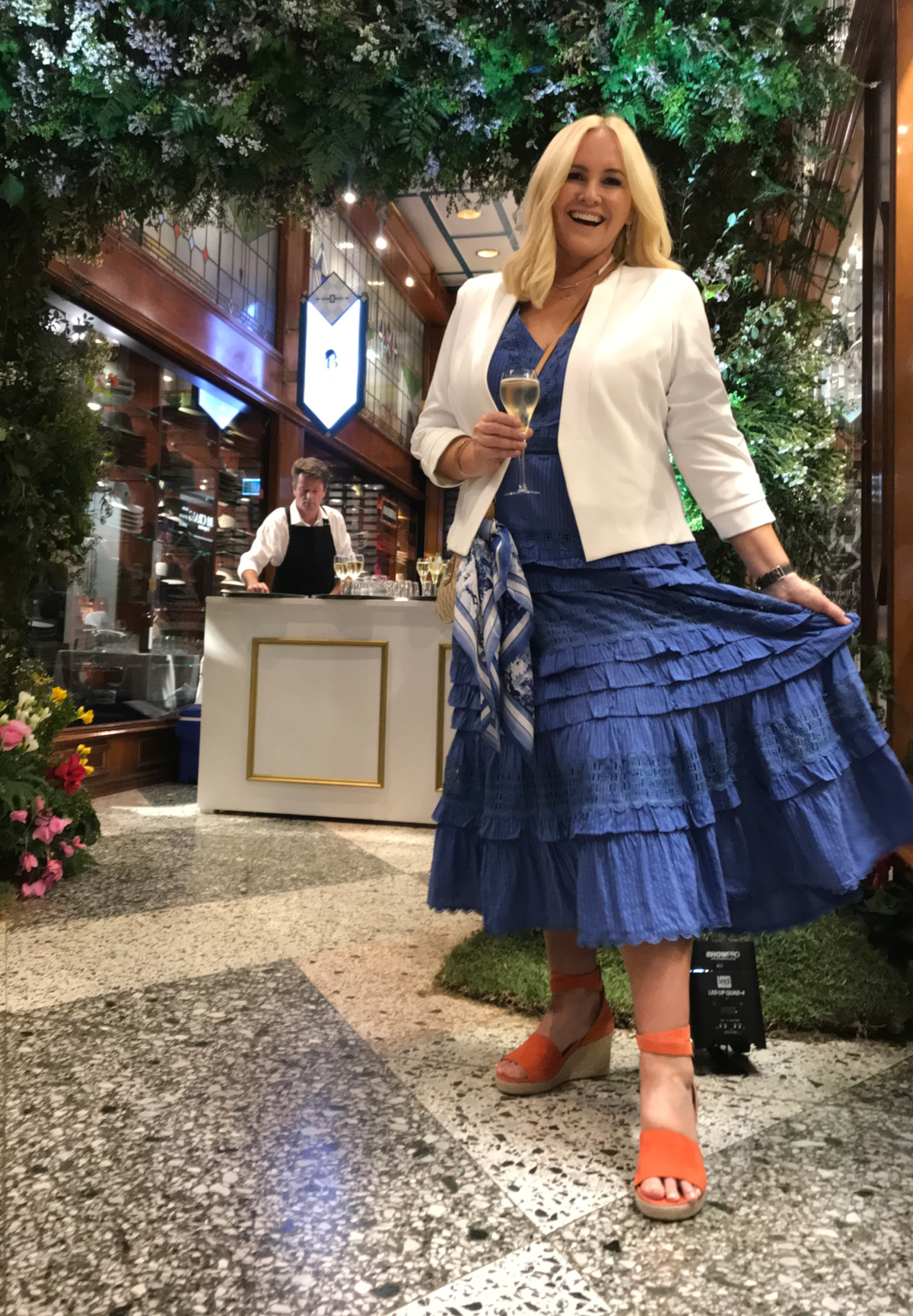 Maiocchi dress and scarf | Styling You The Label blazer | FRANKiE4 Footwear NADiA wedges
Travel
I've always been a fan of a staycation – booking a hotel or resort in your home town – so when the good people at the Brisbane Marriott asked if we wanted to come into the city and spend the night, it was just the mini escape we were looking for. If you're not at home, the washing, sorting, cooking can't be done. All there is to do is enjoy the view, someone else's cooking, a vino and an in-room movie. And let's not get me started about the luxury of sleeping in a bed as soft as clouds … that someone else has made. THAT. THAT is everything.
Wearing: White Label Noba pants and cami | Smith and Western knit | FRANKiE4 Footwear AiNSLEY flats | Jilly Marsden earrings
Reading
The Whisper Network by Chandler Baker: If I'm every stuck for a book idea, I check in on the Reese Witherspoon book club pick of the month. This was the August book and it was one that I very much enjoyed. Its themes couldn't be more topical in light of the #metoo movement. Five women working in the one company, all with a lot of thoughts about how one of their bosses currently and historically treats women. I identified with a little bit of each of them. And, just quietly, I couldn't help but see Reese playing the part of Sloane in a future movie or TV series. I think it would be a cracker in the vein of Big Little Lies.
Listening
Dare to Lead by Brene Brown: my brother and sister-in-law have just moved to Houston, Texas, from California and should I find myself in Texas anytime soon, you bet I'll be tracking down Brene. Because I'm sure she'll want to talk to me. HAH. In the meantime, I'll pop Brene in my ears and listen to anything and everything she has to say.
Her Husband's Mistake by Sheila O'Flanagan: love an Irish yarn and this one by one of my faves was just the thing to keep me distracted while running 10kms in the Bridge to Brisbane event. It won't change your life but you'll get lost in the characters and you'll champion Roxy to the very end.
Watching
Palm Beach: I loved this movie. I loved the setting (please tell me that house is available for holiday rentals!). I loved the characters and I loved the stories of friends who become family. It's a feel good watch.
The Hunting: if you are a parent of teens, then this SBS four-part series is a must watch. If they're on the younger spectrum of the teen years, it might not be viewing for your kids, but for older teens, I'd say yes. It was an eye-opening look into the current tech world that our kids are living in. It will scare you but it will help you have the conversations you need to have. Oh and Asher Keddie plays one of the mums in it. She is brilliant.
Eating/drinking
As part of my ambassador role at Brisbane Airport, I get to try out many of the eateries and I loved heading to new restaurant/bar, Lord Lamington, for a fabulous brunch. Did someone say Mimosas? There were lots of gluten-free options, including pancakes. It's located in the Jetstar/Tiger section of the Domestic Terminal. Check it out.
Libertine is a firm favourite of ours and has been since our first year in Brisbane. The husband and I headed out for a date night last Friday thanks to our builder, Pedram, who treated us.
Shopping
I must say that most of the shopping budget has been channelled towards our outdoor area. Having said that … in the last week I've been supporting a few small, independent, women-led businesses with their launches. I know the heart, sweat, tears and joy that goes into creating a product and putting it out there to sell, so I like to support my fellow online sisters whenever I can.
I can never get enough of Clare and Bon Maxie. She is one clever cookie. We're featuring her Sidekick bags in our photoshoots and last Sunday I jumped on and bought two of her new plush jewellery boxes and stands.
I've been wearing Active Truth for two and a half years, so when I saw my good friend Chantelle launch a collaboration with this brand, I jumped on and bought this tank. I really struggle with finding the perfect training tees and tops for my shape. I love the racerback style but don't want the arm holes to be so low that my side boobs need their own bra. I want loose draping (but not too long) over the hips. UNIQLO did amazing tanks two years ago but stopped making them (and yes, I'm still wearing exercise tops from two years ago, judge away. I can't let them go until I find a replacement that works for me). I like this one – especially the stripes – but I had to size up to XL to work across my hips, which made it slightly longer than I'd prefer and the arm holes lower. If anyone wants to collaborate with me to create my perfect top, I'm all ears and no side boob!
Zarc Clothing launched their own active wear range last month and I bought these tights. They've been on high repeat for comfort and my deep love affair with anything animal print.
I collect drink bottles and keep cups … just ask my husband when another arrives in the house. Oh the eye rolling that does happen. I found Montii via Bon Maxie and loved the colours and the insulation properties of their range. Drinking out of them tastes good too. This is now my go-to coffee cup and this water bottle fits in my Bon Maxie sidekick bag.
I'm a commitment phobe when it comes to choosing a planner and sticking to it. Late last year Ronnie, from Ronnie and Co, sent me one of her planners. She's a Brisbane mum and it was the first year she had released them. I had actually already bought a planner but quickly swapped it out for Ronnie's. I love the space, layout and the ability to fold it so it sits flat on your desk. Pre-orders for 2020 have opened and there's a new, alternative smaller size. I may have bought both. See above re my inability to commit to a planner. HAH.
Home
In case you missed it, we transformed our living room and I can't tell you how much I love sitting here. It's fresh but still feels cosy. It's my favourite place to spend a Saturday night.
Health
Oh my, I was tired last week. I totally did not allow for any down time after running Bridge to Brisbane. Completing 10km (and finishing with my daughter, pictured below) was a great feat for me and I beat my previous personal shuffling best but, as other Hashimoto's sufferers know, you can push yourself too far. I did and paid for it.
Beauty obsessions
I first bought one of the Mecca Cosmetica Hydra Cheek Tint and Illuminating Balm Duos at Brisbane Airport but I loved it so much, I went back online for two more of the shades. Please don't ask me to pick a fave. I switch it up most days. I love that in one small product I've got a creamy, tinted cheek colour and an illuminating balm, which I put on the top side of my cheekbones and anywhere the light would hit. The cheek colour also works on the lips. It's a great handbag and travel product. A little goes a long way so these tubs will be serving me for some time to come!
Phewww … if you made it to the end, congrats. Let me know what you've been up to!