Sponsored by Brisbane Airport
I've never claimed to be a minimalist when it comes to my inflight and travel beauty essentials. Far from it.
I love my beauty products and the idea of leaving some part of my routine at home while I'm travelling just isn't a possibility. BUT. There's always a but, isn't there?
The but is there are restrictions and luggage limits and simply packing up everything you use at home into your suitcase or carry on just won't work if you're flying.
So, what I've got very good at is finding shortcuts around what I take on board and what I pack, so that I have all my "needs" on hand but don't need to purchase excess baggage (or have items confiscated!).
The challenge Brisbane Airport set me recently was to put together my inflight and travel essentials kits, based on finds discovered at Brisbane Airport's Domestic Terminal by shopping at Airport Pharmacy (located near Gate 24, Qantas Terminal) and Mecca Maxima (located near gate 38, Virgin Terminal).
Challenge accepted!
I've shared my finds below, broken down into categories for inflight on domestic and international flights, as well as what to pack in your checked in bag/s. Before I reveal my not-so-minimalist-travel-beauty ways, these are my top tips for putting together your travel beauty kit.
Tips for creating an inflight and travel beauty essentials kit
1. You can cut down on what you need to pack if you do a full beauty prep before you fly: hair colour freshen up and blow dry, mani, pedi, spray tan; lashes. For short domestic trips this means I don't need to pack as much as I would, ie I won't need to wash my hair so won't need shampoo and conditioner; for longer haul trips, it means I at least arrive giving the illusion of feeling fresh. HAH.
2. When planning what your travel beauty essentials look like, break your list down into these categories: in-flight; skincare; hair care; makeup. This will simplify the process when it comes to creating your kit.
3. Source travel or sample sizes of your favourite products or buy clear travel bottles and decant your full-sized products into them. This prep work will really pay off when it comes to packing your suitcase.
4. Makeup palettes can be gold in cutting down your makeup kit. Look for palettes that are compact but include eye, lip, cheek and highlighters.
5. If you're a regular traveller, it will help if you always have your toiletries kit packed and ready to go. This also saves time coming home (one less thing to unpack!).
My inflight beauty essentials – domestic/short haul
Bare Minerals lip gloss; Hourglass powder; Lanolips lip balm: Mecca Maxima, Brisbane Airport
Kleenex tissues; Dettol anti-bacterial wipes; Mitchum deodorant; Sukin hydrating toner; Lady Jayne hair brush: Airport Pharmacy, Brisbane Airport
I do a bit of domestic travel for work that usually sees me arriving at my destination and heading straight to a meeting. Even a short flight to Sydney can leave my skin feeling like it needs a pick-me-up. That's where a face spritz comes in handy. While on the flight, I'll use a lip balm but, on arrival, I'll pop on some colour. I'll already have makeup on, so it's just a matter of dusting over a bit of face powder to freshen up what I've already applied. Run the brush through my hair and I'm good to go. The wipes, tissues and deodorant are on hand if required.
My inflight beauty essentials – international/long haul
Bare Minerals lip gloss; Lanolips lip balm; Hourglass tinted moisturiser; Mecca Max face cleansing wipes; Patchology mask kit: Mecca Maxima, Brisbane Airport
Kleenex tissues; Dettol anti-bacterial wipes; Mitchum deodorant; Sukin hydrating toner; Lady Jayne hair brush; Batiste dry shampoo; Colgate toothbrush and toothpaste kit: Airport Pharmacy, Brisbane Airport
I look at a long-haul flight as an opportunity to treat my skin like we're hanging out at a day spa (while still meeting the carry-on liquids regulations). Sure, this might cause much eye-rolling from my family but I get the last laugh when I arrive at our destination looking vaguely fresh. As soon as I'm on board, I'll use the face wipes to take off any makeup I might have on. If the flight attendants also supply a warm towel, this is an added bonus in the cleansing department. I'll pop moisturiser on at this point – and keep topping this up with more as well as a hydrating toner. My lips will never be without lip balm either. Towards the end of the flight, I'll bring out the masks – eye and face. Before arriving, I'll brush my teeth and employ the "fake it until I make it" method of disguising a lack of sleep by applying an illuminating tinted moisturiser, lip gloss and dry shampoo.
My suitcase travel beauty essentials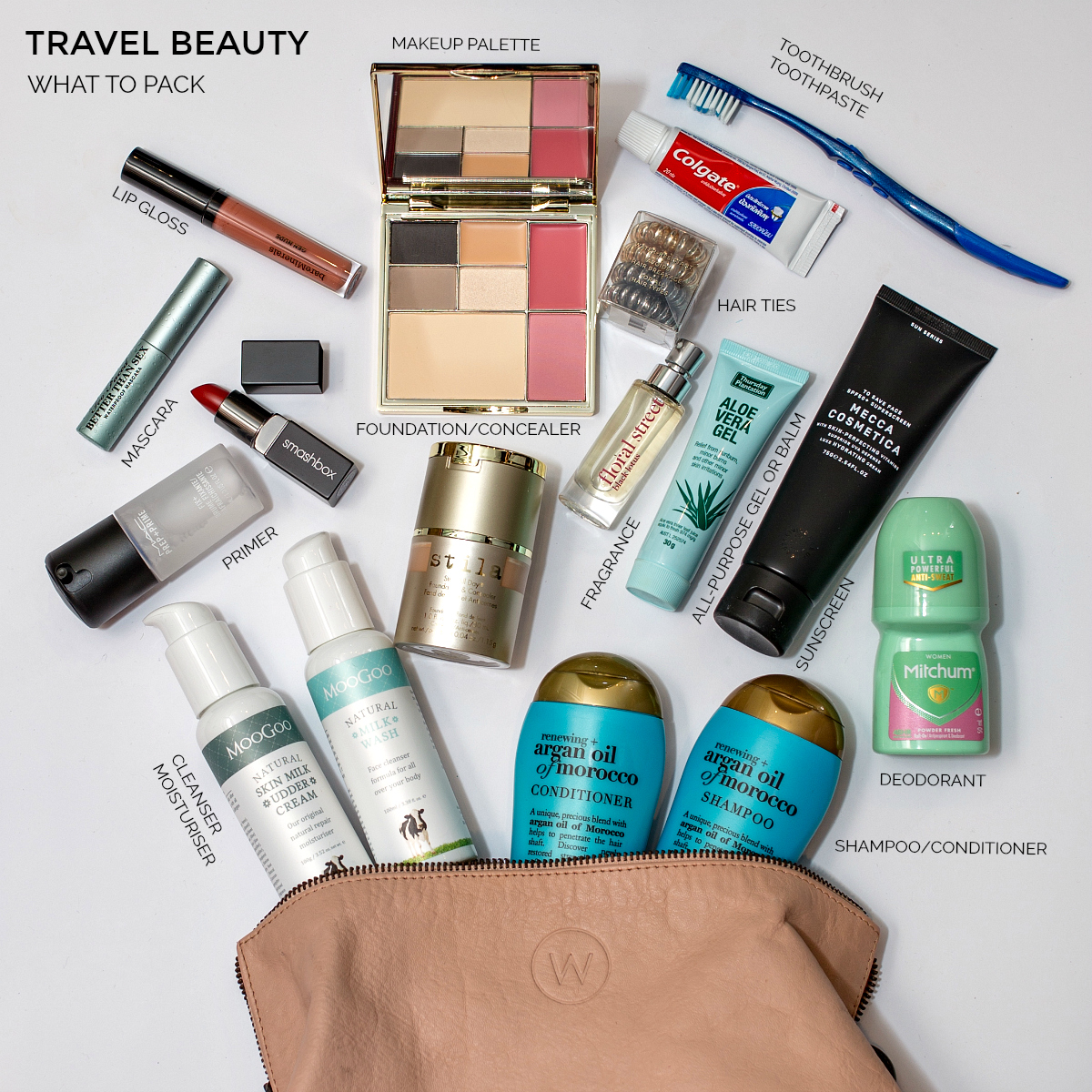 MAC primer; Smashbox lipstick; Too Faced mascara; Bare Minerals lip gloss; Mecca Max palette; Mecca Max hair ties; Floral Street fragrance; Mecca Cosmetica sunscreen; Stila foundation/concealer: Mecca Maxima, Brisbane Airport
MooGoo cleanser and moisturiser; Argan Oil of Morocco shampoo and conditioner; Mitchum deodorant; Thursday Plantation Aloe Vera Gel; Colgate toothbrush and toothpaste kit: Airport Pharmacy, Brisbane Airport
I know, I know. Many will look at what I pack for a holiday and shake their heads at my vain ways. I cannot change who I am and I make no apologies for that. I'm not necessarily going to wear a full face of makeup every day while on holidays but I do like to have products on hand when dressing up for dinners out. I don't travel without my regular foundation because it's something I know won't let me down but I do switch up other products, for example, opting for a palette instead of separate eye and cheek colours to save space. I'll mostly wear a nude lip gloss but always pack a bright lipstick for evenings out – it works like an accessory to lift an outfit. A travel-sized fragrance is a great idea but so is buying a new fragrance duty free (something that's become a tradition for me – I talked about it in this post). I always pack sunscreen and all-purpose gel/balm or cream that can help with minor grazes, irritation and sunburn.
Why shop at Brisbane Airport?
With all the items I've featured, I found the prices to be the same as shopping away from the airport. Winning. But the big win, for me, was in the variety of product available to buy in travel sizes. I know it makes perfect sense for an airport retailer to have a greater concentration of travel-sized beauty products but I was blown away by the depth of what was on offer.
Do yourself a favour, next time you're travelling through Brisbane Airport's Domestic Terminal, check out both beauty retailers and stock up for that trip or your next trip away.
So, please tell me I'm not alone with my travel beauty maximalist ways? If you're a pro at this, please share your tips for clever travel beauty packing in the comments below.
---
Photography: Kate Luke | Hair and makeup: Dale Dorning via Arc Creative