Sponsored by Brisbane Airport
Is it just me, or do you also purposely factor in a solid amount of airport time when flying overseas – particularly when your departure airport happens to be Brisbane Airport's International Terminal?
(Just quietly, the husband and I often comment about how good we have it in Brisbane compared with international airports we've transited through on overseas trips.)
I'm that person arriving at check-in EXACTLY three hours before the flight is due to take off (note: I'd be there earlier but that's the earliest check-in counters open).
I also knock back offers from well-meaning friends and relatives wanting to wave us off. It's not you, it's me.
I'm all about checking us and our bags in as quickly as possible, getting a photo at Brisbane Airport's International Terminal's iconic yellow departure gates (because if you didn't get a photo here, did the trip really happen?) before heading down the escalators and moving efficiently through security and customs, so that the holiday can begin.
As soon as I clock the staff handing out red baskets at the entry to JR/Duty Free, I immediately switch to holiday mode, knowing that any shopping that ensues doesn't really count. I explain my well-intentioned logic about airport shopping in this post.
So, you can imagine my excitement when, in my new role as an ambassador for Brisbane Airport, I was asked to discover more about what to do at Brisbane Airport's International Terminal.
Kid. Candy Shop.
As boarding announcements to everywhere from Auckland to Shenzhen were called, I found myself wistfully fast-forwarding the months to when I would be at the airport for real, with a boarding pass in my hand, bound for Tokyo (via Singapore).
If you're travelling soon through Brisbane Airport's International Terminal, this is my list of fave things to do to get you started on your holiday before you board your flight.

Shop duty free alcohol
I have a little two-pronged strategy when it comes to shopping for alcohol at JR/Duty Free. The first part of my strategy involves thinking about the destination I'm flying to and buying a little something, something to enjoy in our villa, chalet or other self-contained accommodation. When we travelled to Bali earlier this year, I opted to buy Champagne to take because even sparkling wine is quite expensive there and, as much as I love a cocktail; I do get sick of the sweet taste over the course of a holiday. Another purchase that served us well for the trip was a couple of the small 200ml bottles, perfect for a sneaky arvo G&T.
While I may not buy a massive amount to take on the plane with me, I do like to stock up our bar cart for when we get home. I love that you can buy it on your way out and then have it ready for collection in Arrivals on your return. What I look out for our bar cart are fabulous Australian independent brands (love craft gins!) and other offerings that I may not be able to buy at a regular bottle shop, for example blood orange Cointreau. On our last trip, I bought two from Applewood distillery products – the limoncello is made from lemons in South Australia's oldest orchard and the espressocello which is now rocking our espresso martinis. The husband makes a point of adding to his whiskey shelf on the bar cart. I haven't done this before but you can also order online to pick up when you get to the airport to depart for your flight. If you're in store, do ask staff about any offers they have going. Even without special offers, you'll pay less that you would at a retail bottle shop. JR/Duty Free has a price match guarantee – if you find an identical item at another duty free, domestic retail or online store, for a lower price, they will match that price and beat it by 5%.
Find a holiday fragrance
This is a fun little tradition that I started about 16 years ago when my now-husband and I went on our first overseas holiday. Jean Paul Gaultier Classique will always remind me of Santorini. Always. Ever since then, I've sought out a new holiday fragrance each time I've travelled, spraying them on every day while away, implanting that scent memory in the olfactory pathways of my brain.
On our most recent trip, I bought Chanel Paris-Venise EDT, a fresh oriental that will forever remind me of Bali. Extra bonus: I saved some dollars.
Next time, I will spend quality time at the new Jo Malone counter at JR/Duty Free. I mean, look at it. So many pretty bottles all lined up in a row.
Get your glow on
My other holiday beauty treat is to pick up one or two new makeup products to change up your regular look while away. Now I know that many women opt for makeup-free holidays. I'm all good with that, if that's you. It's just not me.
I go minimalist, yes, but there will always be a tinted moisturiser, some kind of illuminating/highlighting situation and a fresh lip gloss or lipstick.
This Power Hungry palette, Double-time lip liner, Mocha lipstick and Springsheen blush from MAC Cosmetics (pictured below) went straight to the wish list. They are the kind of products I'd buy if I were travelling from winter to a resort/beach holiday and wanted an instant glow. And, yes, you'll pay less than your local makeup counter.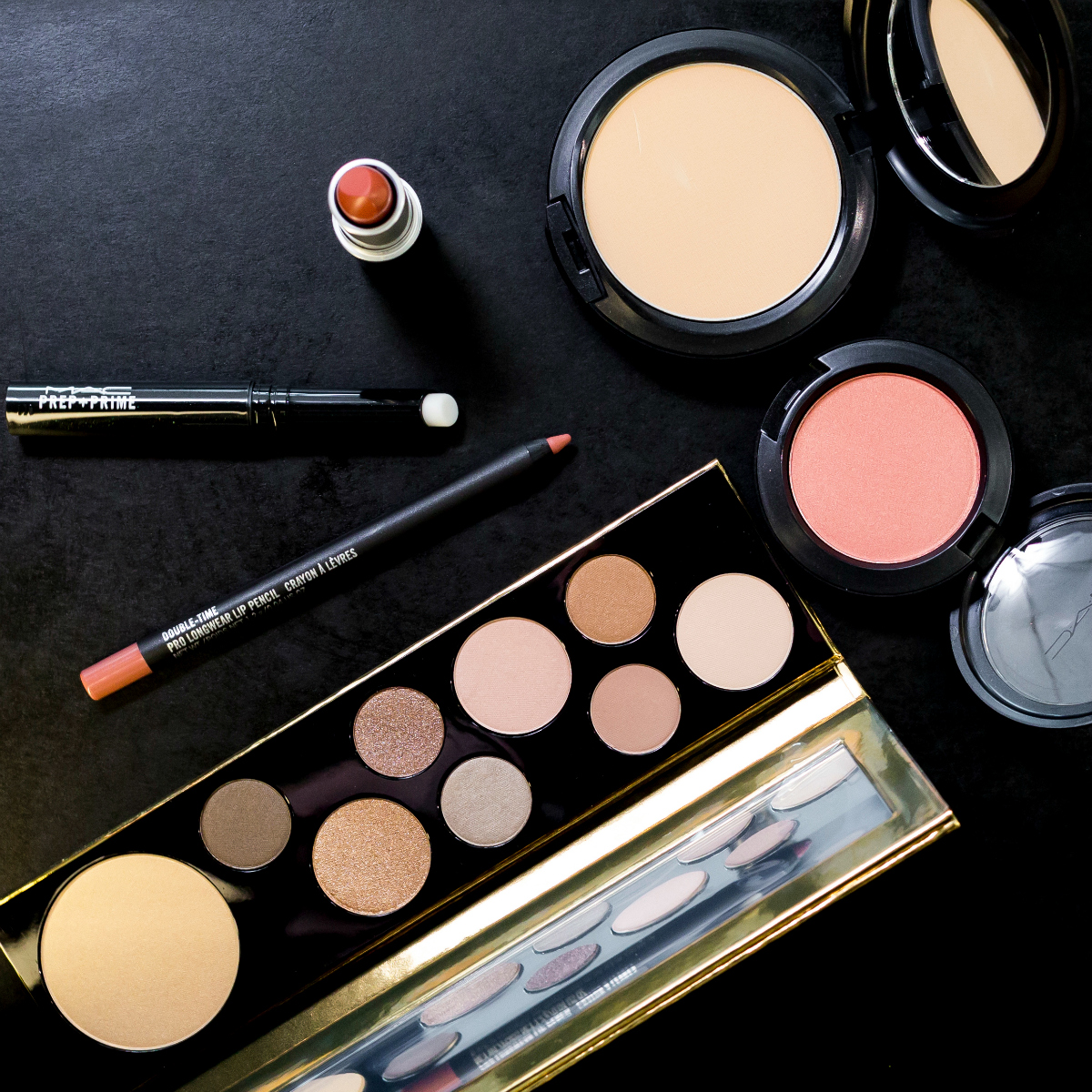 Relax in a lounge
Frequent flyers will probably head straight to an airline's lounge after a little retail therapy (you'll find Qantas, Air New Zealand, Emirates and Singapore Airlines lounges). But if that's not an option for you and you'd love the airline lounge experience, you can pay to enter the Plaza Premium Lounge. Two hours costs $60 per person (30% less for kids aged 2-11), which will give you a relaxed, quieter spot to wait for your flight, wi-fi, re-charging stations, showers, food and drinks, a lolly bar …
… and pod chairs to sit in and watch planes take off and land (I know this would appeal to my plane nerd husband).
Get a massage
Now, this has my full and thorough attention. My love of a spa treatment runs extremely deep. Extremely deep. Booking in for at treatment at the Premium Wellness Spa before your flight would have to be easiest way to fast-track that holiday-mode feeling. Choose from 10 treatment options, from a 20-minute express facial through to an hour-long massage, and float on to that plane. The spa uses Jasmin Organics products which are chemical free, organic and natural products and all grown on the Jasmin Organics owner's property at Mt Tamborine. Book ahead of your departure day to secure a spot.
Sip on a celebratory bubbles
I never pass up an opportunity for a Champagne moment and if you can't take a moment before flying on holidays, when can you? Grab a front-row seat to all the plane action and sit down at Windmill & Co to enjoy pre-flight bubbles. As an FYI, the pizzas here get the thumbs up from the family.
Also on the food front (if not heading into a lounge), we've also enjoyed a really tasty and fresh breakfast at Brisbane River Grill. Love how they use Queensland produce wherever possible for a paddock-to-plate experience.
So, tell me, are you someone like me, who thinks holidays start at the airport?
For more about what to do and see at Brisbane Airport's International Terminal, visit HERE.
---
Photography: Sarah Barnsley, The Photo Pitch | Hair and makeup: Dale Dorning via Arc Creative | Travel outfit: Decjuba jacket; bird Keepers tee; Motto pant; FRANKiE4 Footwear sneakers; neoLUXE bag