Sponsored by Dermalogica Australia
One the big changes I've made to my health in the past year has been a concerted effort to get more sleep.
It's not that I have problems falling asleep. Far from it. My Hashimtos condition usually means that it just takes a dimming of the lights and/or slight reclining position and I'm out for the count.
The problem lies with me. I was (and still can be) my own worst enemy, staying up late working or watching "just one more episode" on Netflix.
What I've set out to do in the past 12 months is set a consistent pattern of getting to bed by 9.30 each night during the week. I'm up early every week day to exercise (who is this person?!! HAH), so this has become crucial.
I use the Bedtime function on the Clock app of my iPhone and this gives me a 30-minute reminder to make sure that happens. I'll tend to read for about 4.5 seconds before dozing off for about seven hours of blissful slumber … until that alarm goes off about 5am.
This change in behaviour has not made me a morning person. I repeat: I am not a morning person. My natural body clock, left to its own devices without regard for school runs and work schedules, would run from 8am through to midnight.
No, what this sleep pattern change has shown me is the difference that a good night's sleep brings to all aspects of my health – including the health of my skin.
And, lately, that sleep and my skin has become even better, thanks to a new Dermalogica skincare product that launches today: Dermalogica Sound Sleep Cocoon.
About Dermalogica Sound Sleep Cocoon
Dermalogica Sound Sleep Cocoon is a treatment gel-cream that works WITH and supports the skin's natural overnight repair and recovery process. It works two ways – the ingredients help promote a better sleep which is a major skin benefit in itself. It also delivers active ingredients to boost our skin's natural capacity to regenerate skin cells and replace hydration lost during the day.
It works on the premise that skin is best able to absorb active ingredients at night, while we rest. Sound Sleep Cocoon is formulated with motion-activated essential oils, which have an immediate effect of soothing and calming the mind, not just the skin.
Ingredients included to optimise the skin's natural overnight repair and recovery cycle include:
Albizia Julibrissin Bark Extract (Persian Silk Tree) – reduces signs of skin fatigue and restores vitality
Evodia Rutaecarpa Fruit Extract (Fruits of Wu-Zhu in traditional Chinese medicine) – promotes a more refined skin texture
Kakadu Plum Extract (rich in Vitamin C) – clinically shown to improve and brighten skin tone
Tamarindus Indicia (Tamarind Seed Extract) – a polysaccharide that cushions the skin, creating a nourishing "cocoon" of comfort for a softer, more hydrated skin
Encapsulated essential oils with motion-activated technology – French lavender, Sandalwood and Patchouli work to soothe the senses and help you sleep better for better skin
How this product fits into my night-time skincare routine
In this blog post, I shared with you my Dermalogica skincare routine. It's now 10 months since I switched to Dermalogica products. I started trialling Sound Sleep Cocoon last month.
My night-time routine still begins with a double cleanse using precleanse balm, followed by skin resurfacing cleanser. Next is a spritz of anti-oxidant hydramist (toner), followed by overnight retinol repair 1%, and age reversal eye complex.
Sound Sleep Cocoon is now my final step – I've swapped out Super Rich Repair for this new product and couldn't be happier with the result.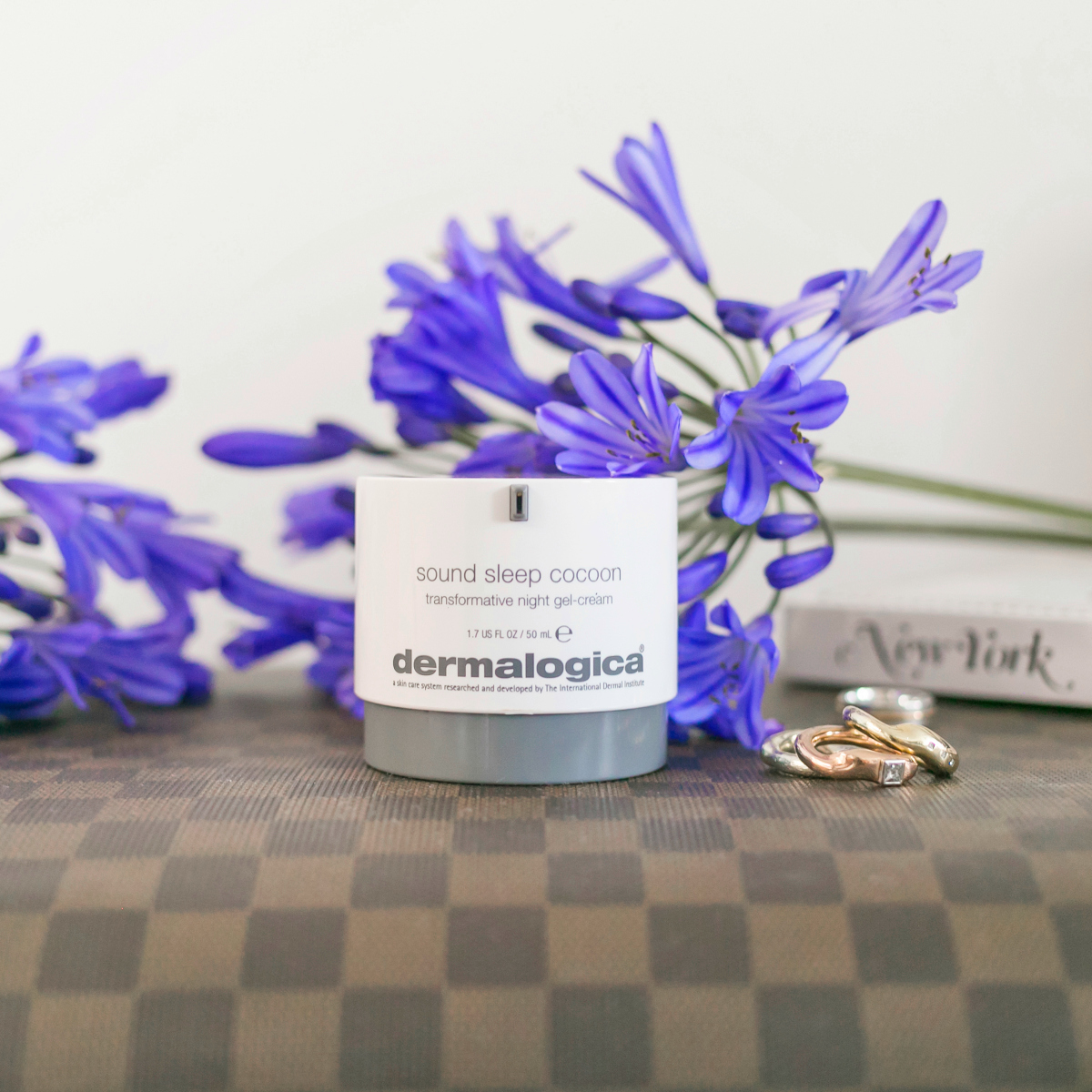 What I've noticed since using it
The effect of this product is immediate in that it smells SO good from the moment you pump out the small amount required for my face and neck. That's the aromatherapy oil mix working straight away to calm you down and get you in sleep mode.
I like the feel of this gel-cream on my skin. You do feel that "cocoon" sensation as you apply the product. It's not sticky or thick on the skin, it's just soft and comforting.
In just a few weeks, I've noticed a couple of things. My skin's hydration levels appear to be so much more consistent. Keeping my 50-year-old skin hydrated is something I struggle with quite a bit. Some days the planets align; others it's a slippery slope to flakiness. This consistent skin hydration is new to me and something I'm hoping will remain and improve even more, the longer I use this product.
The other big thing I've noticed is that I am waking up with more of a glow. I'm not talking, "oh my God she's shaved 10-years off kind of glow". No, I'm just talking a the kind of glow that needs less help in the makeup department, the kind of glow that visibly feels like you're looking after yourself and your skin.
I'm hooked! It's definitely a product I'll keep purchasing after this initial tub runs out.
Special offer
Want to try the Sound Sleep Cocoon for yourself? Dermalogica has a special offer for Styling You readers. Enter BESTSKIN10 at checkout to receive 10% off this new product. Shop HERE. Offer applies until April 21, 2018. Shop HERE.
WIN
Dermalogica has 3 Sound Sleep Cocoon products to giveaway to three Styling You readers. Each prize is valued at $120. To enter, leave an answer to the following question in the comments' section below:
What's your worst sleep habit? How would Sound Sleep Cocoon help you overcome that?
Entries open on Wednesday, March 21, 2018 at 5am (AEST) and close on Wednesday, April 4, 2018 at 5pm (AEST). Australian entries only, sorry. The winners of the "answer the question" competition will be judged on originality and creativity. The winners will be emailed and their name will be published here. Entrants must include an email address when the filling in the commenting system below to be eligible to enter. Full terms and conditions here.