I don't wear foundation every day.
Let me clarify that. I DO wear something on my face every day. It's just not necessarily full-blown foundation.
I'm a huge fan of a CC/BB cream and/or tinted moisturiser for the every day but if I'm going to an event or I need my makeup to stay in place for the entire day then I bring in the big guns – foundations that won't slide off your face.
Now, I live in a climate that most of the year delivers conditions conducive to makeup sliding so I don't muck around if I want the stuff to stick.
Hot tip #1: A primer goes on first (after moisturising sunscreen has settled into the skin). This acts like velcro between your skin and your foundation. I recommend: Face of Australia HD High Definition Primer or Smashbox Photo Finish Foundation Primer
Hot tip #2: Call on a foundation that pitches itself as an "all-day" or "24-hour" product. It's not that I need it to last for 24 hours – long gone are my days of partying until sunrise – I just need it to go the distance. I don't want to be messing about with touch-ups throughout the day or night. And I certainly don't want to be carting a full makeup kit with me while I'm out working or having a laugh with my girlfriends.
Thanks to technology and developments in foundations, the all-day formulas do not look like you have applied your makeup with a cement trowel. They are designed to even out your skin tone and sit comfortably on the skin. In fact if you were to see one of the foundations I've included below just on the skin, you'd be surprised that it is a long-lasting product. Importantly, none of these are drying on the skin either. Your skin still feels hydrated throughout the time that you're wearing the foundation.
The key to finding the right foundation for you is testing it out first. A perfect colour match is so important for it looking "natural" on your face and being able to try it out before buying will ensure you've got a formula that works for your skin. With the Elizabeth Arden, Stila and Giorgio Armani foundations shown below, hunt down a makeup counter nearest you. With the Maybelline and Revlon foundations, look for a Priceline store that has testers available for trial. Buying foundation online is a tricky business, if it's your first time buying a foundation product. Once you've nailed the correct formula and shade for you, you'll be able to buy online in the future.
Hot tip #3: if you're a regular spray tanner like me, get colour-matched for both your non-spray tan skin as well as how your skin looks when spray-tanned. Yes the initial investment is more but you will only use the same total amount of foundation over time. If you don't have a foundation colour matched to your spray tan, then get skilled with using a bronzer as part of your makeup routine. This will bring your face into "alignment" with the rest of your body.
Hot tip #4: apply your foundation with a brush or beauty blender. I've become a big fan of using a beauty blender. The application just seems to be more even and creates a beautiful finish. Using your fingers is fine for an every day situation but if you want your foundation to last then you don't want to be "warming" it up in your fingers first.
Hot tip #5: finish with a setting powder. This is not about "caking" the look but it's about mattifying the finish without making your skin look dry. I recommend: Nude by Nature Pressed Mattifying Mineral Veil or Hourglass Ambient Lighting Powder (Luminous Light)
5 foundations that won't slide off your face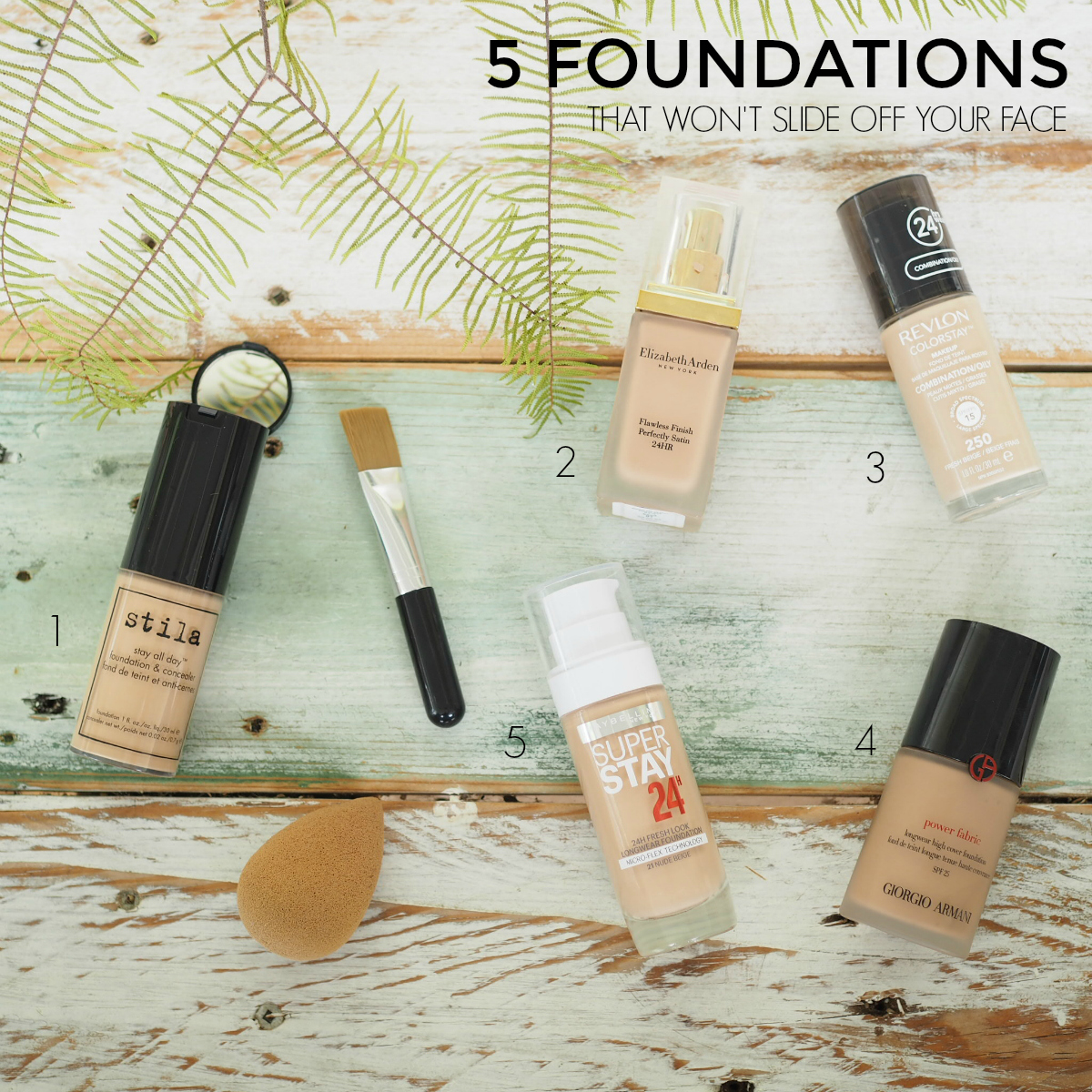 1. Stila Stay All Day foundation and concealer $63: Makeup artist Erin Bigg has been using this foundation on me when I've had photoshoots that have had to go all day – and I've been in and out of clothes for changes. It's worked a treat. So I bought it! It utilises anti-ageing oxygen technology for a flawless finish. Bonus: it comes with its own concealer and mini foundation brush.
2. Elizabeth Arden Flawless Finish Perfectly Satin 24HR $50: I discovered this one two years ago and have re-purchased ever since. It does not let me know and creates a fabulous, airbrushed-like finish. Its formula helps adjust to shine throughout the day.
3. Revlon ColorStay Makeup for Combination to Oily $34.95: If your skin falls on the oily side, this is an ideal budget foundation for you. Its Time Release technology adjusts to your skin's shine throughout the day.
4. Giorgio Armani Power Fabric longwear high cover foundation $99: This foundation is such a delight to wear. Coverage is full but the formula is light. The matte veil is like wearing an Instagram filter on your face. It feels like you're not wearing anything at all.
5. Maybelline New York Super Stay 24H Fresh Look Longwear Foundation $24.95: Don't let its price deceive you. This foundation may be the least expensive in this line up but the "friction-resistant" technology behind it means that once it's on. It's on.
So tell me, are you a foundation wearer? Do you have a go-to that lasts all day/night?