As long as I can remember, holidays at this time of year have mostly involved some kind of beach stay. As young kids we loved roaming the foreshore caravan park (totally unsupervised) with our cousins and school friends at Hervey Bay.
My brothers and I also loved our Gold Coast trips with mum. She'd pack up her tiny car with seemingly everything she owned (yes one year the Singer sewing machine was also wedged on the seat between us) and we'd make the long, hot trip down the Pacific Highway for a couple of weeks in a Mermaid Beach shack or latterly the fancy, schmancy Florida Car-O-Tel at Miami.
These were carefree days, I tell you. You'd easily fall into the rhythm of beach mornings, swimming for hours on end, siestas with the cricket on in the background, followed by pool swims in the afternoon.
I think that's why I still love a beach getaway at this time of year. It's a chance to re-connect with that childhood, carefree rhythm and re-charge for the year ahead.
Traditional beach holidays are all about a relaxed and super casual wardrobe. What to pack for an Australian holiday at the beach will vary so much depending on what type of beach holiday you have.
In this post, I'm sharing my tips based on a house or an apartment base for your beach holiday. If you're a camping fan, then please share your tips in the comments below.
General packing tips
I write a lot here on Styling You about packing tips and how to prep for an upcoming holiday or weekend escape and the three greatest tips I keep coming back to are:
1. Add your destination/s to your weather app on your phone. Start looking at this a few weeks out but if you're heading somewhere where the seasons are changing then it will be important to track it up until the day you leave. Even in parts of Australia where the summer weather can be consistently hot, it can change and you might be looking at a milder/cooler situation for at least some of your time at your destination.
2. Create a mini capsule wardrobe around what you plan to take. I've created one for you below but the reason why any capsule wardrobe works is that by putting some planning into the exercise, what makes it into your suitcase will work for a number of different options.
3. In a capsule stick to mostly neutrals with one accent colour. This is how you get more out of what you pack. It's so much easier to work items back with each other when in neutrals. I'm always a blue girl when it comes to accent colours but you might opt for coral, pink, green … whatever takes your fancy.
Beach holiday packing tips
1. Take more than one swimsuit. I always pack at least two swimsuits if I'm heading on a dedicated beach holiday. This always means you have one dry and available for a quick change from a morning at the beach to an afternoon poolside. Importantly, don't miss out on swimming in the ocean or the pool – life is too short. Here is my annual sermon that point. Pack rash vests (OMG, I love this one) – particularly if you're planning any water activities.
2. Take outfits that work back with your swimsuits. This can include cotton frocks and cover-ups as well as shorts and tunic tops. This post will help you choose a cover-up that will not look out of place in your at-home, everyday style. A swimsuit can become a bottom layer of an outfit so make it all work together and you'll extend your holiday wardrobe. Ideal for that elusive beach-to-bar concept that only seems to happen if holidaying sans kids.
3. Think about what your nightly activities will involve. We like to go out and enjoy local restaurants when on holidays, so taking a mix of evening options that work for those evenings will be essential. Beach holiday style – even on the dressy side – is not as dressy as if you were going out in a city at home. Think minimalist shifts or maximalist kaftans. Or both.
4. Pack a long-sleeve tee or light cardi and some soft pants. The weather, even in Queensland, can turn mild and cooler if there is a lot of rain in the height of summer. Have a couple of light layers at the ready is a good idea.
5. Keep your shoes to about three pairs. If you can pack three pairs of shoes that will mostly work with everything that you pack clothes-wise, then you will very much reduce the space in your luggage. I find that every time I pack heels for a beach holiday I never get them out but don't that stop you if you're so inclined. My three minimum picks would be a pair of thongs, a sandal and a wedge.
6. Take a beach bag. I find that I leave my regular day bag at home and opt instead for a beach bag that will work for walking across to the beach as well as taking to the shops for supplies. I'm obsessed with 2 Duck baskets … because handmade and SEQUINS.
7. Go hard or go home on the sunscreen. You know my thoughts on sunscreen. Just wear it.
8. Keep your beauty kit to a minimum. I don't wear makeup to the beach but if heading out and about, it's all about a tinted moisturiser/BB/CC cream situation, a bit of mascara, a touch-up of the brows, a lipgloss and little bronzer thrown in for good measure. Two minutes and I've faked a fresh-face glow.
9. Pack a couple of hat options. I do pack a broad-rimmed hat in my suitcase for a beach holiday. Here's how. I also take a cap for morning beach walks.
10. Pack a couple of different pairs of sunglasses. I keep my holiday accessories to a minimum and prefer instead to mix up my look with a different pair of sunglasses. You have them on all day and for sunset cocktails, so why not take a couple of options?
11. Embrace the statement earring. I thought it was just me and my first summer with shorter hair but I'm far from alone in my current obsession with a statement earring. Make it your obsession too and it will distract from any holiday hair, top knot, authentic (read unwashed and brushed) beach hair situation.
12. Pack your activewear. We we holiday is fantastic for walking each morning and because I don't have to worry about space, I do pack my activewear and sneakers. I also take some yoga tights in case I come across a great option for a class.
13. Invest in a beach shelter. And a chair. When we head to the beach, it's rarely for a brief dip. We cover up and slip, slop slap but couldn't survive a summer morning on the beach without shelter as well. We've bought this one from SunnyJim about two years ago and still love it. It's easy to put up and the air flows beautifully through it. Friends have a CoolCabana and I love it too. Another girlfriend found a similar shelter at Aldi and it passed a recent beach test.
14. Stock up on Turkish beach towels. I think it's about four years since we made the switch to Turkish towels and, except for a few winter beach visits, we've never looked back. You can easily fit enough for a whole family in your beach bag without it being weighed down and they dry super quickly. We love Knotty towels.
15. Buy new books to read (or load up your Kindle). I crave days with nothing to do but get lost in a book. That only tends to happen now on holidays. Deborah from Debbish's list of her seven favourite books for 2016 may be a good place to start if you're looking for something new this summer. I also love this top 20 list from Vanessa at Style and Shenanigans.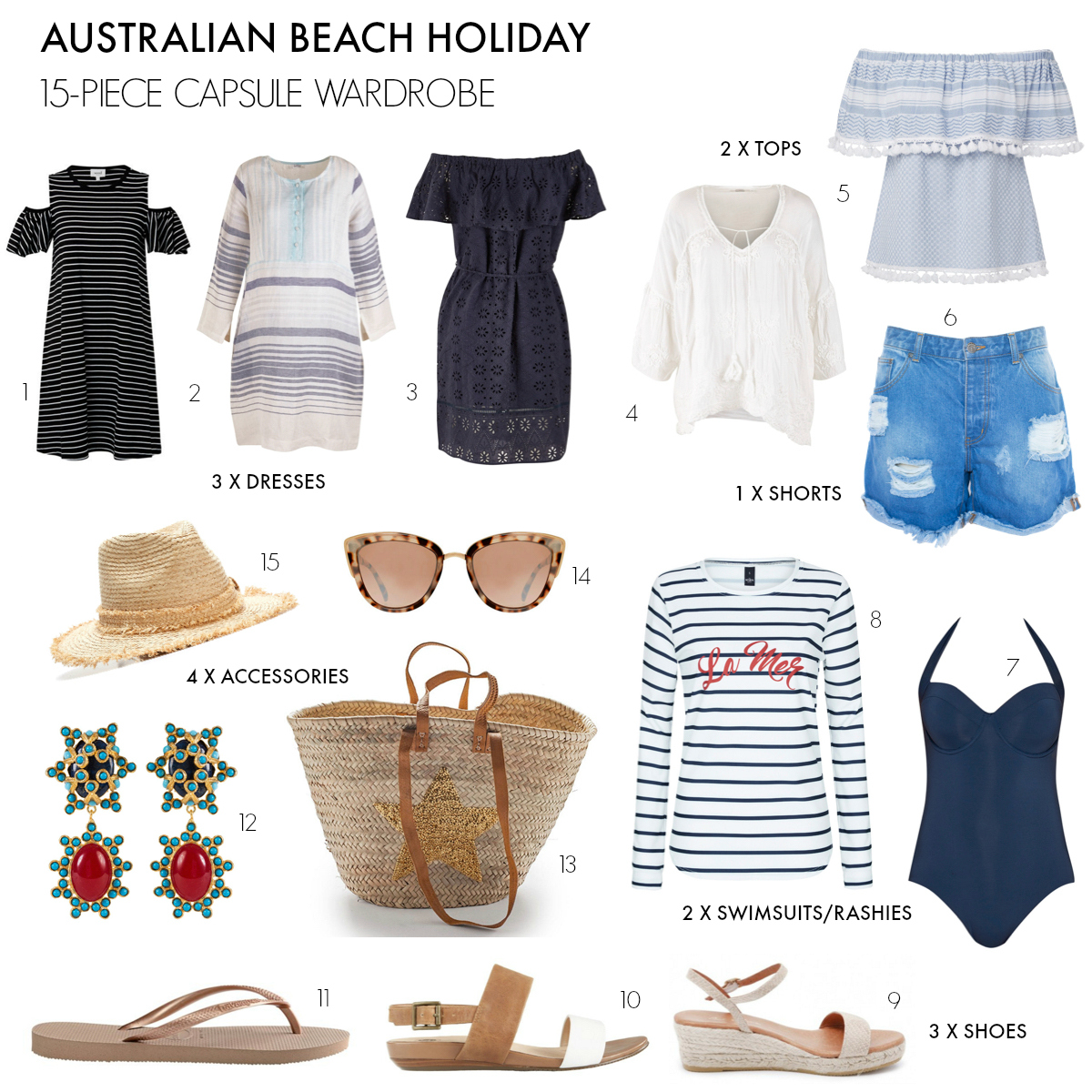 1. Seed dress $69.95
2. Holiday dress $129.95 @ Birdsnest
3. Wish dress $169.95 @ Birdsnest
4. Holiday top $129.95 @ Birdsnest
5. Seed top $109.95
6. Bohemian Traders shorts $129
7. Jets swimsuit $159
8. Acqua Brand rashie $139
9. Sofia Cruz wedges $169.95
10. FRANKiE4 Footwear sandals $189.95
11. Havaianas thongs $29.99
12. Christie Nicholaides $239
13. 2 Duck basket $80 @ Champagne Cartel shop
14. Seed sunglasses $49.95
15. Sportscraft $47.99
So over to you? Have you got any beach packing suggestions to add? Are you going to the beach for a holiday or weekend escape this summer?
* This post contains affiliate links. If you buy something via one of these links I may receive a small commission. Full disclosure policy here.
PS. I will be wearing a lot of clothing from Adrift on my beach holiday. I love being ambassador for Adrift and they've given me a little something, something to offer you if you've had your eye on a piece (or two) from the new collection. Enter NIKKI25 at checkout to save 25% on all full-priced clothing until midnight today (Friday, December 16).