Sponsored by Adrift
Every summer I cannot believe how hot and humid it can get. This is kind of crazy as I've lived my entire life in Queensland and that is how we roll.
Attempting to look and feel stylish in summer when the heat is on IS a challenge but it is do-able and is often a necessity as the tail-end of the year brings with it weekends (and a good number of weeknights) filled with parties and "catch-ups".
I'm also a woman who loves to have a Christmas Day frock and a New Year's ensemble at the ready. And if you're lucky enough to escape to the beach pre-or-post Christmas then there is the holiday wardrobe to consider.
Time to get prepped, Stylers.
I've partnered with Adrift (I'm super excited to be the ambassador for this lifestyle label which embraces balmy summer nights) to give you my tips for keeping your cool and looking put together across summer.
I'm sharing my favourite pieces from Adrift's new summer resort range, which I photographed and road-tested in Bali. AND you could also win $300 to get your wardrobe sorted for the long, hot summer ahead.
Adrift Kate dress in raspberry (I'm in XL)
15 tips for how to look and feel stylish in summer
1. Get clear what events or gatherings you have coming up on the calendar. Write a list of what's coming up and what type of occasion/get-together it will be. This gives you time to prepare an outfit and avoid last-minute, stressful shopping.
2. Check your wardrobe to see if you have pieces that suit any of those occasions. I always say shop your wardrobe first – this is essential before you shop elsewhere. There may be pieces that haven't had a lot of love since last summer. Get them out, I say.
3. Identify any gaps in your wardrobe and any occasions where you would like something new to wear. With the Brownie points you've got from shopping your wardrobe, give yourself permission to buy some new pieces. Pieces that are different from what you already own.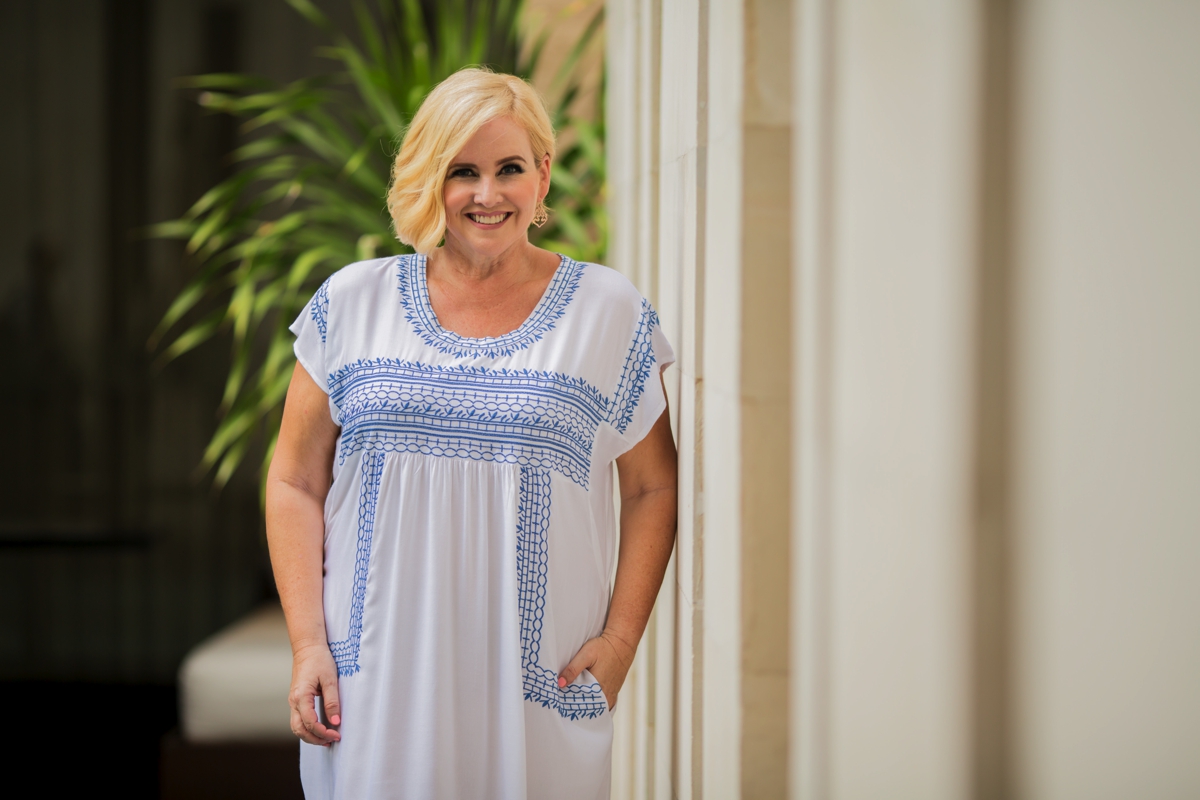 Adrift Audrey dress in white/blue (I'm in XL)
4. Look for fabrics that breathe. Cotton, linen, rayon … these are you summer weather outfit friends.
5. Look for colour. When layering isn't an option then interest in an outfit can come from a burst of colour – block or in a print. Don't feel you have to do colour if it's not your thing (see below re black and white) but do try a little on. You never know.
Adrift Julia kaftan in green (one size)
6. Look for detail. Summer style is all in the detail and design of a garment. The way it falls on your body and the little things that finish off a garment and give it visual appeal.
7. White is very all right. There is so much to love about white and summer. It's fresh, you feel cool wearing it and it's never out of style. Make friends with a laundry pre-spray and soak routine and you'll not be scared about donning this colour.
Adrift Maldives kaftan in white (I'm in L/XL)
8. Love your black? Then embrace it. I'm not one to shy away from black all year round so I'm never going to suggest you do either. Make your black look a summer one by wearing it back with nude or tan accessories.
9. The maxi frock is your summer style friend. A maxi frock always looks dressed up and will take you from a casual barbecue to dinner out with just a change in shoes. If you feel it's too long and overwhelming for your body, try knotting the hem on one side.
Adrift Cairo maxi dress (I'm in XL)
10. Swap out shorts for a denim skirt. I do love a short for summer but I know they're not everyone's cup of tea. The casual denim skirt – in white or indigo will substitute nicely and provide a great base for all your cotton tops.
Adrift Bianca top in white (I'm in XL) | Adrift denim skirt in white (I'm in M/L)
11. Look for pieces that have dress-up/dress-down versatility. When you buy a garment that works for a casual gathering at home but dresses up for an evening out, you know you'll get so much wear from it. A change of accessories and shoes is all that is required.
12. Invest in cotton slips for under sheer garments. A slip not only helps with sheer garments; it can help keep the sweat from the main event – the kaftan or dress you're wearing over it. This then keeps you feeling more comfortable. I love these.
13. Worried about showing your arms but still want a high-summer look? The off-the-shoulder look is for you. It's no secret I'm a huge fan of this look and it's for that very reason. It's a little bit summery and a little bit sexy.
14. Don't like wearing a strapless bra? Most off-the-shoulder tops can be worn ON the shoulder. Yes, just let that elastic pop on up and you'll be able to wear a normal bra (or with the normal bra slightly off centre on the shoulder).
15. Accessorise with earrings and bracelets. I'm not one for a lot of things around my neck in high summer. Doesn't mean I don't do it – in fact, a cotton scarf is a great addition for keeping the sun off if I'm out in the day. Mostly though, I opt for earrings and wrist wear, bringing in colour and texture to the outfit but on my extremities.
About Adrift
Adrift is one of Australia's leading shopping destinations (online and in store at its two Brisbane boutiques) for women of all shapes and sizes. The size range for the summer collection is from XS-4XL.
Adrift wants every woman to feel confident in their style through quality pieces that are beautiful to wear for the everyday and occasions. They believe that fashion shouldn't be overcomplicated so that women can be themselves.
I say, YES, to that.
WIN
How would you like to kick start to your summer everyday and occasion wardrobe with a chance to win your favourite outfit from my favourites featured here. Of COURSE you would.
Head on over HERE to find out how. Plus, subscribe to Adrift to receive 15% of your next purchase. Be quick though … entries close November 23, 2016.
So tell me, what are you tips for dressing in summer while the heat is on? Which is your favourite from above?
Location: Anantara Seminyak Bali | Photographer: Jimie Wu| Hair and makeup: Yenny Gunawan