The off the shoulder top or dress has a growing number of fans – I'm definitely on #teamOTS.
HOWEVER. Every time I wear this trend I am asked the same questions from those who are yet to jump on board or from those who have dipped their shoulders in but haven't yet found comfort or confidence with this style.
I have answered most of these questions in previous blog posts – and on social media – and in the SY Everyday Style Facebook group – and in the Ultimate Capsule Wardrobe Facebook group.
But it's become clear that I need to have all those answers and all my OTS (off the shoulder) advice here in one place.
So, let's get stuck in, shall we? Get those shoulders out and a ready.
What's so amazing about this trend?
The appeal is very much about the show of skin. It's a little bit feminine, a little bit sexy.
BUT. You get to feel all that while still having your upper arms covered. This adds up to a spring-summer win for me.
Don't get me wrong, I'll get my arms out when the heat is on. I'll wave my tuckshops around in the air like I just don't care but I don't feel as dressed up as I do when they are covered up.
And when the summer heat IS on you can still feel cool in an off-the-shoulder number because your shoulders, neck and back are exposed.
I usually avoid sleeveless tops due to tuckshop arms. It has been a revelation to find that OTS tops can be quite flattering – keeping top of arms under wraps while displaying skin with shoulders. So modern and stylish! So thanks to you and this group I now have somewhat of an addiction to these – especially in soft, well hanging fabrics in navy! – Michelle, Ultimate Capsule Wardrobe online program member
It matters not to me that I've already visited this trend a couple of times in my fashion life. It's been around since the mid-1800s. I'm not quite that old but I did embrace it in the 1900s – the '80s and '90s.
I rejoiced last year when it returned. And I'm rejoicing that my northern hemisphere fashion sisters are telling me that it's still a happening trend for spring-summer 2017 and now 2018.
I've also rejoiced at managing to convert a few people along the way.
I've realised it is ok to take a risk! I NEVER would have chosen an OTS top before, but now that I have worn one a couple of times and realised it is ok to bare my shoulders, I am loving it (and realising that they are everywhere – I didn't notice that before!). So many simple changes that change your whole look. So happy that I am part of this challenge. – Melanie
Which is the right OTS for you
There is an OTS dress and top out there for everyone. And there are so many to choose from, across all budgets, that finding one to suit is something you could easily make a mission for the season ahead.
Petite sisters: some OTS styles are too long and have simply too much fabric for your frame but there are plenty of streamlined styles available that really work for your shape.
If you are shorter then a longer OTS top can be tucked at the front into jeans, shorts or a skirt to show your waist. Some OTS tops are long enough to become short dresses.
Curvy sisters: Floaty and streamlined styles will suit. I like some skimming action in my OTS tops and dresses … because I love floaty in pretty much all that I wear. I've also had great success with floaty OTS tops that have an overlay of fabric falling to the top of the waist. This helps to give the illusion of shape.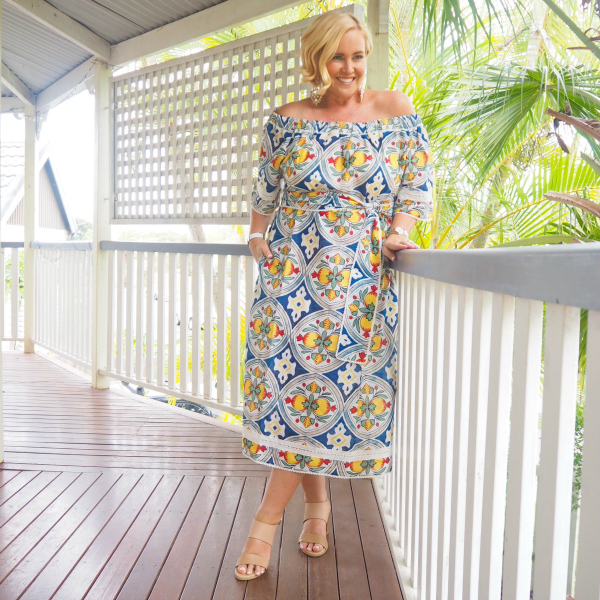 Which is the right strapless bra for your OTS
Ahh, this is the $54K question that there is no one correct answer for. I'm sorry if you've come here wanting one miracle bra that works for all boobs.
There isn't one.
My desire to make this trend work for me, saw me spending quality time last summer in the lingerie department of David Jones, trying on all manner of strapless bras and then dropping a pretty penny on two by Simone Perele.
I tried going up a back size and down a cup size – so 18C instead of 16D. And guess what? It worked. Worth every cent. No empty space in the bra where my boobs should be and (relative) comfort.
The thing is, this bra is great for me but it might not work for you. It's not just about the size of our girls, it's about their shape. I have sideways boobs and any strapless bra with a full cup doesn't work because I don't fill the cup at the top. This then makes the bra sit out from the body and visible through the top or dress.
So, my hot tip for you is that finding a strapless bra that works for YOU is not something that will necessarily happen quickly but if you're as mad for this trend as I am, then invest the time and find one that works for you.
Get thee to a bra-fitting specialist – either an independent retailer or a larger department store where there is a lot of choice in shapes and sizes of strapless bras.
I have a GG-sized bust and I'm best friends with my bras! Yesterday I spent 1.5 hours at Brava Lingerie, and the wonderful ladies were able to fit me into a strapless bra with enough scaffolding to do the trick! – Nicoll
Still can't come at a strapless bra? Opt for a cold-shoulder top or dress instead and you can wear your regular bra.
How can I stop an OTS from riding up ON the shoulders?
In short, you can't, but you can minimise this action.
I find this is not a problem with all my OTS tops and dresses. Most of the problems seem to happen with those pieces that are too tight in the elastic. If they are just right or a bit loose, then it seems to work.
We found this video, tried it out this hack and reported back in the SY Everyday Style Facebook group that it worked. Give it a go and let me know if it works for you too.
---
So tell me, are you on #teamOTS? How many would I find in your wardrobe?