I have a wardrobe that is about 80% devoted to smart casual. I know this is not everyone's wardrobe situation – but increasingly it's a lot of women's situation.
More and more women are working from home. And more and more workplaces are switching to a more casual dress policy.
When I first went from working in an office to working at home from my kitchen table eight years ago, getting dressed was confusing and stressful. I'd swing from beachwear to networking/office outfits with very little in between.
I also fell into an everyday style rut because I'd just reach for the same type of things to wear every day and every week.
You may not know it if you're new to Styling You but it was because of that rut that three years ago I started the #everydaystyle movement.
Except, I didn't realise I'd started a movement. I simply set the intention of sharing my daily outfit on Instagram for ONE WEEK with the #everydaystyle hashtag.
By the end of that wee, other fabulous women were sharing, inspiring and using the #everydaystyle hashtag. So, I thought … best keep going.
In three years, I have not missed A SINGLE DAY. Some might call this consistency crazy. Me? It's truly helped me get clearer on my mostly casual style.
Now there are almost 200K posts using this hashtag. Not all are part of the SY community but many of the regulars were there on Day 1 and are still posting.
This year I realised that not everyone had a public Instagram account, so in July we launched the SY Everyday Style Facebook group (you can find out more and join HERE) for Styling You subscribers and there are now more than 4000 women in that group, with hundreds sharing their outfits each week.
The style questions in that group – and the ones I would receive on a daily basis via email – led me in September to launch my first online style program, the Ultimate Capsule Wardrobe Style Challenge (registrations have closed now but it will re-open in autumn for new six-week or six-month style support). The women in that group share their daily outfits.
Every single woman who is sharing her outfit on Instagram and the in the Facebook group is inspiring others.
It is incredibly powerful to see fashion on women of all ages, shapes and sizes.
It gives us confidence to try new pieces or new ways of wearing old pieces.
And confidence is everything. Everyday style is about feeling the most confident you can EVERY day.
And that is absolutely possible, even if your wardrobe is a predominantly casual one.
In this post, I'm sharing three casual outfits to take you from spring to summer in style, plus we have casual outfit inspiration from the real women of #everydaystyle.
The t-shirt dress
My wardrobe would be incredibly lost without its collection of t-shirt dresses. These dresses just work for me and simplify my #everydaystyle options. I can pop them on with sneakers, with flat sandals, with wedges. I wear them unadorned or with a statement necklace or a scarf. This is the exact versatility I look for in all pieces in my wardrobe.
This particular t-shirt dress is from the Styling You Shop. I've got a few in this same style by Surafina and can never resist a stripe – the contrast sleeve gives you two lots of stripes for the price of one! And it adds interest.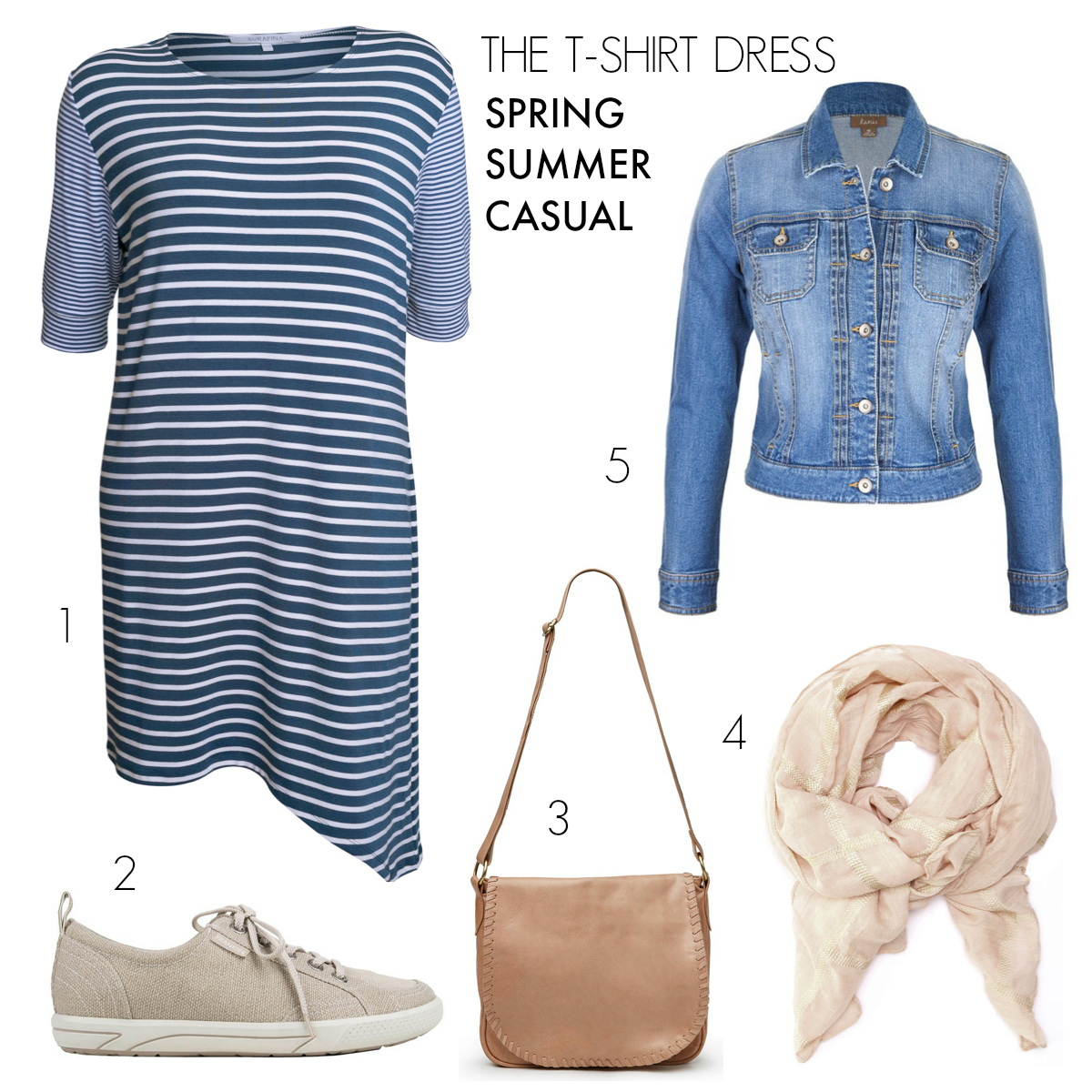 1. Surafina t-shirt dress $129.95 @ The Styling You Shop
2. FRANKiE4 Footwear ELLiE sneakers in biege $229.95
3. Barefoot Gypsy bag $275 @ Birdsnest
4. Sportscraft scarf $41.99 (on sale) @ Sportscraft
5. Katies denim jacket $41.97 (on sale)
The denim skirt
I can't remember a time in my life when I didn't have at least one denim skirt hanging there, ever reliable and at the ready for any casual occasion. A good denim skirt will work as well for you in summer as a pair of jeans does in winter. Wear them with t-shirts or tanks and sneakers or dress them up with a fashion top.
This particular denim skirt is from the Styling You Shop … it's by Bohemian Traders and sits so incredibly flattering on the body. I love the frayed hem, the slight dip in hemline at the back, the stretch and the way it sits smoothly and comfortably across the tummy, keeping things sucked in.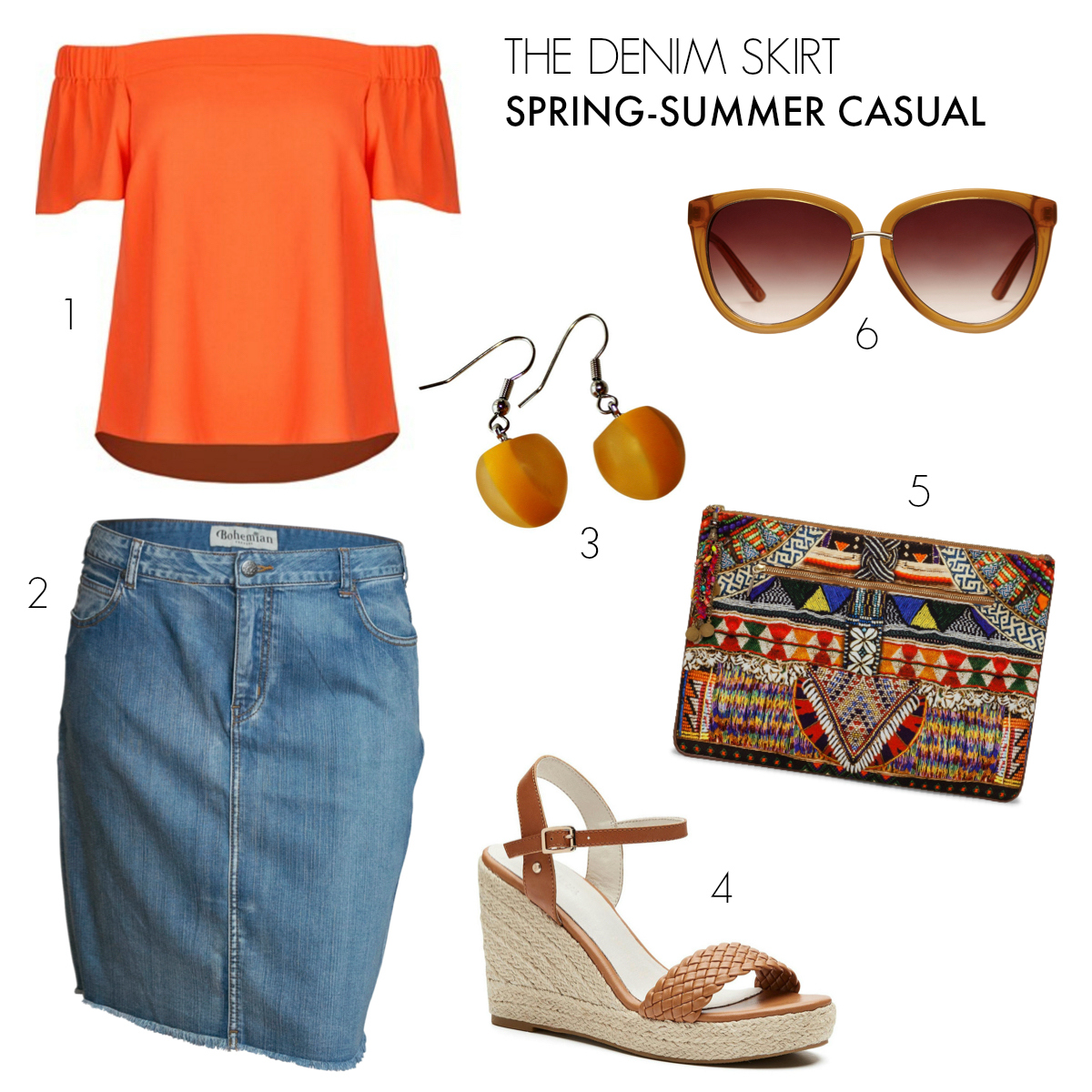 1. Katies top $29.97 (on sale)
2. Bohemian Traders denim skirt $129 @ The Styling You Shop
3. Ruby Olive earrings $22
4. Witchery wedges $99.95 @ David Jones
5. Camilla clutch $149 @ David Jones
6. Oroton sunglasses $95 @ the Oroton Outlet
The short
I know that shorts are not everyone's wardrobe cup of tea but I cannot get through summer without them. I feel cool (temperature wise – I'll leave that other version of cool to the young kids!) and they work to help me better utilise my collection of tops. They have the dress-up/dress-down characteristics that I require from my clothes. Wear them with sneakers, thongs or slides for super casual/beach style. Dress them up with sandals, espadrilles or wedges for brunch or lunch style.
These shorts below are from the Styling You Shop and I've been living in mine (and their blue denim sisters). The length is perfect for me, falling mid thigh if I wear them on my hips. I can't go any shorter and a longer length doesn't work for my leg shape. Finding a shorts leg length that does work for YOU is key to a successful spring/summer in shorts.
1. Katies top $39.95
2. Bohemian Traders shorts $129 @ The Styling You Shop
3. Mimco shoes $149 @ David Jones
4. Adorne necklace $34.95 (on sale) @ Birdsnest
5. 2 Duck black sequinned striped basket $80 @ The Champagne Cartel Shop (PS. if you live in Brisbane get yourself along to QueensPlaza – the Champagne Cartel girls have joined Sacha Drake for a pop-up shop until Christmas – you'll find them on the top level)
6. Milana hat $79.95 @ David Jones
Styling inspiration on everyday women
For the past six weeks, the real women of #everydaystyle have been sharing their favourite casual outfits with the #syspringcasual hashtag. I've collated 30 of those outfits in the gallery below. Hover over each image to get the Instagram handle of these ladies.
CLICK HERE to find out the winner of this challenge – and details about the next #everydaystyle challenge. We'd love to have you on board for a chance to win a $100 gift card to spend at Adrift.
So tell me, what percentage of your wardrobe is devoted to casual? What's your go-to spring-summer casual look?