Sponsored by Cancer Council's Girls' Night In
It's about 11 years to the day that we got the phone call that no family ever wants to get.
My husband's mum, my beautiful mother-in-law (I know mother-in-laws get a bad rap but not this one) had just been diagnosed with ovarian cancer.
She was 53. Four years older than I am now.
Ten years ago next month, at age 54, she sadly passed away from this insidious disease – a disease that has no early detection test. That means that by the time women are diagnosed, the cancer is often in an advanced stage.
So when Cancer Council approached me to see if I'd like to work with them on a campaign to encourage women to host Girls' Night In fundraising events during October to raise money to help beat women's cancers, I didn't hesitate.
I'm a woman. I have a daughter.
Raising funds for the Cancer Council to help with women's cancer research, prevention programs and support services is incredibly important.
An estimated 20,000 women will be diagnosed with a breast or gynaecological – including ovarian or cervical – cancer this year. That's 20,000 too many women in my books.
The fewer women who have to receive a diagnosis and the fewer people who have to receive that phone call, the better.
We all know that raising funds is essential but many of us think that that has to be on a grand scale. It doesn't have to be.
Cancer Council's Girls' Night In initiative allows you to make a difference on a small scale but all the while contributing to the bigger fundraising picture – helping to beat women's cancers.
And when fundraising involves your girlfriends and FUN, then it's a winning combination.
I don't know about you but when I get together with my girlfriends, it does fill up my cup. I'm reminded just how lucky I am to have incredible, smart, funny and talented women in my life.
To give you some ideas for a Girls' Night In to remember, I've put together this list of 13 ways to host your girlfriends for a Girls' Night In event.
Success to me with any event – big or small – is looking around the room during an event and seeing everyone laughing and talking with each other.
Choose a theme from below – or come up with your own idea – to create an event to remember.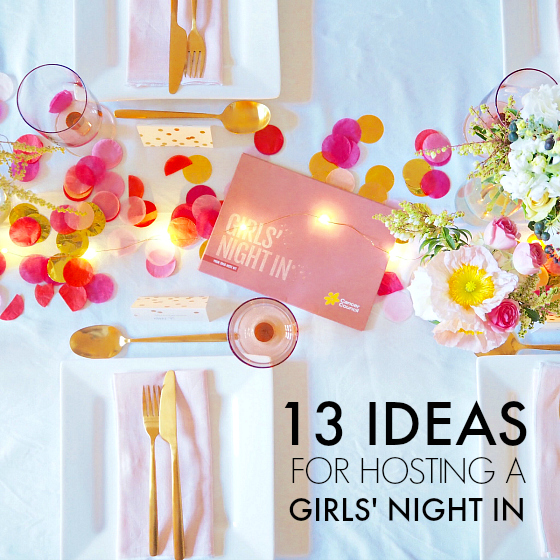 13 ideas for hosting a Cancer Council Girls' Night In
1. Dinner party. Set a food theme for your dinner party – Mexican, Italian, Thai – and have your guests bring a dish to meet the theme. As host you can set certain people on starters, mains or desserts. It's a great way to spread the cooking load and try some new dishes. Set your table decor suit the chosen theme.
2. Movie night. There is nothing like watching a chick flick or two in the company of other chicks. Men just don't get rom coms but we LOVE them. Set up your living area so there are sofas and cushions for people to lounge around on. Encourage your guests to come in their pyjamas. Make home-made movie snacks to serve.
3. Pamper night. Set up a nail bar at home, with tables and chairs to enable guests to do each other's nails. Ask everyone to bring their favourite colours to share with the group. If you don't have a group confident of doing the manicures without guidance, bring in an beauty expert to help guide and teach everyone on the night.
4. Makeup lesson tutorial. There is always something to learn from a makeup artist. Book one for your event so they can take your guests through an easy everyday makeup tutorial. Everyone will have fun on the night but also take home some tips that they will be able to apply to their daily everyday style.
5. Cooking lesson. A hands-on cooking lesson with a cook or chef makes eating the food all the more fun. Having your hired chef or cook take your guests through a number of different recipes they could easily re-create at home, gives them inspiration long after the evening has ended.
6. Clothes swap. We all have garments in our wardrobe that no longer work for us but are still in fabulous condition. Ask your guests to bring two garments and one accessory to swap on the night with other guests. Competition will get fierce for some items, so have a ticket draw to decide the order that your guests will get to choose their "new" clothes and accessories.
7. Yoga class. Be Zen like. Vaporise essential oils and work with an open space. Have guests arrive in the next best thing to pjs – relaxed lounge wear – and a yoga teacher takes them through a relaxing yoga class. If your guests have never done yoga before, this might be something they take up as a result. A light supper could be served afterwards.
8. Floral workshop. Hire a florist to come to your house to teach you and your friends how to create a bouquet of flowers or a floral crown. It's like getting insider secrets into this art and guests get to take home their own bouquet or crown.
9. Craft lesson. I'm not known for my crafty ways but I do love classes where you can produce a work of art/craft that you'd happily have positioned in your own home. Crocheting has had a resurgence – it's so hip right now. There are also modern craft or DIY projects that would be fun to do. Go down the rabbit hole that is Pinterest for suggestions here. Choose something that could easily be achieved in a few hours.
10. Painting lesson. There is something quite therapeutic about being guided through a painting lesson. When you do it as a group, it's even more fun. You could set up everyone with supplies – canvases, paints, brushes, etc – and have an artist take your guests through steps to create their own artwork.
11. Book exchange. This would be a twist on your regular book club night. Instead of all talking about one book, your guests would bring three books they are done with in their home to go into a pool of books for exchanging with other guests. You could set the genre for the books that guest should bring or allow people to mix it up, for example two novels and one non-fiction.
12. Games night. This is what I did for mine and I'll share more about that with you in my next post. Let's just say the evening was a whole lot of fun and it brought out my girlfriends' competitive side. The main photo and pictured below is a sneak peek. Stay tuned for more.
13. Weekend away. Why have a slumber party on just one night at home when you can take the show on the road? Book a big house so that everyone can bunk in together. Organise for a grocery delivery to arrive on the afternoon that you do and bring with you any of the things from the activities above that you'd like to incorporate into your weekend.
Fundraising
With all of the above events, work out how you'd best like to collect donations from your guests. If you're supplying everything, maybe ask your guests to donate what they would have spent on a night out.
You could set an "entry fee" or just let your guests determine what they would like to contribute.
Extra fundraising on the night could come from collecting prizes to raffle but do let your guests know in advance so they can bring cash to participate in them.
Registering to host your own Cancer Council Girls' Night In this October is simple. Head HERE and complete your details. Once you're registered you'll receive a free host kit in the post – time to get planning.
So tell me, have you hosted a Girls' Night In event before? Keen to do so in 2016? {I'd love you to!}