I took this photo of iconic Whitehaven Beach about 18 months ago.
I was on a blogger trip and it was my first time in Queensland's Whitsundays.
Not only could I not believe it was my first time visiting this part of my home state but I knew then and there that I would be back.
And that I had to share this magic spot with Mr SY.
That sharing starts tomorrow. Thanks to Tourism Queensland and Tourism Whitsundays, we are flying to Hamilton Island for two days and nights of sailing in these waters.
On Sunday night we have treated ourselves to one night at Qualia Resort on Hamilton Island.
It is our 10th wedding anniversary so we figured if there were ever a time to splash out, it was now.
To keep the romance well and truly alive, my blogging mate BabyMac and her husband are also on board ;).
My First World thoughts have once again turned the very important question of what to pack for a weekend away.
I figure, the more I do of these "what to pack" posts, the better I'll become at only stuffing into a suitcase the things I really will wear.
I'm pleased to report that my packing planning for the recent Problogger conference paid off. I wore every thing in my suitcase. Well, almost. BabyMac wore my Sacha Drake jumpsuit I'd packed as a backup, so that technically still counts, surely!
7 tips for an island holiday wardrobe
1. The emphasis will be very much on casual in the wardrobe department. Casual can still be smart and if that's the focus you have then you'll have items that can take you from boat to bar in a flash. Soft pants or shorts and tops will work in and around the boat.
2. Pack items that don't require ironing and don't take up a whole lot of space. The boat we're on will be on the larger side but it won't be the same as spreading out in a hotel room. This will be my greatest challenge.
1. Blue Bungalow kaftan $59 | 2. Havaianas $29.99 | 3. Blue Bungalow bag $29.95 | 4. Metalicus top $129.95 | 5. Metalicus pants $129.95 | 6. Capriosca one-piece $100 @ Sequins and Sand | 7. Frankie 4 Footwear sneakers $219.95 | 8. Kooringal hat $27.99 @ Sequins and Sand
3. Most of the daytime hours will be spent on deck and swimming. A hat, sunglasses, a couple of swimsuits and cover-ups are a must.
4. Flat footwear is the go. I can just imagine Mr SY's reaction should I attempt to walk around a boat in heels. I may sneak in a pair of blinged up wedges for dinner at Qualia. Maybe.
5. Pack something resort fancy if you are dining out somewhere fancy. Or just because. Of COURSE I'll be trotting out a kaftan or two.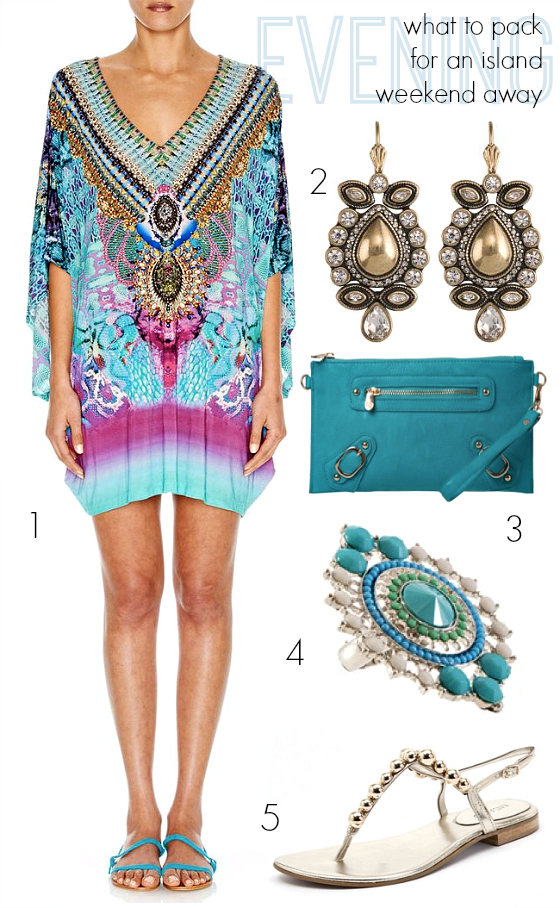 1. Camilla dress $469 @ Zambezee Boutique | 2. Samantha Wills earrings $140 | 3. Colette Hayman clutch $19.95 | 4. Adorne ring $10 | 5. Misano sandals $79.95 @ The Iconic
6. Have a light knit on hand to protect from the wind and keep warm when the sun goes down. It's already warming up in Queensland but the evenings still have a mild chill in the air – especially if you're on a boat.
7. Keep your beauty kit to a minimum but don't forget the SPF 30+.  I may be getting spray-tanned up later today but I'm not kidding myself – my winter white skin needs protection at the best of times, let alone when I'm out on the water.
So tell me, have you got any beach/resort/island getaways coming up? What are your essentials and tips?
PS. I'm taking the day off from the blog tomorrow. Will be back Monday with a special take on Model and Me. You can follow along with our weekend on Instagram.