I honestly didn't expect the response I received to the post I wrote about my 2013 health story – published in between finishing off the Christmas ham and packing boxes for our move to Brisbane.
I'd been chipping away at changes to what and how I ate plus discovering that gentle exercise was not only right for me but could make a difference. And in that five-month period I had failed to realise how far I'd come.
So many readers left comments on that post, emailed or messaged me about changes they too have now made to their health.
I'm all about the baby-steps approach so I'm glad that works for many of you too.
As for the update. If you came here expecting some kind of reporting of a massive kg loss, I'm sorry that's not what you'll find.
I don't own any scales so I can't tell you what I weigh now or what I weighed after Christmas.
All I know is that I feel brighter, stronger and healthier.
Fire and shine pants and top* | top layered over a Female for Life bra top and tank
I tell you all this not in a smug way because I don't feel smug. I just feel that I've finally cracked a long-term formula that works for me and my life with auto-immune condition, Hashimotos.
If you read my previous post – and others I've written here – you'll know that my struggle with Hashimotos is a daily one.
Don't get me wrong, in among all this stronger, healthier, brighter 2014, I've still had some down right dodgy days where doing anything has felt like walking through the deep mudflats of Moreton Bay – with mud also sloshing around in my brain.
I completely underestimated how much the move would take its toll on my health. Completely.
What I do know is that the regime and routine I started mid-2013 certainly helped me get back on top of things more quickly.
Like in my previous post, I'm sharing what I've been doing health-wise. Anything I mention may not work for you and professional advice is always a good idea.
What I've been doing
1. Stuck to the 5:2 way of eating. I started this after reading this book. Not only did it make a lot of sense to me, it's worked. I don't crave sweet stuff any more. I crave (well that's probably a bit strong a word, let's go with look forward, shall we?) fast days. Particularly after indulgent weekends. The other long-term win here is that it definitely feels like second nature to me. I've only missed two weeks since August last year – when I went to Bali last October – and the week we moved. Getting back on track was pretty easy.
2. Found new sources of real, whole food. I've still been ordering my bread and protein pancake mix from the Wholemeal Cafe in Sydney. The bonus is that it arrives quicker than it did now we're in Brisbane. For takeaways with goodness plus, Botantica Real Food has become a firm fave. This shop produces incredible tasty and healthy salads and all their cakes are gluten (and almost guilt) free. Mr SY shops at the Jan Powers Farmers Markets in the city each Wednesday for amazing farm-fresh local produce, meat and fish. We've also embraced Meat at Billy's as our butcher. Talk about purveyors of fine quality meat. Not far from Billy's is a great fruit and vegetable shop. That brings down our grocery order – and I do that online – to about every two-three weeks.
3. (Mostly) limited alcohol to weekends. I say mostly because if there is a special occasion or an event, I take a day's leave pass from my own rule. It's a rule I've been following for a few years now and I really do notice the difference. The whole Christmas/moving period saw me fall off the wagon for this rule but I got back on. As long as I have a lime and soda close by when cooking dinner, I'm good with it.
3. Made friends with the hills around where I now live. I really had no choice here. When I step outside my home the only way is up. Or down and then up. Talk about good for the legs. I'm walking generally every other day. On Wednesday I walk my son to school as part of the school's participation in the Active School Travel Program. And if we're going out for brunch, shop or a coffee, I walk.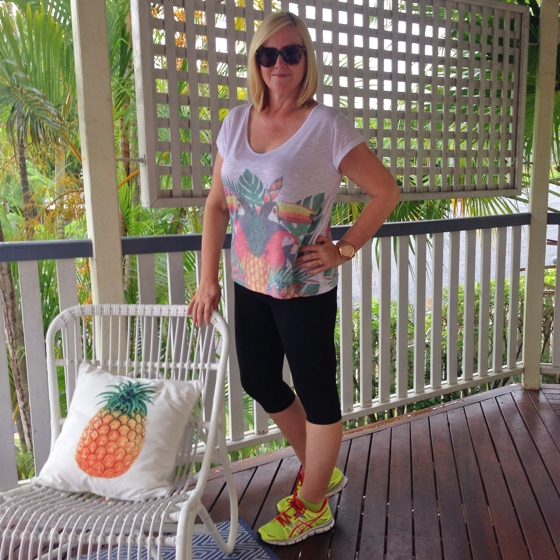 Abi & Joseph top and pants from Elsa*
4. Signed up at a new yoga studio. My old yoga teacher helped me find a new yoga studio and I'm super grateful because by signing up for a month's trial before I left the Sunshine Coast, I was committed to starting again down here. That new studio is Cue Yoga in Red Hill. It's not been open long but every teacher I've had has been amazing and the space is beautiful. I do two classes a week – usually one relax class and one basic. It's more than two months since I started and the twice-a-week routine has helped me to feel so much stronger. I have muscles I didn't know I could have and have not been anywhere near my weights ever since.
5. Found a new GP who specialises in my condition. Oh this is a biggie – and I have Dr Google to thank for this find. I've been struggling to find a GP who really understood and specialised in treating Hashimotos holistically. Not since my former GP Scott abandoned me moved to Perth a few years ago have I felt like I've been listened. I've also been validated in my self-treatment when it comes to managing my condition through lifestyle changes. In fact my new GP highly approves of the fast diet and my yoga and walking routine. He says that anything else would be too much for my immune system. I've always had regular blood tests and taken medication in accordance with those results but now we're working on changing the medication slightly (I'm in the middle of a six-week trial) in an attempt to reduce the degree to which I'm resistant to thyroxine. Once that's reduced to an acceptable level, we're going to trial a natural thyroid replacement (something I'm keen to do after a reader commented on my last post about the success she had with it). I'm also taking supplements to help everything along – one to help my adrenal glands and a thyroid one that will help boost my iodine levels that were low. I feel BETTER. Not 100% but there's definitely been an improvement in the groggy-ness I can feel some days. I won't publicly link to the GP here but if you are in Brisbane and would like his details, shoot me an email.
6. Found a new Bowen massage therapist. I don't mention it a lot on the blog but for the past two years I have had a recurring shoulder injury – brought on by the crazy amount of time I spend pounding the keyboard and using a computer mouse. I get very good results from this form of therapy and can highly recommend if you've got a pain issue too. My previous therapist, Kristin, got me walking without pain a few years ago after a surf incident. My new therapist, Eva, is a straight shooter who knows her stuff and works to quickly get to the source of what's causing the pain. She also has a detox box in her practice which I've read is great for my condition – I've had one session in it and plan to have one with each of my monthly visits.
7. Created time for me. I think for women this is one of our biggest health downfalls. We don't make time just for us. To be alone with our thoughts. Or a glass of red wine. To book in for a monthly facial. To catch up with girlfriends who fill up our hearts. I'm making a concerted effort in this department. Something that's made easier this year with Mr SY only having a 15-minute bus trip home instead of a two-hour commute!
So tell me, how are going with your health in 2014? Made any small – or big – changes? 
* These garments were sent to me for editorial consideration