With all the rain that's be gracing my corner of the world, I feel like I've had a head start on all things autumn-y.
The crisp white wine has been swapped with a red or two. We've embraced curries again and last night even a slow-roast lamb.
Truth be told, I think I just like to embrace a menu change at any opportunity.
Especially when it comes to desserts.
I made this slow cooker poached pears recipe for Valentine's Day a few weeks ago. I'd never cooked poached pears in the slow cooker but am so glad that I gave this a go as it's a winner. It's a no-fuss way to get a really scrummy dessert going while doing or cooking other things.
And I may have shouted something along those lines to the My Kitchen Rules contestants who recently stuffed up their poached pear dish by not allowing enough time. They could have had it cooking away while they were working on the entree and main. (Anyone else out there an armchair chef?!)
I love the spicy, fragrant sauce that it sits in. My sauce is not as syrupy as others' as I keep the sugar content down (I use rapadura sugar) … only to balance out the chocolate ganache and vanilla bean ice-cream I serve with it, of course 😉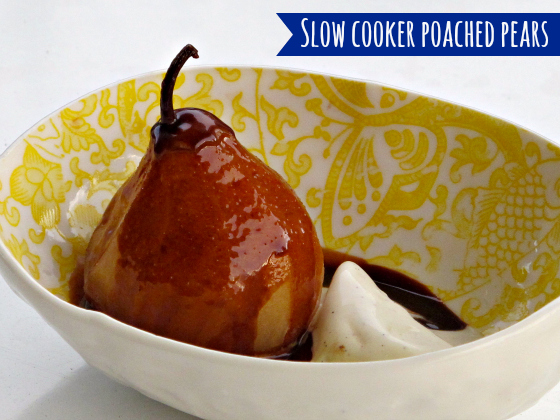 Ingredients
(serves 4)
Method
1. Add sugar, spices, lemon zest, vanilla, ginger and 500ml of water to your slow cooker. Cook on high for about 15 minutes or until the sugar dissolves.
2. Meanwhile, peel pears and leave whole.
3. Add pears to slow cooker, turn heat down to low and cook for two-three hours until tender.
4. Place on plate, drizzle chocolate ganache over the top and serve with vanilla bean ice-cream.
Do you love poached pears? What's your favourite autumn dessert?
PS. The bowl I've used? A little Samantha Robinson purchase from our holiday in Bali.
—————————————————————————————————————
Looking for more autumn recipe inspiration, my blogging mate, BabyMac, has just released Issue Two of her iPad magazine, Beverley? It's already inspired me to make plum jam. On a weeknight. True!