You're familiar with the term "happy ending" are you not?
Well, I'm here today to tell you a little story about a different happy ending. And ending that indeed made us very happy but not in a "I just had a special massage" kind of way.
And that happy ending for us was the moment we set foot in the lime green-lit foyer of the Hudson Hotel, midtown in New York City. Actually, scrap that … it was from the very moment that the bell hop opened the door to our taxi on 356 West Street.
We could breathe again.
I know, I know … I only blogged days ago about our fabulous apartment in the fabulous West Village but it turns out such fabulousness can easily come unstuck. It started with a scary knock at the door on Tuesday while I was at home with a very sick Mr 7 while Mr SY was out suit shopping at Macy's.
The knock at the door? Oh, that was just someone serving our landlord/host with court papers for unpaid rent. Mmmmm.
The next day, while Mr SY was tag-teaming me with sick son duties, the building superintendent knocked on the door and told us that a court martial would be around in a day or two to seize the property.
Mr SY texted me this latest development while I was busy acquainting myself with Anthropologie in Soho. Umm … way to kill your shopping mojo.
In the time it took to cab it back to the apartment, I had made the decision that were getting out of there. I had visions of us heading out for a bit of sightseeing, only to come back and no longer have any access to our belongings, which included our ipads, computers etc. Not something that I wanted to experience and certainly not an ordeal I wanted to put our seven-year-old through.
So, I grabbed said computer and jumped online to booking.com and punched in a search for hotels to sleep three people somewhere midtown.
Now, having already stayed at the Hilton for the BlogHer conference, I was not keen to return to it or something like it. If you could imagine a McDonalds with guest rooms, that would come close to the lack of personality that a 2500-room hotel brings with it.
Near the top of my search flashed up the Hudson Hotel, of the Morgans Hotel Group. And this is where the power of email marketing kicked in. I receive the Morgans Hotel Group emails – have done for years as they contacted quite a few fashion bloggers in the lead up to Fashion Week a few years ago, offering special rates. This was back when a trip to New York was merely a pipe dream, a dream I wanted to make happen … I just didn't know when.
The price was right, so I clicked "book now" and we started packing. We told Mr 7 (who slept through all of this – that's how sick he's been … this is a boy who never sleeps in the day) that we wanted to move closer to the toy shops. There was no need for him to take on our stress. He is someone who likes to do that at the best of times.
Within an hour and a half we were at our new "home". And it did feel just like that.
It's funky (I know using the word funky is probably not cool or hipster but that's how I'm calling it 😉 ).
The staff are SO friendly (thanks Xander the guest service agent who checked us in … I could have jumped the counter and kissed you, such was the relief I felt staring out through the window behind you to the hotel's private park knowing that I'd picked a good place to end our New York visit on a high note).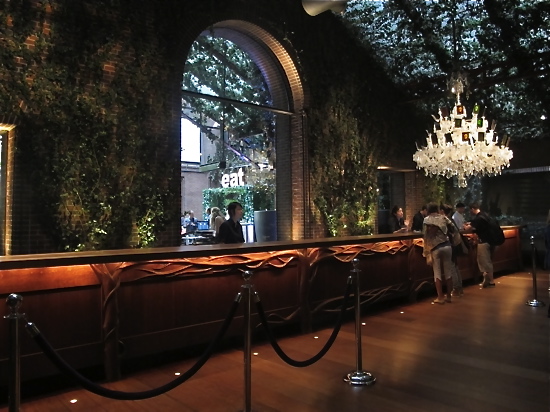 The rooms are reasonable in size by New York standards. We have two double beds enveloped in crisp, white sheets; the entrance/alcove area fits all our luggage despite the fact I now have twice as many pairs of shoes as what I had a week ago. The bathroom has a small bath and we have a bar fridge (something strangely missing at the Hilton). Oh and we have a view of the Hudson River. Not so shabby at all.
The cool factor goes up a gazillion notches at the Sky Terrace bar … we plan to check that out tonight. Last night we were exhausted by the whole shebang … I grabbed a pinot grigio from the Library Bar and sat in our room with a grin on my face.
We felt safe in this big city. And that's pretty much as cool as it gets in my travel books.
Have you ever had things not go to plan when you're travelling? How have you handled that?
PS. Airbnb, who we booked our apartment through, is following up our case for us and we're hoping that we can get a refund for the three nights' we did not use at the apartment and that we can get our security deposit back. Just because we had a bad experience, does not mean you will. Other bloggers travelling to New York for BlogHer have had great success with their bookings. If you're planning to use this service, I would go with your gut instinct. We should have acted sooner on our's … like when the listing for the apartment we booked turned out not to be the address we were staying at. The photos and details matched but in hindsight our host had probably not included the correct address as he didn't want his building's superintendent to find out he was making money off holiday rentals but not paying his actual rent. Who knows? I'm sharing my experience in the hope that it helps others who want to discover New York this way.