Did you hear the one about the husband who said you can never own too many bags?
No, of course you haven't Stylers. Because these words have never been uttered from a male's lips.
They do not understand that your handbag says so much about you. Especially that part of you that likes to change things up and keeping things fresh.
In my dream handbag world, I start every new season with a new everyday bag. Yes, dreaming, I know.
But I do like a bit of dreaming so in the imaginary quest for a new autumn-winter handbag, I've search the interwebs to narrow my short list down to five (oh, and this five doesn't, of course, include the Nancybird bag I flagged back here).
So technically my Five for Friday is Six but who's counting? Not me.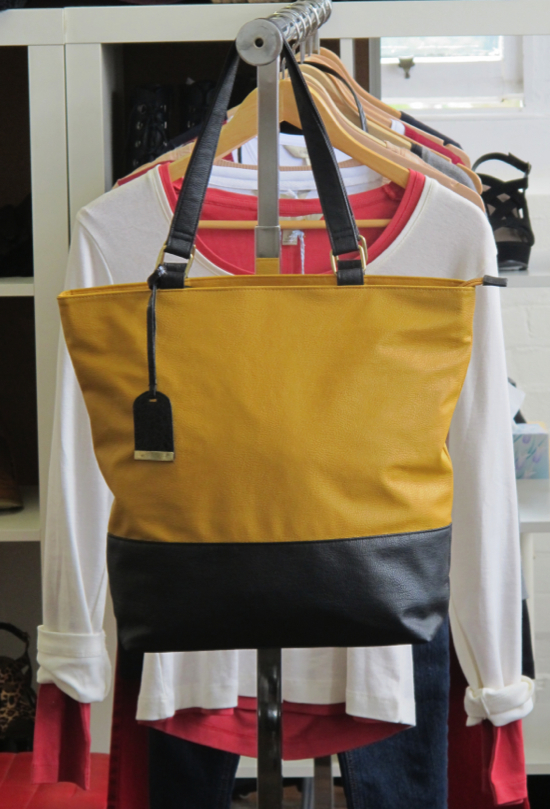 This two-tone tote bag is a perfect carry all – and it's from the Emerson range at Big W so super affordable ($19.83). I love the pop of colour and how it will work with my denim, black, red and charcoals this winter.
This patent tote from Witchery ($289.95) is ticking all the boxes for a sophisticated day bag for the office. Beautiful contrast to the season's darker hues. Love the two-toned effect with the strap.
I do like me a splash of red and this autumn I'm seeing red worked back with a bit of leopard print in my near future … hot, hot, hot. This leather bag's from Piper Jordan.
Speaking of leopard print (yes, I've got a thing for it this season … scrap that … every season), how about this tote from Lalu Lalu at Style Tread ($54.95) for carrying around all your extra bits?
Or maybe, just maybe … I've got the blues … the Cambridge Satchel Company blues ($194.64) at ASOS. It's the perfect shape to sling over your body and look pretty rad while doing so.
What do you think? Like any of these? In the market for a new handbag this season? Do you need a super large day bag or can you head out for the day with something more compact? Spill your handbag lust and must secrets below.
PS. Yesterday on Justb. I wrote about how I crashed and burned last week and needed to have a good hard talk to myself about putting me first. Would love you to have a read.