It had been 17 long years between visits to Cairns and North Queensland – too long, I say. The global pandemic continues to interrupt and disrupt holiday plans and gratitude is all that I have for our 10-day escape to the warmth of the Queensland tropics in winter.
I planned and booked our trip just after Christmas last year, when it was clear that even booking an interstate holiday would be risky, let alone the chance of international borders re-opening and being able to travel overseas. That turned out to be a good move. The holiday also proved once again just how amazing our own country is.
To make the most of our Cairns and North Queensland trip, I booked three different locations – for three very different experiences – Cairns, Fitzroy Island and Port Douglas. Because we hadn't visited the region for so long, I'm glad we did it this way. It gave us a taste for where we'll go and what we'll do on a return visit – and return we will because our eldest is a resident in Cairns for the next few years.
I really love the planning part of putting together holidays like this. I love spending hours online searching for ideas and options. It's almost as fun as the holiday itself. HAH. Almost.
I'm a journalist by trade so research is in my DNA. I try to avoid Tripadvisor as I find that the reviews are generally either glowy or negative, with not much in between. Instead, I look to blog posts from trusted writers (my friend Chantelle at Fat Mum Slim has some great North Queensland posts with lots of ideas, particularly if travelling with young kids) as well as official tourism websites and social media (this post is stacked with ideas). I then start sending emails and inquiries to places and experiences that take my eye. All the while, I'll build either a Google Doc or a shared note on my phone with links and any useful information I find. That's when my husband usually gets on board, adding to the same document or note. Having all that info on our phones when on the ground is super handy.
Where to go and what to see in Cairns and North Queensland
A couple of things to mention first up that may answer so many of the DMs I had on our trip:
The region is still re-building post-2020 and will be some time without the thousands of international visitors who would usually be travelling to and working in North Queensland. Many businesses have closed altogether, however, those that were open were thriving during our stay. Go. Support them. Be patient.
If you're a foodie and really want to experience some of the notable restaurants in the area, book them before you book your holiday. No joke, one restaurant in Port Douglas is currently booked out until October (hello Nautilus!) . Otherwise, try your luck when on the ground and ask in person for lunch or dinner bookings while you're there. We had been on email waitlists everywhere and never received notifications of cancellations, even with the Sydney lockdown.
You have to be croc-wary in North Queensland but it doesn't mean you can't swim at beaches. Just do it in daylight at patrolled areas. And, if during stinger season, you'll need to suit up.
The weather during a Far North Queensland winter should mostly be dry and (mildly) warm mid-to-high 20s with low humidity. Overnight temperatures will average around 20 degrees. It can be cooler though, so do pack light layers (more on what to pack HERE). About half of our stay was in this textbook winter weather; the other half was drizzly rain or windy. If you can, build gaps into your holiday schedule so you can re-schedule any experiences that might be weather dependent. A windy day and the outer reef is not a good combination for people who are prone to seasickness. And, as we found out, rain is not ideal for a Mossman Gorge river float and snorkel. The water temp in the sea was between 22-25 degrees, just the way I like it!
Post-2020, there is a shortage of cars to hire in North Queensland and a lot of regional areas around Australia. And if you do snag one, the price is not pretty. Again, if having a car is essential to your trip, book this first and fill in the accommodation and flight gaps later. We managed to score one for one day out of Port Douglas by being there at opening – $340 for a tiny car for the day. Getting between our various accommodation spots, we booked a driver and highly recommend Gilbert at Cairns to Port Douglas Transfers.
Cairns
Flying in and out of Cairns, we decided to top and tail our holiday with a night at one of the newest hotels, the Crystalbrook Flynn. Well, it is the name of our youngest so seemed the right thing to do! If you can, book a sea-view room (we booked a one-bedroom Sea Suite). Just being able to sit out on the balcony and take it all in – from the surrounding ranges to the sea – meant that it felt like we were on holidays from the get go. The modern decor is as warm and welcoming as the staff. The location doesn't get any better than this in Cairns, with everything you'd need in walking distance – just head down the lift and step out on to the Esplanade.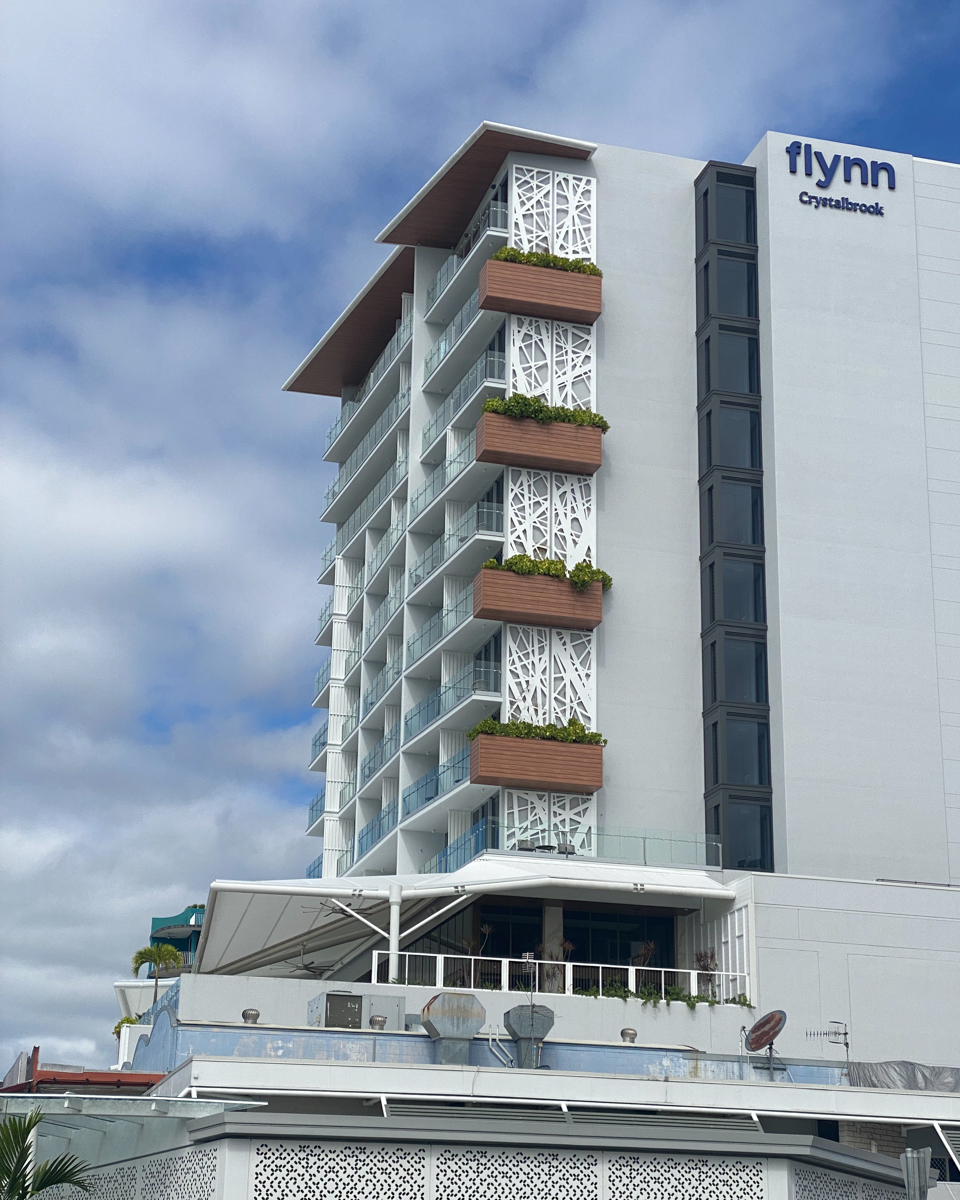 If you don't want to leave the hotel, I would not blame you. We loved hanging out beside the pool, sundowners at Whiskey and Wine and dinner at Flynn's Italian*.
And a cheeky booking at Eleme Spa* is a must if you can swing it.
When we did leave the hotel it was for more food:
Seafood and a crisp white on board the Prawn Star
Burgers and a beer tasting paddle at Hemingway's Brewery
The best brunch made from local produce … where the locals (seemingly) brunch at Guyala
* Disclosure: the Cyrstalbrook Flynn hosted me for my spa visit and provided a partial credit for our dinner. Everything else was booked and paid for by us.
Fitzroy Island
Fitzroy is just a 45-minute fast ferry ride from the Marlin Marina in Cairns. Day trips are hugely popular but I thought it would be fun to stay on the island for four nights, to quickly decompress from work mode to island chill. There's something about a boat trip to a destination that makes it seem a million miles away from reality. Fitzroy's natural beauty is stunning. From its famous Nudey Beach (NO you can't go nude there!) through to snorkelling with turtles off the main beach to the summit walk (so worth the sweat!), it's a postcard at every turn.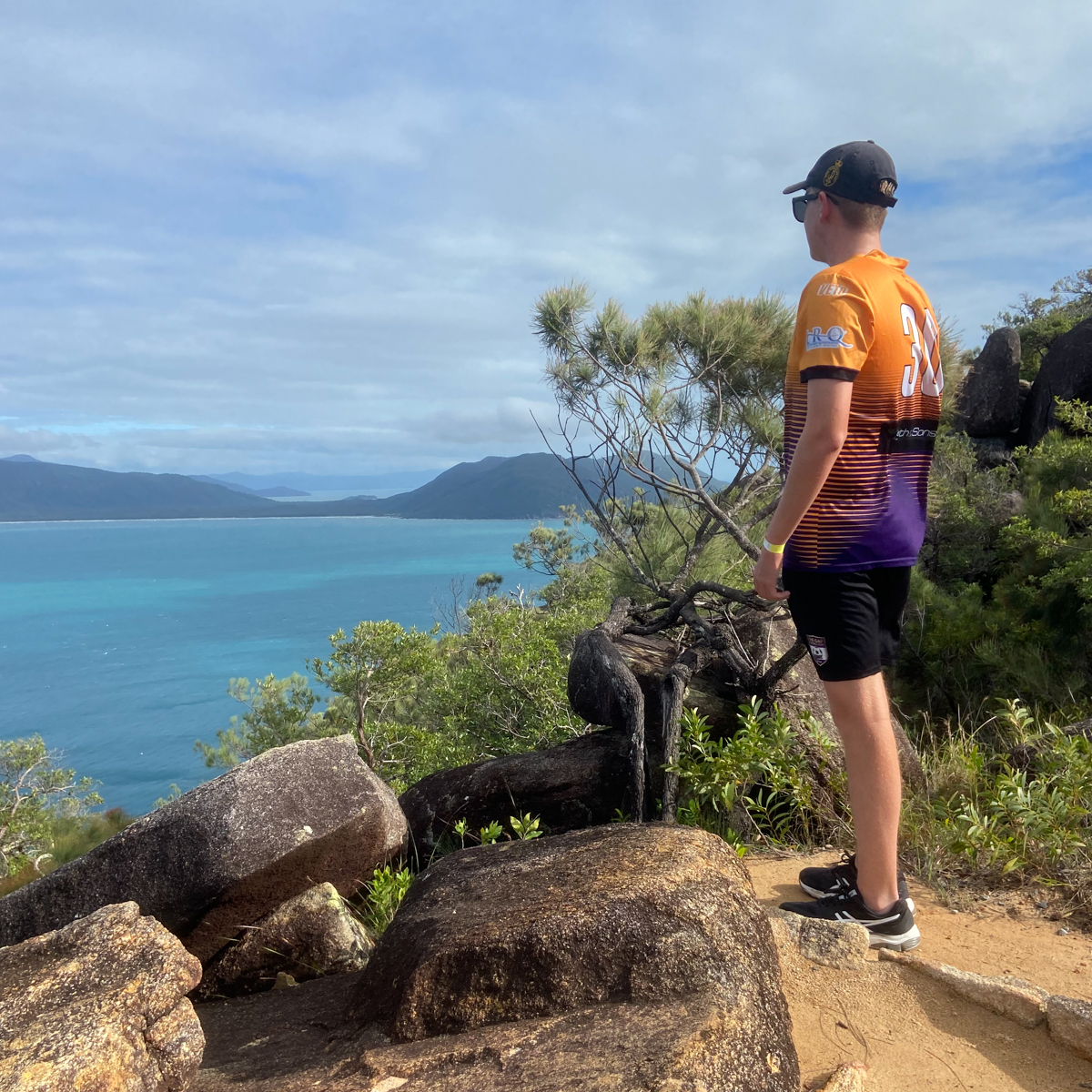 The resort itself is clean and staff welcoming but post-2020 shutdown there is still a lot of maintenance and general zjooshing to happen. Our self-contained Welcome Bay Suite room was a little outdated in decor but fabulous all the same, with a view of the water through the trees – the sound of it lapping on to the coral shore something I'd never tire of. We would have loved the inclusion of a washing machine in the room. I'm not sure if one had been there previously (there were plumbing points) but there is a shared coin-operated machine available. The resort also has little to no phone reception. Paid wi-fi is available but only works around the lobby area. This might be bliss to many but would need to be planned for if needing to connect with work or your business.
Food-wise, we were warned to do a grocery shop in Cairns and bring across essentials with us. This covered most breakfasts and lunches. Dining out options are Foxy's Bar – best place for sunset watching – and Zephyr Restaurant. Foxy's is a fun, low-key beachside pub with tasty food to match. You can also order takeaway from Foxy's (booze and food). As an FYI you can't BYO alcohol on to the island.
Lelly B Charters
You can book an outer-reef tour to pick you up from Fitzroy but we were lucky enough to spend a day hosted on board the Lelly B. I met Lesley (or @lellybchic) through the fabulous Styling You community. Her and her husband, Tim, have been mainstays of Cairns and the reef tourism industry for decades, having only "retired" a few years ago. As part of the retirement plan, Tim and Lesley bought the Lelly B. Between Tim, Lesley and skipper Brad, we had a day out on the water that we'll never forget. On our final night, when we reflected back on our holiday, it was this day out that each of us nominated as our favourite of the trip. Not only was there some successful fishing had but we got to snorkel on the outer reef at Flynn Reef – and had the place to ourselves. The coral was stunning, I saw a family of "Nemos" and did not want to leave the water. But leave we did for an amazing lunch and Champagne on board before heading back to Fitzroy.
Port Douglas
Stage three of our holiday saw us picked up from the marina and driven along one of Australia's most scenic highways to Port Douglas.
We'd only ever popped into Port Douglas on a day trip but even on that day 17 years ago, I knew that one day we'd come back to stay. The vibe is a little bit Noosa, a little bit Byron but mostly its own version of beachside chill – even in peak season. The old buildings (pubs and Sugar Wharf) blend with the modern, with the start of Four Mile Beach at one end of the main (Macrossan) street and the river at the other. Stroll and browse (better still buy to support the local retailers) in the shops, secure some restaurant bookings and stock up on groceries at the supermarket.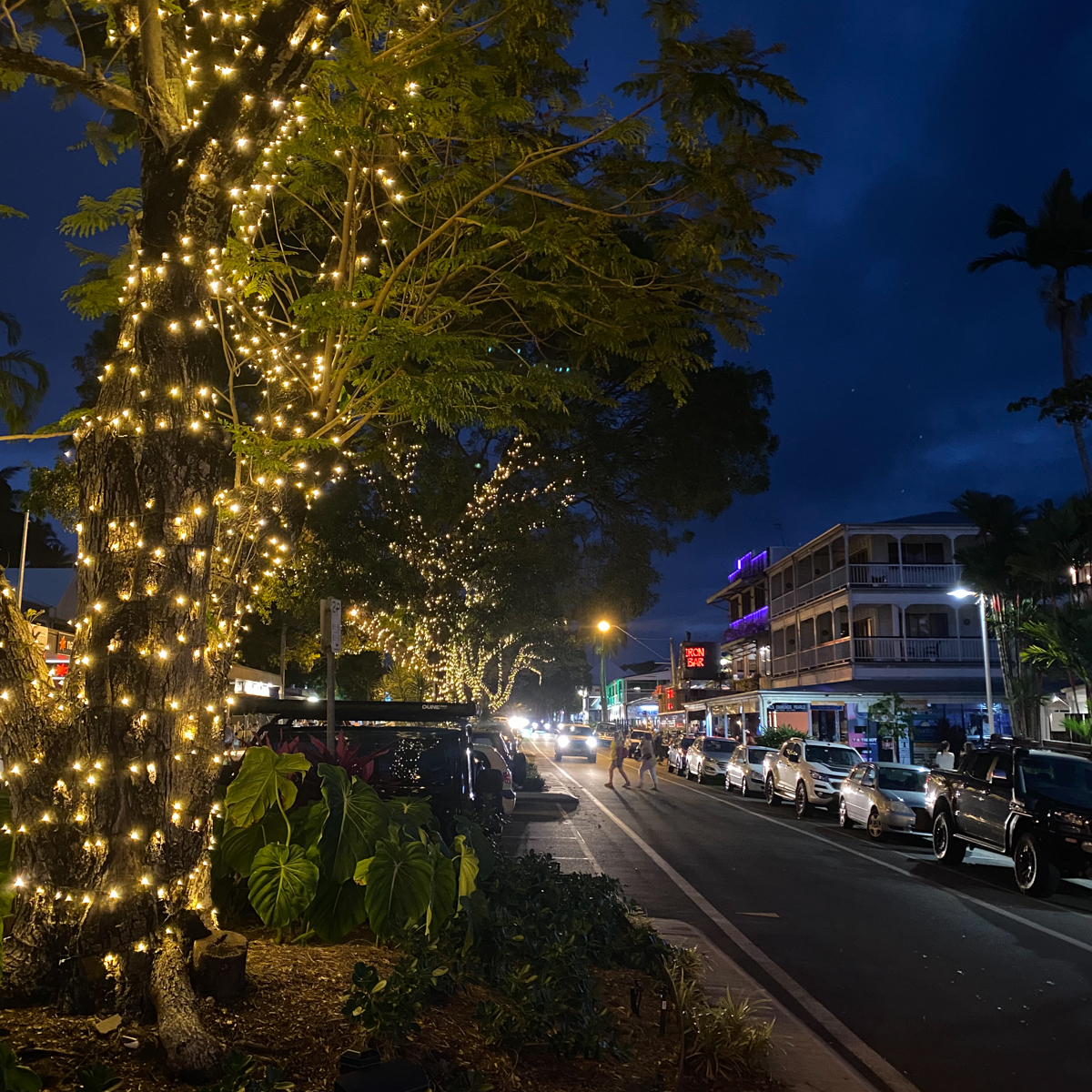 We stayed a 10-15 minute walk away from Macrossan Street at Retro Port Douglas. These are a group of small apartments that have been renovated and beautifully appointed, ideally for couples or small families. I've been trying to work out how I can incorporate the amazing wallpaper into our home! Four Mile Beach is just a few minutes' stroll away, which made for a fun way to walk out to dinner.

Where we ate and drank
Spectacular lunch at Salsa Bar and Grill – this restaurant is definitely a must-visit
By the river at The Tin Shed – if you can't catch the seafood, this is the next best thing
Possibly the best Mexican ever at The Mexican
Fun post-dinner cocktails at Jimmy Rum's
Cape Tribulation day trip
After having our Mossman Gorge trip cancelled, due to too much rain the night before, we quickly pivoted, hit the jackpot with a car hire and hot-footed it north to Cape Tribulation, where the rainforest meets the reef and a part of Australia we'd never seen before. The afternoon rain just added to the misty, Jurassic Park eeriness of it all. The road is bitumen all the way and a $30 return fare gets you and your car across the Daintree River on a short ferry trip. Walk the 600m Kulki boardwalk for an iconic view of the cape. We also loved the Dubuji boardwalk, which takes you through lowland rainforest and mangrove swamps near Mayall Beach
Do stop for lunch at Whet – great local produce done simply with taste. If the weather is cooperating, take a swim in the privately owned Mason's waterhole.
Palm Cove date lunch
The husband and I escaped for a cheeky long lunch date at Palm Cove on a day when the weather turned from iffy to spectacular. Our driver picked us up and returned us to Port Douglas for cheaper than the cost of a hire car for the day. Winning at life and pretty damn special was how we felt being dropped off at beachfront NuNu.
With views of the sea through palm trees, we dined on some of the best food ever. From the hand stretched, 72-hour, sourdough lemon bread through to the messy but worth it wok-fried mud crab with sweet pork, jasmine rice and greens and the delicious desserts, everything was next level. We'll be back. To stay!
Exceed Sport Fishing Charter
I don't know who I am anymore but I willingly did a second fishing outing on this trip, this time booking a morning out of Port Douglas with Jake from Exceed Sport Fishing, a former chef who knows his fish. We didn't catch any keepers that morning but we did have a spectacular day trying out on the water off the coast from Port Douglas. If the weather is not cooperating offshore, Jake can easily swap your charter booking to estuary fishing.
Congrats to you if you've got this far. I love doing these brain dumps after doing trips like this one. If it helps you discover a new part of the Australia, then you're welcome.
As always, if you'd like to add in your favourite things to do and see in Cairns and North Queensland, please add them in the comments.