This year I had to stop drinking completely for health reasons. I've tasted a lot of alcohol-free drinks since embracing a sober-ish life so I thought I'd compile an updated list here for you in case it's a lifestyle or health change you're considering too.
I've now incorporated small amounts of alcohol into my life but my liver is only tolerating minimum amounts. Let's just say I'm not wasting those minimums on rubbish drinks. HAH.
I also know that for many who don't drink, they're super happy with just having water or a sparkling water with a slice of lime. I'm very happy with that too … until I'm in social situation and I just want to feel like I'm an adult at the party or gathering.
I've also learned that for many sober people, having a drink that looks and vaguely tastes like alcohol can be triggering.
I'm living a sober-ish life for health reasons and finding quality alcohol-free drinks has been helpful for me to make the necessary health changes.
I now have my fridge stocked with the below drinks and I also champion restaurants on @stylingyoueats that offer good alcohol-free alternatives on their menus, not sickly sweet mocktails, but drinks that complement the food they're serving. I've even taken an AF sparkling wine to a function and they've served it up for me. There were three of us doing the same that day and it felt good not to be alone.
The good news for people like me is – the AF way (that's alcohol-free my friends) is a growing movement. More and more restaurants are getting on board. Your local bottle shop probably has low or no-alcohol options. And drinks companies in Australia are springing up and offering quality products.
I've bought my AF drinks either online direct from the makers linked below or from Dan Murphys, Arcade Wine, Craft Zero, Sans Drinks or AlcoFree.
Enjoying an alcohol-free Seedlip mocktail with friends at Sydney's Bel and Brio restaurant
Alcohol-free wines I like
I will say that now I can have the odd glass of wine, I do struggle with alcohol-free wines as they tend to taste on the sweet side once the alcohol is removed. They're not high in sugar (mostly the opposite) it's just that the finish is sweet. If I find that if it's too sweet, I'll add soda water to counteract.
This is my favourite AF sparkling:
Lussory Zero Brut: This is a Spanish AF sparkling but it could easily pass for a Prosecco. Value for money and tastes so close to the real deal. Available at AlcoFree, where you'll also find a wide selection of AF offerings.
This is my favourite AF Rose:
Natureo .5% low alcohol Rose: Regular Rose and I don't often get along but stack this one with ice in a big wine glass and it's very much an all-dayer!
This is my favourite AF white wine:
Giesen 0% Sauvignon Blanc: this was released in August this year and has gone gangbusters. It's sweeter than the real thing but I love it with ice and a dash of soda water. Available at selected bottle shops too.
Alcohol-free drinks
It's probably this sector of the alcohol-free drinks market that has surprised me the most. I'm not a softdrink drinker but the below drinks offer a low-sugar, high taste, grown-up drink that I stack with ice and sliced lime in a nice glass.
Lyre's crafted non-alcoholic spirits: my pick is the Italian Spritz. Just add soda water and a slice of orange and it could be the real thing … and you could be on the Amalfi Coast, well maybe not that bit because of travel bans and all that.
Altina Drinks … as recommended by so many are just wonderful and I've always got a stock in the fridge.
Seedlip non-alcoholic spirits and pre-mixers … again a big recommendation from so many and I absolutely love them. Even if you're looking for a new mixer for your regular G&T, do try the Spice94 + Grapefruit tonic.
Monday Distillery … I'm totally loving this Australian company's Dark and Stormy and new tequila-tasing Paloma drinks.
Non Drinks … I've tried the Non 2 (caramelised pear and kombu) and Non 1 (salted raspberry and chamomile) and loved.
Adapt Drinks … new to the market and developed by my friend Nicole Avery, I'm looking forward to being a regular customer after being a part of her crowd-funding campaign. Nicole has used adaptogenic herbs to help women through her drinks adapt to stress, feel better, perform better, and live life with calm energy.
Alcohol-free beers
I'm not a beer drinker because of the gluten content but my husband has given his tick to the below alcohol-free beers:
Sobah (who also do a limited edition gluten-free beer that I'm yet to try)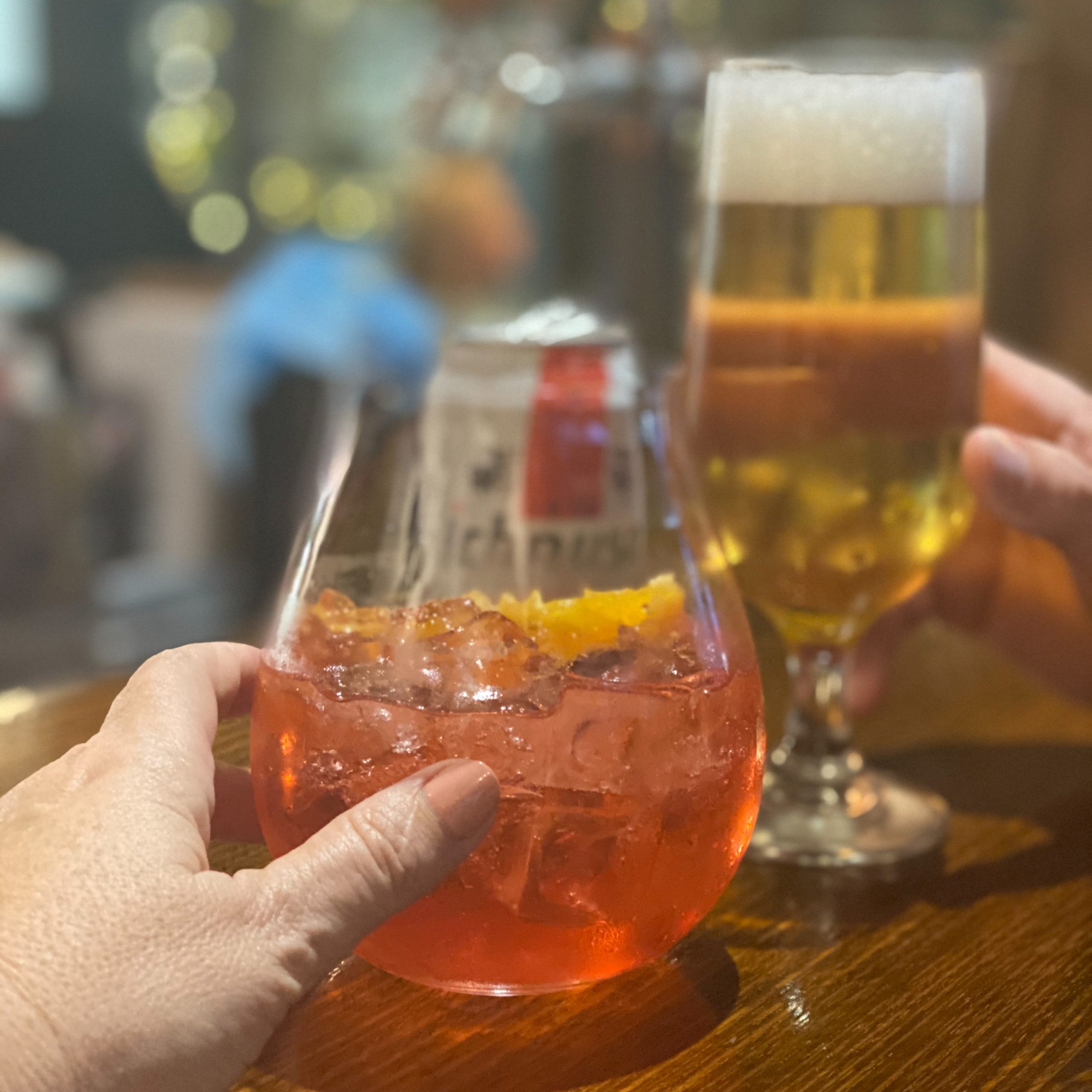 Alcohol-free Lyre's Americano mocktail at Wine & Larder Bistro
(Recipe here)
Leave a comment below if you've got an alcohol-free drink that you love!