If someone had told me even two years ago that some of the most memorable travel memories of my life would be made on a Trek West hike in north-west Queensland, I would have asked them to point me towards the nearest five-star hotel and check me in until I'd come to my senses.
But here I am in 2020, a year when travel plans for most have unravelled, where dream trips have been put on the shelf, where even a cheeky weekend in Byron is not possible and I've not only had the opportunity to travel, I've done something I never thought I'd do.
And I LOVED it.
Stylers! I've been camping, well, glamping, in one of the most remote parts of Queensland.
Just call me Trekking Barbie … or a Jawa from a Star Wars movie …
I've walked with just five other women across spinifex plains, over rocky escarpments and through shale river beds.
I've swum in water holes with "freshies" (freshwater crocodiles – they don't hurt you and are more scared of you then we should be of them 😝).
I've paddle-boarded in a water hole that straddles the Northern Territory border.
I've been humbled by the deep history of this region in the adjacent Lawn Hill (Boodjamulla) National Park, from the Lost City rock formations that date back 530 million years to when it was a shallow inland sea, to the Aboriginal traditional owners, the Waanyi people, whose occupation may date back 30,000 years.
I've thought a lot about my great-great Grandfather William Landsborough, who in 1862 while searching for Burke and Wills walked these same lands, naming the river after which the Herbertvale station got its original name, the Herbert (it was was later renamed the Georgina).
And was in awe of the sheer expanse of the country we were in. Herbertvale is small on the cattle station scale of things in Australia but this family-owned property (since 1999) that breeds Droughtmaster cattle is still bigger than Singapore.
I took it all in and I switched off.
My phone was my camera and my note taker. I was out of range and uncontactable for four days. Imagine that?
BLISS does not come close to how I felt within hours of arriving at Trek West.
Why Trek West?
Before I get into the ins and outs and details of my Trek West experience, I'll rewind the clock and paint the picture as to how I found myself signing up.
In March 2019, I was in Mt Isa speaking at the inaugural Wild Spark event co-hosted by one of my blogging friends, Danielle Doyle, aka Miss Chardy. It was my second time visiting the region but my first meeting Danielle's "neighbour", Shelly Hawkins.
I "knew" Shelly, aka Miss Savvy B, via Danielle's blog. And I remember reading this blog post and this one about how Dan thought it would be a great idea to do a trek on Shelly's property after listening to the book, Wild by Cheryl Strayed. What I definitely did not think at the time was, "oh, I'd love to do that too". Definitely not.
Fast forward to that Friday in March 2019 when not only did I meet Shelly but I heard her speak about how that trek with Dan sparked the idea for Trek West and I was in awe. I do love a great female-led business story.
I still wasn't interested in signing up though. Then she trotted out a video that included fancy tents, end-of-day Champagnes and seriously good food.
I practically ran to Shelly's booth to sign up.
Then 2020 arrived. None of us knew whether our August trek would go ahead. Restrictions on travel meant that our trek was the first (and second last) of the Trek West season which runs in the dry season from May through to August. I honestly didn't think it was truly happening until I masked up for the early morning flight to Mt Isa.
… and Dan jumped the "fence", driving 2.5 hours to visit us.
How to get there
The nearest commercial airport is Mt Isa. Flights are not cheap at the best of times because it's a mining town with a captive fly-in/fly out workforce. Trek West has recently formed an agreement with a charter company that if you're flying with a group of people it might be a great option for flying direct from Toowoomba or Brisbane to the Stock Camp at Herbertvale Station. There's an airstrip near the camp that was built by a mining company in the 1980s to allow the then-Premier Sir Joh Bjelke-Petersen to fly in for a visit – the top end of the property has a mining exploration licence over it.
If flying into Mt Isa, Shelly and Tilly pick you up at the airport for a five-hour drive to Stock Camp. At Camooweal, it's a right turn off the highway on to pastoral lands. With the Northern Territory border fence line on our left, we travelled on a gravel road across the rolling grasslands of the Barkly Tableland towards Shelly's home, Herbertvale Station. It was another 1.5 hours until we reached Stock Camp at the north of the property (about 200km south of the Gulf of Carpentaria) via tracks on the property.
Accommodation
Stock Camp is a working part of the Herbertvale property, with the annual muster based there in September. The crew sleep outside but we had our own stylishly decked out bell tents with camp stretchers for a very comfortable sleep. And, yes, they were already set up for us on arrival.
Each bell tent is named after a tree species found on the property, with the name etched into a piece of timber from that tree.
At night time, the camp focus is around the campfire as the solar fairy lights add a little something extra. It was a full moon the week we were at Stock Camp. What a treat.
The hub of Stock Camp is the kitchen and undercover dining area where each incredible meal was set up for us.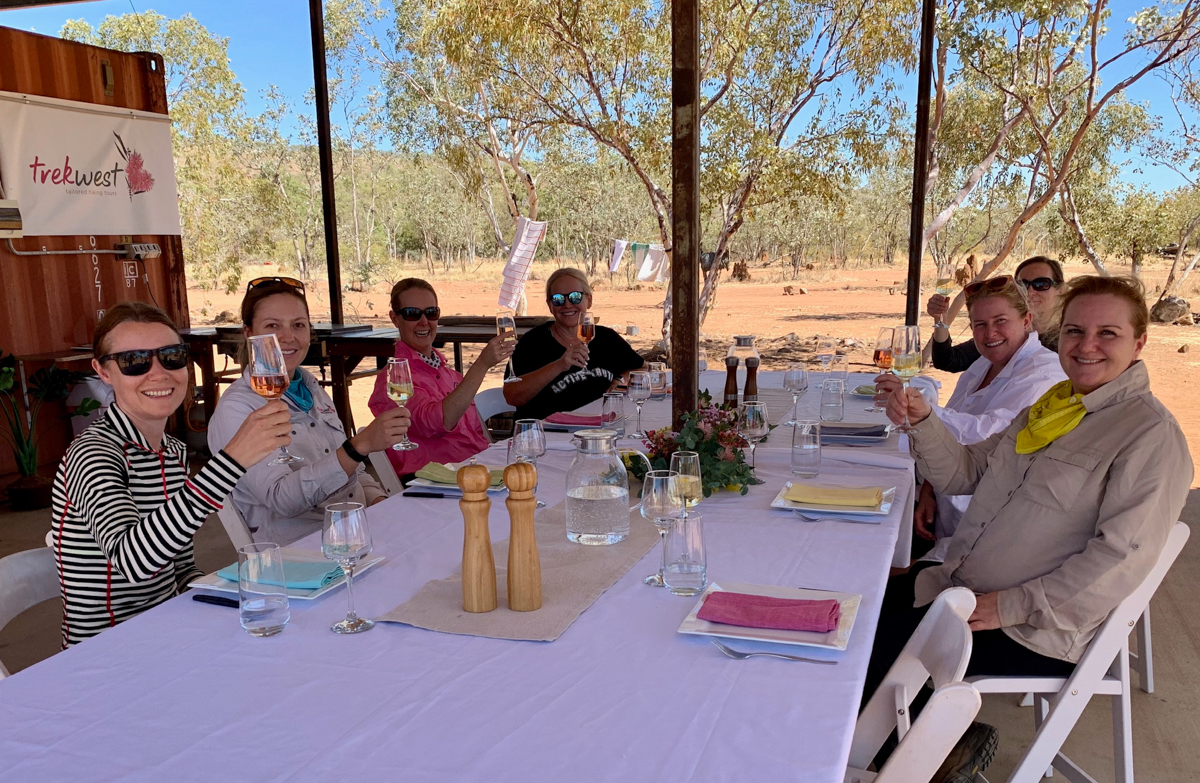 It was deeply pleasing to have a flushing toilet with a view and a warm shower each night under the stars.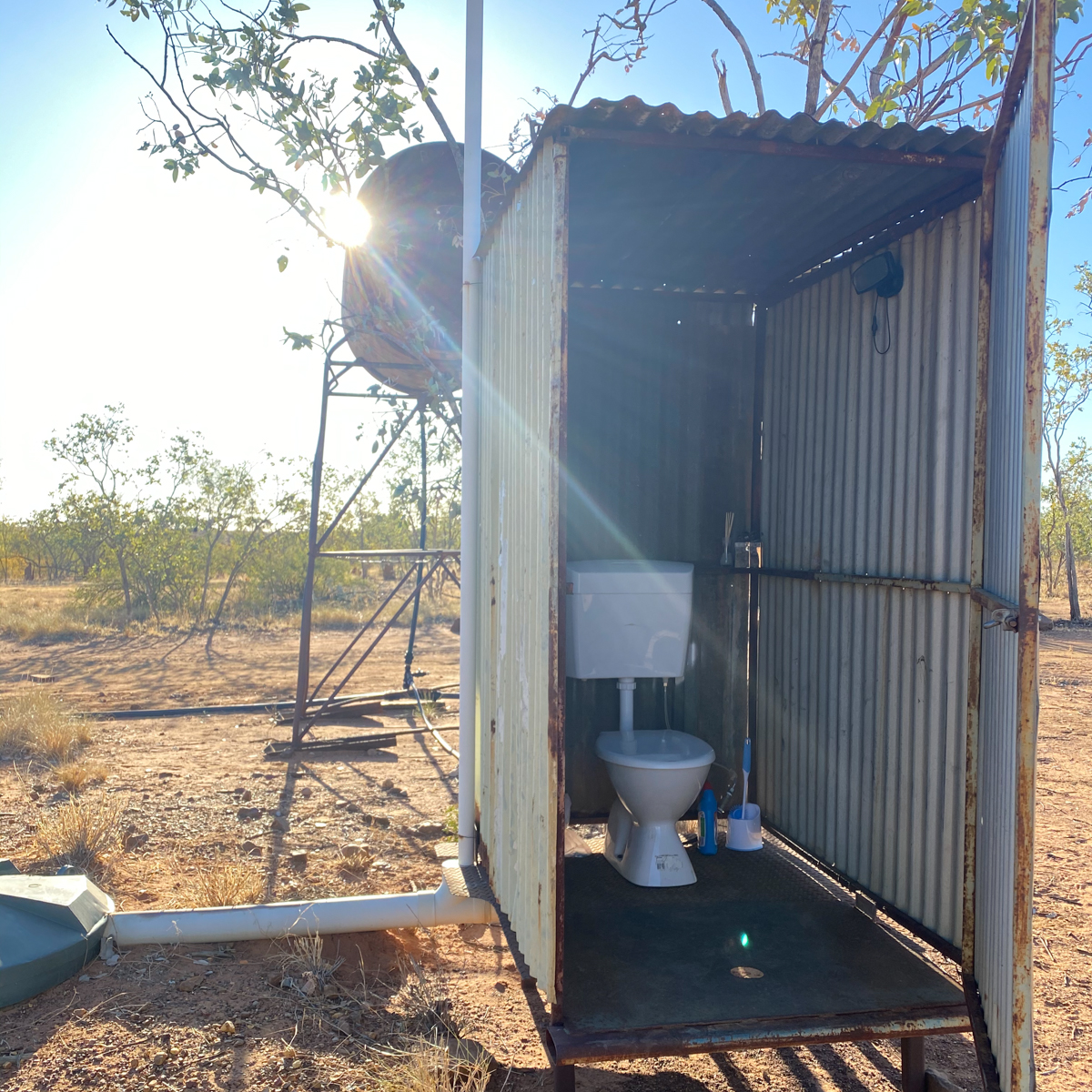 The food
Every food/snack drink is included in the cost of your Trek West experience and we were treated to fresh, home-cooked meals throughout, from sunset Champagne drinks to a long lunch and a finale Herbertvale steak dinner. We were spoiled and did not go hungry.
Shelly tries where possible to utilise local and regional products, from jams to the lamb and steak we ate. She also caters to dietary requirements if you advise ahead of time. Everything is home cooked and prepped and then finished off at Stock Camp.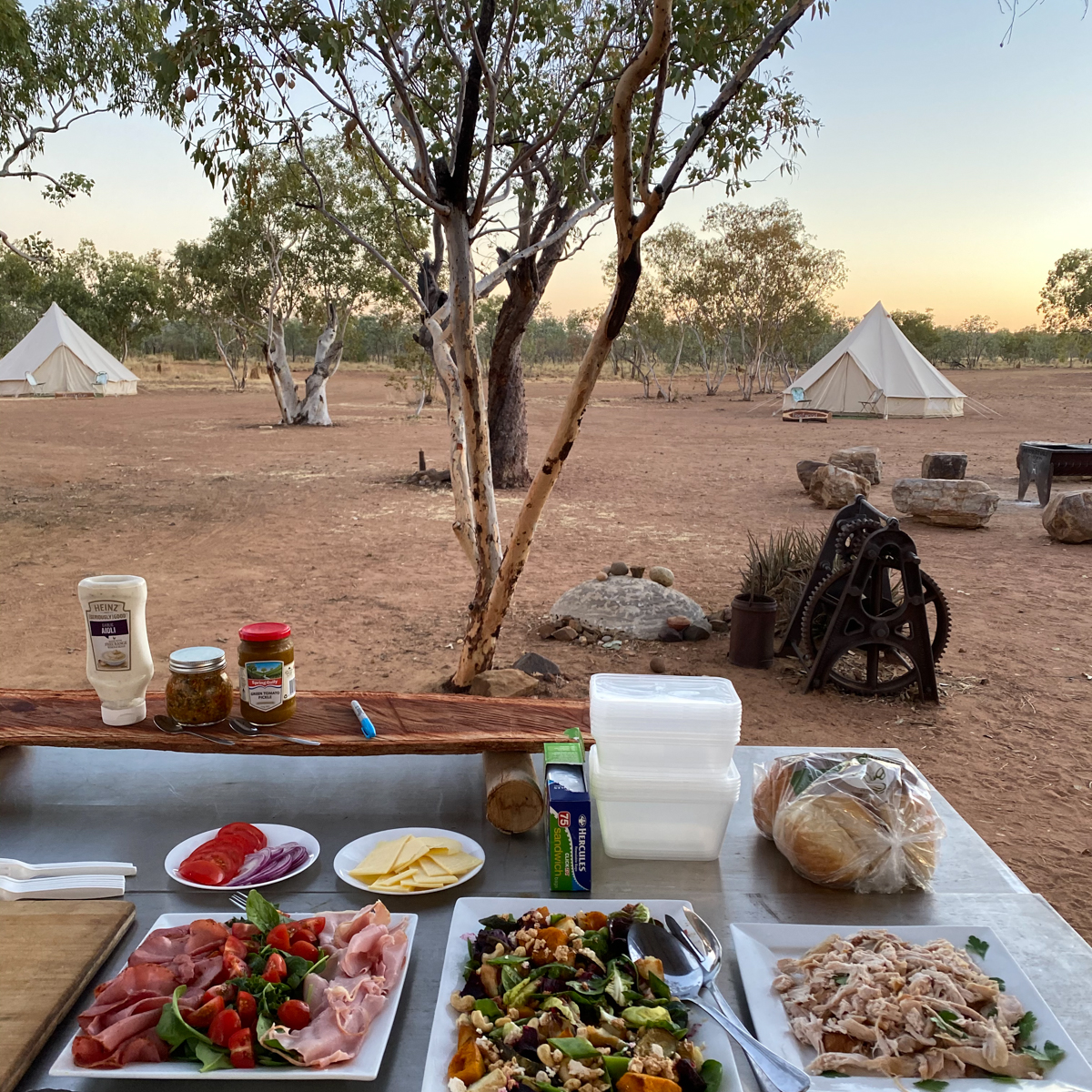 The trek
Oh, that's right. I was there for the trekking. HAH!
Trek West offers three different experiences between May and August each year. We were on the Stock Camp Hike. It was the perfect mix of relaxation and activity. We averaged 8-10km each day, trekking on Herbertvale and the neighbouring Lawn Hill (Boodjamulla) National Park on mostly flat terrain. The National Park areas we visited are not accessible except via Herbertvale.
What an absolute privilege! I thought of well-known/famous treks around Australia and around the world – on most of those experiences you'd be sharing the incredible location with a gazillion other people. We had this wide-open land to ourselves.
MIND BLOWING.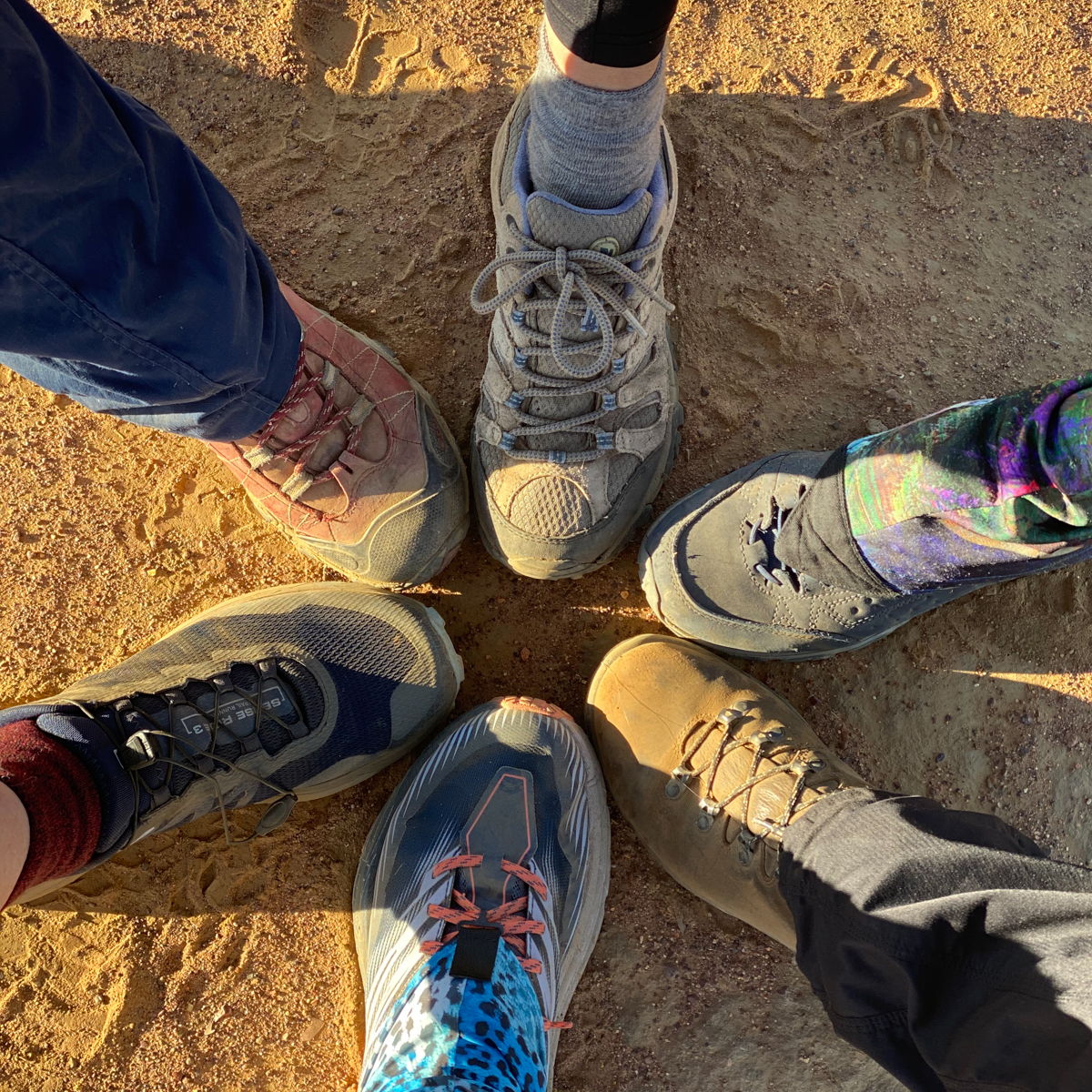 I wouldn't say you have to be super fit to complete it, but getting some kms on your legs ahead of your trek might make it more enjoyable.
Each day also offered an afternoon at a water hole. I'm a water lover and really loved that we got to swim and paddle board as a cooling balance to the walking. The days were hot and dry (about 35 degrees) so a bit of a difference flying in from a Brisbane winter.
The whole experience was very chilled. You were given space if you needed it. You didn't have to do every walk if you didn't want to.
I travelled with two girlfriends and a lovely woman I met through this blog. Another woman travelled solo from Cairns. You certainly don't need your own group to enjoy these hikes.
Trek West does attract mostly women to its treks but they have had couples sign up.
Shelly and Tilly will go over and above to make you feel welcome and you'll walk away with tighter friendships with those you knew before and you'll make some incredible new connections from this shared experience.
What to pack
Shelly supplies a packing list for you to work from and stresses that it's all about casual and keeping what you pack to a minimum. I did joke that I wished I'd packed a colourful kaftan for the welcome sunset drinks … but maybe that's just me. HAH!
Night times for us were not as cold as they'd been even the week before, so I was glad I threw in some denim shorts last minute as my long pants would have been too hot most nights. Do track Lawn Hill via the weather app ahead of your trip to see what the temperatures are doing for your trek and pack layers accordingly.
Click on the Instagram post below for a few pointers in terms of sourcing trekking gear. I'm glad I packed a fresh set for each day. That red dirt sure does attach itself to you!
It felt weird to be travelling. It felt weird to be travelling so far. It felt weird to be travelling so far and still be in Queensland.
I'm incredibly grateful that I got to do it. And that gratitude only grew across the five days as I got a huge dose of perspective about just how "small" we are on this planet. It really was humbling during a time when the chaos of COVID has changed our lives forever.
(I booked and paid for this holiday independently. More information: trekwesthiking.com.au)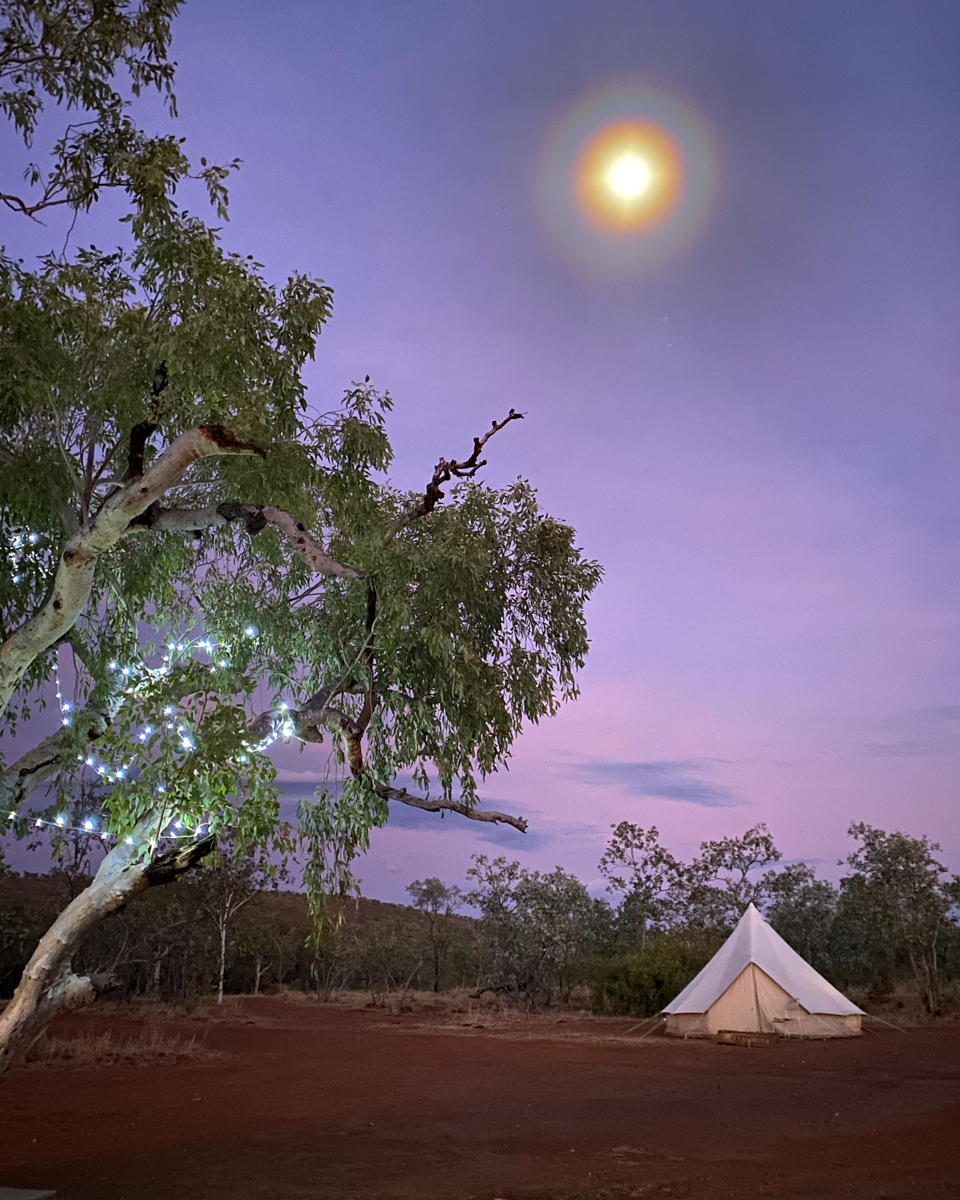 Want more travel wanderlust ideas for when we can jump on a plane again? Head to my back catalogue HERE.