Sponsored by Russell Hobbs
Mr SY and I have been living together for more than 16 years now. In the early days I tried to impress him with my domesticity, cleaning like a mad woman, cooking dishes beyond my capabilities and ironing his business shirts.
Turns out it was all in vain. Or was it? (insert evil genius laugh here).
His mum, a woman who I send thanks to EVERY day, had expertly trained my husband in all the domestic ways.
Such was the levels of his expertise and work ethic, my mediocre attempts at keeping the dust at bay and keeping his wardrobe looking crisp, were just that – mediocre.
And he let me know in not so uncertain terms that my attempts were just not up to scratch. So, I did what any loving partner would do. I stepped aside so he could lead by example and show me just how it was done.
And by stepping aside, I mean I happily gave up ironing and cleaning all together. That, my friends, is winning.
So, when the good people at Russell Hobbs Australia contacted me about trialling, reviewing and featuring the new Russell Hobbs Steam Power Steam Station, I shared the email with the husband.
His reaction to the opportunity to not only receive a new and superior ironing set up but to also teach the Styling You community how to iron correctly, was akin to the excitement he usually reserved for trying out a new craft beer or spending a Sunday getting lost in the aisles of our local hardware store.
Since the arrival of the Russell Hobbs Steam Power Steam Station into our home and our lives, it's taken pole position in our lounge room AND during each ironing session, he HAS NOT STOPPED extolling its virtues.
I nod along, feigning interest, while doing what I do best …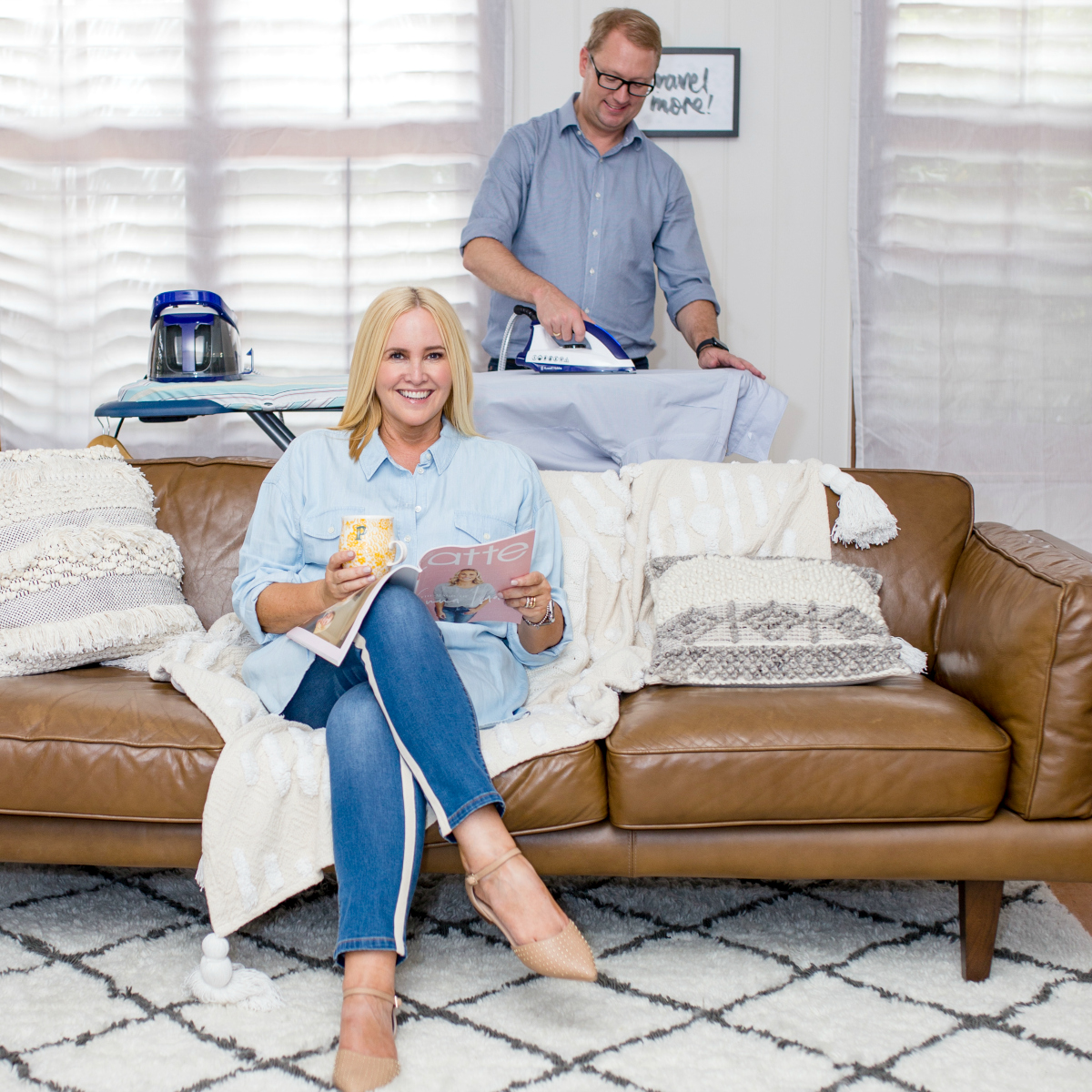 Now, I know that ironers in the Styling You community will also share his excitement, so I sat him down for a little interview about the Steam Power Steam Station.
ME: What were your first thoughts on using the new "beast" (everything gets a nickname in our house)

HIM: It's professional grade. I like that the water tank (which is removable for filling) is in a different part from the actual ironing unit. This makes the ironing unit light and more manoeuvrable. I like that you can set different steam levels. It gets really good heat and better levels of steam; three times more than a traditional iron.

ME: Is it quicker to iron clothes?

HIM: Yes. You don't have to go over the same patch as much.

ME: What also excited you (about the iron!)?

HIM: There's an auto safety shut off feature and it's got some really good storage functions too. You can wrap the power cord around it and there's a power point on the side, so it holds it nice and secure. On the other side is a hook, so you can coil up the water/steam hose. You can store it in the cupboard vertically, so it doesn't take up much space.

ME: On a scale of 1-10 where do you rate yourself as an ironer? (I of course give him a 10 because I don't have to do it!)

HIM: About an 8, I guess. I'm not a professional but I take a fair bit of care in it.

ME: On a scale of 1-10, where would you rate me? (not a trick question, I just want to confirm my place at the bottom of the ironing ladder).

HIM: About a 6 or a 7. I don't think you're as much as a perfectionist about it as me. (ironing place confirmed!)
Part of my evil ironing avoidance scheme has also been to ensure that no child leaves our home without ironing skills. Of course, I'm far from qualified to teach them, so that task has also rested with the husband. His current apprentice is our 13-year-old son and it seems the (ironing) apple and love of a new gadget does not fall far from the tree.
ME: Has using the Steam Power Station been easier?

TEEN: Yeah, I don't have to press as hard down and, I guess, I don't really have to go over it too much because the pressure is completely better than the last one.

ME: What ironing do you do?

TEEN: I iron five or six uniforms.

ME: Is Dad a good teacher?

TEEN: Yes, but sometimes he can be a little intense. Most times he's ok.
Tips for better ironing of shirts/uniforms (not from me)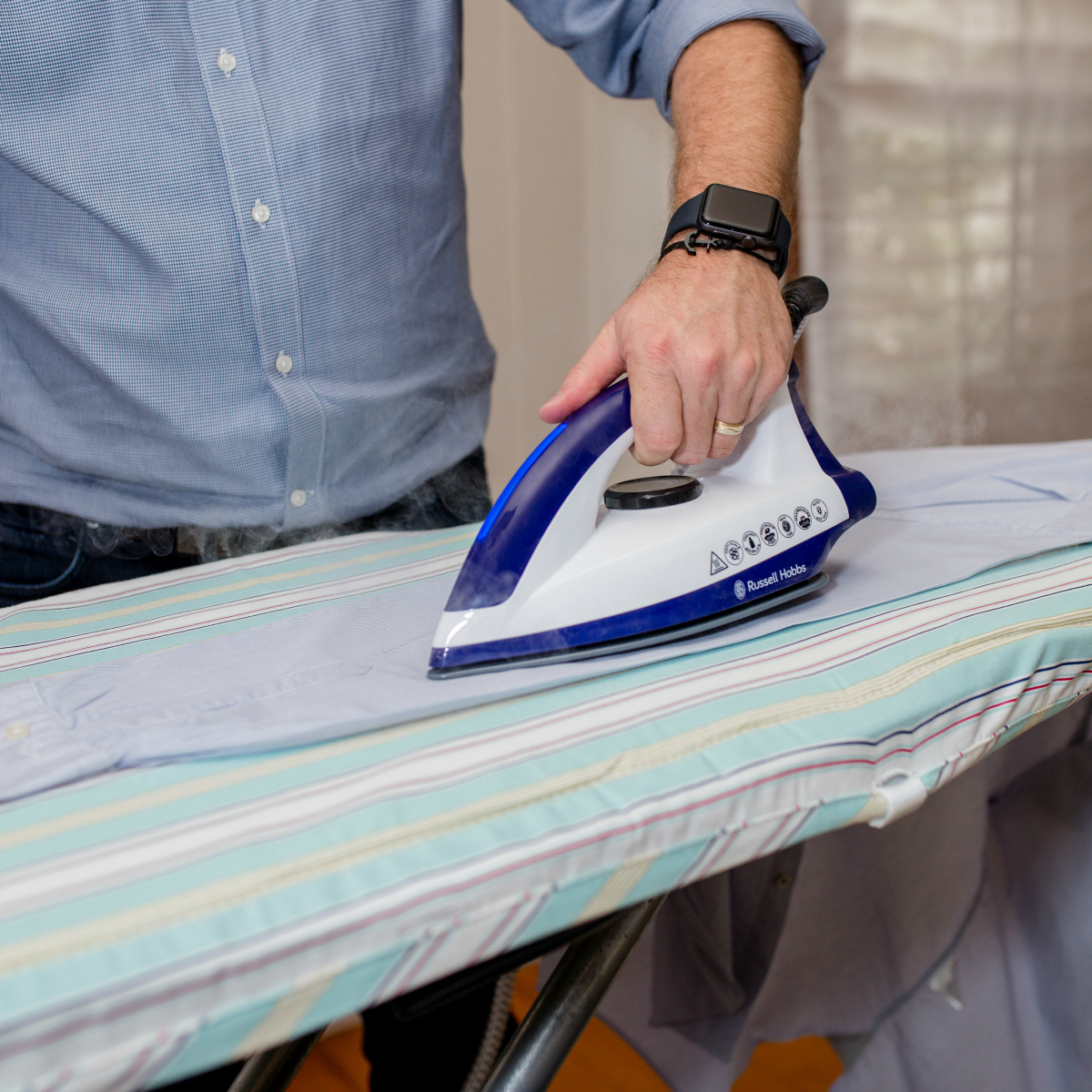 1. Start with a lower heat.
2. Be careful with fingertips as you hold the shirt an the iron.
3. With shorts or pants it's important to smooth it out with your hands first, before you apply the iron. This reduces the risk of getting double seams or track marks.
4. For shirts, it's easiest to do if there's a set process you follow each time, so you don't miss anything. Start with the collar. Do the back of the collar so you don't fade the outside of the collar that's visible. Next you do the sleeves and the shoulders. Then start on the body, working from one side to the other.
5. The best way to do more ironing is to do more of it. It's the repetition of it and then it becomes second nature.
Tips for better ironing of anything (from me)
1. Be so bad at it that others will step in.
2. Encourage and praise those who do.
---
Where to buy
The Russell Hobbs Steam Power Steam Station (RRP $199) is available at Harvey Norman, Big W, Harris Scarfe, Betta and Bi-Rite stores.
---
WIN
Get excited. One Styling You ironing lover could win a Russell Hobbs Steam Power Steam Station. Follow the steps below to enter.
Follow @RussellHobbs_anz on Instagram
Answer this question in the comments below: Who irons the pants (or everything) in your family? What's their best ironing tip?
Entries open on Wednesday, October 31, 2018 at 5am (AEST) and close on Wednesday, November 16 at 5pm (AEST). Australian entries only, sorry. The winner of the "answer the question" competition will be judged on originality and creativity. Both steps of the competition need to be fulfilled to be judged a winner. The winner will be emailed and their name will be published here. Entrants must include an email address when the filling in the commenting system below to be eligible to enter. Full terms and conditions here.
---
Photography: Kate Luke Photography; Hair and Makeup: Dale Dorning/Arc Creative