I've always had this thing for changing up spaces in my home.
This "thing" started around the age of nine when I got a room to myself after sharing with my two brothers for a few years. It wasn't a big room but it was mine.
I had a desk, a bed and a cupboard. Not much to play with but play I did, infuriating my parents with my need to change things up. OFTEN.
Fast forward many years and many homes later, I'm still playing and changing things in my living spaces. Now it's my husband who eye rolls every time I'm scheming a change, especially if it involves cushions and/or a trip to IKEA.
A couple of weeks ago, when the nights finally started to cool down, that urge for change came over again. Our living space was not channelling any cosy vibes. And cosy is what you need in a Queenslander house in winter. So, I got online, adding to cart, and started to think of ways how to change and cosy up a living space for winter.
This space has always been my favourite room in the house. It's where we gather as a family to eat. It's where I binge watch TV with the husband on a Saturday night. It's where I like to lie and read a book in the morning or afternoon sun.
In thinking of how I could make the space even better, I couldn't help think of this post that my girlfriend BabyMac wrote about last year. Beth is a huge inspiration for me when it comes to all things Hygge in a home.
It's a Danish term defined as "a quality of cosiness and comfortable conviviality that engenders a feeling of contentment or well-being." Pronounced "hoo-guh," the word is said to have no direct translation in English, though "cozy" comes close. BabyMac
Those Danes know a thing or two about living your best life. I love that Hygge is all about creating a feeling, a feeling of consciousness, contentment, slowness and gratitude.
In creating that feeling in the main room of our home, I wanted to use our existing furniture pieces, make better use of the space and add in a cosy element through the addition of a few new pieces and indoor plants.
This is the result.
The biggest investment was the new rug – bought from Freedom. It was crucial to opening up the space but bringing it together at the same time. It enabled me to move the sofas further apart and incorporate a favourite mid-century replica chair I bought five years ago. The chair has always been in the living space but we rarely sat on it because it was in its own space away from the sofas.
And I LOVE the rug. It's soft underfoot, you can lie on it and it brings a bright, white feeling to a space otherwise dominated by timber floors and shutters.
The other new purchases were throw rugs and cushions, in winter textures and neutral colours. Most were bought online at Temple and Webster. These additions are so easy to make on any budget and they instantly give a room a cosy, winter feel. In summer, I'll swap them out with lighter textures.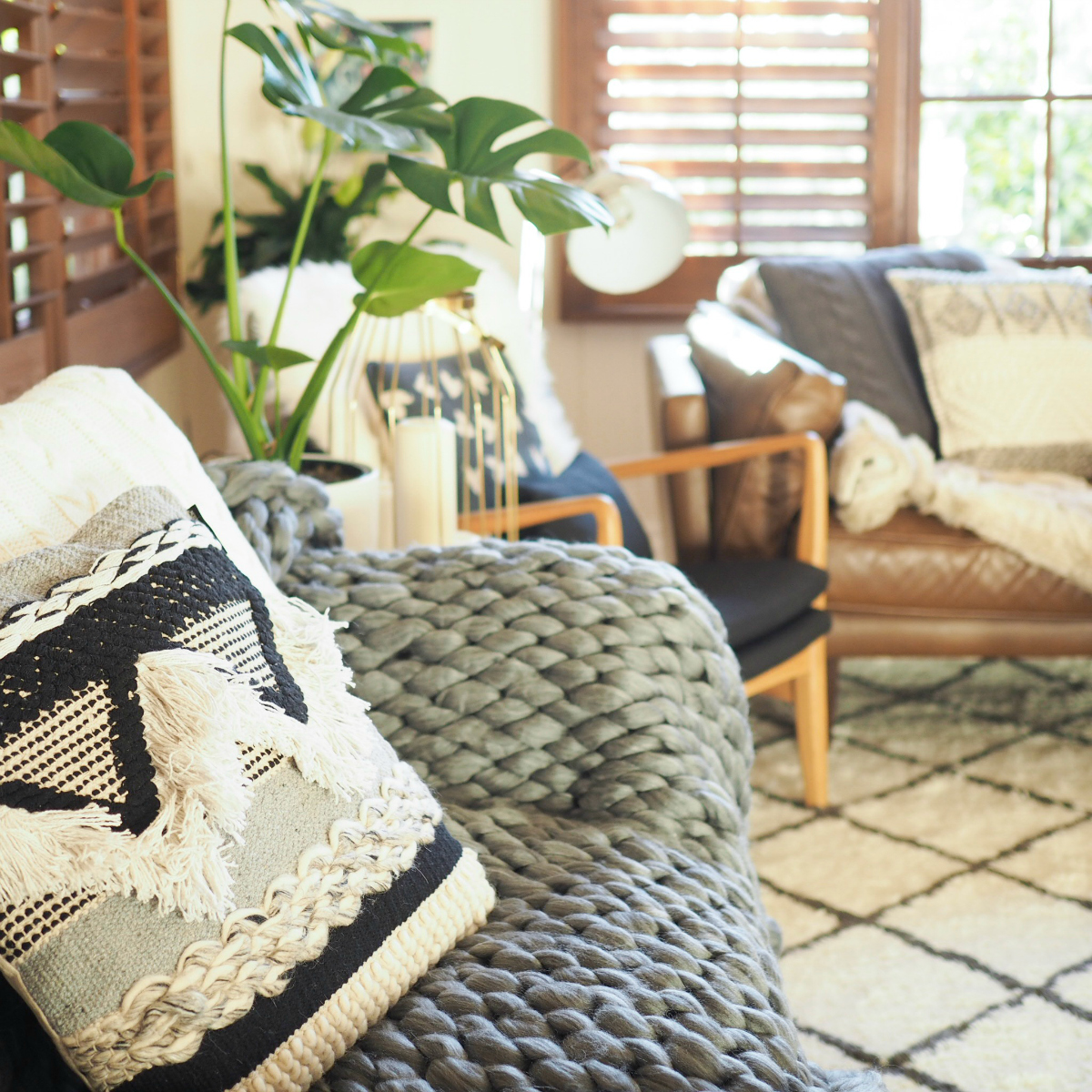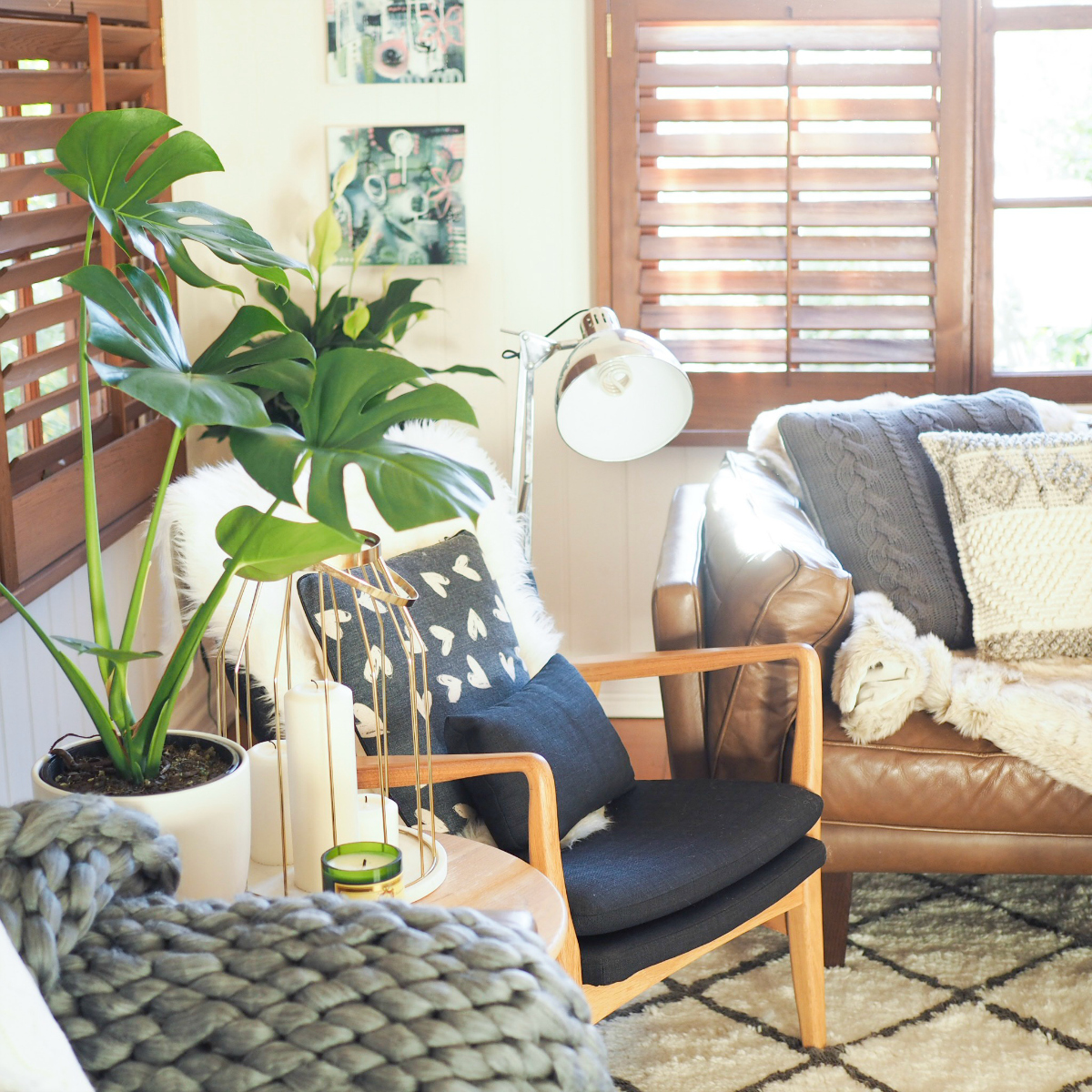 I've been meaning to lift our indoor plant game for some time (the fiddle leafs we previously had in our living room are doing much better outside on the verandah and in a shaded garden). This post by Fat Mum Slim was just the poke and prod I needed.
This florist is near me and they do an incredible offering of indoor plants and pots. In 15 minutes, they had me sorted with four new green babies that apparently don't need to much care and attention. (Disclaimer: time will tell)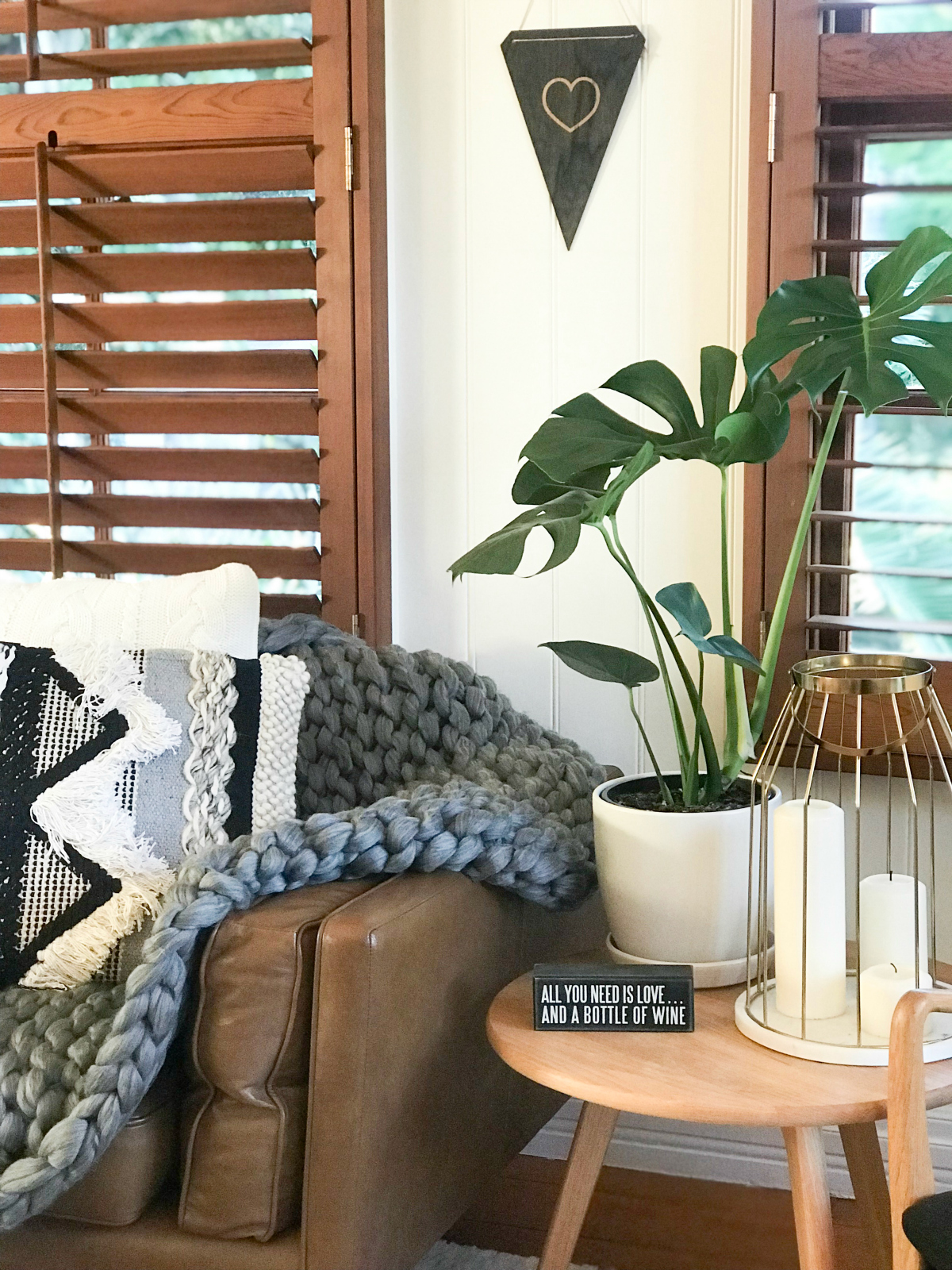 Aromatherapy oils are very much a part of our lives. My girlfriend Kim Morrison creates the most divine synergy blends and I've had her Nurture Me winter blend in the diffuser (pictured below) all day/night in this space.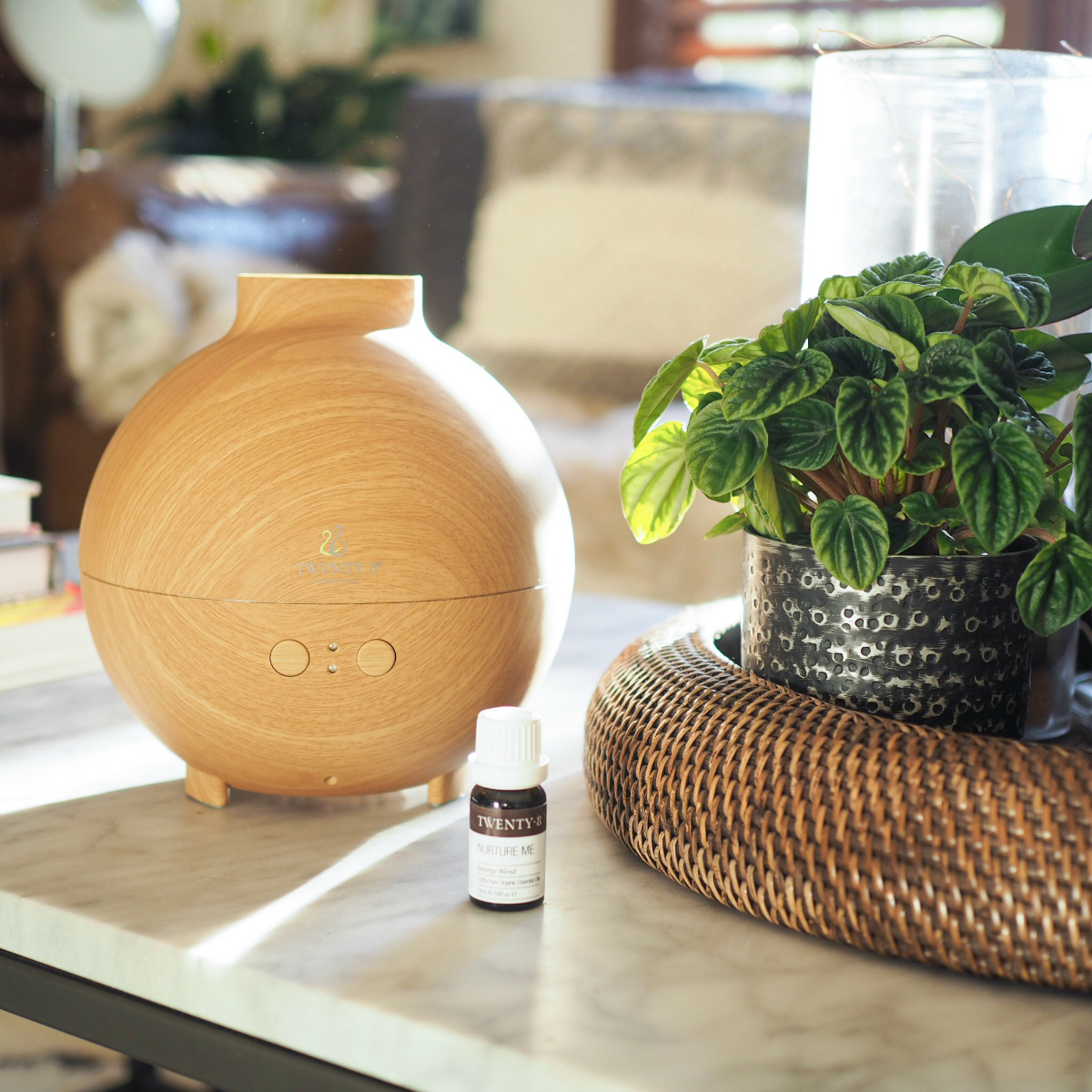 Every evening, I love the ritual of switching on all the copper LED lights and lamps, to keep that feeling of Hygge going from day into the evening.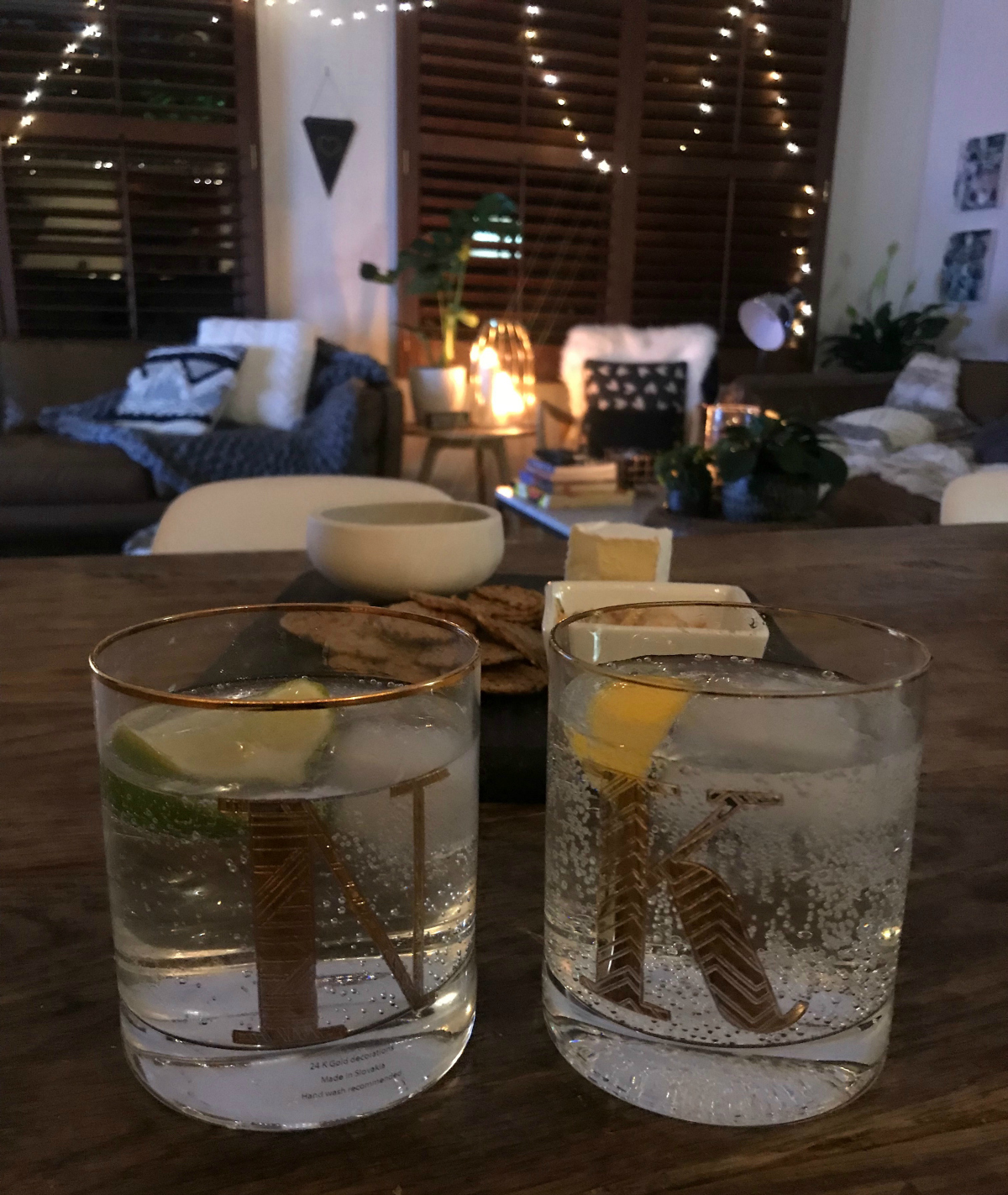 So, tell me, do you like creating a cosy feeling in your living spaces, especially in winter?
PS. Stay tuned, I'm now working on re-styling my office space. I'll share that with you once it's complete.