When the heat is on there are three summer accessories that I rely on to see me through the day in style, at a time when mostly I'm feeling like a sweaty mess.
Number one is a hat. I'm all about sun protection and, if I'm outdoors, there is a hat on my head. Or if I need keep my hair looking vaguely presentable, then I'll opt for a parasol instead – particularly handy when walking out to cafe meetings from my house.
Number two is a pair of sunglasses. I do confess to owning a sunglasses wardrobe. Different styles and colours work for different occasions.
Number three is a statement pair of earrings. Never under-estimate the power of a statement earring to distract from the aforementioned sweaty mess. Slick your hair up into a ponytail or bun, pop on ear candy and people will only have eyes for the earring, not the makeup sliding off your face.
Read on for some some tips on how to shop for all three summer accessories.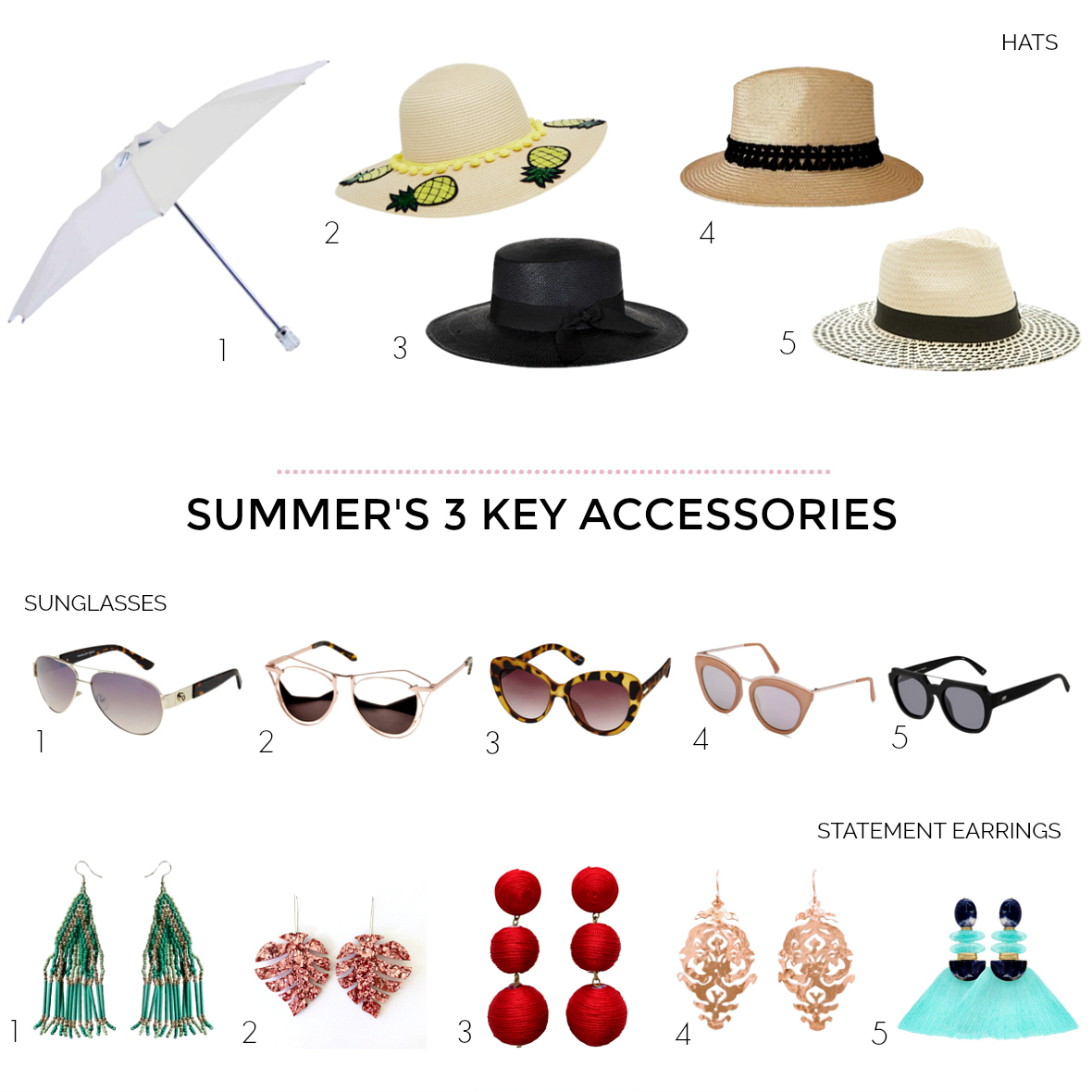 HATS: 1. Sunbella umbrella $49.95 | 2. Seed (teen girl) hat $29.95 – ideal for small heads | 3. Sarah J Curtis straw boater $285 – available in 3 sizes | 4. Carolyn Unwin hat $155 – available in 3 sizes | 5. Country Road hat $59.95
SUNGLASSES: 1. Mimco sunglasses $199 | 2. Karen Walker sunglasses $429 | 3. Minkpink sunglasses $39.95 | 4. Le Specs sunglasses $79.95 | 5. Le Specs sunglasses $79.95
EARRINGS: 1. Styling You Shop earrings $24.95 | 2. Each to Own earrings $65 | 3. Ruby Olive earrings $32 | 4. Murkani earrings $165 | 5. Jimena Alejandra earrings $219
How to shop for hats
I have a big head. Not in the "up yourself" kind of way. No, in the regular-hats-don't-fit kind of way. So, a parasol is good, as is shopping from the specialist hat makers like I've linked to above – hat makers which offer different sizes of hats. I don't mind paying more for a quality hat that fits. Others I know shop for hats in the men's department.
Conversely, there are women with smaller than average head sizes. My hot tip for you: check out the teen ranges at stores like Seed (see the pineapple hat above), Witchery and Country Road.
You'll find the average female hat will measure about 55-57cm in circumference. In store, try on with your hair styled the same as it would be when wearing a hat. A hat should feel secure on but not constrictive.
If buying online, make sure that you measure your head around the thickest part and check this off against that brand's size charts. If it's not clear in the size chart whether it will work for you, email or phone the store for measurements.
I'm all about the sun protection when it comes to hats, so a wide brim is important to me. I'll also not hesitate to take a straw hat with me on holidays. Here's how I pack a hat for travel.
How to shop for sunglasses
I've already confessed to my sunglasses wardrobe. I'd count them for you but that would mean accepting my … ahhemm … problem. I need sunnies for protecting my eyes and for cutting down on squinting wrinkles but I WANT sunnies in my life to complete a summer outfit.
I've got pretty good at picking the various sunglass shapes that suit me – most have a cats-eye-type element to them. I do deviate but this square/round shape works for my oval/heart shaped face.
As a general guide, contrast the lines of your face shape with the lines of the sunglasses. For example, if you have a round face, then angular/square/rectangle lines in sunnies will work for you. Conversely, a square face will rock sunnies with round or curved lines.
The exception is a true heart-shape face and an oval face. Heart shapes should match the lines of their face with the lines of their sunnies, eg wider at the top than at the bottom. Oval faces can pretty much wear any shape.
Don't get too hung up on that shape guide. It's best to try on LOTS of sunnies and go with your gut instinct as to how they look on.
As for materials and colour, I like a metallic element for a dressed-up look and usually opt for a black or tortoiseshell for the every day. The dark contrast works with my blonde hair.
How to shop for statement earrings
If you're a stud-earring wearer and rarely change your earrings, wearing a statement earring may be a bridge too far. And that's OK! Don't feel you have to make a giant leap. Instead, opt for a small drop earring. It will still be a different look to your every day but you'll feel more confident.
If you like your earrings to be loud and proud, this is the season to work those lobes to the max. You are so spoilt for choice in the statement earring department that the only problem you'll have is deciding which ones to buy and wear.
It may be that you're looking for particular colours to work back with a specific outfit or you'd like to stick to metallics so they work with every outfit. Me? I'm a bit of both.
When it comes to how much to spend on a statement earring, it will be up to your budget. I've got a mix of inexpensive, mid-range and handmade/designer in my personal collection. Even with the inexpensive, it's possible to walk into an accessories store and choose ones that look more expensive than they are. Look at how they're put together, how they feel and the materials used.
Statement earrings can fall into the "I cannot wait to get home and take these off" department. I know. I have some of those. I LOVE them and they pack a statement but I think twice about wearing them if I know I'm out for a long event because they weigh so much. Each of the statement earrings I've featured above fall into the lightweight and comfortable department – I can go all day and night in them.
SPECIAL OFFER
If you'd like to adorn your ears with a statement or two this summer, our friends at Adorne have a 20% discount code for you. Enter STYLINGYOU at checkout. Valid until December 22, 2017. Shop Adorne HERE.
So tell me, are these your key summer accessories? Any others to add into the must-have list?