I took a little peek over on the Offspring Facebook page and I quickly retreated. It was a not a pretty place, I tell you. Keyboard warriors aplenty taking swipes at this season's Offspring offering.
The way I see it, we're SEVEN seasons down, we've taken full ownership of the characters and most of us would like things to stay the same. BUT. Just as in real life, they don't.
For my two cents, I think the essence of Offspring remains. The highs, the lows, the crazy, extended family that shouldn't work but does … and the fashion.
Offspring never set out to set trends and inspire us in what we wear but it has done so. There is a character now for just about every style personality – great for people like me who have multiple style personalities.
While I'll always LOVE and covet Nina's wardrobe, Billie and Kerry also shined this season with their corporate-with-a-twist outfits.
It's the skill of the wardrobe team that sees those characters enhanced through what they wear. We fall for the characters through the script but also through their wardrobes.
In a way, this kind of style inspiration is seemingly more accessible. We think of the characters as "real" because they're acting out real-life (albeit sometimes exaggerated) scenarios.
In the Season 7 finale, I loved each of three Nina Proudman looks. I'm diehard when it comes to her jeans and flowy tops outfits – because they're the outfits I first fell in love with. And they're the outfits that we can easily translate to our casual wardrobes.
And the season always finishes on a statement frock high – the vintage maxi, wrap kimono dress certainly ticked those boxes.

Vintange maxi skirt; Linda Tahija earrings
The 10 best Nina Proudman looks from Offspring Season 7
The boots
The gorgeous vintage knee-high Gucci boots from Season 6 appeared a couple of times but it was the Seed high-ankle, suede boots which Nina wore most this season. The costume designers bought several of this style and then died each a different neutral colour.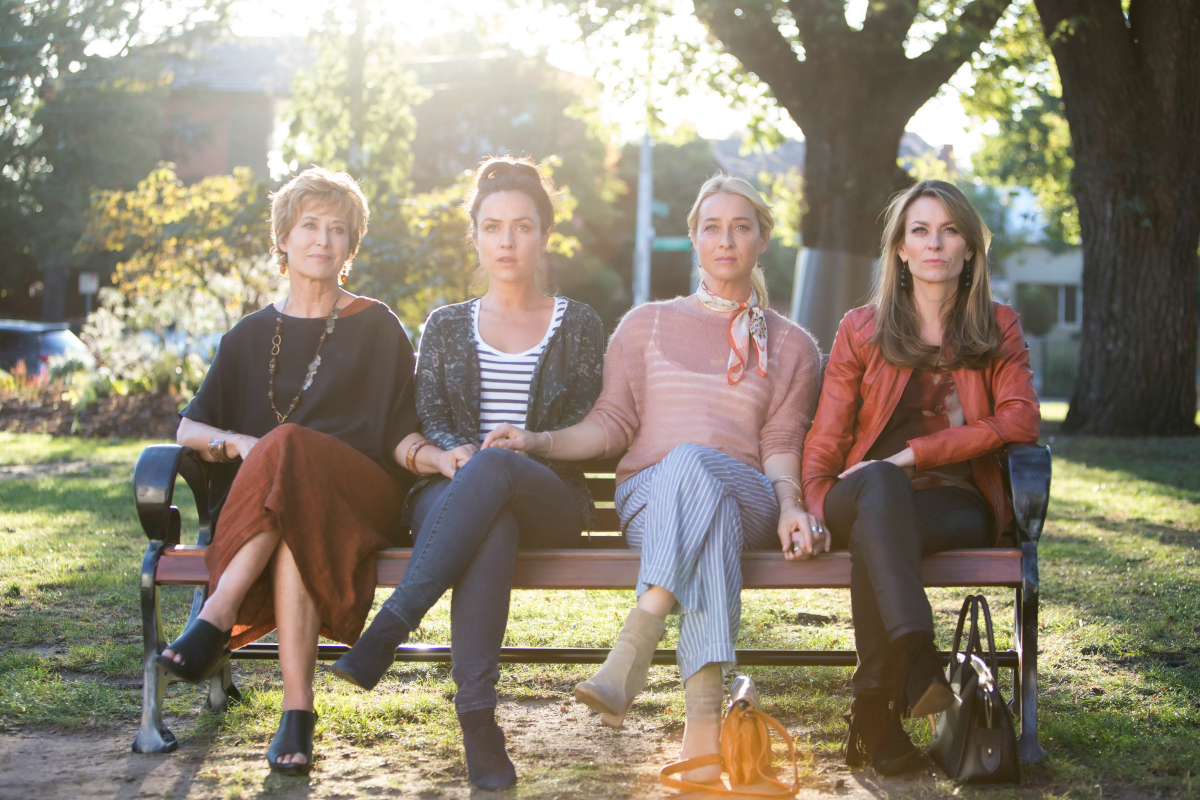 The jewellery
Nina makes a fine statement with her jewellery selection. She knows how to work a layer. I loved introducing you to maybe new jewellery brands, which you may not have heard of.
Catherine Murphy
Nina embraced the maxi frock in season 7. One of my faves was by Catherine Murphy. It appeared in the first episode and madly had women "adding to cart".

Albert and Victoria dress
Another dress that had everyone in a frenzy was this Albert and Victoria dress. It's completely hand-made on demand – and boy there has been a demand.
Floating trench coats
There is something about the way Nina floats into room.I just cries out for an outer layer that floats with her.
Knits
Who said knitwear couldn't make a statement? Not Nina Proudman either. Texture featured heavily in this season.
Neck ties
We saw Nina in quite a few different neckties. Most people seem to have an opinion as to whether they are a good move. I, for one, say why not.
The interview outfit
Perfection. Simply perfection. Love the lace top; the culottes, neck tie and boots.
The maxi skirt outfit
I love it when we get a glimpse back in time to autumn-winter on Offspring.
The de-brief (spoiler alert)
I do love a happy ending, I do. Yes, it rounds things out nicely but I get the feeling we haven't seen the last of the drama just yet.
I sincerely hope there will be another season. As has been happening all season, Nina continues to gain more confidence. She's even cinsider a new position at a new hospital.
"I can never be who I want to be if I stay here," she tells her closest staff.
A family conference is called to intervene what's going down between Geradline and Phil D'Arabont.
Much to-do has been made about Nina telling Zoe about the new baby … and Harry waiting (mostly) patiently on the sidelines.
Dan and Billie are ON. Turns out Dan's a famous writer. Also turns out that the word YOGhurt (emphasis on the YOG) is VERY important .
Zara and Jimmy are back on track and on fire. Zara's back at med school and Jimmy's doing nightly food deliveries up until Zara remembers that Jimmy's first calling is Tacos.
It's all just fine and dandy as everyone gathers for the celebration – Will and Kerry's honeymoon. Even Harry's family manage to enjoy themselves.
All is very right in the world of Proudman. Until Season 8. Will there be a new season? I sincerely hope soon.
So tell me, what's your favourite outfit from season? What was your favourite moment from Season 7?
Photo credit: all scene photos are from Network Ten.