The countdown is well and truly on until we head away on Tuesday to Italy and Croatia. I've been prepping and planning for what I'm packing for a few weeks now.
On the clothing front, I've nailed a 20-piece capsule (follow on Instagram while I'm away to see what I've packed via my daily #everydaystyle posts). On the beauty front, it's taken a bit more effort.
I am a lover of beauty products. If you are a regular on Styling You, you already know that, right?
If reading this in the hope of finding the secret to packing light when it comes to beauty travel essentials, I have to warn you. This is MY version of packing light when it comes to beauty essentials. It may not be yours.
If you're not a makeup wearer on holidays – or at all – congrats. You've just lightened up your suitcase. Me? I'm on the vain side so will always travel with my basics.
I also do a full beauty prep before getting on that plane: hair freshen up; mani, pedi, spray tan; lashes and a blow dry on the day of flying. I know. Who am I? I'm someone who likes to feel good and confident in those holiday photos that will be around for years to come, that's who.
On a longer trip, I break down my essentials into four categories: in-flight; skincare; hair care; makeup.
This helps me not only organise what I'm taking but to plan out how I'm best going to fit it in my toiletries bags.
Across all categories, try to source travel or sample sizes of your favourite products or buy clear travel bottles and decant your full-sized products into them. This prep work will really pay off when it comes to packing your suitcase.
Check the travel beauty section of your supermarket. At Mecca Maxima and Sephora, you'll find lots of travel-sized options of your faves. Many skincare companies not only sell travel packs; they also have samples available. Ask at your local salon if you visit there regularly.
In-flight (meeting carry-on liquid restrictions)
Face wipes
Lip balm
Hand and body lotion
Hydrating night face cream
Eye mask
Toothbrush and toothpaste
Deodorant
Essential oil blends (for immune boosting)
Tinted moisturiser/lip gloss (For helping me to feel human on arrival)
TIPS: Look for samples or travel sizes of your favourite products. This means you easily come under the regulation 100ml for each product but that you also fit more into the regulation-size clear plastic bag for carry-on. When on board, I take off all my makeup and cleanse my face. Loving the individual sachets of these face wipes for travel (and handbag). I'll then tone and moisturise but also spritz Dermalogica Antioxidant Hydramist and apply lip balm regularly throughout the flight. The eye mask is great for reviving tired eyes just before landing. One of my secret on-board weapons is Twenty8 Immune Boost essential oil blend. I pop a couple of drops behind my neck like an invisible shield against the potential bugs on board. The tinted moisturiser and lip gloss are part of my vanity necessities for landing.
Skincare/body
Cleanser
Day face moisturiser with sunscreen
Eye cream
Night cream/serum (already in carry-on)
Body sunscreen
Gradual tanning lotion
Perfume
Essential oils
Nail file/clippers
Razor
TIPS: Once again, travel or sample size products will serve you well here. On this trip, I'm using one toiletries bag for all my makeup and skincare/body products. I was due for a toiletries bag update so bought this one from Wanderers Travel Co. The size and space is great (read on for the other one I bought for hair appliances and products) plus there are two internal side pockets. I've packed my regular skincare and body products in travel size plus also a full-size sunscreen and gradual tan (not pictured) because they've got to cover the whole body as we're at the beach most days. A new addition is Skin Boss Get Up and Glow hydrating facial oil – a nourishing treat for my face after a long flight. It's the brainchild of Kirsten Smith (from Kirsten and Co) and launches next month. I'm loving and you will too. Details here.
Haircare
Shampoo
Conditioner
Leave-in treatment
Hair serum
Styling irons
Travel hair dryer
Comb/brush
TIPS: We're staying mostly in Airbnb apartments, so I'm unsure whether I'll have access to a hairdryer. This sent me on the path to finding a compact travel hairdryer that would still deliver good power. I'm very happy with the ghd travel hairdryer I bought. And I also bought the Cloud 9 micro styling irons for a more compact offering than my everyday irons. I used to own these irons years ago but passed them on because I had long hair. Now my hair is short again, they're perfect for travel. Love my bhave hair care products and Kevin Murphy styling products – all available in travel sizes. The bag all these products are going in is this one from Wanderers Travel Co.
Makeup (because I always wear just a little every day)
Primer
Lightweight foundation or tinted moisturiser
Concealer
Makeup palette (covers off on blush, bronzing, highlighter)
Eye palette (doubles for eyeliner with an angled brush)
Mascara
Eyebrow pencil or gel
Lipsticks for a pop of colour
Brushes/beauty blender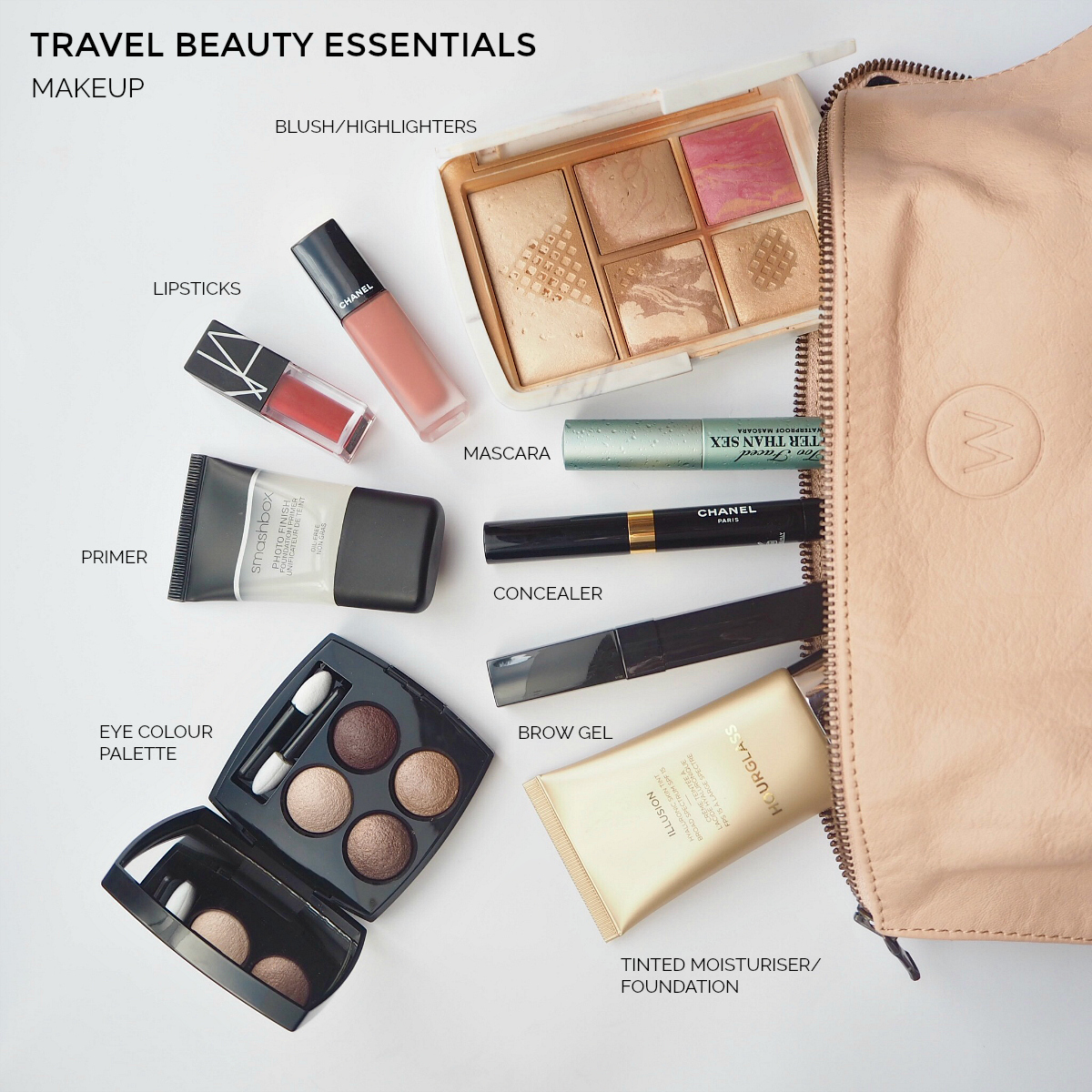 TIPS: Palettes are your makeup friends when it comes to minimising what makeup you pack. You can see how well my Hourglass highlighter/blush/bronzer palette is loved (this was limited edition last Christmas but you still might find some around). The eye palette will do for day and night and double as eyeliner for me. I've packed just the Hourlgass Illusion tinted moisturiser as my foundation, as it's heavier than a moisturiser and really can double as both. It also doesn't slide off your face. As we're going to a summer destination, I've included a couple of bright lipsticks to keep things fun and fresh when going out to dinner (it will still be daylight).
So tell me, are you a travel beauty minimalist or do you find ways to take all your favourite things?