There are many parts of my body that I have a love-hate relationship with.
Don't get me wrong, the whole love-love idea is a life-long work in progress but some days, you know, the negative Nancy talk wins out.
There is one part of my body, however, that Nancy never mentions and that's my teeth.
I'm not backward in coming forward and being all boasty (not a real word but quite appropriate in these circumstances) when it comes to my teeth.
I've never ever had a filling. And I've never had cause for any kind of orthodontic work.
My teeth are straight and cavity free. I know, I'm boasty (and there I go again using that made up word).
I just can't help myself.
So when the good people at Philips Zoom asked to check out my teeth to see if said teeth would make good candidates for their professional tooth whitening treatment, I happily put my pearlers front row and centre to audition for the role.
My teeth are fairly white but my love of coffee and the odd glass of vino rosso, meant there was room for improvement.
And if you're a regular around these parts, you'll know that I unashamedly admit to being vain.
I'll try all manner of things for an extra confidence boost and I can tell you that having whiter teeth is now up there with my growing list of confidence boosters.
Maybe you've been thinking about teeth whitening too?
This video will give you a little insight into the process and my before and after results.
What's involved?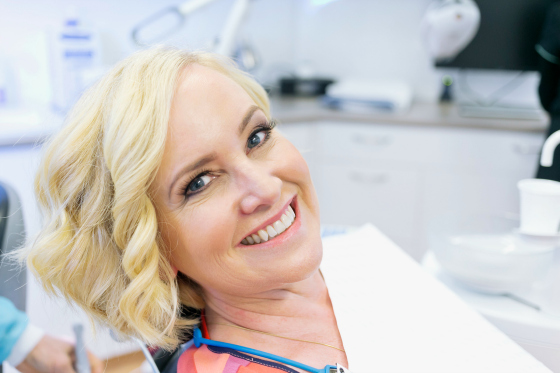 All up, I was in the chair for two hours. The whitening process itself takes 45-60 minutes, depending on how many rounds of LED light you have. They stop after three 15-minute light sessions if the sensitivity is too much. I got through to almost the end of the fourth round before my teeth felt sensitive.
Before we got to the whitening LED stage, moulds of my teeth had to be made to create the trays for the whitening gel.
To facilitate the treatment, a plastic retractor is placed in the mouth – this is SO not attractive. A dental dam is painted on the gums to protect them. This is liquid going on and then sets.
Gauze and cotton rolls are also placed under your lips and in the sides of your mouth.
The whitener is then painted on and the first of the LED light activation sessions happens.
Vitamin E is applied to your lips to help prevent drying during the process.
You just need to sit back and relax. I used this time to read a book on my iPhone.
Why opt for professional in-chair treatment?
For me, opting for a whitening treatment at a dental surgery was all about putting the health of my teeth gums into the hands of a professional.
With that comes trust. Even though it's a cosmetic treatment, I felt safe that my teeth and gums would be looked after.
What you can expect?
You can expect that your teeth will be up to eight shades whiter. My result was between six and seven shades lighter. If you're looking at the before and after photos and not seeing that six and seven shades, it's because the difference to the naked eye is subtle.
The dentist used what's called a Vita Pan Classic shade guide to measure the before and after colour on my teeth. Each coloured tooth on that guide is slightly whiter than the next but it's not until you match that tooth to your own that you see the difference.
My teeth are whiter near the bite than the gum line – and this is normal.
What about after-treatment care?
With the treatment comes a level of sensitivity in the teeth afterwards – particularly in the first 12 hours. I was given a take home pack that included the trays moulded for me and used in the treatment.
The first evening the trays were filled with relief gel, inserted and left for 15 minutes. I was also given analgesics for pain relief. My pain wasn't too bad and was sporadic over about 24 hours. When it hit, it was like a sharp, shooting sensation in one tooth. There have not been any ongoing issues. I already used a sensitive toothpaste on my teeth, so have continued that.
Also, in my take-home pack was whitening gel to put in the trays and use for three nights from day five after the surgery treatment. This only needs to stay in for an hour each time.
For the first few days you need to avoid any food or drink that would stain a white shirt. Yes, coffee. I contemplated drinking it through a straw!
I can renew the whitening every three-six months by re-applying the gel in the tray and wearing the tray for two or three applications.
How much will it cost?
Expect to pay $600-900 
So tell me, have you had teeth whitening before? Is this something that's been on your radar? Hit me with your questions.
EDITOR'S NOTE: My treatment was done at Nic Sheptooha Dental Practice, Brisbane. For a dental surgery, which offers Philips Zoom Teeth Whitening near you, visit here.