We're going to get a bit personal.
I'm going to delve into my smalls' drawer and I'm going to encourage you to do the same.
See, we can have all the clothes in the world but if we don't have all the underwear essentials on hand, then our outfits can be seriously let down.
At my recent autumn-winter fashion workshop for Toowong Village, I was asked not one, but two, underwear questions.
One question was about shape wear and underwear that doesn't show lumps and bumps. The other was all about the strapless bra – a hot topic this past summer thanks to our collective obsession with off-the-shoulder anything.
So, I got to thinking. Maybe you'd like to take a (virtual) peek into my underwear essentials collection – and get to creating a checklist for yourself.
I've broken down this underwear essentials capsule collection into "types" that I need in my wardrobe life: bras, pants, camis, slips, shapewear and sportswear.
As part of my job, I'm photographed in all manner of outfits. Having these key pieces on hand means that these outfits always work.
My challenge to you is to form an underwear capsule wardrobe that meets all YOUR outfit needs – from the every day to occasions or events.
And when it comes to bras, the suggestions below are based on my breast shape and size – do head out and get a proper fitting and explore options that suit yours.
15 underwear essentials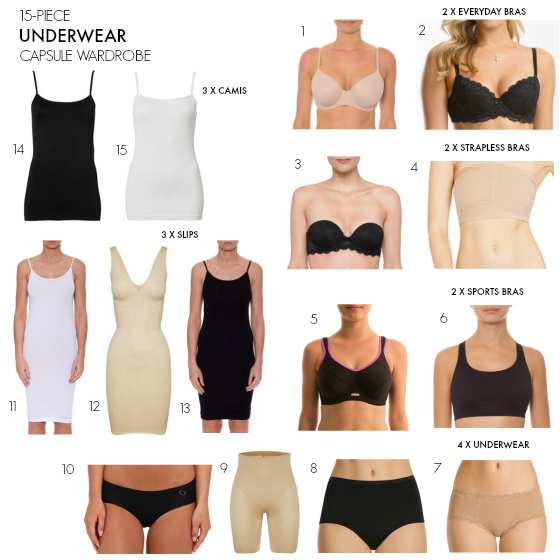 1. T-shirt bra: so many fabrics need a smooth line underneath, so as much as I like to pop on a fancy bra, most days I need a nude t-shirt bra to do the trick. This one is the perfect shape for my sideways-shaped boobs that don't fill a full-cup bra.
2. Everyday fancy bra: I've got this bra in the three colours and love it because the flat lace makes it feel a little special to wear but the shape and comfort mean it's a fabulous option for long days. The lace still shows through on some clingy fabrics but works on regular shirting or loose blouses.
3. An underwire strapless bra: This bra got an honourable mention in this post. It cost me a pretty penny but I have invested in both colours because of my off-the-shoulder top and dress obsession. The key for me was going up a size in the back measurement and down in the cup – so the girls actually filled the cup.
4. Bandeau strapless bra: When what I'm wearing requires a strapless bra situation but the outfit is on the casual side, this is my go-to bra. It's comfort-plus yet still keeps my 16Ds vaguely northwards.
5. Underwire sports bra: Breasts do take a battering during physical activity such as running or walking. I'm strangely addicted to the latter so a good, supportive bra is a must. This is my fave.
6. Wireless sports bra: You may not need this bra, but for yoga I find the underwire restrictive when moving this old body from downward dog to shoulder stands and everything in between.
7. & 8. Seamless underwear: Often the key to a smooth line under your clothes is simply opting for everyday undies that don't add lines – those that don't have seams and don't dig in to you. I swing between these and these and err on the generous size in sizing.
9. Shapewear shorts: Sometimes I call in the big guns. For an event or occasion, confidence is key and I want to ensure that I'm not concerned about any wayward lumps and bumps. I swear by these shorts for doing just that and not rolling down or repositioning said lumps and bumps.
10. Active underwear: Yes, it's a thing. And a thing I've gladly embraced. Not only do they offer a smooth line under your exercise pants but they are made from a moisture-wicking fabric. I don't know about you but I very much require that when I get active.
11. & 13. Stretch slips: I use these a lot – in black and white – not so much for a smooth line (see #12 for that) but more for adding a dignity layer under kaftans and loose, cotton frocks. Good for everyone in my vicinity during random gusts of wind, I say.
12. Slip with smoothing benefits: Just as in #9, this is one of my secret weapons. It's comfortable to wear – yes, you can breathe in it. And it's easy to go to the bathroom while wearing it, thanks to an inbuilt hook and eye clasp cotton gusset. This also works to keep the slip in place and prevent it from … umm … slipping … up. This has happened to me in the past with other styles. It's far from an attractive look when you're otherwise dressed to the nines and end up with an extra tube shape around your mid-section.
14. & 15. Stretch camis. Just like my stretch slips, my wardrobe would not work without stretch camis. I've got these ones (white and black) but also similar ones and tank style from Country Road. I find you need to replace the white ones more often because they discolour but they're worth it. I wear them under lightweight blouses and tops. They also help to iron out any minor muffin-top situation with jeans.
Now that I've fully exposed myself to you, figuratively speaking, it's your turn. I'd like you to share your underwear essentials – your secret weapons in your smalls' drawer so we all can benefit.
Is there a bra you can't do without? A style of underwear that very much works for your lifestyle? Shape wear that's comfortable?
This post contains affiliate sales links and I may receive a small commission from purchases sold through those links. You don't pay any more. Full disclosure policy here.