This post has been updated: head here to read the 2023 version.
Read on for my 11 tips on how to combine comfort, style and a sense of occasion in what you wear on a flight.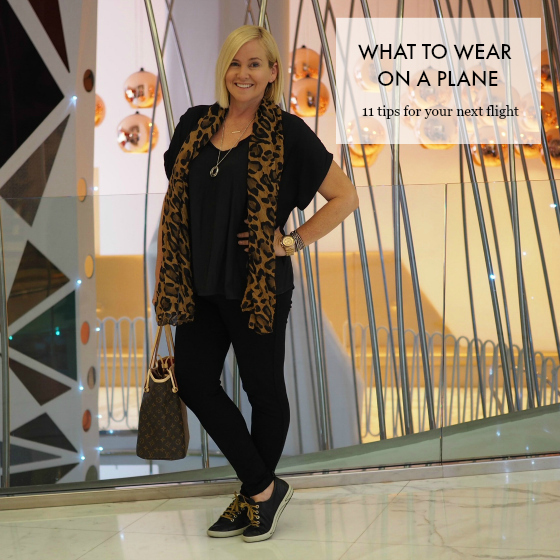 I can't guarantee you'll look like those celebrities papped at the airport looking like they've been at a day spa, not on a long-haul flight, but you will hopefully feel a little prepared for your next escape.
11 tips for what to wear on a plane
1. What you choose to wear on a flight – long or short haul – should have comfort as a priority. There is nothing worse than being seated for any period of time and feeling like your clothes are leaving permanent creases and indentations on your body.
2. Long or short haul, your shoes should be easy to take on and off (my daughter learned the hard way when recently travelling to Japan in her Doc Martens) if needed to do so through security. Typically there is a lot of walking involved at terminals, so keep this in mind for your footwear too.
3. If taking your shoes off on board a flight, take a pair of fold-up flats for getting around the cabin. (This was a great tip from a reader last year)
4. Compression socks are your friend. Well they are mine. My dodgy thyroid means I swell up under the best of conditions. Put me in a pressurised cabin and my cankles are comical at best, painful at worst.
5. The longer the flight, the more layers you'll need. Cabin airconditioning is icy. Conversely, I've been in situations on a plane on the tarmac where the heating has been ramped up and I've needed to take off layers to suit. Base your outfit around jeggings, leggings, ponte pants or super stretch jeans and add light tops and outer layers as required.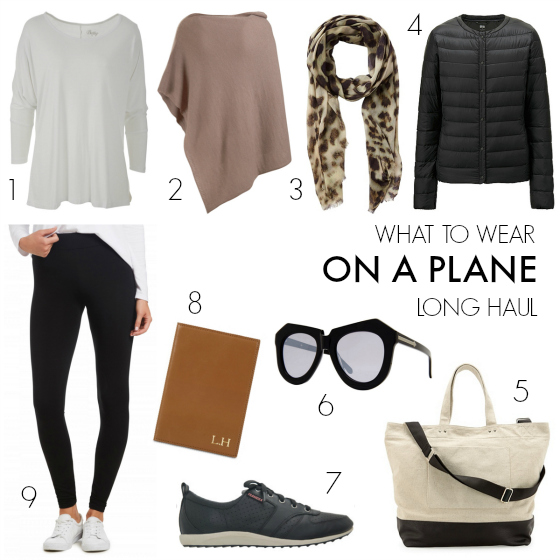 1. Betty Basics top $29.95 @ Birdsnest | 2. Bird Keepers poncho $69.95 | 3. Witchery scarf $59.95 | 4. Uniqlo ultra down light jacket (it rolls into a tiny package) $109.00 | 5. Country Road bag $129 | 6. Karen Walker sunglasses $295 | 7. FRANKiE4 Footwear sneakers $229.95 | 8. Mon Purse personalised passport holder $69 | 9. Sussan ponte legging $59.95
6. Pack a change of clothes if doing a long-haul flight. You may not be able to shower but adding on fresh clothes will give you a bit of a lift at the end of your journey. This extra set of clothes is also an insurance policy against getting to the other end and finding your luggage hasn't been on the same plane as yours. I include a packing cell in my overnight/cabin bag with the change of clothes so it's all kept together and ready for that freshen up at the other end.
7. Heading to a tropical destination? Still take an extra layer on board with you as conditions in the air can be the the complete opposite of that awaiting you at your balmy destination. Lightweight pants, a tee and a cashmere wrap will work here.
8. Get a blow dry the day of your flight. Ok, so this is an indulgence and technically you don't wear your hair but I did this as a little test last year. I am lucky that with age has come a non-oily scalp but I can tell you that that blow dry lasted me not only the flight but the first few days in London … until I found a blow dry bar just near our hotel. #lazygirlbeauty
9. Take off your makeup as soon as you get on board a long flight. I know many wouldn't wear any at all but, you know, I'm vain. What I do then wear is a heavy duty moisturiser and lip balm. These get slathered on frequently during the flight. At the other end, I apply my minimal makeup routine (see Beauty travel essentials below) and sunnies on arrival and this makes me feel psychologically a little better even though inside I'm completely shattered and zombie like.
10. Take on board cabin bag that easily carries all your essentials. I like a big overnight-style bag, with compartments on the outside. You might prefer a suitcase-style cabin bag.
11. Always carry an extra wrap or a scarf in a colour that can hide all manner of spills. I'm a clutzo in the food-spilling-on-oneself department at the best of times. Put me in a confined space when the slightest bump could send your chicken or beef flying into your lap, and I'm bound to "wear" my airline food and drink. I've now learned to put my scarf in place around my neck to catch any spills. Yes, as a baby would wear a bib.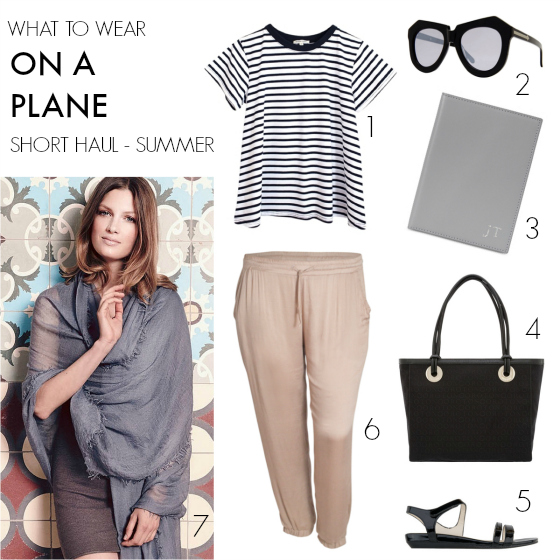 1. Bohemian Traders tee $59 | 2. Karen Walker sunglasses $329 | 3. Mon Purse personalised passport holder $69 | 4. Oroton tote bag $198 (on sale) | 5. FRANKiE4 Footwear sandals $199.95 | 6. Surafina pants $89 | 7. Everyday Cashmere supersoft scarf $359
So tell me, when you fly, what do you wear and what are your essentials?
---
You may also be interested in this post: