I love to cook. And to eat.
Not that the two need to necessarily need to go hand and hand.
But in my experience, it does help.
Like my wardrobe, though, it's very, very easy for me to fall into a cooking rut.
You know the rut, don't you? Buying the same ingredients and cooking up the same dishes on a weekly or fortnightly basis?
The rut happens when life gets busy. I get that and accept that about myself.
I use the start of a new year as a time to try and get on track and back to some kind of routine in all aspects of my life.
It doesn't mean that the getting on track and routine sticks but I know I operate better if I've got some sort of structure or routine to the general madness so I give it a go.
When it comes to good food and menu planning, the biggest motivator for me to climb out of my cooking rut, is delving into a much-loved cookbook … or a brand, spanking new one for fresh inspiration.
I bought Nigella Lawson's new cookbook, Simply Nigella, just after Christmas with this in mind but also in the knowledge that I'd booked a ticket to hear Nigella talk (and meet her for 30 seconds) at a Business Chicks event.
So when we got back from our beach holiday, I jumped right in.
I've been a fan of Nigella's from the start. I love the stories she tells with her recipes. It's incredibly personal and makes us, the reader and cook, feel connected. A bit like why I love to read blogs ;).
I love that her recipes are all about minimal fuss and maximum enjoyment.
In Simply Nigella, some of the chapter titles give you a taste (see what I did there?) of Nigella's food philosophy: Quick and Calm; Bowlfood; Breathe.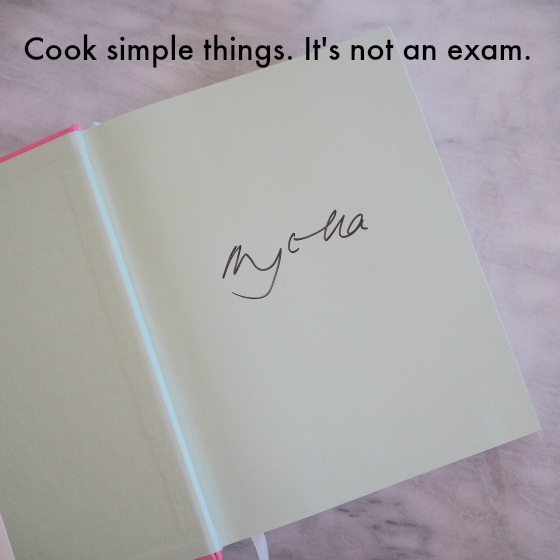 The test for me as to whether a new cookbook is going to be a well-used book, is if on the first read through, I find so many recipes that immediately appeal.
This was definitely the case for Simply Nigella and in the last few weeks, my family and I have dipped into the book many times.
My youngest loves to bake with his sister. My "bigs", the adult kids, are almost out of home for real, so we've also been doing cooking lessons during the uni break. Mr SY loves a little kitchen time too.
We sit down to dinner together every night – whether it's three, four or five of us.
Food is very much a part of our life so I feel great when I take time to plan each week what we're going to eat. When I plan, I've got the ingredients at the ready. When I plan, I'm less likely to reach for one of the takeaway menus on the fridge.
Here's a little look of some of the things we've been whipping up from Simply Nigella – and have loved.
Sweet Potato and Chickpea Dip: I made this for our Australia Day gathering. The sweet potato is roasted whole in its skin (too easy). It's gorgeous and tangy thanks to lime zest and lime juice.
Haloumi with Quick Sweet Chilli Sauce: The boys were at the football one Friday evening so I whipped this up for myself, which was excellent because I didn't have to share the haloumi.
Quick Gherkins: Nigella loves her quick pickling and these have become a firm favourite of ours as a side dish. So incredibly easy to make with peeled cucumbers, white balsamic vinegar, rice wine vinegar, dill and coriander seeds.
Feta and Avocado Salad with Red Onion, Pomegranate and Nigella Seeds: there's pickling going on again with the red onion. I've become a bit addicted. This works as a light meal on its own or a side dish.
Flourless Peanut Butter Chocolate Chip Cookies: Miss SY and Junior Master SY whipped up two batches of these in as many weeks. Neither batch lasted long.
Nutella Brownies: These are basically Nutella and whipped eggs. Baked. They're not overly sweet so were not as popular with the youngest. I loved them though for that very reason.
---
How I menu plan
1. Before doing the hunting and gathering, I clean out the fridge and take stock of what's in there – checking the pantry as well.
2. I start a new "note" on my phone, listing off all the days of the week, adding any information I might need to be aware of for each night, eg anyone being away for work, out for fun, sport activities etc.
3. I then add a meal to each day (utilising a cookbook or two), varying it up each day between different protein sources, styles and flavours.
4. From that menu plan, I then add to the app Wunderlist what fruit and vegetables, meat or fish, and grocery items we need to make those dishes … as well as any items we need for breakfasts and lunches. I love the app as you can tick off what's been bought as you go (so satisfying!) and Mr SY is linked to it so we can hit up a store together, both with the synced list in hand.
5. I then hit the shops for the fresh stuff and adjust my regular online orders. I rarely go into a supermarket, opting for the convenience and easier budgeting of online grocery ordering.
---
If you want to learn more about Simply Nigella, head to her website … you'll find some recipes available online too). Otherwise, do yourself a favour and add this cookbook to your collection.
Buy HERE (hardback)
Buy HERE (iBook)
So tell me, have you got this cookbook? Have a favourite recipe? Do you plan out the menu for the week?