This post was last updated January 2023
A couple of Easters before originally writing this post, we escaped for a few days to the QT at Surfers Paradise on the Gold Coast. Loved it. Loved it all.
On the Sunday, we'd arranged to meet up with friends on Burleigh Beach so the kids could have a swim and the adults could recover from the night before at Kurrawa Surf Club.
As we were doing a u-turn on the headland to wind our way back to Brisbane, I spotted an apartment block that embraced the spirit of old Burleigh with a stunning nod to modern beach living.
I immediately got out my phone, looked it up and found that Bujerum had a two-bedroom apartment in the complex of five available for our annual January beach holiday. I had that getaway booked before we'd even hit the M1.
I've said it before and I'll say it again. I am a marketer's dream. I'm also very quick with decisions.
And in this case I'm so glad I am/was.
Our week in a second-level apartment at Bujerum cemented our burgeoning love affair with Burleigh Heads. We've since returned a number of times to Burleigh. It's a location that gets under your (salty) skin.
The Gold Coast and I are not holiday strangers. As kids, we'd spend half of the summer holidays with mum, initially in a shack not far from what is now known as Millionaire's Row at Mermaid Beach.
The year mum scored an apartment at the Florida Car-O-Tel just down the road at Miami we really knew we'd arrived.
Whatever our Gold Coast basecamp, we'd spend mornings at the beach, rarely coming out of the water, with midday siestas to follow, my brothers firmly ensconced for the afternoon in front of the black and white TV watching the cricket. We'd emerge for a late pool swim and rinse and repeat the next day.
That beach-holiday rhythm is something that's very much ingrained in my psyche. All it takes is a good whiff of the sea air and I'm there.
Ok, so I may now spend more time under a CoolCabana than in the water and the late afternoon swims have been replaced with wine o'clock but the pace and re-charging rhythm is otherwise still the same.
The rhythm was indeed made stronger because this was very much a park-the-car-and-leave-it holiday location. Everything you possibly need is right on your doorstep.
Burleigh Heads has managed to embrace the spirit of the Gold Coast of old as it's grown up to become proud home to some of the best restaurants, cafes and shops on the Coast.
Over the years, we've barely scratched the surface of dining options but we always give it a good nudge. My favourite thing on holidays – apart from the general relaxation stuff – is to not menu plan or cook.
We tend to do a mix of self-catering, simple barbecues or picnics on the hill and a number of dinners out. This year, it was so, so good to see the Burleigh restaurant scene thriving and growing after the COVID onslaught of the summer before which shut down a lot of popular spots.
I'm far from a Burleigh Heads expert – with each trip we find more things to do and enjoy – but below are my top 10 things to do in Burleigh Heads in case you've got this holiday destination on your next escape radar.
What to do on a holiday at Burleigh Heads
Walk. Head north for a flat 40-minute round circuit to North Burleigh surf club or head south and up over the headland for a scenic walk through to Tallebudgera Creek.
Picnic on the headland. It's all kinds of magical to sit there watching the lights of the Gold Coast on any afternoon with our friends. It's something that the locals do on a regular basis. On our latest visit we were treated to a magical afternoon and evening.
Eat out. You are definitely spoilt for choice when it comes to dining out at Burleigh. I've saved all our recent dining out faves HERE.
Rick Shores, Burleigh Heads
The Pavilion, Burleigh Heads
Hail Mary, Burleigh Heads
The Malibu Racquet Club, Burleigh Heads
Rosella's, Burleigh Heads
Kin, Burleigh Heads
Osteria Del Mare, Burleigh Heads
Tarte, Burleigh Heads
Shop in James Street. The James Street precinct is a bit like Hastings Street, Noosa (without the chain stores), a bit like King Street, Cotton Tree (but with more shops) and a bit like Jonson Street in Byron Bay (but with less shops). All of these precincts have a vibe and James Street certainly does as well. Lifestyle/homewares stores and fashion boutiques share the strip with uber-cool bars, cafes and food outlets.
Visit the Village Markets. I've blogged about these markets before and never miss them if I'm around Burleigh on the Sundays they're on. Love the mix of homewares, fashion and food. Did someone say fresh, gluten-free donuts? Oh yes, they did.
Swim or surf. Or both. The huge bonus of a Burleigh Beach holiday is that when most other parts of the Coast are blown out or beaches are closed because of big swells, Burleigh is protected by its headland. It's also the same headland that brings surfers from all over the country and the world when the swell is on. The water is crystal clear – even after rains – and just magical to swim in.
The only downside to how fabulous Burleigh is? Everyone wants to visit. In peak times, parking is at a premium and traffic is crazy. Keep this in mind if you're thinking about a day trip. And obey the parking limits and payment – inspectors are out in force all the time!
WHERE TO STAY
We prefer accommodation that's on Burleigh Hill with a view of the waves opposite the park. It means the outlook is constantly changing and you can park your car and walk to the shops, restaurants and beach.
Burleigh Beach Abode (Airbnb)
This is a stunning newly renovated two-bedroom; one bathroom apartment on Burleigh Hill. The apartment oozes a sophisticated coastal style that feels both elevated and welcoming. The living/dining and balcony area creates an amazing sense of space with a view that's ever changing. Check it out HERE.
Sea By Frankie (Airbnb)
I love hunting down a gem on Airbnb and this one ticked all our Burleigh boxes – right across from the hill, view of the ocean in all its moods and stunningly decorated and fitted out with every possible need (plus more you hadn't thought of!) for a week in this location. It's a two-bedroom, one-bathroom apartment and it suited our family combo (two adults, one teen and one two-night visiting adult daughter) to a tee. It's not large but it's been thoughtfully designed to maximise the space. I loved that I could fully unpack for the week because that the main main bedroom included a compact walk-in robe. My fave spot was sitting on the balcony, people and surf watching. Communication with the hosts was amazing. I couldn't recommend this apartment more for a personalised stay in Burleigh. Check it out HERE.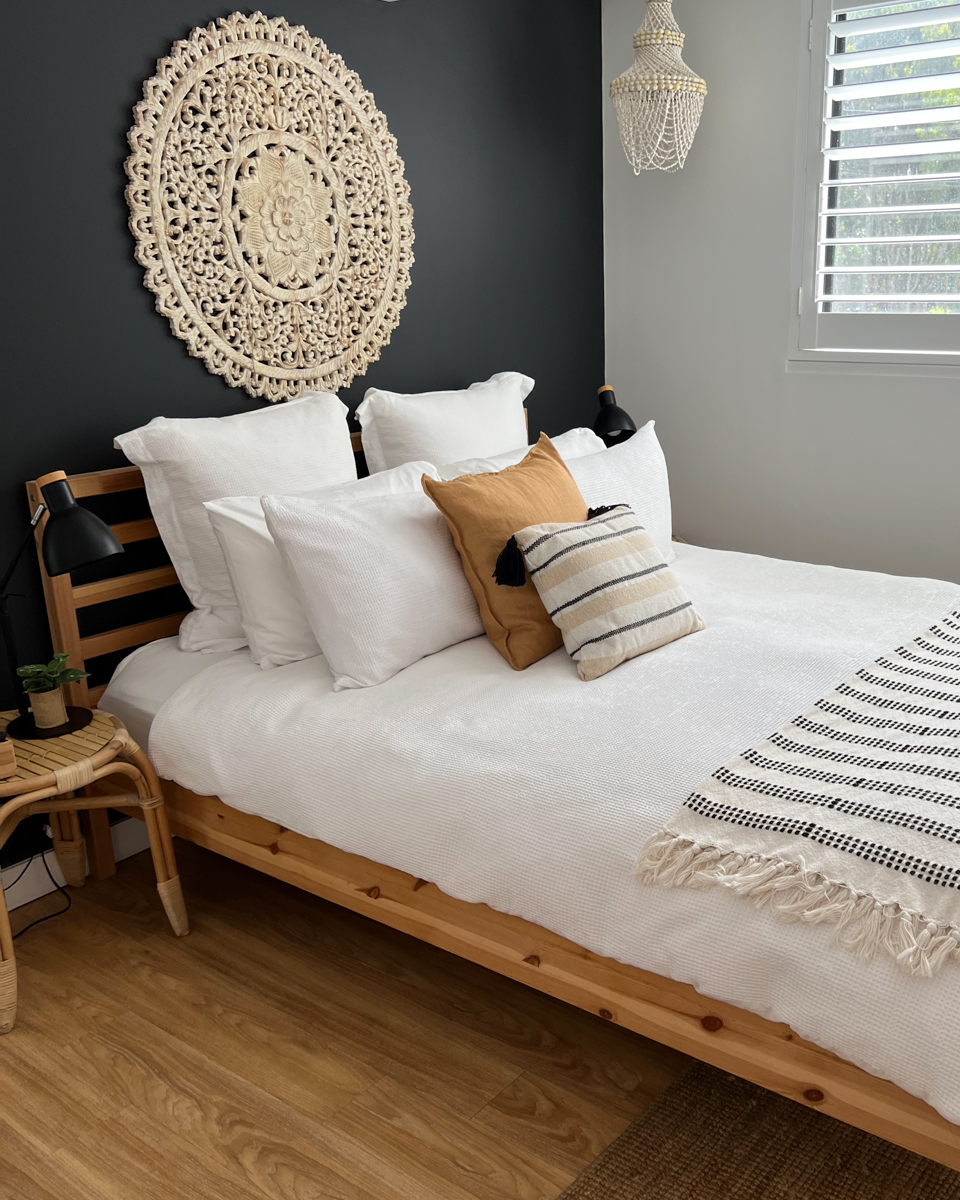 Boardwalk Burleigh Beach
On our 2021 trip, we stayed a little further north of the point (about a 10 minute beachfront walk to the flagged area). We absolutely loved the view and the facilities in this fairly new accommodation complex. We stayed in an ocean-view two-bedroom, two-bathroom apartment. More information here.
Bujerum apartments
The design was inspired by the 1930s residential apartment block that provides the bones for the bottom two levels of the Bujerem complex. It was completely renovated in 2013 with an additional level – the three-bedroom penthouse added on top – but the spirit of the Queenslander style lives on in its weatherboard cladding and strong lines. All apartments have been decorated in a timeless, coastal style with white walls, timber flooring, the use of mirrors and windows to capture the views and enhance the space and canvas prints on the walls by local photographer Sean Scott. More information here.
So tell me, are you a Burleigh local or regular? Where can you recommend people eat, drink, shop and play?