Last week I popped my cruising cherry.
Yes, 40 years after falling in love with the concept of cruising via The Love Boat and wishing that all things on TV could become real, it did.
Master SY and I boarded the US$50million refurbished Royal Caribbean Legend of the Seas (as guests of the cruise company) for its inaugural voyage from its new southern hemisphere home, Brisbane.
It was a two-night "cruise to nowhere" … what those in the business call "sampler cruises".
The aim of two or three-night sampler cruises is to do just that – to offer a sample of what holiday life on board a cruise ship might look and feel like.
We found that there was certainly a mix of people like us, keen to see what cruising was all about, but there were also seasoned cruisers as well as party groups ready to maximise their time on board celebrating a milestone birthday or just the end of the year.
All this combined excitement and anticipation created a perfect storm to showcase what DOESN'T happen on a regular cruise.
With everyone wanting to try ALL the things, ALL at once, it lead to a lot of queueing.
I'm quite Zen about queues but many on board were not. I get that.
Maybe my Zen approach was helped along by being on board one of the biggest ships able to dock at Brisbane's Portside Wharf.
Maybe it was helped along by arriving on board and immediately signing up for kids' club (him) and spa (me).
Maybe it was helped along by our balcony stateroom on the 7th deck.
Maybe it was helped along by that first Pina Colada.
Maybe it was helped along by extremely calm sailing conditions.
Maybe it was all of the above. That it was all exciting and new.
All I know is that we were bitten by the cruise bug and know we'll back for more.
What I loved on board Legend of the Seas
I loved that we could unpack all our clothes and put them away for the two nights. The appeal of this would be even greater on a longer cruise.
Our balcony cabin was spacious, the bed comfortable and the sheets crisp and clean. Only regret? Not spending more time on the balcony.
No shortage of deck chairs.
A stunning sunset to farewell Brisbane.
Superior meals in Izumi – the onboard Japanese restaurant. You have to try the hot rock options.
Eating Ben & Jerry's ice-cream in Cafe Latte-Tudes after dinner.
Duty-free shopping at 11pm at night after a few Champagnes.
Buying a daily drinks package so has not to have to work out how much you're spending on those Champagnes each day.
Mini golf at sea.
Free kids' club that your kid actually wants to spend every minute at.
Said love of kids' club ensuring a full and relaxing experience for myself in the kids-free section of the boat.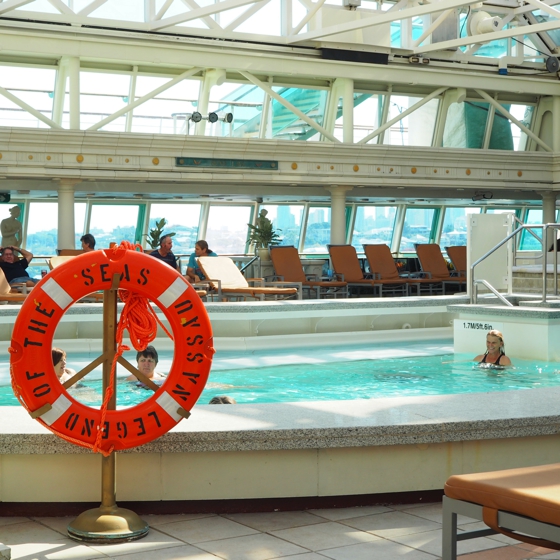 Said love of kids' club ensuring time spent at the Vitality Day Spa was stress-free (I can highly recommend the Thai Herbal Poultice Massage).
What to budget for outside of your pre-booked fare
There are plenty of included activities and eating options on board but for a full cruise experience, you'll want to budget for extras. All charges on board Legend of the Seas are made in US dollars. Before boarding, your ship pass is either linked to your credit card or it's agreed you pay cash for extras spent before disembarking.
Extras:
Drinks, including barista coffee
Wi-fi
Specialty dining outside of the main dining room and buffet
Spa
Fitness classes
Photos
Extra hours outside regular kids' club times
What to pack for a cruise holiday
Carolyn Unwin hat | Kalokeri dress* $129 @ Sequins and Sand
As a newbie, my ideas for what to pack for a cruise holiday were based upon what I might pack for a short resort escape.
Think more dressy than a camping holiday but still comfortable, easy-to-wear pieces that work while at sea and out to evening dinners or events. Loose and flowy all the way.
Surafina maxi dress* | Salita Matthews necklace* | FRANKiE4 Footwear sandals | Michael Kors sunglasses (bought on board duty-free) | Secrets Shhh bangle
Some cruises have formal dinners so you need to factor in that as well.
Sacha Drake dress | Everyday Cashmere knit* | Country Road heels
Do factor in the potential for the wind at sea to make things cooler than you're used to – even in mid summer. Lightweight knits are ideal.
Comfortable shoes are a must as you may do a lot of walking in the course of a day.
Pack at least two swimsuits – and a swim/rash vest – as that is a hot sun out there in the middle of the ocean.
Carolyn Unwin hat | SunSoaked rash vest* | Uberkate necklace*
Ditto a broad brimmed hat – one that fits you well and isn't prone to flying off your head in a gust of wind.
Take your swimsuit on board with you in your carry on (if having your bags checked in). This means you won't have to wait for your bags to get to your cabin before you can take a dip. We made this rookie error.
Another rookie error? We didn't bring one of the gazillion universal power adaptors we have at home to use the power points in our cabin. I did bring a power board like I always do and – problem solved – was able to buy an adapter at the gift store.
Do pack your active wear, if only for a walk around the top deck. You might also find the gym or a yoga class calling you.
Or not.
Carolyn Unwin hat | wYse Lifestyle top and skirt* | FRANKiE4 Footwear wedges*
Are you a seasoned cruiser? What are your essentials to pack? 
For more information or to sign up for future deals on board Royal Caribbean cruises, visit here. My son and I were guests of Royal Caribbean. All extras were covered by us.
* These clothes and accessories were gifted to me for editorial consideration.