Editor's note: please make today's guest welcome, Kristie Welsh, PR and Comms wonderwoman who runs her own agency called Communicated. Kristie shares monthly recipes with all of us, so that we can wow our friends and family with her achievable but delicious creations. 
Yep, it's that time of year again. Get your jingle on people… Christmas is coming up fast!
This White Christmas Rocky Road is the perfect treat to bring you, and your friends and family, merriment these holidays.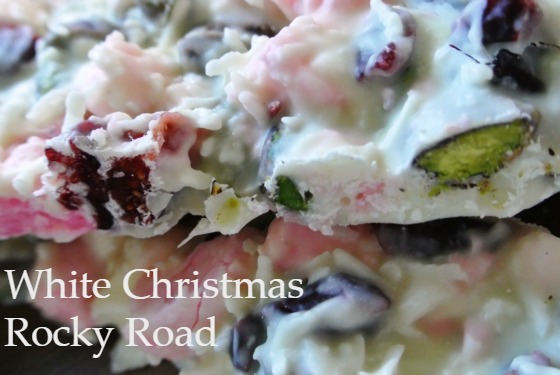 Perfect because not only does it taste great, but it is also super easy and quick to prepare (just mix and cool). So for those of you like me who are time poor at this time of year – it's the ideal homemade Christmas goodie.
Whether you are looking for inspiration for a 'plate' to take to your work Christmas function, a festive offering to gift school friends or colleagues, or a little something naughty just for you, I think this rocky road should be in your life.
White chocolate, marshmallow, coconut, pistachios and cranberries. Mix. Cool.
Yes – it's simple. But you know what they say about the simple things in life…
White Christmas Rocky Road
Author:
Prep time: 5 mins
Cook time: 40 mins
Total time: 45 mins
This White Christmas Rocky Road makes the perfect Christmas gift or plate offering for your next festive function.
Ingredients
375g packet white chocolate melts
2/3 cup shredded coconut
1 1/2 cups mini marshmallows
1/2 cup toasted pistachios
2/3 cup dried cranberries
Instructions
Melt your white chocolate melts according to instructions.
Stir in your coconut, marshmallows, pistachios and cranberries.
Spread mixture over a shallow baking tray (brownie trays are perfect) lined with foil and pop into the fridge to set.
Once set, flip the tray upside down, remove foil and turn out onto a cutting board.
Cut in long strips, or smaller bite-sized squares.
3.4.3177
RECIPE HACK: Nut Free? Replace the toasted pistachios with red and green m-and-m's for a school-friendly option.
What's your signature dish for friends and family at Christmas?
Kristie Welsh is a Brisbane-based mum of three children under six, who runs her own PR and communications consultancy, Communicated, and happens to really, really enjoy good food. She likes to pretend she is a really excellent cook by adapting and creating recipes that are actually incredibly simple, yet look and taste amazing. Kristie counts cooking with Jamie Oliver as her culinary highlight.