Editor's note: Please welcome back Deborah from Debbish dot com who's sharing her favourite new releases with Styling You readers each month. 
Yesterday Nikki mentioned a friend called Debbie who'd done her Christmas shopping. Just in case you were wondering…. that was not me.
Sadly I wait until December rolls around to start thinking about Christmas. Fortunately however, I'm single and childless and only have one parent and one sibling, so my gift-buying commitments are limited. This year it's just my mother I and we have an excellent routine in place: she cooks a traditional roast dinner and I consume champagne while half-heartedly offering help.
However… not everyone dislikes Christmas and I'm conscious that many peeps out there will be panicking as their kids or grandkids count-down the number of sleeps until the fat man in red arrives. So I'm here to help by offering up some not-quite-last-minute Christmas book ideas for family and friends.
1. Memoirs
It seems that every politician, actor, sportsman or D-grade celebrity feels compelled to share their stories at this time of year. Can't they just drunk-tweet like the rest of us?! Anyhoo… here are some of my selections which will hopefully cover all of your in-laws and and other real-life-loving types.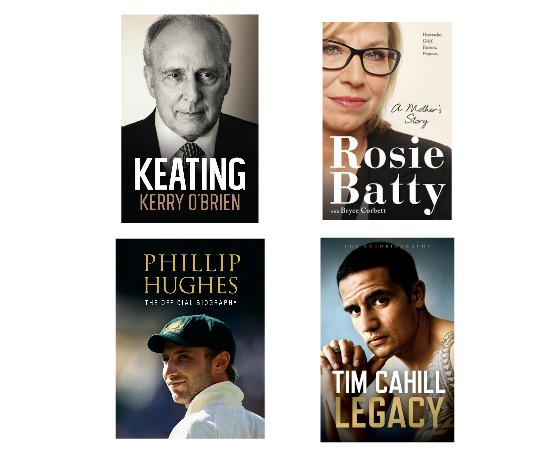 Keating by Kerry O'Brien; A Mother's Story by Rosie Batty with Bryce Corbett;
Phillip Hughes – Official Biography by Malcolm Knox & Peter Lalor; Tim Cahill's Legacy 
2. Cookbooks
As someone who cooks the same things week after week I am hardly an expert on cookbooks. However I've skipped over the more controversial ones featuring IQS Sarah and Paleo Pete and selected some which (even I) think look good.

Everyday Superfood by Jamie Oliver; Donna Hay's Life in Balance;
Homemade Takeaway by Julie Goodwin;
3. Colouring Books
I recently tried to find some zen through a mandala and some colouring pencils, but all I could think was… "Am I done yet?" However, this colouring book fad is not only about patterns designed to mimic the effects of LSD. You can buy books featuring your favourite TV show or movies and the latest fashions.
Doctor Who; Game of Thrones;
Vogue; Star Wars (The Force Awakens); Harry Potter
4. Fantastic fiction
I've already shared my favourite reads here over the past few months so will not gush again about the likes of  The Lake House, Illuminae and Tennison. Instead I'm sharing a few of the more popular new releases which would be perfect for friends and family who have some free time on their hands.
Spirits of the Ghan by Judy Nunn; Hester and Harriet by Hilary Spiers;
Rain Music by Di Morrissey; Golden Lion by Wilbur Smith
5. Something for the kids
Andy Griffiths is still king of the kids with his 65-Storey Treehouse series and Aussie AL Tait is going great guns with her Mapmaker Chronicles series, but I was also intrigued by What Would Alice Do, which targets tween and teen girls and is filled with inspirational quotes and advice.
The Diary of a Wimpy Kid (Book 10) is out along with a couple of popular new young adult novels, Becca Fitzpatrick's Dangerous Lies and Clancy of the Undertow by Christopher Currie – the latter (kinda) reminding me of a teacher who had a Banjo Patterson fetish. I've rounded the list out with Kindy Kitchen by Jessica Rosman & Nettie Lodge which features fun fruit dishes and recipes.
6. Weird stuff
It's no secret I don't really 'do' non-fiction. I mean, if I wanted reality I'd venture out in public more. But while I do understand the allure of the memoir or occasional self-help book, there are some publications I just don't get.
When I received a media release for Beaut Utes by Josh Bryce I was tempted to joke about it on my FB page before remembering how passionate ute-owner friends can be. And the 2015 Ashes Diary? I'm pretty sure there's nothing juicy in there about drunken text messages or fisticuffs in the change room?! Yet again… I realise some people DO care about weird stuff. Like cricket.
And finally, in honour of my dad who used to POUR through the Guinness Book of Records every year I've included the 2016 'Gamer's Edition'. The usual version is still available, but if you've got difficult-to-buy-for minecraft lovers in your life, this one's for you!

And that, dear readers, should cover most of your Christmas gift list. I'll be back next month when you're feeling all relaxed (after the stress of you-know-what is over) to share some of my favourite summer reads.
Until then… will these books satisfy anyone on your Christmas list?
* Links in the post will take you to Booktopia, but most of the books are also available via iBooks or your favourite local bookstore.
Deborah blogs about books, not-dieting and life in general at debbish.com. Her life-long love of reading is only surpassed by her addiction to vanilla diet coke, baths, chocolate and champagne.