At dinner on the first night of my recent stay at Gwinganna Lifestyle Retreat we'd already feasted on some beautiful tastes of the organic cuisine we would come to expect more of during our stay.
Some of us may have wondered out loud as to whether there would be dessert. After all they'd served us one glass of wine.
The program manager for the weekend, Kay, who was seated next to me, confirmed that we would and that it would be something starting with T.
Aimee, on the other side of Kay, immediately offered "Tiramisu". Sarah, across the table, suggested "Tim Tams". Those who had visited Gwinganna before knew this was not going to happen but they had a pretty good idea that it would involve the signature Yolande's Tahini Balls, that have been served up to guests since the beginning.
They are so popular that boxes of them are for sale on the final day of each retreat … and if you don't get in quick they are gone.
I missed out but did dust off my Gwinganna cookbook and made a batch my first weekend home. They didn't last long here either.
They're packed with goodness and a good amount of protein to offer a more healthy sweet snack alternative. They're not sugar free – the recipe includes honey – but I may try with rice malt syrup next time to see if it works as well.
I'm sharing the recipe with you here but if you're keen to delve a bit more into the recipes from Gwinganna, the cookbook is now for sale online in e-book form. You can buy and download here – or buy the physical book. I highly recommend the book if good health is on your agenda for spring.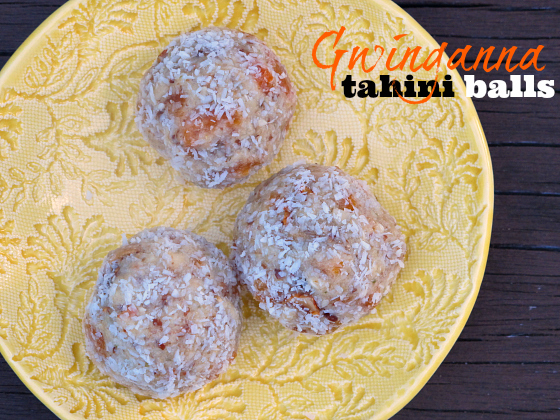 Gwinganna tahini balls
These are great to make up and store in the fridge as a healthy alternative to sugary afternoon tea snacks.
Author:
Nikki Parkinson | Styling You
Recipe type:
healthy snack
Ingredients
½ cup hulled tahini
½ cup honey
½ cup desiccated coconut
½ cup LSA (ground linseed, sunflower seeds and almonds)
1 cup dried fruit (your choice of apricots, figs, sultanas)
¼ raw almonds soaked and chopped
Instructions
Mix all ingredients in a bowl to a firm consistency.
Roll into walnut size balls and toss lightly in coconut.
Notes
This recipe appears in Gwinganna ... from garden to gourmet. Available
here
.
Do you make any other kind of healthy snacks like this? I also make these chocolate ones I featured here.