Ok Stylers, listen up. I've been spruiking the skinny/slim leg jean here at SY HQ for many years now.
And each time they do, I get questioned on it.
Shouldn't I be balancing out my hips? I'll get asked.
NO. Who wants to take away from the narrowest part of your anatomy, your calves and ankles?
I can't find any to fit, I'll get told.
Keep looking and trying, I say.
But don't just take my word for it … read this email from Styling You reader Chrissie Feary (she is very ok with me sharing as she says it's for educational purposes 😉 )
Hi Nikki,

I've been reading your blog for a while now, and am a big fan. But there was one area of style that I just could not agree on – the skinny jean. I'd read what you wrote about not being afraid of the skinny or slim-leg jean, and think "pfft! Skinny jeans with my legs? NOBODY needs to see that!".

I have a curvy butt (which I love) and chunky thighs (not so much love, as acceptance) and I always assumed that skinny jeans would highlight my thighs and draw attention to them.

That is until I was shopping for maternity clothes, and found myself facing a rack of skinny leg maternity jeans in varying shades. In desperation, I asked the shop assistant "do you have any maternity jeans that aren't skinny jeans?". Apparently they used to, but those are now only available online. Sigh!

But then she said to me, "Don't be put off by the word skinny, you should try them on!"

Me? In skinny jeans? I was having horrific flashbacks to teenage years of trying on pants that would fit my waist, if only I could get them up over my damn chunky thighs!

But I took her (and your!) advice, and tried on the stupid skinny jeans – admittedly partly to prove that they were simply no good for me.

Well, it's lucky I wasn't wearing a hat, because I would have had to eat it. They looked good! Far from drawing attention to my thighs, the fitted fabric makes them look slimmer, and instead draws the eye to my calves, which are the best part of my legs. These jeans even make my feet look smaller, which I love!

Even more surprising was how comfortable they are. I've already been up and down off the floor in them, playing with the cat, and I think I could quite easily live in these babies for the rest of the pregnancy. Hell, I'm already planning to purchase some non-maternity ones once the baby is here! It's like I don't even know who I am anymore!

So I thought that I would contact you to let you know that you were very, very right, and I was oh so wrong. Never again will I judge clothing without trying it on – although it's going to take me a while to work up the courage for jeggings, Baby steps 😉

Thank you for all the inspiration and encouragement you offer to women like me to take risks and wear things that make them feel great.

Best wishes,

Chrissie (reformed skinny jean-hater)
Ahh, Chrissie your new-found skinny jean evangelism is music to this girl's ear.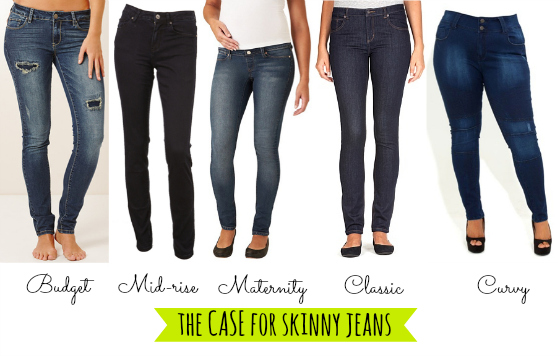 From left: Target jeans $39 | Jag jeans $99.95 @ Birdsnest | Jeanswest jeans $69.99 | Trenery jeans $99 | City Chic jeans $89.95
What to remember
1. While we should indeed embrace the skinny/slim leg jean, no matter what our shape or size, the clincher is all in what we wear with it. It's that which determines whether the jeans will work for us.
2. If, like me, you like to cover your front and back bottoms, then I suggest you do so and go for top that hits slightly above – or at – your mid thigh.
3. If, unlike me, you have a front and back bottom to die for, then show them off in your skinnies. Do not let me, or anyone else, stop you.
4. Don't be afraid to cuff your skinnies. It's a hot trans-seasonal look.
5. Never ever buy jeans that are loose fitting (except for boyfriend jeans, of course). They will give and be saggy and baggy within an hour of stepping out of the change room. A great tip: do some lunges down the corridor of the change room area. The warmth of your body will stretch those jeans in no time. If you can get two fingers inside the waistband then they are going to be too big for you. Try a size down.
How to wear skinny jeans
Skinny jeans; floaty top or over-sized shirt (it's about the balance)
Skinny jeans; ankle boots, ballet flats, or loafers (try these shoe styles with a wider leg jean and you'll feel like you have clown feet)
Skinny jeans; long tank, draped cardi and scarf (it's all about creating the illusion of length)
Skinny jeans; long tank, cropped blazer, statement necklace and pointy pumps (your next evening out is sorted)
Styling inspiration
Visit the Styling You Denim board on Pinterest.
Visit the Styling You Coloured Jeans board on Pinterest
Ok, give it to me. Are you a skinny jeans convert? Or do you think I've gone crazy?
—————————————————————————————————————————————