Hello, my name is Nikki and I'm an Emotional Sweater.
And by Emotional Sweater, I don't mean I've transformed into one of those knitted character jumpers, acceptable clothing only when worn by Colin Firth in cheesy Hollywood movie moments.
No, I'm talking about emotionally caused perspiration or "glowing" if you want to be all polite about it.
I prefer the word sweat myself.
It's not a pretty or a nice-smelling subject, so I forgive you if you're a little turned off right now. But it's a subject that warrants attention.
I know that there are many, many of you out there who, like me, sweat like the proverbial pig but did you know there are actually two forms of sweating:
1. Thermal sweating. That is your body's reaction to a hot, sticky day or a 5km run. This sweat is all about your body wanting to cool itself down as fast as possible. The eccrine sweat glands release this sweat from all over your body. It's a bit salty but not on the nose.
2. Emotional sweating. That's when your body says, hey, DUDE, what's happening here? Why are you stressed out right now? CHILLAX. This sweat comes from the apocrine sweat glands. These are the glands that open into the hair follicle just before it opens to the skin surface. These glands release a fatty substance, which bacteria try to break down. So, you guessed it, they're the glands that are responsible for an unattractive bodily odour.
Well, it's something I find unattractive, anyway. Especially if I smell it on myself.
A busy day can be stressful and bring on emotional sweating but add to that things like speaking in public, meeting with a boss or client, talking with others in a social situation and you have a whole host of "triggers" for an emotionally sweaty time.
Now up until a few weeks ago, I thought that it was just a case of my regular deodorant not keeping up with the smelly and sweaty tasks I regularly set it … letting me down at various times of the day, staining my clothes with excess sweat and leaving me feeling anything but fresh by 5pm.
Not so.
It seems my pits (an affectionate term for under arms used frequently in the SY household and often accompanied by the word stench) were just awaiting NIVEA's breakthrough, new anti-perspirant deodorant range, Stress Protect.
This new deodorant range is a category first for Australia. It's the first time we've got access to a deodorant designed to specifically address emotional AND thermal sweating  for 48 hours.
NIVEA Stress Protect anti-perspirant deodorant gives you extra protection in your most stressful situations.
NIVEA's done its own testing* and it was found that Stress Protect minimised sweat up to 85% and significantly reduced the formation of body odour.
Now, the SY Institute does not have such scientific measuring systems but I did actively encourage Mr SY to embrace Stress Protect with me over the past few weeks. So that's a sample of two.
Between us there has been noticeable pit stench reduction. Good news all round for all concerned.
NIVEA says that the reason for this is in the deodorant's formulation. Stress Protect contains a unique active antibacterial formula that includes a zinc complex for extra protection. The formula also includes avocado oil to care for – and keep smooth – the delicate underarm skin.
The ultimate stress test for me was at the Digital Parents Conference last month.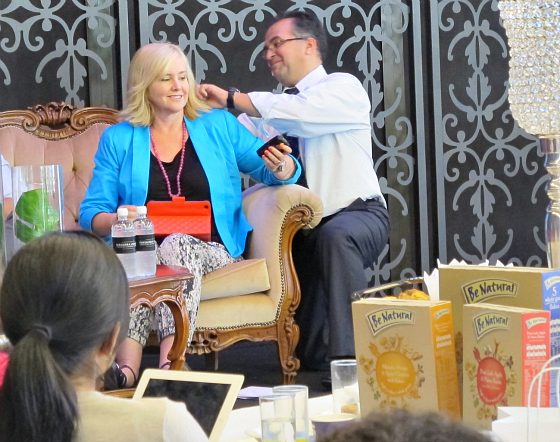 Not only was I moderating the opening panel of the blogging conference and getting on stage in front of 150 people but the cab in which I was travelling to the conference was seemingly stuck in a Sydney traffic car park.
We were going nowhere fast. I could feel my heart racing. I couldn't look out the window at the line of traffic in front of us. And I couldn't look at the Twitter stream either, where all the conference-goers were talking about the breakfast and the opening remarks.
AND WE WERE NOT EVEN CLOSE TO BEING THERE.
SHEEZ … stressful. MUCH.
When we finally did make it to the venue (15 minutes before I was due on stage) and I had sufficiently calmed down to assess the emotional sweat situation, do you know what?
There wasn't even the hint of a wet patch under my arm. No seeping through to my jacket, when normally the above scenario would have rendered a necessary costume change.
Very impressed NIVEA. Very impressed.
I hereby welcome Stress Protect to my bathroom cabinet. I cannot see you leaving anytime soon.
Women's Aerosol $4.99; Women's Roll-On $3.78
Men's Aerosol $6.59; Men's Roll-On $3.78
For more information on NIVEA's deodorant range, click here. The NIVEA Stress Protect range is available in supermarkets, mass merchants and selected pharmacies now.
 *daacro institute, TSST Test, Germany