We're coming into prime time for new beauty releases. Every day I'm finding out about something new that's designed to entice you to refresh your makeup kit or skincare routine.
Generally I think this is a good thing.
But.
A whole lot of new stuff can get ultra confusing. Do you stay with what you know and love? Or do you jump right in and try something that might just become your new beauty bestie?
Clearly, I'm of the jump right in mould. It's the nature of my job.
I'm also a marketers' dream. As long as they stick a "NEW" stamp on there, I'm in. I've thrown it in the supermarket trolley or I've handed over my card at a beauty counter or salon quicker than you can say, "lippy, what lippy?"
So, today on the blog, it's a bit of a community service. I tend to do this post each month as a highlight of some of the beauty products that have crossed my desk.
Products that have made me look twice and enticed me to add to my makeup kit for use on a regular basis.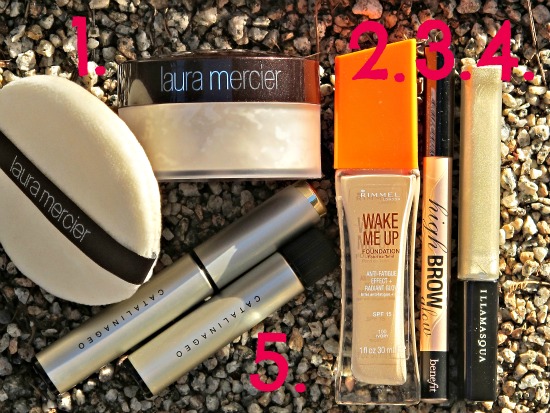 1. Laura Mercier Loose Setting Powder – Translucent $68: In my dreams I walk around with an Instagram filter over my face (probably Sierra or Walden 😉 ). Of course I'm dreaming BUT using a powder like this one over your foundation does make a huge difference. A soft focus is created by the nature of the reflective particles in the powder. Use the velour powder puff it comes with, tap off excess product and gently press into the skin. You can also find Laura Mercier at selected Myer and David Jones stores.
2. Rimmel Wake Me Up Foundation $19.95: I do love stumbling across a bargain foundation that gives the big guns a run for their money and this one very much fits that bill. Had a late night and need to look fresh? Whack on some of this and you'll be glowing so much that people will want to know your sleep secret! It works to create a flawless finish thanks to radiance pearls in the formula which do that light diffusing thing that we want and need. It's hydrating as well … something your skin might also need after a big night. Check it out at Big W, Kmart, Coles, Target, Priceline, Woolworths, David Jones and selected pharmacies.
3. Benefit High Brow Glow Pencil $39: Can you see a bit of a theme developing here? In the middle of winter, I'm very much about faking the glow. I'm already a fan of Benefit High Brow (a linen pink brow highlighting pencil) but her sister pencil, Miss Glow, has won be over with her champagne-pink illuminating goodness. Where do you use it? Just under the arch of your eyebrows – a quick stroke and then a little finger smudge should do it. Hello instant eye-poppingness. Check this out at selected Myer Benefit counters and the Benefit Boutique in Paddington, Sydney.
4. Illamasqua Lipgloss in Stranger $33: I'm going to use this product as I head into spring and summer and need a splash of gold to make me feel all summery. It's a really rich lipgloss and works fine on its own, blending with your natural lip colour if applied sparingly. Or, why not add just a little to the top and bottom centre of your lips for a feature over your regular colour. It's part of Illamasqua's latest collection, Naked Strangers, which includes beautiful nudes and metallics. Available at select Myer stores.
5. Catalina Geo Long and Deep Mascara $31.50: The second tube you see in the photo above? That's a refill that comes with this mascara, so already its cost is halved. I like that. What I also like is that it's pretty much panda-eye proof. It's water resistant but then comes off really easily at the end of the day. For those who suffer irritation from some mascaras, this is definitely worth a try. The formula contains Allantoin, Vitamins B5 and E to relieve irritation and hydrate your lashes. The brush size is a good one – not too tiny and not too large – making it easy to wiggle the colour into the base or your lashline and then swipe it out for lovely long lashes.
Have you found a beauty product lately that you now can't live without? Do you try new stuff or stick with what you know?
These products were sent to me for editorial consideration in accordance with my disclosure policy.