I was Skyping with one of my online members a couple of weeks ago. We've been working together for about six months, planning for her return to work after maternity leave.
This Melbourne mum was looking for a change-up in her work wardrobe; something to give her a lift and help her revamp her existing workwear choices.
And I got to thinking, this was exactly what it was like for me the three times I returned to paid work from maternity leave.
I'd left work each time after months of wearing the same old maternity clothes. Returning to work at various times later (three months, six months and seven months), it was struggle to remember WHAT I used to wear. And when I remembered what I used to wear, I seriously struggled to understand WHY.
It wasn't that fashion trends had changed hugely. Although that was part of it.
It wasn't that my body had changed hugely. Although that was part of it.
It was that I had CHANGED. I was different. I was in a different headspace and place and my old wardrobe didn't match the DIFFERENT me.
This still happens to me (although not caused by pregnancy … the kitchen is well and truly closed there!). It happens with every twist and turn of my business since leaving my old journalism career.
Adapting from office wear to a multi-personality wardrobe of a work-from-home mum is a tricky one and it's one that I've spent the last three and a half years evolving. I need stuff that's comfortable at home; I need stuff for casual meetings; I need stuff for business meetings; I need stuff for events. It's a mixed wardrobe bag but I think that by helping others, I've been able to nail what works for me and what doesn't fit into any of these categories.
I wrote about building this type of wardrobe on CareerMums last year. As I said there, a paid working mum's wardrobe is all about having clothes that can keep up with you and not slow you down in your day. It's all about the easy-care; easy-wear to take the stress out of getting ready each morning.
That's why I'm a big fan of the dress. One garment then layer as required (depending on the weather) with a jacket and tights.
And about the jacket – I have them in black, white, nude and blush. For the work-at-home-mum they are the instant work wardrobe fix. You can add them to everything from structured dresses to flowing maxis and a pant and top outfit and you're immediately dressed for business. They are my investment work-horse pieces. Look around and these can also be your best "sales" purchases.
If you're looking for some inspiration to shake up your work wardrobe to reflect who you are today, maybe one of these pieces or outfits will work for you?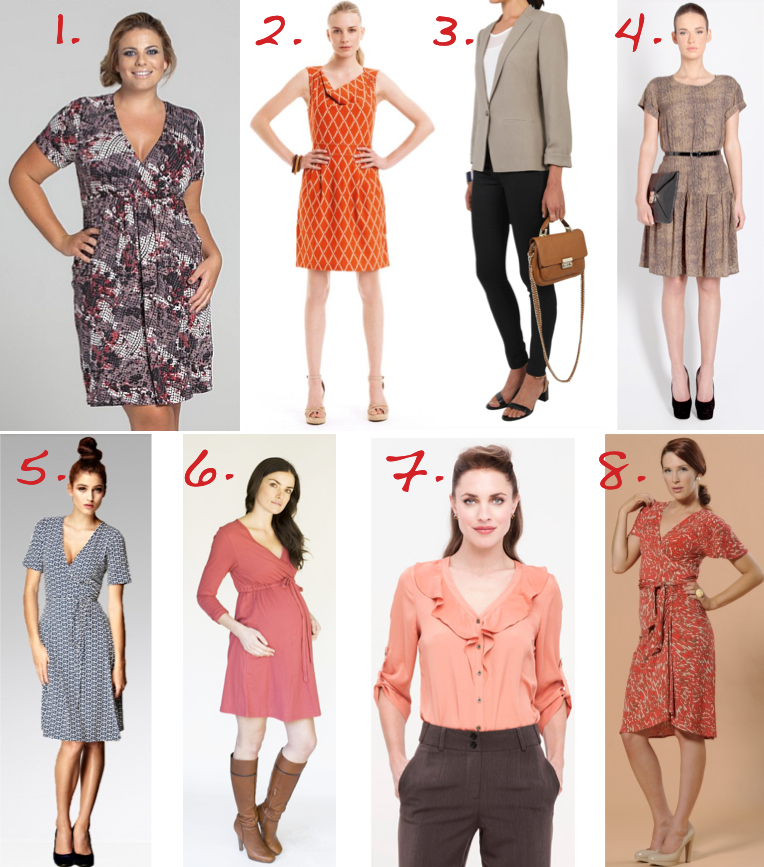 1. Virtu Clementine dress $79.95 | 2. Mix Apparel at Coles dress $25 | 3. Saba Angus jacket $299 | 4. French Connection dress $149.95 |  5. Leona Edmiston Ruby Fox dress (was $169; now $100) | 6. LA Made Samantha wrap dress @ Queen Bee Maternity $69.95 | 7. Jacqui E Francis blouse $69.95; Oliver tabbed pant $99.95 | 8. Sacha Drake Gia dress $229
PS. Next month I'm joining the uber-fabulous Penny Webb for a free evening webinar on working wardrobes. Click on the link to register and come prepared with questions!