It's the first offical day of summer and the Styling You Annual Swimsuit Edition 2022 is here for you. This year we have 12 women giving you a pep talk; each wearing a swimsuit they've chosen because it's a style that they feel confident in for their body and their summer lifestyle.
If you're new here, since 2013 I've been stripping down to my bathers/cossies/togs and putting photos of me wearing them here in the Styling You Annual Swimsuit Edition and on social media. I'm just one woman; one body; one age; one set of body confidence issues, so a few years ago I roped in other women to join me and help amplify my annual summer message to you.
There is so much power in this diversity.
Each of the women featured below inspire every day but especially on this photoshoot day. Some shared their fears about doing the shoot. Some shared how fabulous they felt in their swimsuit. Some faked it until it was over. The inspiration I felt came from the honesty each shared about how they felt. By releasing this often negative internal chatter that comes with being in a swimsuit (let alone being photographed in one), I felt a collective uplifted energy I wish I could have bottled.
It takes A LOT of daily self work to let go of our inner self critic when it comes to our bodies. And if you're my vintage (55), we're talking about unpacking a lifetime of destructive diet culture and body shaming as part of that work. This isn't something you can just flick a switch and suddenly change. Change comes from consistently doing small things towards a big goal.
I don't know if I'll ever reach my ultimate of goal of falling head over heels in love with every inch of my body but boy, oh boy, while ever I'm alive and kicking, I'll be giving it a shot. One of the biggest small things I've done to help me each day is to fill my Instagram feed with a diverse range of women who may not show up in swimsuits every day but they show up. When I'm scrolling and continually seeing so many glorious women owning their bodies and their style, it not only fills my joy cup, it continually re-wires my brain as to what beauty looks like. With that subtle re-wiring comes a softening of the negative thoughts I feel about my own body.
What this reinforces in me is that beauty is not one look, one colour, one body, one size, one age, one ability.
That beauty is in our differences and in feeling confident.
Beauty is also in understanding and accepting that fat, cellulite; crapey skin, hair, stretch marks, thighs that touch (hot tip: want a thigh gap? Stand with your legs apart), non-perky breasts, flat bottoms and wrinkled skin are normal.
Sadly, what's also normal to so many people (particularly women) is a feeling of shame or less-than if their bodies have even one of the above attributes.
My message to you this year is one of hope. I HOPE that you can let go of any shame you might have around your body. You don't need to change one thing to live life to the fullest this summer. You have already have a beach body. You just need to put it in a swimsuit and get to a beach.
Know this: when you show up feeling confident in a swimsuit, you are granting silent permission for another woman to do the same. What a gift that is.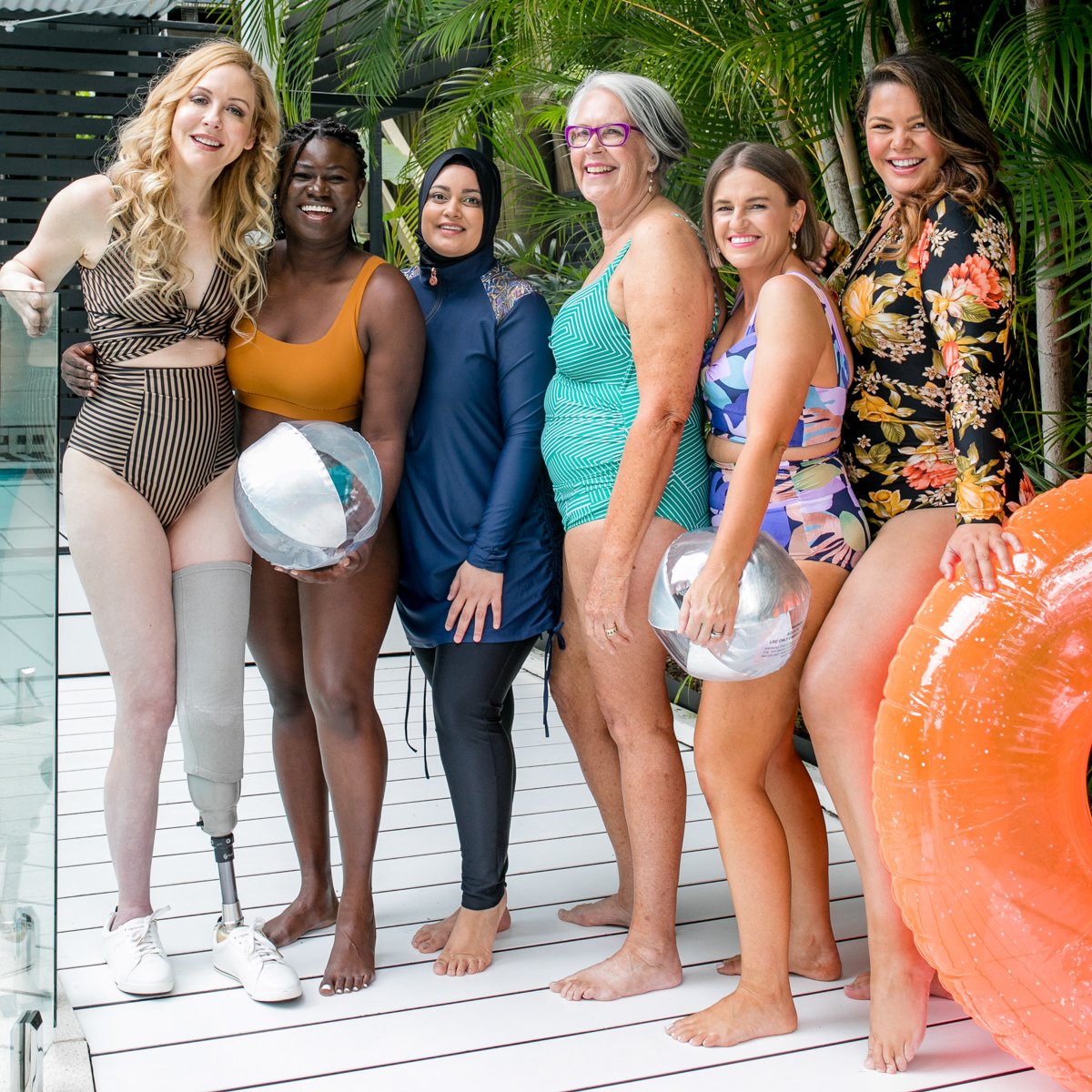 Styling You Annual Swimsuit Edition 2022
Scroll on for inspiration from some incredible women I'm privileged to call friends. If you're not already following them on social media, please do so.
Do also check out each of the independent swimwear labels they're wearing. Each of the labels chosen for this feature actively promotes the same swimsuit messages I do.
Small independent labels are where it's at – particularly Australian independents. The women behind these labels "get" women and are designing swimwear to suit our lifestyle. Reach out to them for help with sizing and styles. They want to help you feel comfortable and confident in a swimsuit.
IT'S ME!
WEARING:
Contessa Volpi x Styling You Angelica one-piece in navy/white stripe
Contessa Volpi x Styling You Luna one-piece in animal print sand/black
WHY THESE SWIMSUITS:
You heard it here first … I'm excited to give you an advance look at a swimsuit collaboration which I've done with Australian-made label Contessa Volpi. This is a brand you've seen me wear a lot over the past 12 months and I've so loved working with designer Enrica Volpi to bring you two of my favourite Contessa Volpi styles.
I'm a huge bikini lover for wearing at home in summer, dipping in and out of the pool, or for travel to make it logistically easier to go to the toilet, but I feel so elegant and put together in a one-piece that can also double as body suit for that whole beach-to-bar outfit concept that I may just master this summer.
I'll have more details about these swimsuits when they launch Tuesday, December 6, but you can check them out via the links above now. Please note I've left the tie untied on the Luna one-piece. It was a mistake on my part on a very busy photoshoot day. I'll show you how it's meant to look in a video next week.
---

WEARING:
WHY THIS SWIMSUIT:
I love this bikini by Alulu – the fabric is high quality, the fit and feel is so supremely soft and comfortable. I feel supported but it doesn't dig in – and the pieces won't move while I'm swimming at the beach with my kids! The print is a statement – but won't date, and I really love that I could shop different sizes for both the top and pants. I absolutely love it.
MY MESSAGE TO YOU:
Life's too short! Find a swimsuit that's fun and comfortable, and just get out there. You won't regret it.
---
WEARING:
Baiia reversible bikini bottoms
Baiia reversible bikini wrap top
WHY THIS SWIMSUIT:
This bikini is reversible which I love because there are some occasions where black is better suited to whatever else I'm wearing. Another fabulous feature is that as well as being a two-piece, a simple adjustment turns it into a one-piece. The high waist means I don't have to keep fretting that a string is going to come flying undone or that a skimpy waistband will go rogue.
MY MESSAGE TO YOU:
Every body and everybody is worthy of fun in summer and in swimwear that makes you feel great if they choose to take a dip in the water. Life is precious and so is your body. Love is for all the amazing things it can do every single day.
---
WEARING:
Capriosca Frenchy black long-sleeve one-piece
WHY THIS SWIMSUIT:
I chose this style because it's practical as well as stunning. If I'm at the beach I'm sun safe and quite active, so I love the support and coverage in the arms, chest and back. Plus, the print is elegant and timeless. I found the suit supportive in the bust, and loved the ruching in the midsection.
MY MESSAGE TO YOU:
Life's short. Buy the swimsuit, swim in the ocean, take photos, make memories.
---
WEARING:
Artesands Linear Perspective Green Monet soft-cup underwire one-piece
WHY THIS SWIMSUIT:
I love the fresh look of this swimsuit – with the green and white – plus it has a nice cut across the bust and shows some décolletage and isn't cut too high on the hips. The underwire gives shape but is still comfortable, and the foam bra inserts are removable if preferred. And of course, it's cut for curves!
MY MESSAGE TO YOU:
Life is short, wear the swimsuit. There is a swimsuit – many in fact, that you will feel great in – yes truly. Take the time to seek out your perfect cossie and get in the swim of life. My advice for older women: your grandkids won't care about your body, they just want you in the water with them. Don't miss that opportunity to have fun with those you love.
---
WEARING:
Ellenny Golden Hour bikini top
Ellenny Golden Hour/Amalfi reversible briefs
WHY THIS SWIMSUIT:
I love colours that complement my skin tone and, for me right now, that's brown and green tones so I thought to put them together. Also, I love a swimsuit that has extra functionality and the bottoms on these are reversible, which means more room in the luggage and still getting style varieties while on holidays. Who doesn't love that?
MY MESSAGE TO YOU:
Wear what you want sis! You don't owe anyone anything. A summer body is your body as it is. Please do not lose yourself in trying to conform to people's opinions and expectations. Wear what suits you and is comfortable for you and enjoy time with family and friends this summer.
---
WEARING:
Une Piece Classic Scalloped one-piece
WHY THIS SWIMSUIT:
I chose the Une Piece Scalloped Classic One Piece because I find a classic-style black swimsuit not only chic and flattering, but versatile; you can pair with everything from denim shorts to linen pants, a maxi skirt or even an oversized shirt and slides. The possibilities are endless. Plus, this swimsuit is made from recycled and sustainable fabrics that are also UPF50+, which blocks 98% of UV rays.
MY MESSAGE TO YOU:
Instead of focusing on the act of wearing a swimsuit (and all the thoughts about that) think about the joy you'll feel when you feel the water on your skin; or the waves crashing against your body or when you see the smiles of your kids because you're getting in the water with them. Besides, no one is judging how you look in swimmers because they're all thinking about how they look in them!
---
WEARING:
Saint Somebody Sea of Love bikini top
Saint Somebody Born This Way bikini bottoms
WHY THIS SWIMSUIT:
I'm obsessed with the style and colour of this swimsuit; it feels classic, sophisticated, and holds me in all the right places. Plus, it's got enough support for any summer activity, whether it's floating in the pool or playing in the surf.
MY MESSAGE TO YOU:
You'll only regret the memories you didn't make; the fun you didn't have; the moments that you missed out on … just because you didn't love yourself enough to put on a swimsuit? That's not going to be a story to tell your grandkids. Your body is a beach body, plus so much more, put on the swimsuit, rock what you've got and live your absolute best life – you don't get to do it over. Also, no one is looking at you, or judging you, because they're also way too busy being too hard on themselves too.
---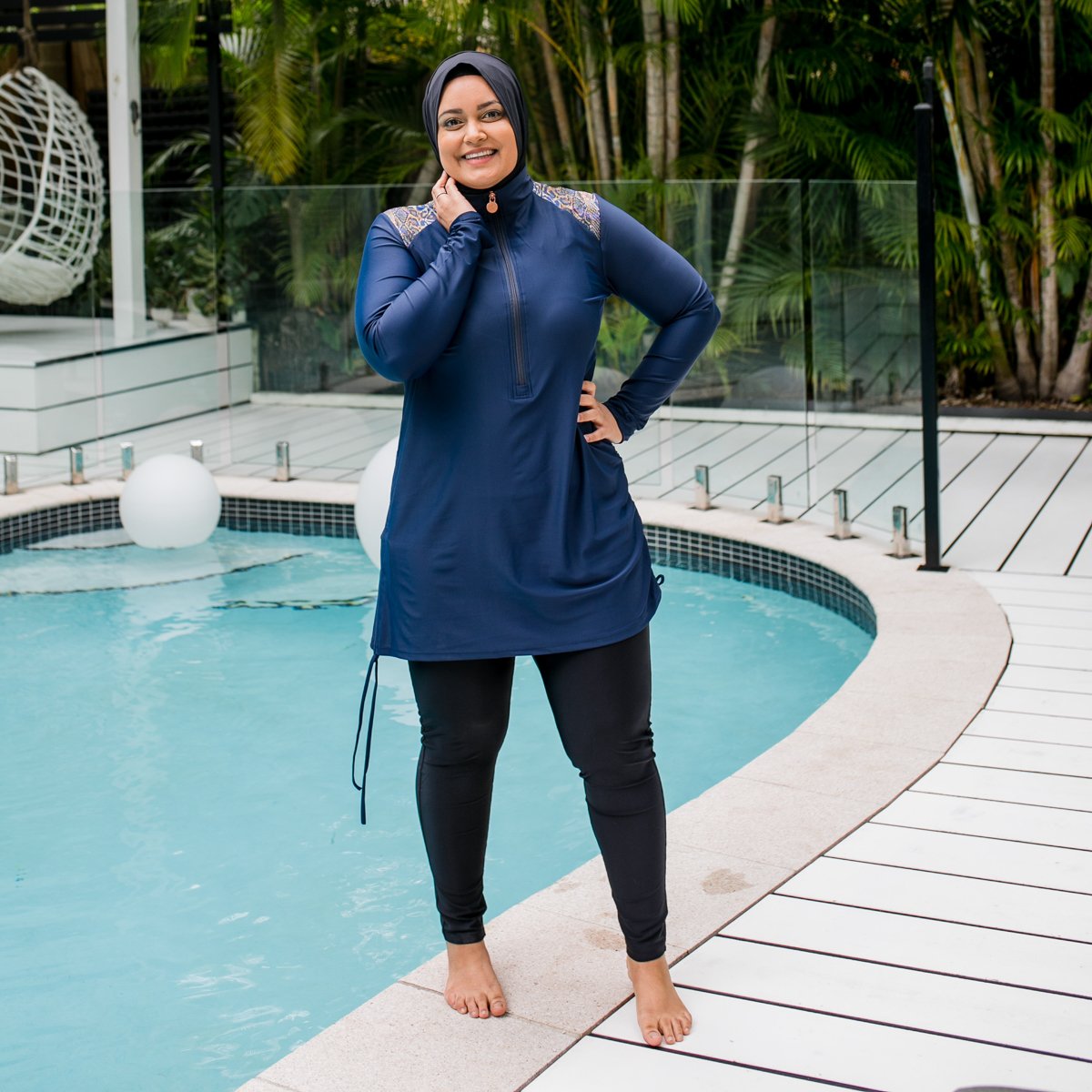 WEARING:
Noor Swimwear Layla swim dress
WHY THIS SWIMSUIT:
It's beautiful navy blue. It feels a little bit nautical yet fun with the cute gold details on the zip and shoulders. I love the coverage it provides for my modesty requirements and also the inner swimsuit which isn't common with modest swimwear.
MY MESSAGE TO YOU:
Get out there and have fun! One day you're going to look back and wish you had.
---
WEARING:
WHY THIS SWIMSUIT:
Being a busty gal, finding a swimsuit which has support can be difficult. What I love about the Marvell Lane swimsuits is that you can buy by cup size, so you get the perfect fit which gives you confidence.
MY MESSAGE TO YOU:
Don't overthink it. We all have days/weeks of low body confidence but don't let it stop you from getting out and enjoying life with your family and friends. For me I want to show confidence and acceptance of my body to my children and grandchildren, so they grow up confident in their bodies. I want to lead by example.
---
WEARING:
Curvy by Capriosca Bora Bora frill-sleeve one-piece
WHY THIS SWIMSUIT:
I chose the Bora Bora Frill Sleeve One Piece because not only is the design absolutely gorgeous, it's also functional. My favourite thing about it would be the front zip style which makes it super easy to get into. I love that it's adjustable, so I can zip it up to feel more secure when I am swimming or have it opened up a little to add a bit of spice.
MY MESSAGE TO YOU:
Never in my life did I think I would be comfortable wearing a swimsuit, let alone posing for a photoshoot in one. One thing that has really helped me build my confidence, was learning to love myself and not compare myself to others. I am so blessed to have crossed paths with so many beautiful women who encourage and support me in my body positive journey. Be kind to yourself, and wear that swimsuit because Every Body is a Beach Body!
---
Bec – @ilovethat skirt
WEARING:
Infamous Swim Lola triangle top
Infamous Swim Ginger bikini bottom
WHY THIS SWIMSUIT:
I chose this swimsuit because I love the bright, fun colours; I love a high waisted bottom and there are matching sets for my kids!
MY MESSAGE TO YOU:
I am currently not feeling my most body confident and putting on a bikini for this shoot was scary! BUT I have the same thought every year, no matter my size. And I have to remember that it ultimately doesn't matter. My kids won't remember what I looked like in swimmers. They'll just remember that I played with them on the beach and went swimming with them. So I'm determined not to let a few lumps and bumps and rolls stop me from having fun! I need to remember that my body is amazing and deserves to be shown off!
---
So, tell me … will you get your body into a swimsuit this summer?
Photos: @katelukephotography
---
Styling You Swimsuit Edition 2021
Styling You Swimsuit Edition 2020
Styling You Swimsuit Edition 2019
Styling You Swimsuit Edition 2018
Styling You Swimsuit Edition 2017
Styling You Swimsuit Edition 2016
Styling You Swimsuit Edition 2015
Styling You Swimsuit Edition 2014