Oh Fiji. You had me at the first Bula! It was a love affair I did not see coming, one of those sucker punch moments in life that takes your breath away but at the same time instantly calms you.
I'm going to be honest here, Fiji was not on my destination radar. I thought it was the stuff of young families' or loved up honeymooners' dreams. The former because there are so many resorts geared up to give both the kids and the parents a break; the latter because there are so many resorts that exclude kids altogether.
But then the pandemic happened. So many of us booked travel thinking it would be a six-week thing. HAH. Who's laughing now? As the world opened, like many, we scrambled to use flight credits before they disappeared.
We smugly thought those Japan flight credits were going to see us swishing down the slopes of Cardrona and the Remarkables in Queenstown, New Zealand this July, except our flights booked last October became null and void when Virgin pressed pause on NZ flights.
Finding this out – not from our travel agent GAH – but one of my followers in March was not ideal when trying to fly in school holidays but PIVOT we did. And in Fiji we did land.
The universe indeed works in mysterious ways. My husband and I caught the dreaded virus in the month before flying and I had broken my wrist six months' earlier. Maybe missing out on a skiing/snowboarding holiday was a win? The post-COVID fatigue is real. So, landing somewhere that is incredibly chilled with a higher than likely chance to decompress was just what we didn't know we needed. And after 2.5 years of holding my breath while running a small business, I didn't realise just how much I needed to, well, breathe.
And breathe I did. I breathed in the salty, sea breeze, the scent of coconuts and bougainvillea and the spice of tandoori at dinner. I listened to the waves lapping onto the shore, the birds gently waking me up at stupid o'clock (because why can't you sleep in when you aren't on a schedule?!).
I took in every colour from the azure water, to neon fish, cobalt blue sea stars, pink hibiscus flowers, deep green volcanic mountains, golden beaches, magical late afternoon rainbows and rich, vivid sunsets of pink, orange and yellow.
But more than what I breathed, heard and saw, it was the people which left the lasting imprint on my holiday state of mind (as everyone had told me they would). Bula means hello and more – I wish you a good life. Fijians say it with heart. It's infectious and worked like an hourly mantra during our 11 nights in this part of the world. Bula is often rolled off the tongue with vinaka (vinaka – or naka for short means thank-you). Together, bula vinaka underlines the intention of wishing a person a good life and good health.
I didn't experience one incidence of impatience, far from it. Every encounter came with a smile – from the arrival customs officer through to the wonderful women who looked after us in our Airbnb in the north of the island.
Locals might joke about "Fiji time" – that schedules are a loose construct – but maybe it's what many of us need to embrace from time to time. It's not always practical and possible to suspend with the timetable and calendar alerts but maybe when we can, we should at least try?
Our low-tourism Fiji July 2022 itinerary
We weren't a typical group looking for a Fiji holiday – not falling into the aforementioned young family and couples demographic. We were travelling with our almost 17YO son and 25YO daughter (also cashing in flight credits before they disappeared).
That's three rooms and in the captive market that is a resort quickly eats into the travel budget. We had previously booked (via Airbnb) a three-bedroom townhouse in Queenstown for the ski trip, so using that budget (which we were refunded), I set about finding an accommodation mix that would match that same budget – or at least come close.
At the time of booking and writing, it was also compulsory for visitors to Fiji to be double vaccinated and have a pre-booked COVID test for within 72 hours in a COVID Care resort. Most resorts are certified to do this. And that's why we split the trip up between three nights at resort and seven nights at an Airbnb. Three of us returned to the same resort for the final night as our travel credits couldn't get us on a Sunday flight home.
I went down the rabbit hole of Google, social media and Airbnb to find options that fit our budget, were in low-tourism Fiji areas but incredible locations. I love this part of travel planning – but it also has me on tenterhooks before arriving at the destinations. What if my research was way off the mark?
Not to blow my own trumpet, but hey, I will … both locations delivered what they said and more.
We travelled in Fiji "winter". Humidity and the UV index is lower than summer and it's outside of cyclone season. Maximums were late to high 20s; minimums about 20 degrees – pretty much how I'd order the weather all year round if I could.
Yatule Resort, Natadola Beach
In all my searches, Natadola Beach kept coming up as the best beach on the main island, Vitu Levi. There are two resorts on this beach – the Intercontinental Fiji and Yatule Resort. Both have a beachfront location overlooking this white sand bay. One is big; one low-key. I can't report first hand on the Intercontinental as it's closed to outside guests in June and July. It looks amazing online but for value for money and a more low-key experience, Yatule has my heart. We were able to stay in beachfront bures with views of Natadola Beach from our bed and private deck for a fraction of the cost for the same location and views at the Intercontinental.
There is one restaurant and bar at Yatule. You get to know the same staff and it has an extremely chilled feel to its operation. Rooms are clean, island-style modern and most days and nights there is some form of entertainment/activity on offer. How I ended up dancing like a fish on a fishing line at the fire dance show is something that will probably be trotted out at family gatherings for years to come!
Outdoing any of the organised activities was mother nature's sunset show. As someone who lives where the sun sets over the hinterland, it's never not mesmerising to see it set over the water and at Yatule we were treated to some of the most spectacular evening colour shows.
The biggest drawcard for us was the beach. Tide and swell dependent, there are small reef breaks for surfing and a safe, calm bay for swimming. The shore dump can be sizeable – but nowhere near as strong as Mooloolaba (Sunshine Coast, Queensland) in a big swell. At every opportunity, I was in the crystal clear water, lolling about like I had landed in a dream. I'm a water temp wuss at the best of times but this was a similar temp to south-east Queensland beaches in our summer. Happy days.
If travelling with small children, I feel there are better options available in Fiji with dedicated kids' clubs and activities. There were some kids staying while we were there but no-one under about seven years.
Yatule is about one-hour's drive from Nadi International Airport. Transfers to the hotel are available.
More details HERE
Sabre catamaran, South Sea Sailing Fiji
With Yatule being closer to Nadi than our next destination, we knew if we were going to do any of the organised tours, this would be our jumping off point – not when we moved to the north. Instagram yielded the relatively new Sabre snorkelling and sailing day trip. We pre-booked online because it was a busy school holiday period and only had one day available to us.
The appeal was a smaller boat – so fewer people. I think there were about 50 on board the day we booked. It's not a day trip suited to kids under 10, so was mostly couples and families with older kids and teenagers.
Included in the price were pick ups from our resort to the departure point at Denarau, morning tea, lunch, drinks with lunch and snorkelling, swimming on a sandbar. Bonuses: an impromptu rugby match on the sandbar (my husband still as the bruises) and dancing the Fiji Macarena as we sailed back to shore (my family still has the videos of me).
Before the dancing, I jumped off the side, slid down the slide, snorkelled through schools and schools of fish and stared in awe at every shade of blue from the cloudless horizon to the deep water and shallow reefs.
More details HERE
Priti's Paradise Airbnb (formerly Starfish Blue, Volivoli Point, Rakiraki, Western Division
I wouldn't say we're intrepid travellers but I do like finding and exploring places a little off the beaten tourist track. Finding this Airbnb with a room configuration to suit all four of us (three bedrooms with ensuites) and stunning views across to Nananu-i-Ra Island landed us in a low-tourism part of Viti Levu and I feel so privileged we got to experience this part of Fiji.
Private transfers are available from the airport to this region but without a car at a private property you'd be limited with how you could explore the area. And to access this property a 4WD is definitely needed.
So, we hired a car – well, we thought we had – three months in advance through one of the majors at the airport. Big mistake. Huge mistake. Arriving to pick up our booked car we were told none were available. WTF. Like so many places in the world post-COVID, there is a shortage of rental cars – the difference here in Fiji, is that it will let you book a car online regardless of whether one might be available. Local car rental company Satellite saved the day and I can't recommend them enough. Within an hour of discovering we didn't have a car, we did and were on our way, 2.5 hours north through small villages, past cane fields, volcanic mountains and stunning coastline vistas.
Our Airbnb was staffed by locals who come in each day to clean. We had the option to pay to have Sarita and Priscilla cook for us each night and it was not only a treat (oh my, the food) but also a beautiful way to get to know these women and hear their stories. Meals for the four of us worked out at about $7.50 per person per night. We stocked up on breakfast, lunch and snack options at the New World supermarket near Nadi Airport and throughout the week topped up with fresh fruit and other essentials in the nearest town, Rakiraki.
We also got to know the family of the gardener – Natin. It takes a lot of side hustles to make a living in this part of Fiji and Natin also operates tours. We went island hopping and snorkelling one day to Nananu-i-Ra (or Ra as the locals call it) and fishing another. Natin, sister Suman and wife Manjula also prepared and cooked for us a traditional Fijian Lovo – we feasted for two days! The total for these three day experiences was $1000 Fiji – the equivalent to what we'd paid for one day on the Sabre – and all money went directly to a local family.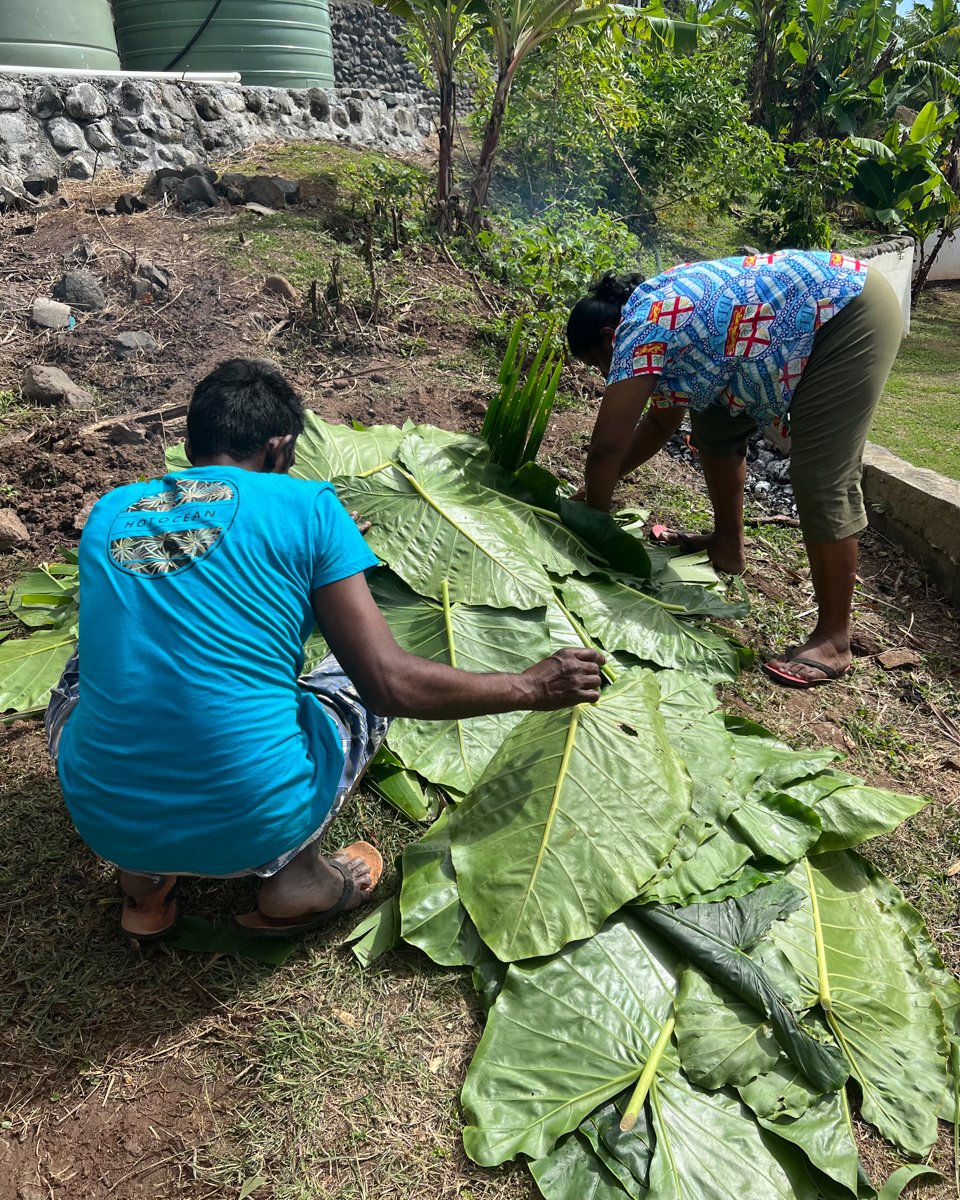 If we weren't out on the boat, days started slowly. We exercised (the others using a self-constructed island gym while I did yoga on the deck). Then we either went into Rakiraki (the nearest main town) to explore or visited a nearby resort – Volivoli Resort was a highlight on our final day.
For us, the week at Priti's Paradise in the north of Viti Levu- a low-tourism part of Fiji – was just what we needed.
It was a week of decompression, of us all having our own space to do as little or as much as we wanted. What the property lacked in terms of strong internet and modern decor, it delivered on island magic and spectacular views. When the tide is high and the current in the passage isn't too strong, it's also possible to snorkel straight off the beach at this property.
We also had to make peace with the prevailing north-westerly winds, that well, prevail at the time of year we visited. It was the opposite to the calm of the south we had experienced. We were told that November-January offers the stillest of conditions – the downside at that time being higher humidity and temperatures.
Link to our Airbnb HERE
Check out Volivoli Resort HERE
For secluded luxury on your own island, check out Dolphin Island HERE
For budget accommodation on Nananu-I-Ra, check out Macdonald's Beach Cottages HERE and Safari Lodge HERE.
---
Bula Vinaka Fiji!
There are so many different ways to experience Fiji – and so many different accomodation options for your particular needs. We kept saying (on the daily) how surprised we were to love it so much. We've travelled to Bali and Thailand and wondered if it wouldn't stack up. It more than did. Bonus: you can drink and brush your teeth with the tap water!
Fiji got under our skin and into our hearts and it's not a case of if we'll be back, it's a case of planning when.
---
Click HERE for more photos and videos of our trip, saved to my Fiji Stories Highlight on Instagram
Click HERE for a look at the outfits I packed and wore. For my tips on what to pack for any destination, click HERE.
Click HERE for a look at the swimsuits I packed and wore.
Tell me, if you're a Fiji regular where do you love to stay and why?
This low-tourism Fiji holiday was booked independently and paid for by me.