Jackets are an essential part of autumn-winter dressing. Here are my key tips on how to find jackets to wear for your shape and lifestyle. Remember, I'm not about rules. Below are hopefully some helpful guidelines if you're struggling to find the holy grail of jacket style for you.
If in doubt … wear it because you LOVE it, not because someone – including me – told you you should. HAH!
I share tips and try on some examples of different jacket styles in the below video. A key thing to work out (if you don't already know) is whether you're short or long waisted. This is not necessarily tied to the length of your torso or how tall you are.
Either use a tape measure for precision or look in the mirror. Is there a long gap between your belly button and under bust? You're long waisted. Is it a short gap? Your short waisted. Mine is short. And I also have a long rise – a long distance between hips and waist.
Once you have an understanding of whether you're long or short waisted, you'll better understand what I'm talking about in the video. Confused by above? Don't worry I do hand demonstrations in the video!
Why having a variety of jackets extends your wardrobe
If you buy well and for your lifestyle, then you'll build a wardrobe of jackets that will not only keep you warm but add interest to your outfit via texture, shape, length and volume. Good quality jackets will serve you for years to come.
Key jacket styles I like to have in my wardrobe:
Denim jacket
Blazers
Puffer jacket
Leather jacket
Faux fur jacket
Each adds its own value and warmth to my autumn-winter outfits. Whether I'm wanting to winterise a floaty dress (denim, leather or faux fur), add a bit of "smart" to an otherwise casual jeans outfit (blazers and faux fur), or look the business on the sporting sidelines (puffer), I've intentionally got a jacket to suit my height and shape.
Head to your wardrobe and see if your current jacket selection meets your key autumn-winter outfit needs. Can you see any gaps? By filling any gaps you'll open up more of your wardrobe.
Key tips for working out what jackets to wear for your shape
It's not so much about the body shape, it's about whether you have a short or long waist.
Short waist – shorter distance between waist and under bust.
Long waist – longer distance between waist and under bust.
Also take into account the length of your rise – hips to waist.
The longer the jacket, the more it lengthens your waist. This is a hot tip for my fellow short-waisted sisters.
Long waisted, long torso sisters are more suited to the a cropped jacket – anything falling to above the hip or higher.
If you are petite and shorter than say 158cm, look at jackets that have a total length finishing just at hip line. Opt for shorter style if you're petite but have a long waist.
Avoid feeling boxy in a jacket or blazer by making sure that the fit across the shoulders is good. If you need to buy for a bigger bust but that blows out the shoulder fit, look for jackets and blazers with stretch so you can get the fit you need.
If you feel like the jacket is overwhelming you, it probably is. Go with that gut feeling. Sizing down might be an option or look for a jacket that is less bulky in its fabric or design.
You can always balance out the bulk of a jacket by streamlining the rest of your look. This can work because it adds interest because of that silhouette contrast.
The Shacket
One of the questions I was asked before the Live video was: "is the shacket (shirt/jacket) here for a good time or a long time?" I don't have a crystal ball but whenever a trend appears that has a basis in comfort and wearability, it tends to stick around a while. Women are naturally comfort creatures at heart!
If you're unsure and don't want to take the plunge, buy a shacket that very much works as a shirt, like this one from the recent Outland Denim X Spell collaboration (featured in the video).
Jackets featured in the video (in order of appearance)*
I discussed what jackets to wear for your shape but remember it still comes down to what you feel comfortable in and what your lifestyle needs are.
Styling You The Label Danielle shirt dress in steel blue (worn as a jacket) – size 12
Boho Bird at Birdsnest sherpa jacket – size 12
Boho Bird at Birdsnest khaki jacket – size 12 featured by size 14 would have suited me better
Boho Bird at Birdsnest cord jacket – size 14 featured but size 12 would have suited me better
Witchery shacket – size 12
Styling You The Label Helen blazer in navy – size 12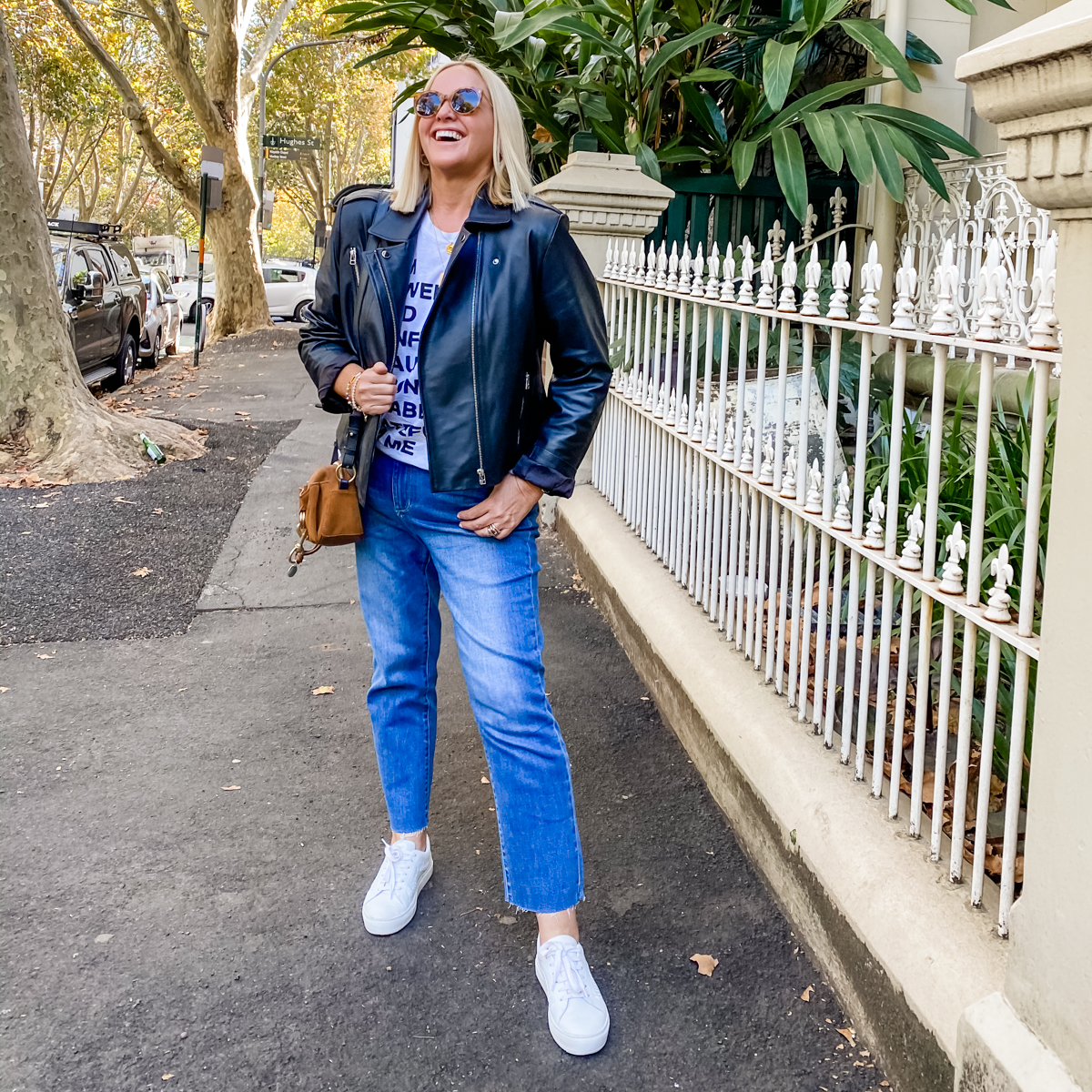 Bande leather jacket – size XL
Uniqlo puffer jacket (similar – mine is from years ago) – size XL
Toast Society puffer jacket – L
Styling You The Label Renee faux fur jacket – S/M (coming very soon! Pop your email in on your size to be notified)
Outland Denim x Spell denim shirt/shacket – L
Boho Bird by Birdsnest denim jacket – 14
Bird Keepers by Birdsnest denim jacket – 14
---
*My measurements: I usually wear size 12/14 depending on the shape of the garment. I'm 166cm tall. My bra size is 16C (104cm); waist 91cm; hip 109cm.
Please note: I borrowed each of the Birdsnest jacket for the editorial purpose of sharing a varied range of jacket styles. I did keep one as a gift (the sherpa). No payment was made for placement in this video. All other jackets featured were bought by me. This post contains some affiliate links. If you buy after clicking through my links I may receive a small commission. You don't pay any extra.